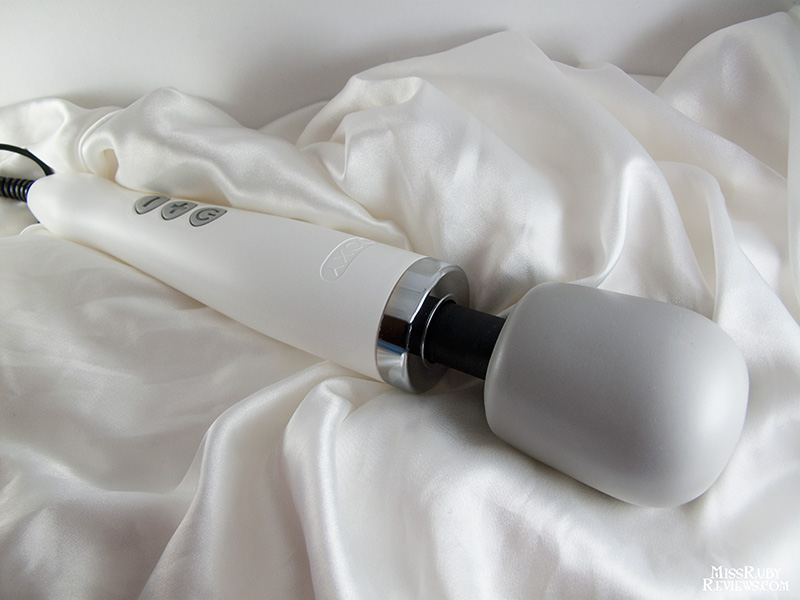 Okay. Wow. Is the Doxy Wand Massager nearly the best wand ever?? Clitorises rejoice! Read on for my Doxy Wand Massager review!
Physical Details | Material and Care | Packaging | My Experience | Overall
Physical Details
The Doxy Wand Massager is a wand-style vibrator, much like the Magic Wand or the Lelo Smart Wand.  Created by the great folks over at Doxy in England,  this massager claims to have 30% more power than the Magic Wand, which (obviously) piqued my interest. In a big way.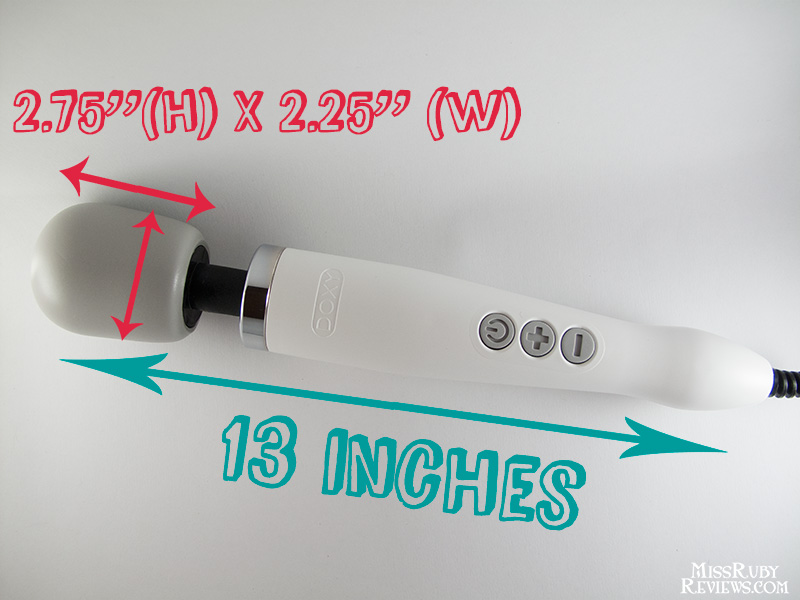 The Doxy Wand Massager is quite sleek and streamlined, albeit large. The whole wand stretches just over 1 foot long, weighing a sturdy 516 grams. The wand is broken up into the body, the neck, and the head. The head is squishy and smooth, keeping texture-free for easy cleaning. The neck is mostly stiff, but there's some wiggle room there for shifting the head side-to-side. The body is smooth and simplistic. All it consists of are the controls (a power, increase, and decrease button) and the logo.
Despite its simple structure, this definitely doesn't feel like an unsexy industrial power tool. It somehow manages to have a bit of finesse to it.
Vibrations:
Does the Doxy Wand Massager have 30% more power than the Magic Wand Original? When I reviewed the Magic Wand, I started seeing it as the top bar in terms of vibration strength. So I was pumped to compare the Doxy and the MWO side-to-side, turning both on full blast. But there was no obvious answer — neither toy felt more powerful than the other. Then my partner and I did a blind test, taking turns holding out our hands with our eyes closed, trying to guess which hand was being vibrated the strongest. We couldn't come to any decisive answer, sometimes thinking that the Doxy was more powerful, and other times thinking that the Magic Wand was more powerful.
Regardless of which is more powerful, it's hard to imagine anyone ever needing MORE power than the Doxy Wand Massager can provide. I'm sure it'll happen, somewhere out there, but even a power-queen like me is satisfied with its strength. And for those of you who don't need mad power skills, there are several beautiful low settings to use instead.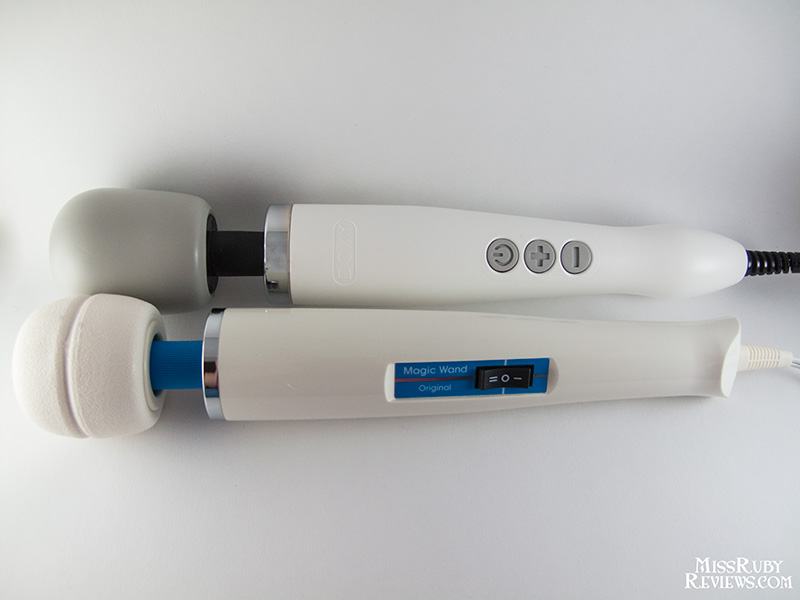 Yet one thing is clear, at least: the Doxy Wand Massager's vibrations are more rumbly than the Magic Wand's. When you examine the Magic Wand's vibrations, you realize that they're actually a bit buzzy, something that's not immediately obvious because it's vibrating like an apocalypse. But when you compare it to the Doxy, the Magic Wand is very clearly buzzy. The Doxy instead feels more rumbly. It's not at 100% rumble or anything, as I still get that irritated ichy feeling after prolonged use, but that sensation definitely doesn't come on as quickly as it does with the Magic Wand.
Noise: 
This is where I see a huge difference between the Doxy Wand Massager and the Magic Wand Original. The Magic Wand Original is noisy. It has a high whirring sound that reminds me of a blender. On the flipside, the Doxy Wand Massager is relatively quiet! Its top speed isn't going to be ignored easily, but it can't be heard through walls. What's more, the sound is a low purring frequency, not an annoying high-pitched one. Swoon.
Functions:
When you press the power button, the Doxy Wand Massager purrs to life at nearly full strength. This works for me, because I want it to throw everything it has at me, but the rest of you folks might need to turn it down a notch or two to start off with.  If you're one for vibrations patterns (think pulsation), you simply press down the power button for several seconds, then flip through the + and – button. I'm not a pattern kind of person, and I don't think I've come across more than a small handful of people that DO like vibration patterns, but the option is there for those who want it.
Material and Care
Doxy states that the head is made from "hypoallergenic medical grade non-porous PVC that is free from latex or undesirable phthalates." Can PVC be non-porous? I remain skeptical. To keep it perfectly hygienic, I'd suggest that you cover it with a non-porous barrier, such as one of these attachments or a condom. I've been lazy and simply use it over my underwear.
The PVC head is my biggest gripe with this toy though. I keep on telling my partner that this wand would be just about perfect if it had a silicone head. Then I could trust was actually non-porous.
To clean the head, I wipe it with an anti-bacterial wet-wipe. The same with the ABS plastic body. Be sure to turn off and unplug your Doxy Wand in between playtimes, because it is not waterproof and there's a risk of electrocution if it comes into contact with water.
If you're going to use lube, I also suggest water-based lubricant.
Packaging
The Doxy Wand Massager doesn't get any prizes for fancy packaging. It's a plain and simple white box, but I've no complaints. Inside the box, you find the Doxy and an instruction manual. Actually wait, no, I do have a complaint: I wish the Doxy came with a storage pouch. Just a long fabric drawstring bag would be great. It's too long for any of the bags I usually use for my sex toys, so right now my poor Doxy is shuffled into the drawer naked.
My Experience with the Doxy Wand Massager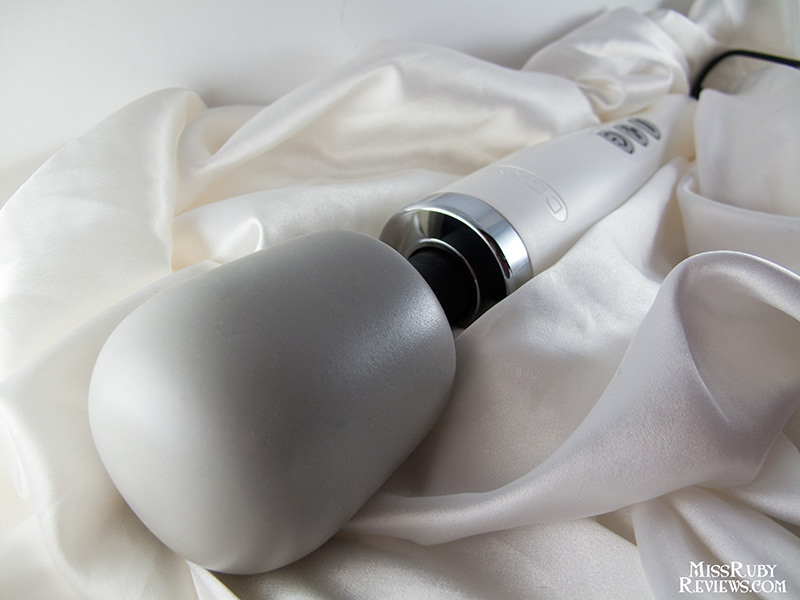 This part is hard to write. Because there's only so much I can say that sums up, "Just buy it, dear reader."
I feel almost traitorous to say it, but I must: the Doxy Wand Massager has replaced the Magic Wand Original. I can't help it. When I want a quick orgasm, I get the Doxy. When I want multiple orgasms, I get the Doxy. When I want my partner to make me orgasm, I get the Doxy.
And this love was immediate: I didn't have to coach my clitoris to like the Doxy. There are some vibrators that I really have to work to make work for me, but that's not the case here. Stimulation is immediately pleasurable.
My partner and I have even started using it together during PIV sex. We generally only use toys before or after intercourse, but we make exceptions for the Doxy. I discovered the endless fun of placing the Doxy on my partner's abdomen when I'm in cowgirl position so that the wand is pressed against my clitoris as we have sex. There's no end to that joy.
And does it being corded have any drawbacks? Minimal, I'd say. The Doxy's cord is super long. It's 2.8 meters (9.1 feet) long, meaning that I can plug it in an outlet that isn't *right* next to my bed. A cord this long means that the Doxy remains versatile and usable even if your bed (or favourite place of masterbation) is far from an outlet. For me, this means that I can plug it on the far side of my room, then string the Doxy through underneath my covers so that I'm comfortably lying in bed. No awkward positioning close to the wall outlet. Hurrah!
I haven't yet managed more than 3 orgasms in one session though. After 3 orgasms (which, for me, is anywhere between 5-20 minutes), my vulva feels a bit numbed. Despite this toy being more rumbly than other wands I've used, it's still buzzy enough to cause a numb/itchy sensation after prolonged use. For those of you who are new to sex toys, don't let this freak you out — it goes away after mere minutes. But, due to this, I can't seem to go on Tango-level orgasm marathons.
Doxy Wand Massager Review – Overall Thoughts
I'm so impressed with the Doxy Wand Massager. If it had a silicone head, I'm pretty sure this would be in my top 3 favourite sex toys from this year. It's strong, it's relatively rumbly, and it's relatively quiet. It has a long cord. It comes in colours other than pink or purple (though pink and purple are there if you want it). Most importantly for me, though, is that it swiftly delivers those orgasms. This vibrator doesn't beat around the bush: it gets you where you need to go without any fuss.
UPDATE: Since this review, Doxy has come out with versions with silicone heads. Here's a full-size, corded one and here's a travel-sized one!
To buy the Doxy Massager, here are some recommended stores: 

Lovehoney USA
 (
$139 USD)

Lovehoney Canada
($164 CAD)

Lovehoney UK
(£89 GBP)
Lovehoney AU
($199 AUD)

Lovehoney EU
(€109
)
---

See below for my Doxy Wand Massager review summary!
Last Updated on February 27, 2022 by Miss Ruby