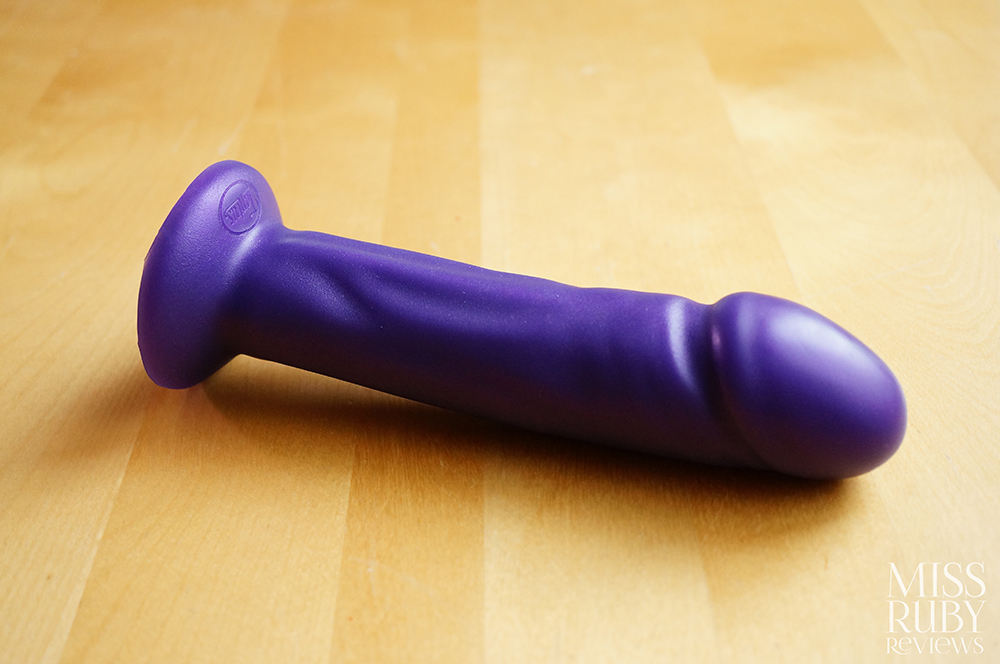 Well, it's a dildo alright. Read on for my Tantus Vamp Super Soft review!

Physical Details | Packaging | Material and Care | My Experience | Overall
Physical Details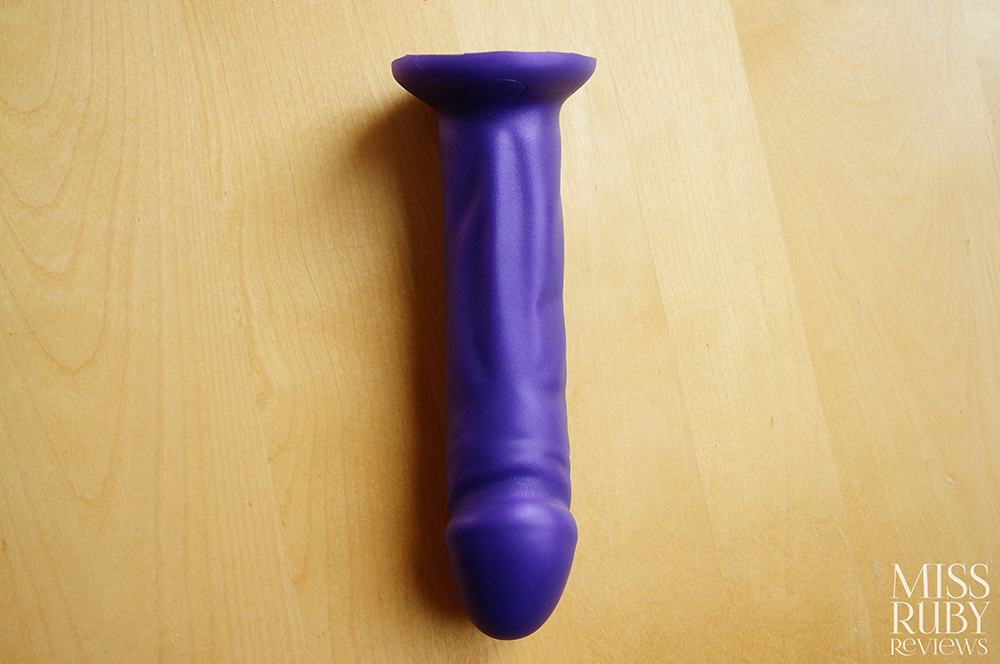 The Tantus Vamp Super Soft is a simple, straight, "soft" dildo. Take "soft" with a grain of salt though – while it's definitely soft for a Tantus toy, its firmer than many other brands of dildos, including the softer portions of VixSkin or Blush dildos.
This is version 2.0 of the Vamp model — the original Tantus Vamp is still sold nowadays, but consists of firmer silicone and different colour options (a dreamy, purple haze colour, and a light, vampirish pearl white tone). The Tantus Vamp Super Soft dildo, on the other hand, uses a softer silicone and comes in this purple midnight shade and a fiery copper tone.
Unlike most of the Tantus toys I've reviewed, this is not dual-density. It's the same density throughout (think a chewy, firm gummy bear). Because there's no firm inner core, the shaft can be curved and bent with ease.
It's not what I'd consider a small dildo. It has an insertable length of 6.75 inches and a width (at the largest part) of 1.7 inches. The cross-section is also fairly round, which makes it feel larger and more filling.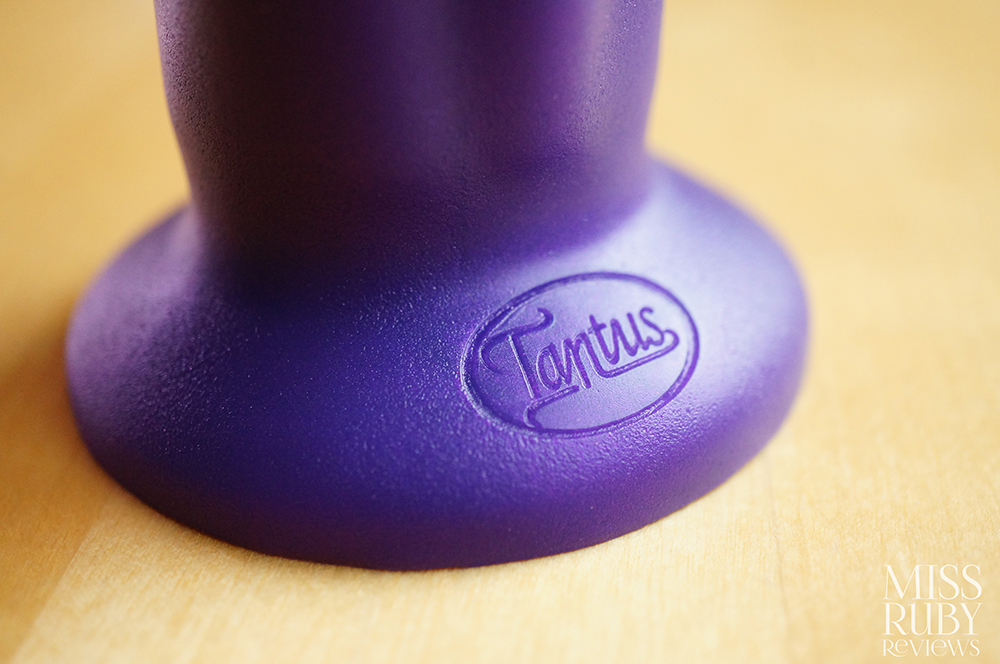 As far as design goes, things are kept simple and semi-realistic. There's a long, broad head with a defined coronal ridge. There's no urethral dip/dent. There's some light veining down the shaft. And at the base, the shaft extends out to a flared base (with the Tantus logo stamped on it).
Due to the flared base, this dildo is O-ring compatible (you'll want a 1.5″ stretchy O-ring, or a 1.75″ firm O-ring) and it's also safe for anal use. This is not a suction cup toy, unfortunately.
Packaging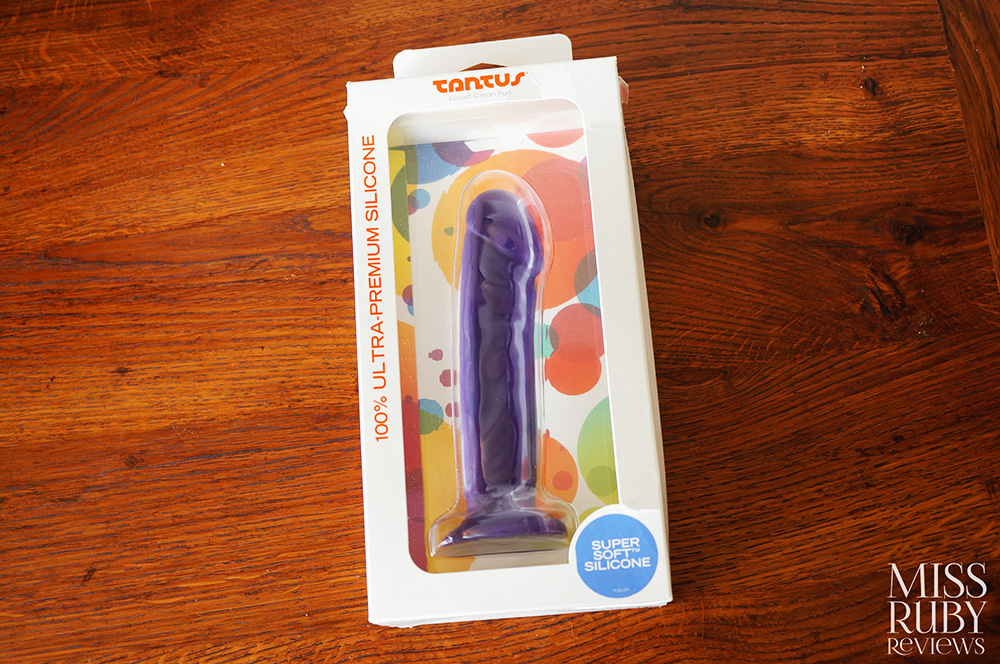 The Vamp Super Soft comes with Tantus' typical colourful and bubbly (and a bit excessive in terms of unused space) packaging. Tantus dildos do not come with a storage pouch, so you'll need to find your own way to store it (I recommend a simple fabric bag to keep it dust-free).
Material and Care
Tantus products are made with 100% silicone. This makes them free of bodysafe (non-porous, non-toxic, free of phthalates). Silicone toys can also be sterilized (for switching between anal and vaginal use, for example, or for shared use with different partners).
This silicone texture on the Vamp Super Soft is moderately grabby, and definitely a dust-magnet. Silicone always seems to use up natural lubricant faster than skin does, so please also add a bottle of lubricant in your cart.  I recommend opting for a good quality water-based lube like my favourite Sliquid H2O.
For everyday cleaning, I wash my Vamp Super Soft with warm, soapy water. If you'd like to sterilize yours, you can also boil it for 10 minutes or rinse with a 10% bleach solution.
My Experience with the Tantus Vamp Dildo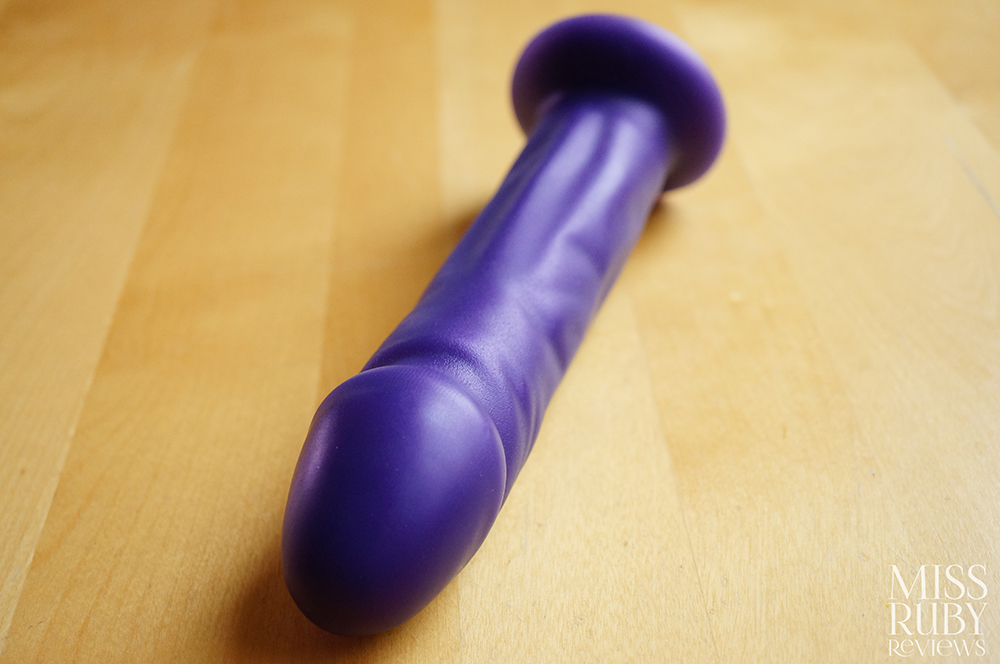 It can be tricky to get straight dildos to deliver good G-spot pleasure. The G-spot needs a curve/hooked design and it needs firm pressure, so straight dildos often slide past it. To my delight, the Vamp Super Soft doesn't slide past; that broad, pronounced head (coupled with the defined coronal ridge) means that the G-spot can be located pretty easily. It delivers blunt, filling pleasure.
I did find, though, that the Vamp Super Soft feels large, larger than it looks. Maybe I'm just used to narrower dildos nowadays, but the Vamp Super Soft didn't feel small. This is in part due to the circular roundness of the diameter (oval/oblong cross-sections can often feel narrower). But it's also the firmness. Though the Vamp Super Soft is supposedly "super soft," it really isn't. It's bendable, but it's certainly no squishy dildo heaven. For a Tantus toy, it is soft, but if you're really looking for something squishy, I recommend something more along the lines of the Blush Nude Helio or VixSkin.
I do also wish that this was a suction cup toy. I'm so used to that feature being available; I wish Tantus hollowed out the base of their dildos like some brands, so that there would be a built-in suction cup.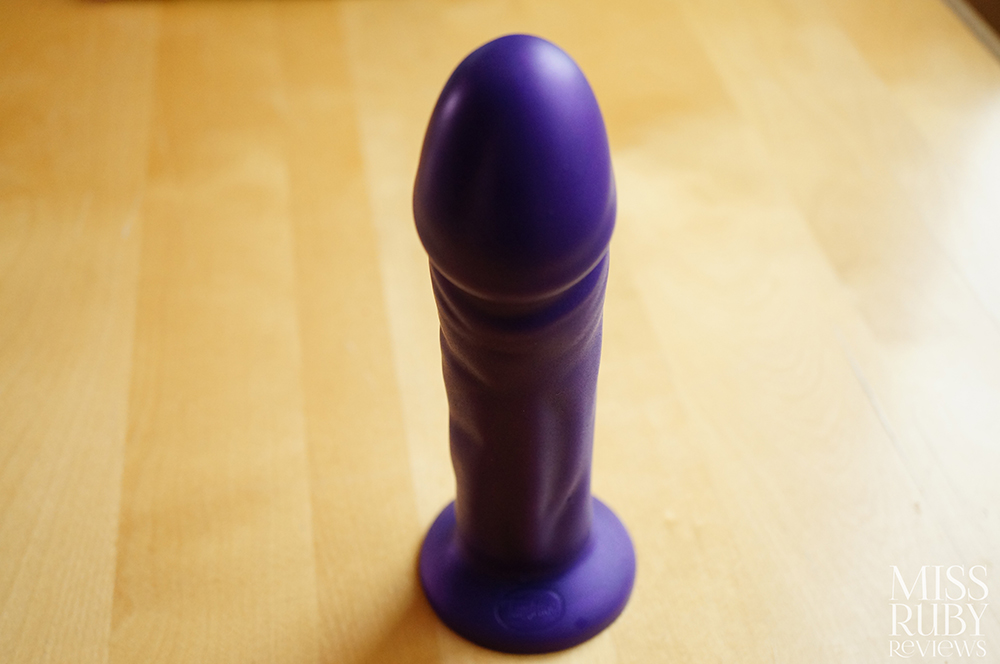 Overall
The Tantus Vamp Super Soft is a fairly standard, straight silicone dildo. It's not as soft and squishy as the name implies, but it's still one to seriously consider if you're looking for a large, semi-realistic dildo. And the price isn't bad either; it's only $59 USD (minus 10% when you use coupon code RUBY), which isn't too shabby in the world of silicone products.
My Tantus Vamp Super Soft review summary is below.

Last Updated on March 18, 2023 by Miss Ruby