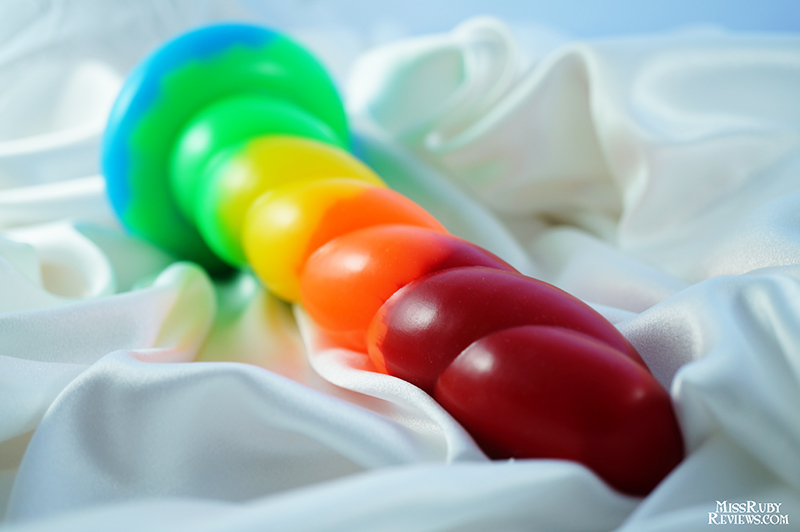 This dildo is soooooo ridiculously fun!
Physical Details | Material and Care | Packaging | My Experience | Overall
Physical Details
It's easy to fall in love with the Split Peaches Unicorn Rainbow Dildo. It's so pretty and lovable. Colored with blue, green, yellow, orange, AND red, this is officially the most colorful toy in my collection.
So what is it? There's no beating around the bush. Put simply: this dildo is modeled after a unicorn's horn. And it's rainbow-colored! Things can't get more fun and sparkly.
Split Peaches has come out with a whole line of unicorn horn dildos. The specific one sent to me by SheVibe for review, however, is the Unicorn Rainbow in Medium. Even at Medium, it's still a sizable dildo (8 inches tall). The smallest part of the tip already measures at 1.25 inches diameter, and this gradually increases to 2 inches at the base. If you're not sure if this is a good size for you, Split Peaches produces the same model in Small and Large sizes.
At the bottom, the dildo flares out to a large base (nearly 3.5″ diameter), making this toy definitely safe for anal use and compatible for O-ring strap-on harnesses.
On another note, for some reason I assumed the base would be suction cupped. Sometimes, manufacturers hollow out the base into a concave dip, which renders it suction-able. Unfortunately, it's not the case with this toy. This toy can stick slightly to a surface, but it comes off pretty quick and it obviously not meant to be suction cupped.
This isn't the softest dildo of the bunch. I rummaged around for some nearby dildos for comparison and found that it's firmer than Tantus' O2 dual density line and about the same firmness as Fleshjack's silicone dildos. It's firm enough for me to wish it was squishier (I'm a sucker for squishy dildos), but it's firm enough to stand up and and hold form. It should appease most customers. It's certainly not rigid like cement like some of the cheaper silicone dildos out there.
Material and Care
The Split Peaches Unicorn Rainbow Dildo is made from 100% silicone, making it completely bodysafe and hygenic. Because it's non-porous, it won't harbor bacteria in between use and can be completely sanitized. For regular day-to-day cleaning, I simply wash mine with warm, soapy water. However, if you'll be using it anally or if you'll be sharing it between people, be sure to sanitize it. You can do this by boiling it for 10-15 minutes or wiping it down with a 10% bleach solution. (if you use the bleach method, make sure to rinse all the bleach off afterwards). You can also just throw it in the dishwasher and put it through a hot cycle.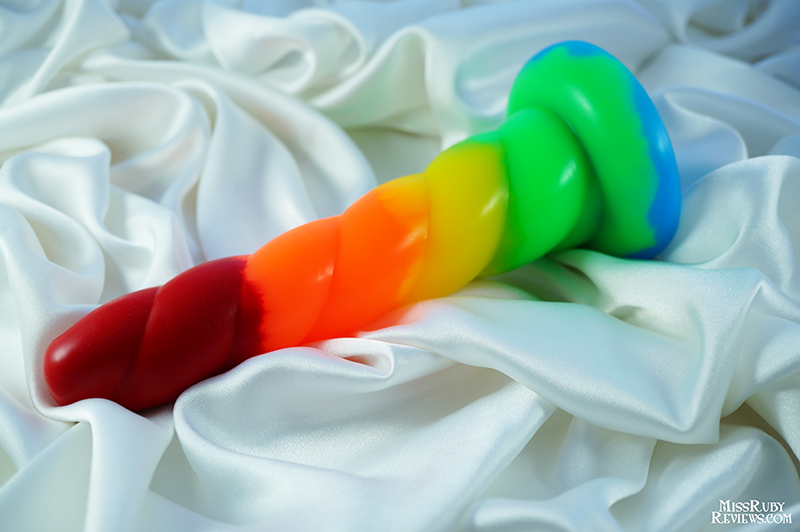 One note about the texture: this silicone is remarkably grabby. Lint/dust will stick to it, and your skin won't slide over it easily if you're dry. Definitely make sure you're well lubricated before use. I recommend adding some water-based lubricant like this  (or, if you'd like some delicious flavoring to add to your fairy tale unicorn experience, try the apple one). Whichever lubricant you go with, make sure it's water-based, like the ones linked here.
Packaging
This toy was packaged modestly in a plastic bag with the Split Peaches logo. It's simple, practical, and points out that this product is made in the USA.
I really do wish that some sort of storage option came with this toy. Right now it's lingering in the plastic bag it arrived in, which isn't very sparkly for a magical unicorn horn. That being said, it's very rare for dildos to ever come with something like a drawstring satin bag, so its exclusion isn't an unusual occurrence.
My Experience
You really can't help but be in a good mood when you use the Split Peaches Unicorn Rainbow Dildo. Seeing those colors must do something for my brain because I get cheery just looking at it.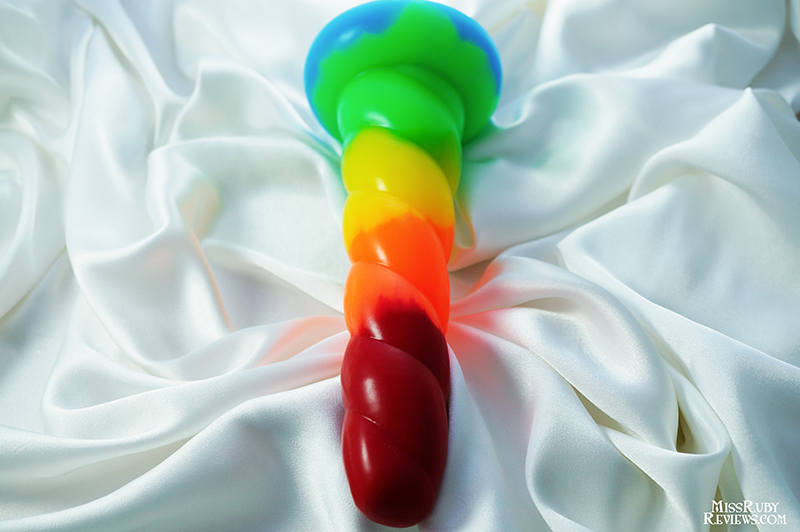 In use, the spirals of the horn translate into a delicious bumping sensation. Here, the relatively firm silicone is a blessing because it lets you feel each curve. I was also pleased to find that the wide base makes for a super comfortable handle (there's nothing quite so frustrating as a dildo that falls from your grasp).
Like with any straight dildo, I struggle to get immediate G-spot stimulation with this toy. Quick, effortless G-spot stimulation generally requires a curved or hooked dildo (or something super bulbous like the Comet), and straight dildos offer none of this. THAT BEING SAID, I can work around it with this toy. The firm shaft is fairly flexible, meaning that if I experiment with positioning and angling,  I can get some G-spot magic. Do I hit my G-spot or AFE zone every time? Nope. But it still provides enough stimulation to considerably intensify my clitoral orgasms. (tip: once inserted, sliding it side to side instead of thrusting is amazing).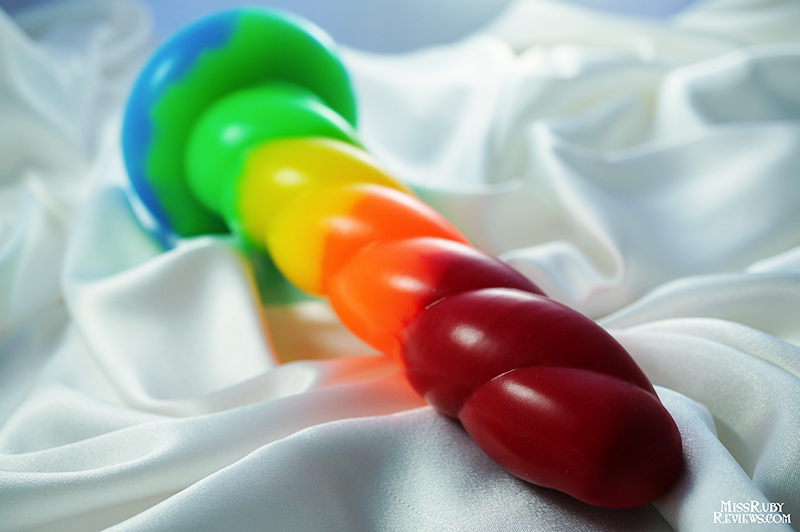 Another word about the shape: because it starts narrow and ends wide, using this toy gives you a unique sensation. Pleasure and the feeling of fullness intensifies as you thrust inwards because the girth expands. The deeper you thrust, the more the shape stimulates the G-spot. Coupled with the bump-bump-bump of the spirals, this dildo can (and does) provide a pretty magical experience.
Still, in use, I can't help but wish the base was hollowed out into a suction cup! I'd be so thrilled if Split Peaches added this in the future.
Overall
I love my Unicorn Horn Dildo. It's rainbow-y, it's magical, and it feels good.  And for people who enjoy gentle texture, this dildo's horn-like spiraling bumps and curves will hold special appeal.
Priced at $65, the Medium Rainbow Unicorn Horn Dildo is a decent price. It's hand-poured in the USA, and such things often come with a higher price tag than this. And silicone is expensive (not only for us to buy, but for manufacturers to use). If you want all the fun but you're not sure if you want to pay $65, you could try the same model in Small size for only $43, which is seriously cheap for a silicone dildo.
To buy the Split Peaches Unicorn Rainbow Dildo, head on over to SheVibe.

Last Updated on March 14, 2020 by Miss Ruby