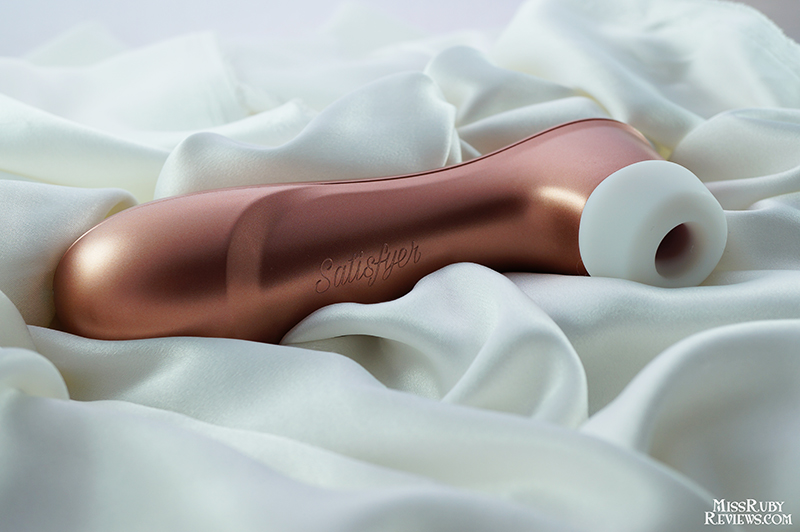 It's official. The Satisfyer Pro 2 is…well….satisfying.
Physical Details | Material and Care | Shipping and Packaging | My Experience | Overall
Physical Details
No, it's not one of those instruments a doctor uses to look inside your ear. It's also not exactly the most sexy-looking thing on the planet. But don't let that stop you.
The Satisfyer Pro 2 isn't technically a vibrator. Instead, it's an instrument that provides touch-free pressure wave stimulation. It's lightweight, easy to grip, and fabulous to own. When placed over the clitoris, the clitoris is encircled/enveloped by the nozzle's circular hole. The Satisfyer Pro 2 works by creating a pulsating effect (one which, I feel, is along the lines of suction). When underwater, this sensation is intensified, but it works well outside the tub as well.
It consists of the body and the clitoral cap. The bronze ABS plastic body is an effective handle. In use, the handle is just big enough to make for a comfortable grip. There are only 2 buttons: ON and Increase. The buttons are placed in a convenient location: when in use, I'm not fumbling to figure out how to speed things along.
The white silicone cap is removable and soft. It's firm enough to hold its shape but soft enough to feel comfortable when pressed against my clitoris. Its texture itself is lovely: silky and smooth.
Material and Care
This toy consists of an ABS plastic body and a silicone cap. The cap comes off for (super) easy cleaning. Being made from these materials means that this toy is 100% bodysafe. Woo! If you'd like to use lubricant, stick with a water-based lubricant like Sliquid H2O.
This toy is also rechargeable (recharge for 2.5 hours) and completely waterproof.
Just to warn you, there are some powerful magnets in this toy. Don't put your credit cards near it. Don't leave it near your computer or your cell phone. Don't place it over your pacemaker in an attempt to get your nipples sucked (and the manual suggests that you consult a physician before use if you do have a pacemaker).
You also shouldn't use it for more than 15 minutes at a time which, for me, is plenty enough time.
I also have to point out a hilarious note in the manual that states, "Do not store the product with depleted batteries. Regular use ensures the battery will last for a long time." In other words: masturbate often, folks. It's good for electronics.
Shipping and Packaging
In the box
Peepshow Toys shipped my parcel in a plain, anonymous, brown package. Along with thousands of other consumers, I really appreciate this discretion.
The Satisfyer Pro 2 itself was packaged neatly in a black box. It's non-pornographic and, at first glance, doesn't even look like a sex toy. When you read the title and the fine print, however, it's pretty clear what this is meant for. Inside the box, the Satisfyer Pro 2 and its charging cord lie in a black plastic holder. You also receive an instruction booklet. Make sure to read the instructions first.
Complaint: I wish this product came with a storage pouch. There are only so many spare storage pouches a sex toy reviewer has on hand…
My Experience with the Satisfyer Pro 2
In short: satisfying.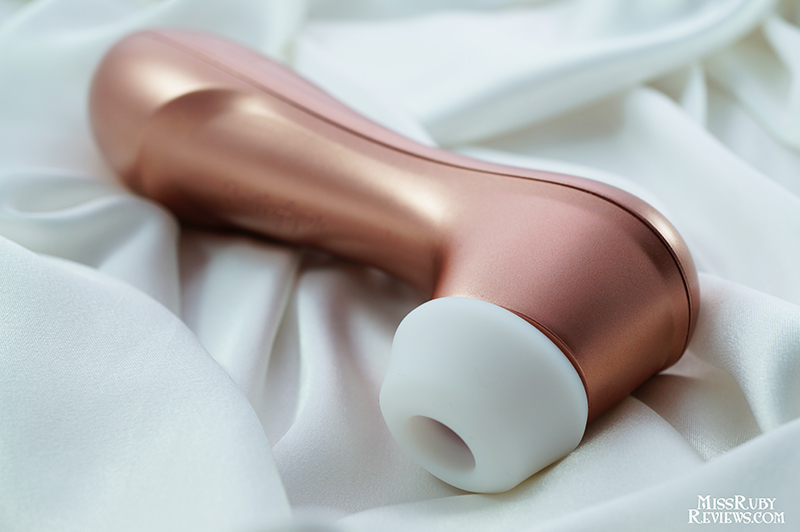 This really is the weirdest sex toy. After using it for merely a few seconds, my clitoris becomes engorged which is either from (1) the sheer intense pleasure or (2) the subtle suction-like sensation. This, unsurprisingly, makes my clitoris extra sensitive. Which only makes things more fun.
After about 60 seconds of using this toy, I orgasm. Every. Time.
As far as orgasms go, they are (a) ridiculously intense and (b)  fascinating. When in use, I can't pinpoint any actual physical touch (because there is none), creating a futuristic-type touch-free pleasure. However, it definitely feels good, in a how-is-this-working?? sort of way. The orgasms that inevitably arrive are incredible. They have a natural, organic crescendo, and decrescendo, and then, amazingly, my clitoris is up for it again. Without even removing the toy, I can go on to have further orgasms. This, in itself, is rare. I'm used to multiple orgasms in one sex toy session, but my clitoris usually needs a few seconds away from stimulation before I can go again (you penis-owners are getting jealous now, aren't you?). With the Satisfyer Pro 2, something about its stimulation means that I can enjoy several consecutive clitoral orgasms without break.
In other words, the Satisfyer Pro 2 provides me with quick, pleasurable, touch-free orgasms. Because the clitoris becomes swollen (in the best way possible) during use, my orgasms feel more sensitive, and this is one of the rare toys whose highest strength is too strong for me. Its sheer intensity keeps me using the lower levels. For people who struggle to orgasm from conventional toys, and for everyone else, I think you'll find happiness in this toy.
Out of all its additional features, the most fun is that it's waterproof. I can confirm that using it underwater increases the sensations dramagically. But for lazy girls like me, I'm perfectly satisfied by the intensity that I receive outside of water.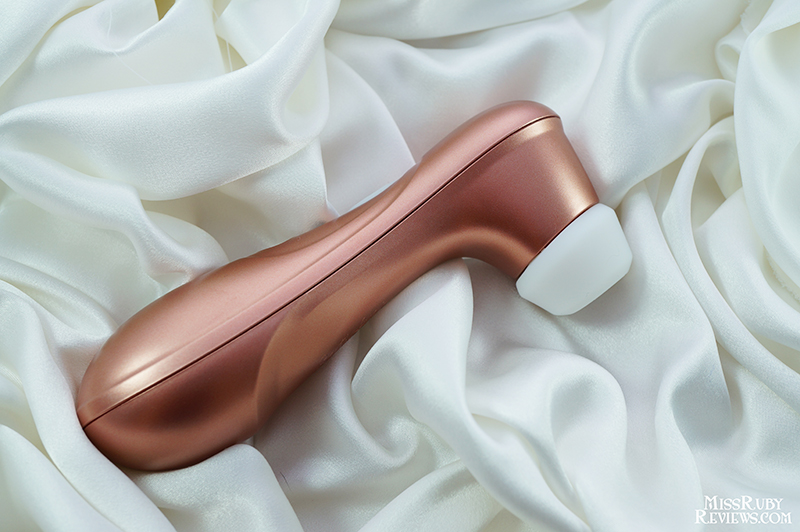 Overall
The Satisfyer Pro 2 has landed itself as one of my favourite sex toys. It's bodysafe, it's easy to clean, and it delivers an unforgettable, unique orgasm. I have zero complaints about its functionality (though I'd love to see a prettier colour…bronze is a bit too 1960's sci-fi for me).
I also can't get my head around how inexpensive this is. Peepshow Toys sells it for only $69.99. This is seriously cheap for a sex toy of this quality.
To buy the Satisfyer Pro 2, head on over to Peepshow Toys. And for 10% off, use coupon code RUBY.

Last Updated on March 18, 2023 by Miss Ruby