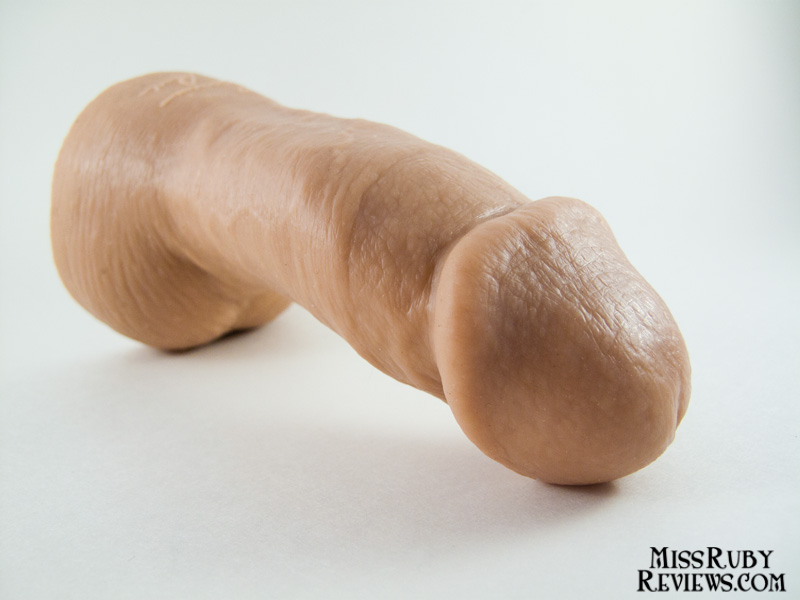 This dildo has personality. Gumption, even.
Physical Details | Material and Care | Shipping and Packaging | My Experience | Overall
Physical Details
I requested this particular model from Fleshlight because I could tell, straight away, that this dildo was going to be unique. Have you noticed how most dildos look generically perfect? Perfectly straight shaft, beautifully proportioned features, smooth coronal ridge? Not this one.
This product, thanks to the life-casting gods, gives you a dildo that's not stereotypically handsome. It's still handsome, mind you, but just not generically so. The shaft bulges in some spots. The coronal ridge is kind of funky, straight where ridges are often round. The head is slightly asymmetrical. It has the overall effect of not looking particularly youthful, instead giving you impression that this dick is worldly and experienced. Okay, maybe I'm getting ahead of myself and projecting too much onto it. But still. I love that this dildo isn't aesthetically conventionally perfect. It's interesting to look at.
Asides from its awesome aesthetic variations, it's interesting in other ways too. The shaft is mostly straight with a slight downward curve towards the tip. The shaft is detailed with thin veins running along it. There's also a horizontal line where the foreskin was, which is a detail I rarely see in dildos.  It's also hella thick. Its circumference of 6 inches, opposed to an insertable length of 5.25 inches, makes this a stocky and stout toy. With the balls (which are remarkably round, by the way), the total length is 7 inches. On the upper base of the toy, you'll find Spencer Reed's signature.
One thing that really impresses me about Fleshlight's dildos is that the cast is so spot-on that even the smallest wrinkles and folds in the skin are captured. This gives it a super-realistic appearance. So yeah. Realism-lovers, pay attention to this line of dildos. Fleshjack Boys does a great job at capturing detail.
Lastly, a word on firmness. This is a single-density silicone structure. There is some give to it when you squeeze it, but not much. That being said, it is softer than Tantus' single-density silicone, and similar to Tantus' O2 line. I'm happy with this dildo's firmness. You can bend it in half and twist it about. I wouldn't complain if it was more squishy (because you can never have enough squish…), but this firmness amount certainly doesn't bruise my cervix.
Material and Care
The Spencer Reed Dildo is made from 100% premium silicone. This silicone is matte, not particularly shiny like some other brands. Surprinsingly, this particular silicone finish isn't a huge lint-magnet. Silicone is non-toxic, free of phthalates, non-porous, and the best material you want in a sex toy. Because it's non-porous, it won't absorb anything, so you don't need to worry about bacteria growing in any micro-pores. For regular cleaning for vaginal use, I wash this dildo with warm soapy water before and after each use, taking care to carefully clean out the urethral dent. But if you want to use it anally, tranfer it between anal and vaginal use, or if you want to share this between partners, you have to sterilize it. To sterilize, you can boil it for 5 minutes or wipe it with a 10% bleach solution. If you use the bleach method, make sure to rinse it thoroughly because bleach is the last thing you want in your butt.
I store this toy in a clear plastic ziplock freezer bag.
Only use a water-based lubricant with this toy, as silicone-based lubricant can degrade the silicone of this toy.
Shipping and Packaging
The packaging is fairly pornographic. Spencer Reed, that handsome devil, smiles at you from the front cover. When you open the cover, you get a shot of him in all his au naturel glory, along with some specifications and backstory. The dildo itself is nestled in a black plastic holder.
My Experience
Once my vagina is armed and ready, this dildo feels superb.  But let's backtrack a bit.
I'm quickly learning that my vagina has an annoying personality. It wants girth, but it refuses to immediately take girth. The same goes for this toy. Spencer here is way too girthy for me to take immediately. I need to work up to it slowly, using smaller dildos and having buckets of orgasms before I feel comfortable sliding this one in.
During the first couple of uses, I used it with the balls facing away from my clitoris (think missionary). I wasn't all that impressed. The girth felt great in that stretchy-full way, but my G-spot was annoyed that it wasn't getting an ounce of attention. Like with the Pierre Fitch dildo, I find that the downward curve causes my G-spot to be ignored when in a missionary position.  My G-spot, even when I'm aroused, isn't super pronounced, so it really needs something sliding upright against it. And if my G-spot isn't being hit, it doesn't feel like much at all for me. So it wasn't a great start.
But, like with the Pierre Fitch dildo, I found that turning it upside down so that the balls are against my clitoris (simulating doggy-style) makes a world of difference. In this position, the shaft's downward curve becomes a classic G-spot upward curve, and things immediately go from a cool 0 to a steamy 100. The shaft presses very firmly into the G-spot. I also don't feel any uncomfortable cervix-punching moments, thanks to the 5.5 inch long shaft. And, thanks to the thick shaft, I don't have to sacrifice any feeling of stretch. I find that the combination of the G-spot stimulation, plus the stretched feeling, speeds up my clitoral orgasms considerably.
Speaking of which, during clitoral orgasms, my Kegel muscles have a field day because there's so much to clench. This dildo feels very, err, meaty, and I during those contractions, my Kegels lock the shaft in place against my G-spot. It's a whole lot of fun. Believe me.
I also want to add a note about how its appearance affects my playtime. I'm one of those bloggers that has to feel drawn to a dildo (based on the attractiveness of shape, color, etc) to really really enjoy it. This can take the form of anything from a really pretty shade of red on a non-phallic dildo to the shape of balls on a realistic dildo. If I don't feel somehow attracted to each dildo, I can't really enjoy them very much. This is one of the reasons I work hard to provide my readers with good shots of all the angles of each dildo in my reviews. Anyhow, I just wanted to say that this dildo's appearance really enhances my play session, and its high level of detail is one of the factors that keeps me going back to this toy.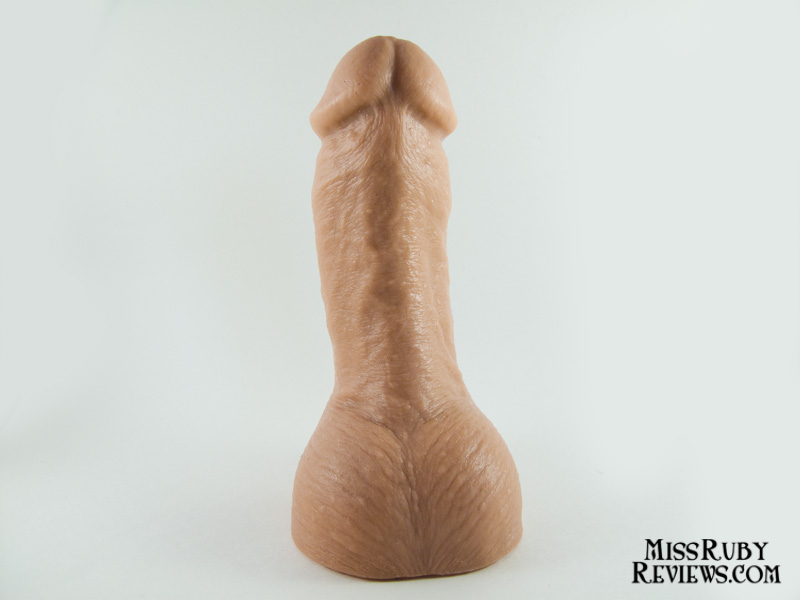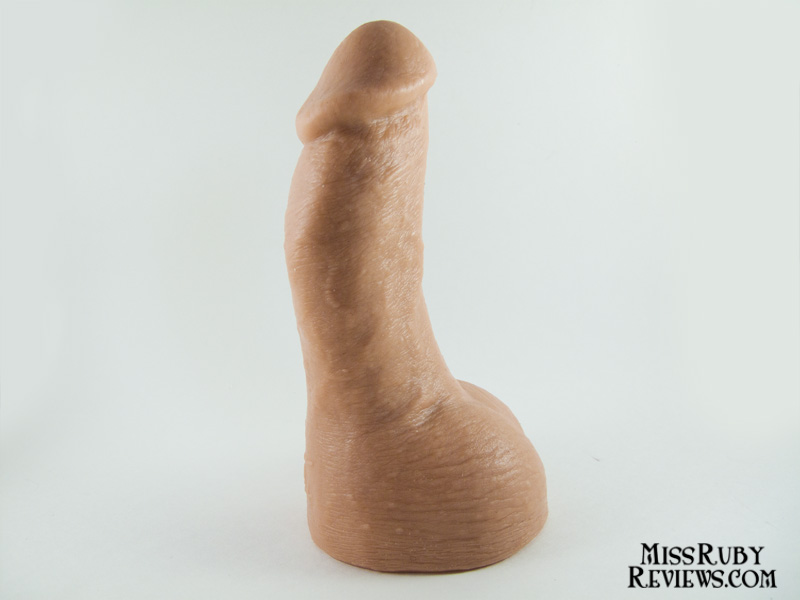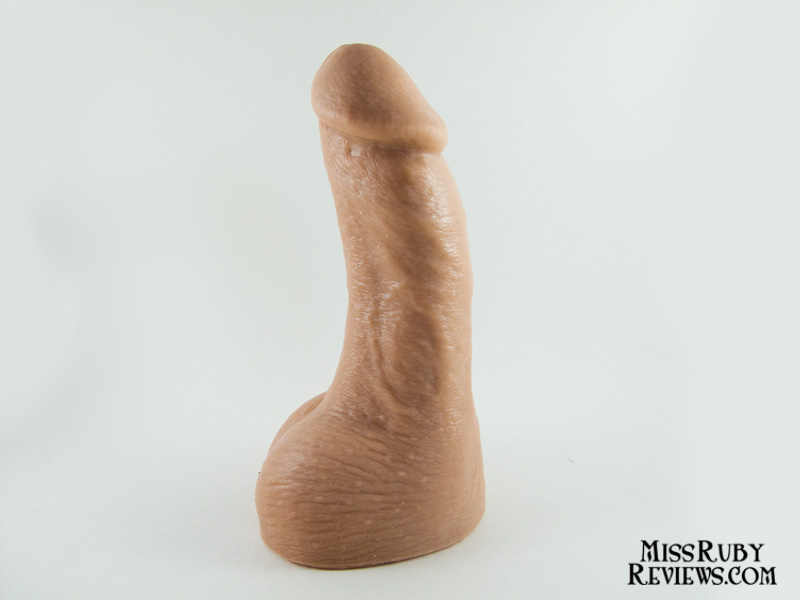 Asides from this design not doing much for me in a simulated missionary position, there's not much to complain about.  It needs a ton of lubricant though. Because the dildo is so finely textured and detailed, it can feel a bit rough and abrasive the moment it's not slick with lubricant. I strongly suggest that you don't skimp on the water-based lube during play. Keep it close and add some more often.
Overall
In sum, I think this dildo makes a great addition to any realism-lover's dildo collection. It's an interesting dildo, not conventionally good looking in the generically-perfect-penis sort of way. This is pretty rare for silicone dildos. Vaginally, it feels great too. It works for the G-spot with a little bit of trial-and-error, thanks to the downward curve that transforms into a typical G-spot curve when you turn it upside down.
To buy a Fleshjack Boys Dildo, head on over to SheVibe!