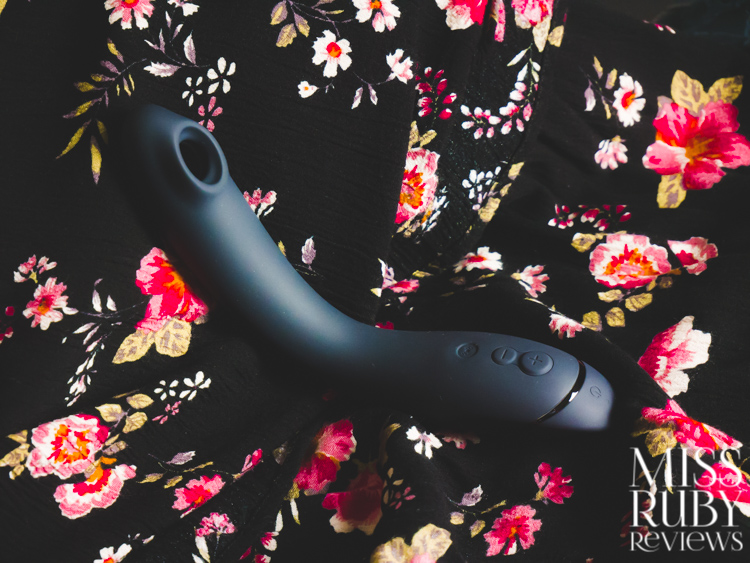 An internal/external stimulator that uses both suction and vibration. Read on for my Womanizer OG review!

Design | Accessibility | How to Use | Packaging | Material and Care | My Experience | Overall
Design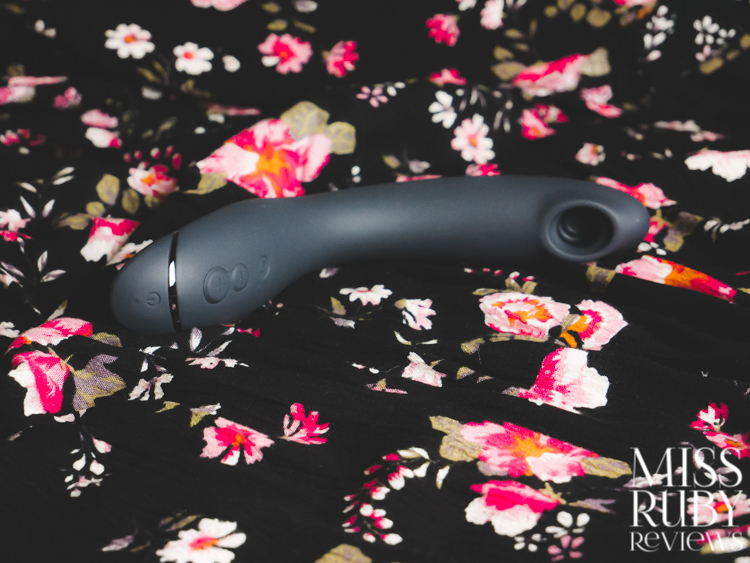 The Womanizer OGis a first for Womanizer; it's the first toy to combine Pleasure Air technology with vibration for both internal stimulation and external. Toys have been combining these two stimulation methods for a while for clitoral use (like this), but I've never before seen it for G-spot stimulation. So, obviously, my interest was piqued!
---
WHAT IS PRESSURE WAVE TECHNOLOGY? Pressure wave technology provides touchless stimulation. When used against your clitoris, it makes your clitoris feel like it's being sucked and massaged by air. This sex tech first emerged around 2016, and since then I've witnessed (and reviewed) the technology spread across the industry. I was skeptical at first, and the technology is pretty bizarre, but it can be SUPER effective if done well. Womanizer was the very first company to come out with this technology, and I'm constantly impressed with its products.
---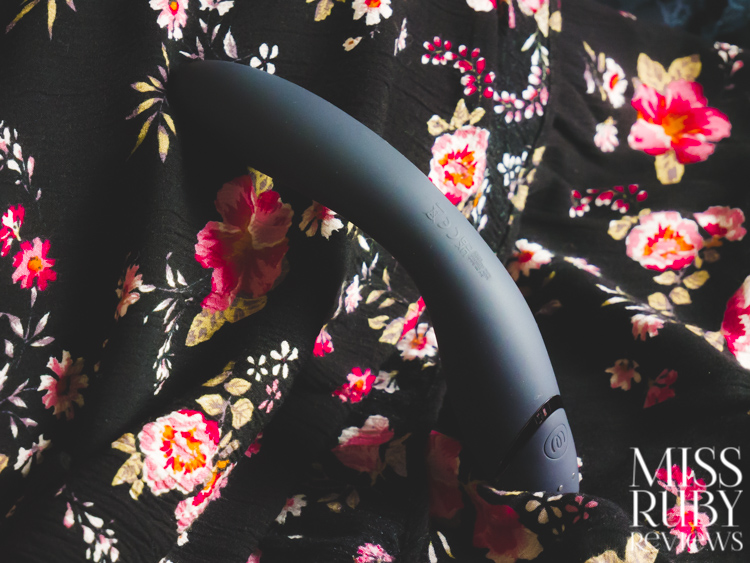 Design-wise, the Womanizer OG looks quite sleek and futuristic. There's a large open mouth at one tapered end (the "Pleasure Air head"). The shaft narrows towards the flexible joint in the middle, and then the body widens to a comfortable handle. All control buttons are housed in the handle.
Features
The Womanizer OG is IPX7 waterproof, rechargeable, and coated in a smooth, silky, bodysafe silicone. There are 12 Pleasure Air intensities and 3 vibration intensities. There is always vibration+suction; you can't turn off the vibration entirely.
It also comes with SmartSilence mode activated. This is a handy feature that means it won't turn on unless it senses skin next to the stimulation mouth. You can turn off the feature if it annoys you, but personally, I love it!
Womanizer writes, "Curved to your body, Womanizer OG has a flexible arm for a comfortable, custom fit." Just to be clear, the arm isn't adjustable — it's simply a bendy joint in the middle so the shaft bends slightly during use. I'm not sure why they did this because this limits how strongly you can press it against your G-spot.
Asides from the bendy joint in the middle, the body itself is quite firm all over.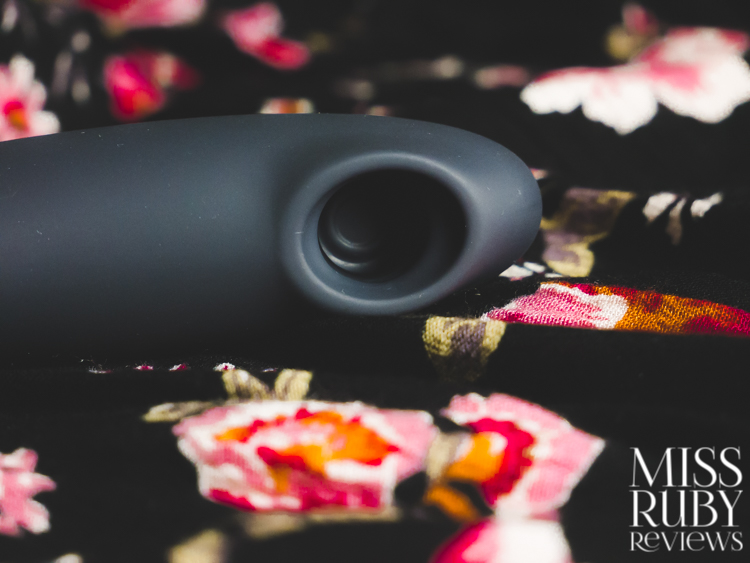 The Pleasure Air pressure wave head is QUITE large. At about 21mm x 17mm, it's possibly the largest pressure wave opening I've ever seen. The lip around it is about 3mm wide and fairly firm.
My guess is that the head is so large because Womanizer wants it to be able to cover your entire G-spot; other pressure wave toys focus on the clitoris, so the heads can be smaller.
I got my Womanizer OG in the Dark Gray colour. It's basically a soft, matte black. It also Lilac (a pastel blurple tone) and Aubergine (a true deep purple).
Accessibility
This section is to help folks with different abilities determine if they might have any issues using/accessing this toy.
Size: 176 mm x 113 mm x 39 mm
Weight: 152 g
Buttons: There are 4 buttons on the Womanizer OG: the power (ON/OFF) button, a (+) button, a (–) button, and a vibration button. The power button is about 5mm wide and flush with the surface. The round (+) button is about 15mm from the power button; it's raised about 2mm and 11mm wide. The (–) button sits 2mm up the shaft; it's about 1mm tall and 7mm wide. The vibration button sits 5mm up the shaft; it's depressed into the body about 1mm and it's 7mm wide. All buttons take a lot of pressure to press down.
Vibration transfer: When everything is turned up to full strength, there is moderate vibration transfer to the bottom of the handle. You can limit this by sticking to the first vibration level.
Visual Notes: As all buttons are the same colour as the body, you may find it tricky to figure out the buttons if you have visual difficulties.
Price: At $199 USD, this is quite a pricey toy. It's from a stellar brand, though, and it's the first time I've seen an *internal* toy combine pressure wave and vibration. It's also worth noting that Womanizer was the first brand out there to come out with pressure-wave sex toys. However, please read the rest of my review before deciding if this is for you.
How to Use the Womanizer OG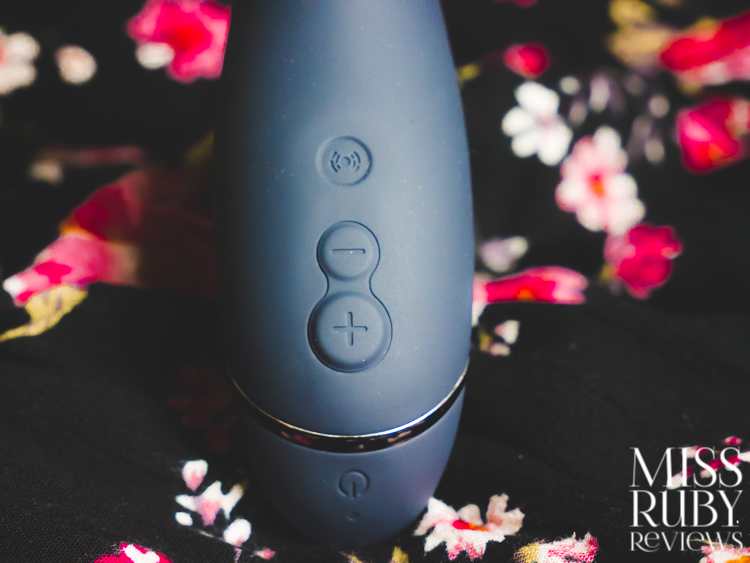 Button control
There are 4 buttons on the Womanizer OG: the power (ON/OFF) button, a (+) button, a (–) button, and a vibration button.
To turn it on, press the power button for 2 seconds.
If you don't notice anything, it's because SmartSilence mode is on. It'll only start functioning when the mouth is close to your skin.
Turn the (+) button to increase pressure wave intensity. There are 12 levels.
Press the (–) button to decrease pressure wave intensity.
Press the small vibration button to cycle through the 3 vibration intensities.
Long hold the (–) button to switch back to the lowest setting.
Press and hold the power button to turn it off again.
Use on your body
You can use the Womanizer OG clitorally by centering the large pressure wave "mouth" over your clitoris. The tighter the fit, the more intense the sensation will be.
You can also use this internally — apply some water-based lubricant to your entrance and then slowly insert it vaginally. Try to place the mouth of the toy over your G-spot.
Do not use this anally (there's no flared base for safety).
Play around with a combination of vibration intensities and pressure wave intensities.
Packaging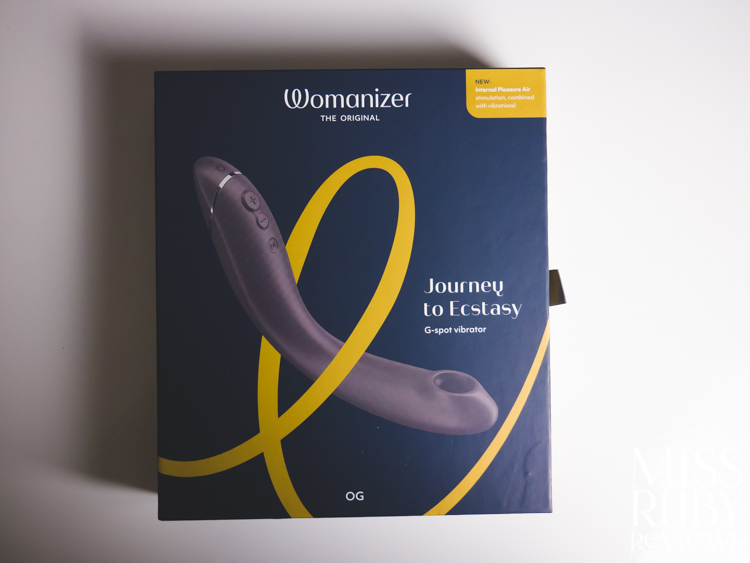 The Womanizer OG is packaged beautifully. My box was dark gray with gold accents. After breaking open the hygiene seal, you slide open a drawer to reveal the OG and its accessories. It's a very tidy appearance.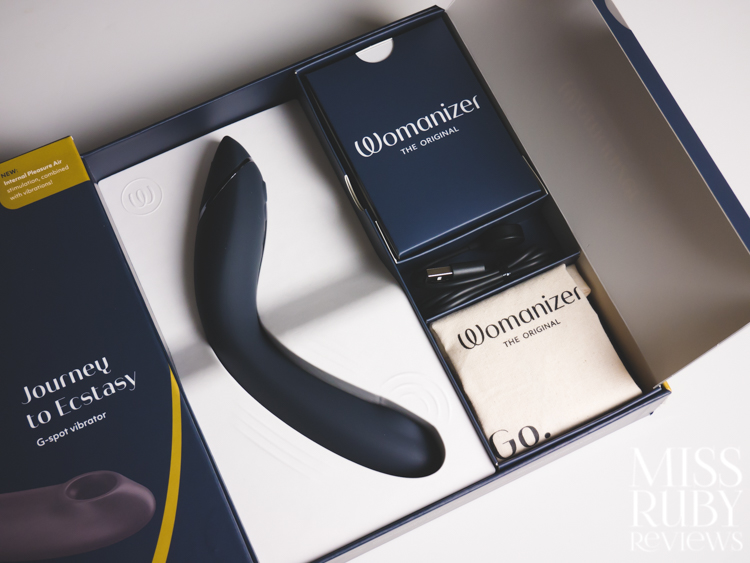 All in all, you receive the OG, a fabric drawstring bag, the USB charger, the manual, safety instructions, and a social media card.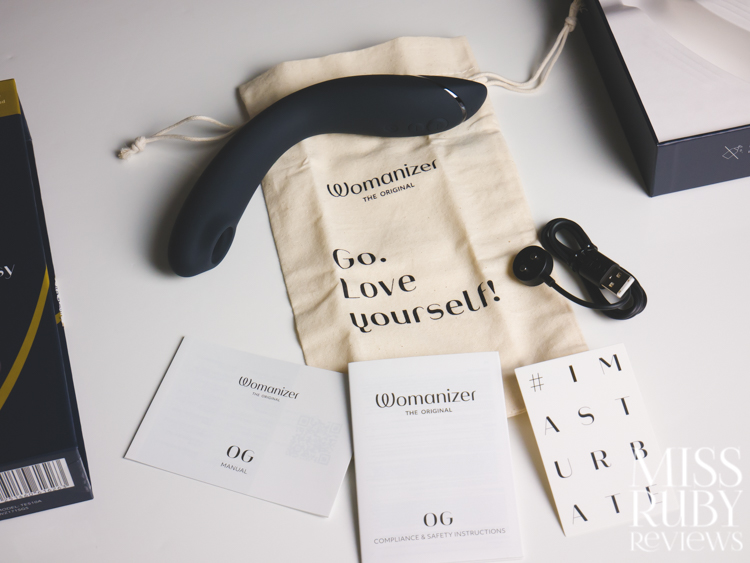 Material and Care
The Womanizer OG is made from silicone, making it bodysafe. There is also a small silver-coloured ABS plastic ring near the base, for decoration. Silicone is the best material you could ask for in a sex toy; it's nonporous (making it hygienic), non-toxic and hypoallergenic.
The Womanizer OG is waterproof (to an IPX7 level, which generally means it can be submerged up to 1 meter in water for 30 minutes).
To clean, I wash the body in warm, soapy water after each use. Then I shake and pat it dry. Womanizer recommends using a specialized sex toy cleaner, but I personally never had a problem with a mild, unscented soap.
It's a good idea to use lubricant with this toy. Stick to a water-based lubricant and apply it to your body (not inside the Pleasure Air head).
To recharge the Womanizer OG, use the included USB charging cable; attach the magnetic end against the two little metal dots at the base. Plug that cord into your computer or a USB wall adapter. A full charge takes just over 1.5 hours and gets you 2 hours of playtime, which is one of the longest runtimes I've seen on a rechargeable sex toy.
All of Womanizer's products come with a 5-year warranty, which is great. It's always comforting to have that extra protection.
My Experience with the Womanizer OG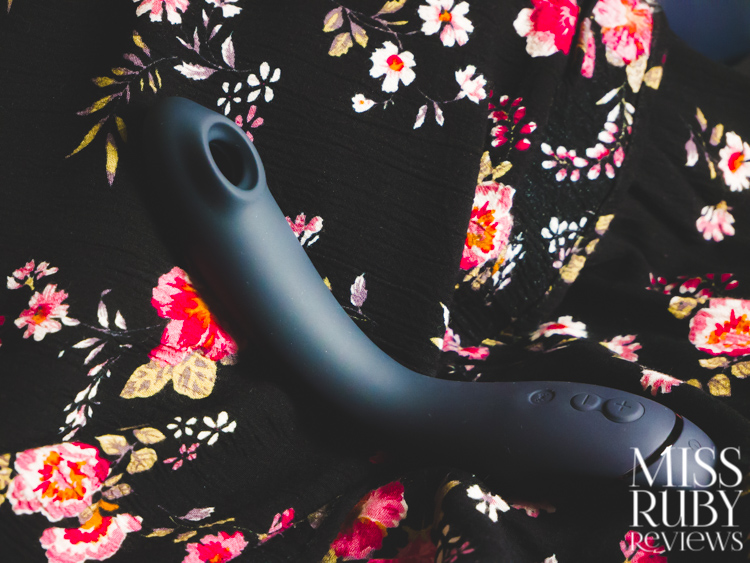 I generally ADORE Womanizer products. I've basically loved everything Womanizer has released, and for good reason — their clitoral toys are some of the strongest pressure wave products on the market, and I respect that they were the first to pioneer this pleasure tech. Their quality is top notch. Usually.
But this toy was, honestly, a disappointment.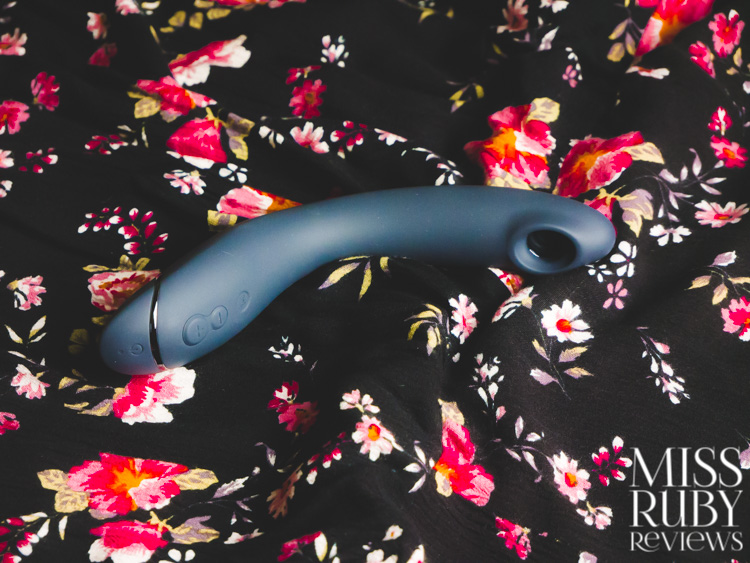 Where's the suction? Where are the vibes?
TheWomanizer OG was a bit of a flop for me. I think there are two pitfalls here.
(a) By cramming a vibrating motor and a pressure wave/suction motor into this slim sex toy, both features were weakened. The top vibration level is moderately-weak and buzzy. The top suction level isn't nearly as strong as some of Womanizer's other great products (here, here, here).
(b) Maybe the issue is the widened mouth. Perhaps the suction was dispersed over the large area, and diffused.
Whatever happened, the end result is this: neither vibration nor suction was strong enough to illicit any kind of orgasm from me (and that's saying something — I'm not hard to please).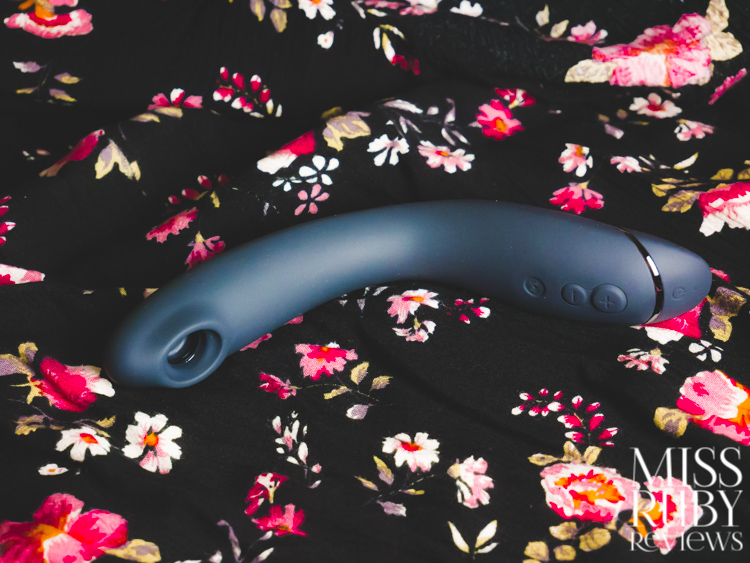 Feels like… nothing in particular?
The Womanizer OG's large mouth, coupled with weak suction, couldn't get my clitoris excited. I think this is the first Womanizer toy that's been a resounding failure when it comes to clitoral orgasms.
I was hopeful for G-spot stimulation. But the same weak pulsations that did little for my clitoris were barely registered internally against my G-spot. To be fair, I don't know if a pressure wave toy could EVER give the G-spot what it needs, no matter how powerful it is. The G-spot (at least mine, anyway) needs firm, stroking motions — but the raised firm lips surrounding the mouth don't exactly feel comfortable, and the annoyingly bendy shaft just keeps bending the head away from my G-spot.
So Womanizer — It's great that they tried something new. Being innovative is what made them so successful in the first place. But if they want to offer dual stimulation, they should stick with the Womanizer Duo, or simply sell gift packages that includes a proper G-spot vibrator and a separate Pressure Wave toy for the clitoris. Combining the two just didn't work.
Womanizer OG Review – Overall Thoughts
To my surprise, I was pretty disappointed with the Womanizer OG. I've always loved Womanizer products before, and I'd noticed that big online magazines absolutely raved about this thing. That's another reason to seek out reviews by independent sex toy testers — it's so easy to get swept up in the hype, but you need to hear experiences from real people. And my experience, unfortunately, is that this is just gimmicky.
If I haven't dissuaded you, you can pick up your own Womanizer OG at Womanizer.
Why do I like Womanizer? They ship internationally, they offer a 5-year warranty on their products, they only carry body-safe products, and this item will ship for free! Plus, by buying directly from Womanizer, you know you're not going to get a knock-off product. 

See below for my Womanizer OG review breakdown.
Womanizer OG Review
Overall thoughts - 3.5
3.5
$199
PROS
Bodysafe silicone
Rechargeable
Waterproof
I appreciate SmartSilence mode
Physically beautiful
CONS
Expensive
Weak suction
Weak vibrations
Bendy body makes it hard to get firm G-spot stimulation
Shop Now