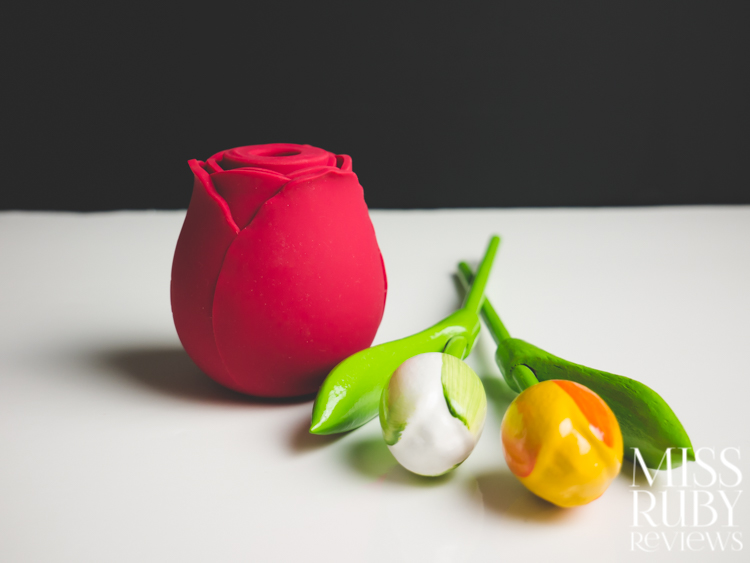 It looks like a piece of art, but it's one that gives you orgasms! Read on for my INYA the Rose Vibrator review!

Design | Accessibility | How to Use | Packaging | Material and Care | My Experience | Overall
Design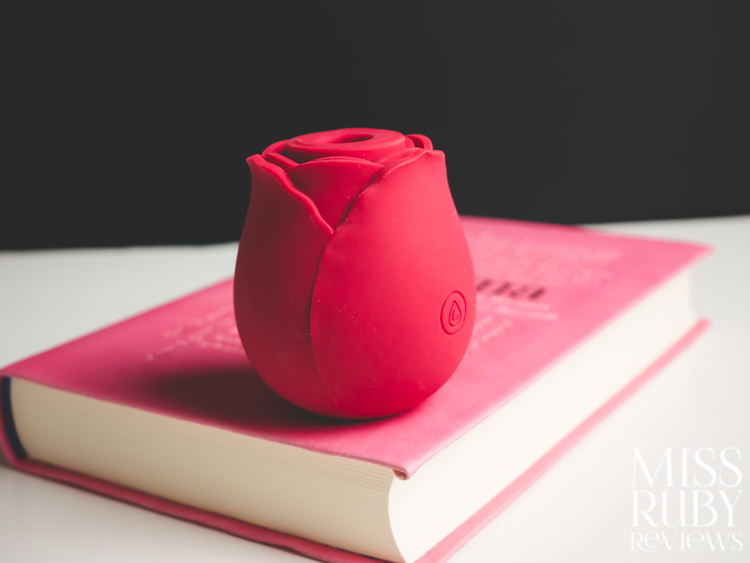 Look familiar? This rose-shaped clitoral suction toy has been spotted ALL over social media.
The INYA the Rose Vibrator is a clitoral suction toy by NS Novelties that combines pressure wave technology with vibrations. The result? Some very intense stimulation.
---
WHAT IS PRESSURE WAVE TECHNOLOGY? Pressure wave technology provides touchless clitoral stimulation, which makes your clitoris feel like it's being sucked by air. This sex tech first emerged around 2016, and since then I've witnessed (and reviewed) the technology spread across the industry. I was skeptical at first, and the technology is pretty bizarre, but it can be SUPER effective. Unlike the first pressure wave sex toys to hit the market back in 2016, the INYA adds a vibrating motor to amplify sensations. 
---
The INYA the Rose Vibrator is shaped like a beautifully sculpted rose head. Layers upon layers of decorative, delicate rose petals encase the head. At the top, a thick silicone lip encircles the suction opening.
It fits comfortably in the palm of my hand and, when not in use, can sit upright on its own. It looks so discreet that, if you've never seen one before, you wouldn't realize it's a sex toy if you saw it on a dresser or a shelf.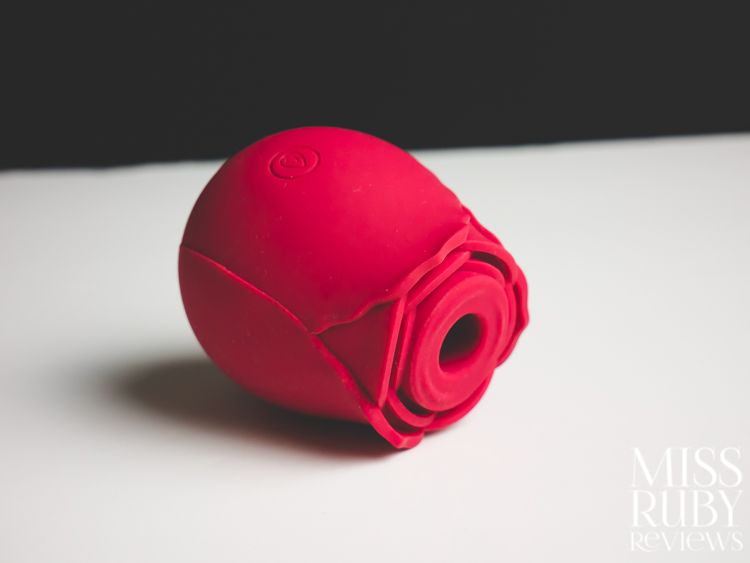 The INYA the Rose Vibrator is splashproof, USB rechargeable, and coated in a creamy silicone. It's available in Pink (which is kind of a purplish pink) and Red, which I got.
Accessibility
This section is to help folks determine if they might have any issues using/accessing this toy.
Size: The INYA the Rose Vibrator is a small and round suction toy. By my measurements, it's 6.5 cm tall, 5.7 cm wide (at its widest point), and 4.5 cm wide (at the head). The internal opening is 1.3 cm wide and 1.7 cm deep.
Weight: At 65 grams, this is a lightweight toy.
Buttons: There's one round button about 9 mm wide. It's the same colour as the body and sits flush with the surface. It takes little pressure to click and makes a loud 'click' noise.
Vibration transfer: Minimal vibrations reach the base/handle where your hands are.
Price: At $39.99 USD, this toy is quite cheap compared to other suction toys with similar features.
How to Use the INYA the Rose Vibrator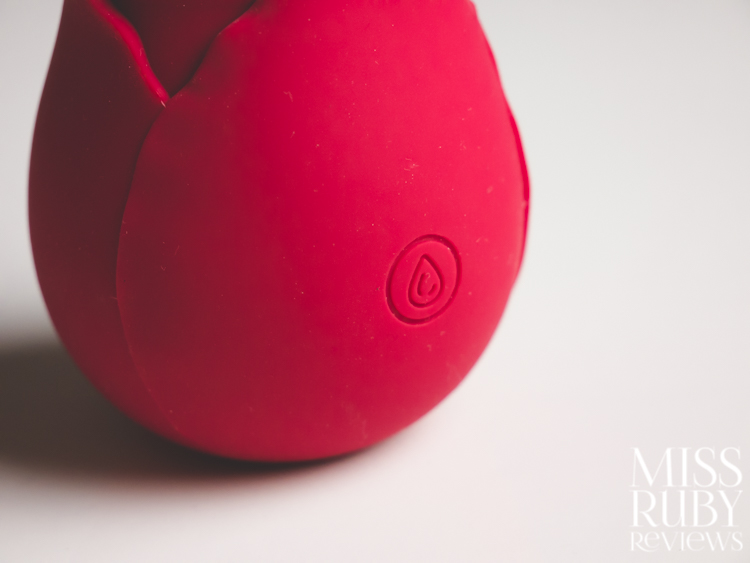 The INYA the Rose Vibrator is controlled by a single teardrop button near the base of the toy.
To turn it on, press and hold the button for 2 seconds.
Center the opening over your clitoris (you might need to gently part your labia). You basically want to nestle your clitoris inside the opening. The more air-tight the fit, the stronger the sensations will be.
Tap the button to cycle through its 3 speeds and 7 patterns.
To turn it off, press and hold the button again for 2 seconds.
Have trouble finding the official instructions? NS Novelties didn't include a booklet; the how-to instructions were written right on the box.
Packaging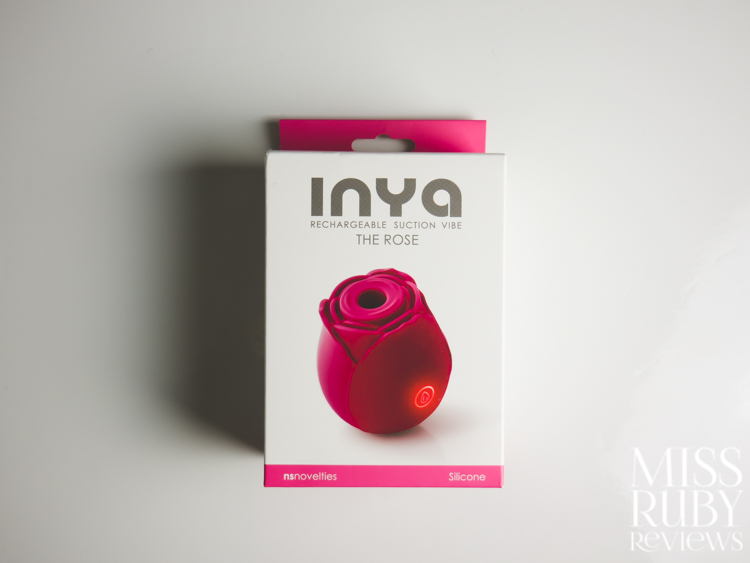 The INYA the Rose Vibrator by NS Novelties is packaged simply in a white and pink box. Seeing as this product is only $39, the packaging is basic/functional rather than luxurious.
Inside the box, you receive the INYA and a charging cable. No instructions booklet is included (instructions are written on the side of the packaging). You also don't get a storage pouch. If you really want one, you can browse for toy storage here.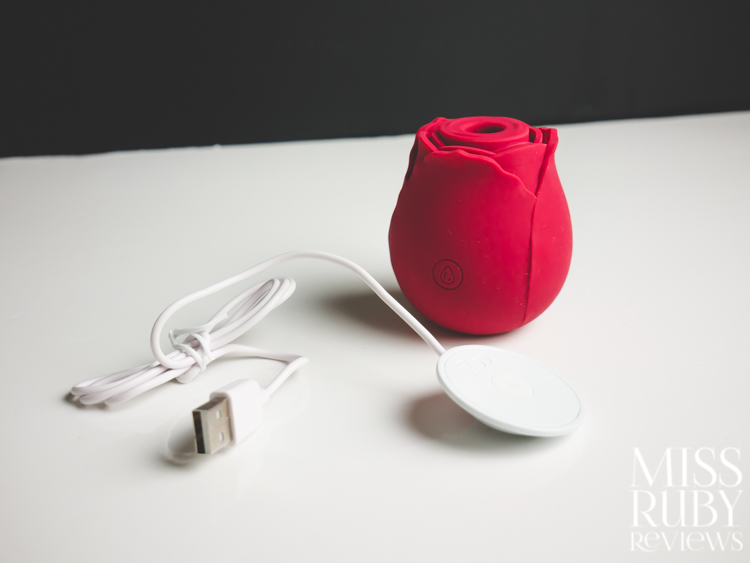 Material and Care
The INYA the Rose Vibrator by NS Novelties is made from silicone, making it bodysafe. This particular silicone finish is matte and silky to the touch.
The INYA the Rose Vibrator is splashproof, not fully waterproof.  To clean, I carefully rinse in warm, soapy water before and after each use. You could also add a dedicated sex toy cleaner if you want. I allow it to air dry before storing it away.
If you'd like to use lubricant with this toy, choose a good quality water-based lube like my favourite basic Sliquid H2O or vegan Wicked Simply Aqua.
The INYA the Rose Vibrator comes with a USB charging cable that's attached to a charging platform/disk. To recharge, put the charging disk down (flat side down) and connect the two metal pins to the pins on the underside of the INYA. Plug that cord into your computer or a USB wall adapter.
My Experience with the INYA the Rose Vibrator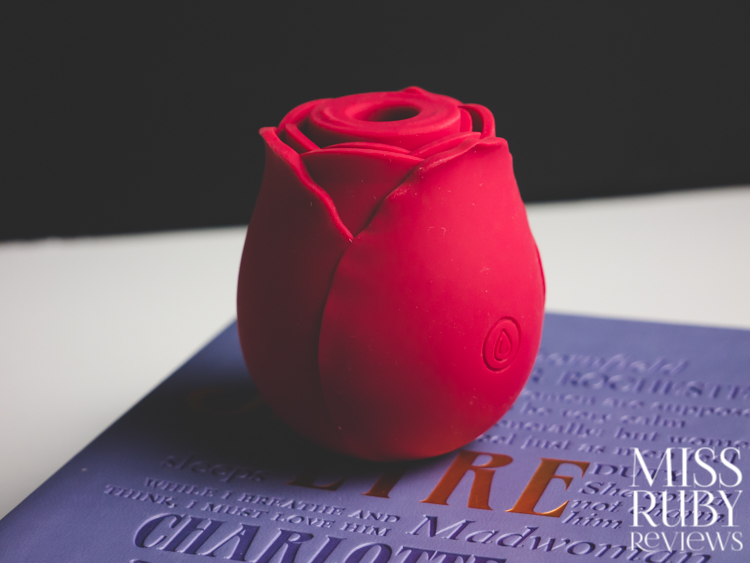 When I first turned on the INYA the Rose Vibrator, I was underwhelmed. Against my hand, the suction and vibrations didn't feel particularly strong by themselves.
But oh boy, I was wrong.
The INYA combines suction and vibration for a potent pleasure mix. Once you center this over your clitoris, the feeling is INTENSE. I can't personally use the top speed (level 3); it's much too strong for me. I cycle between Levels 1 and 2, which are strong enough for me to orgasm quickly, within a minute.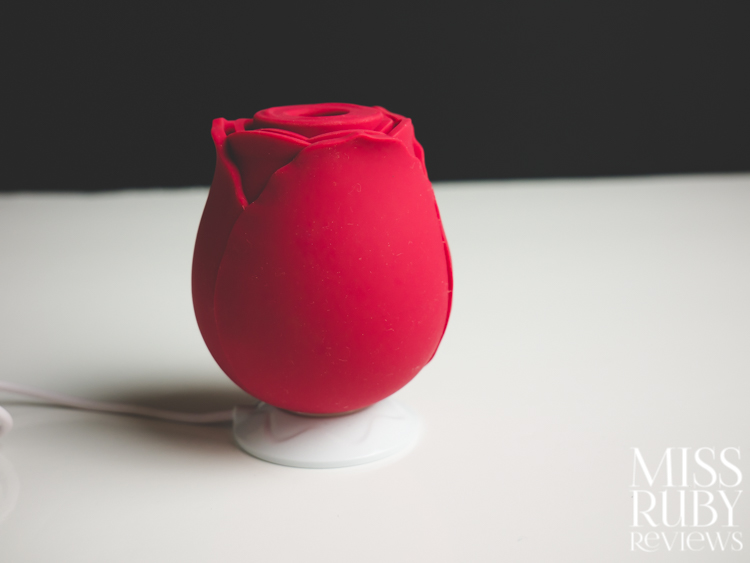 If you have a very sensitive clitoris, you may find the INYA the Rose Vibrator too strong when used directly against your clitoris. You can weaken the sensation by stimulating the areas around your clitoris, but even that might be too much. This toy is best suited to people who like moderate-to-strong levels of stimulation.
The INYA the Rose Vibrator's suction by itself doesn't feel that strong, just as its vibration by itself doesn't feel that strong. It's the dual combination effect of both that creates such pleasure. Note: the vibration turns on automatically; there's no way to independently control them. 
I do want to address that there are MANY versions of the Rose suction vibrator out there. This design has been duplicated across many brands. Personally, I like this one by NS Novelties because this is an established brand that has been selling toys in the USA/Canada for years. I've tried their toys before and I have faith in the quality of their toys.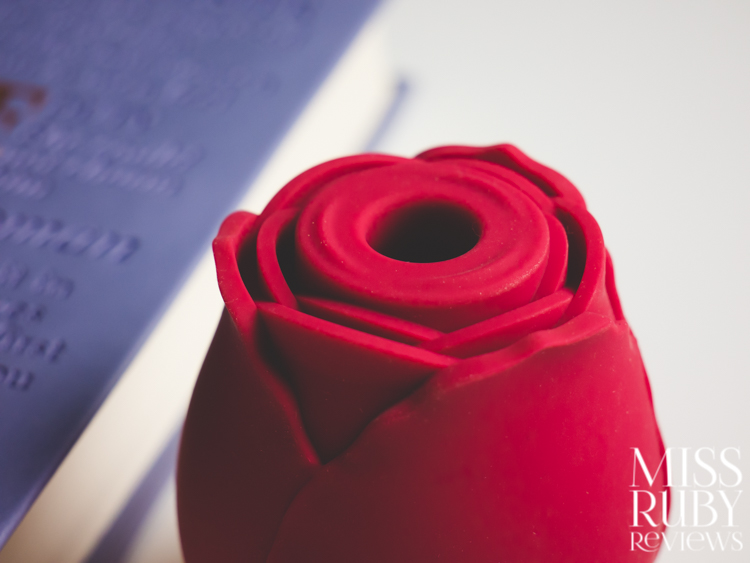 Do I have any complaints? Ehh… I wish it was fully waterproof. Splashproof makes it easy to clean, but it'd be great if I could submerge this in the bath. Still, for only $39, this is still a steal.
INYA the Rose Vibrator Review – Overall Thoughts
The INYA the Rose Vibrator is a very effective clitoris suction toy. It combines pressure wave technology with vibration to knock your socks off. I think it's best suited to people who like moderate-to-high levels of clitoral stimulation, because this thing ramps up and gets strong VERY quickly.
If that sounds like you, for $39 this is really a great buy.
You can pick up your own NS Novelties INYA the Rose Vibrator here! Why do I like Peepshow Toys? They ship internationally, only carry body-safe products, and you can get a 10% discount off your whole purchase with coupon code RUBY. 

See below for my NS Novelties INYA the Rose Vibrator review breakdown.

INYA the Rose Vibrator Review
Overall thoughts - 9.5
9.5
$39.99
PROS
Inexpensive
Quick orgasms
Combination of suction + vibration
Bodysafe silicone construction
Beautiful design
CONS
Splashproof, not waterproof
Shop Now