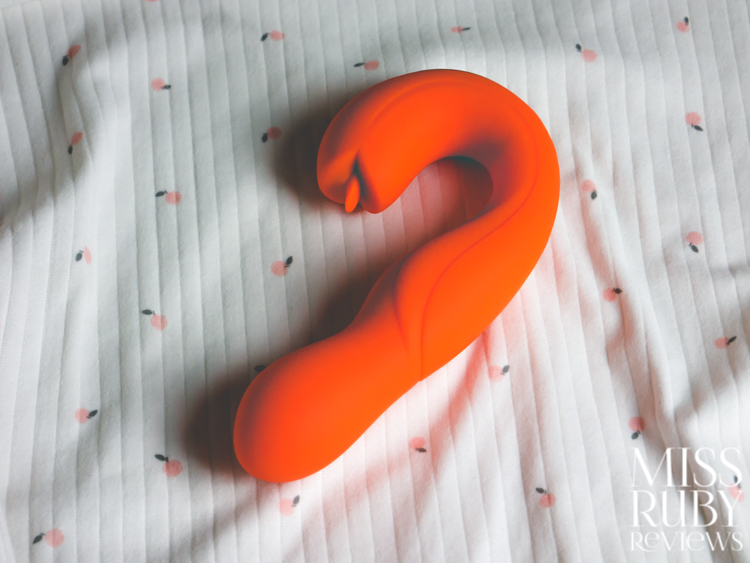 A pleasure product that does three things: vibrate, rotate, and flick! Read on for my Honey Play Box Joi review!

Design | Accessibility | How to Use | Packaging | Material and Care | My Experience | Overall
Design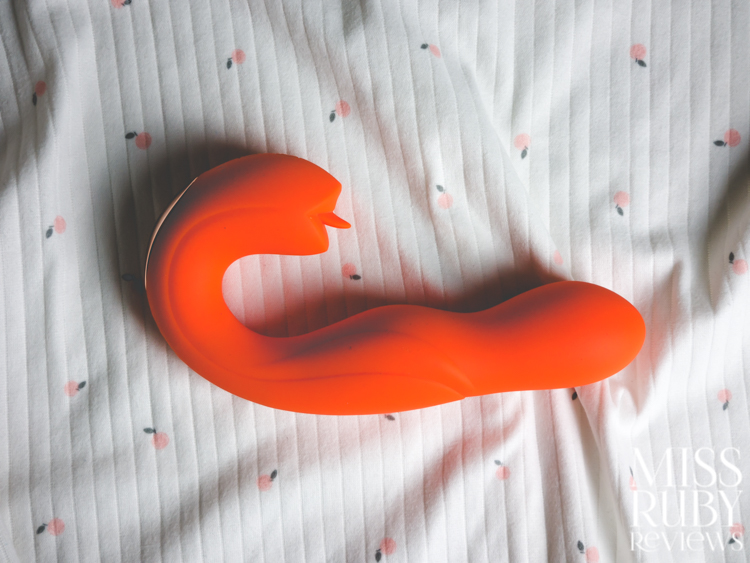 The Honey Play Box Joi is a "rotating head G-spot vibrator & clit licker." That's quite a mouthful!
It's comprised of two main parts: the shaft and the tongue.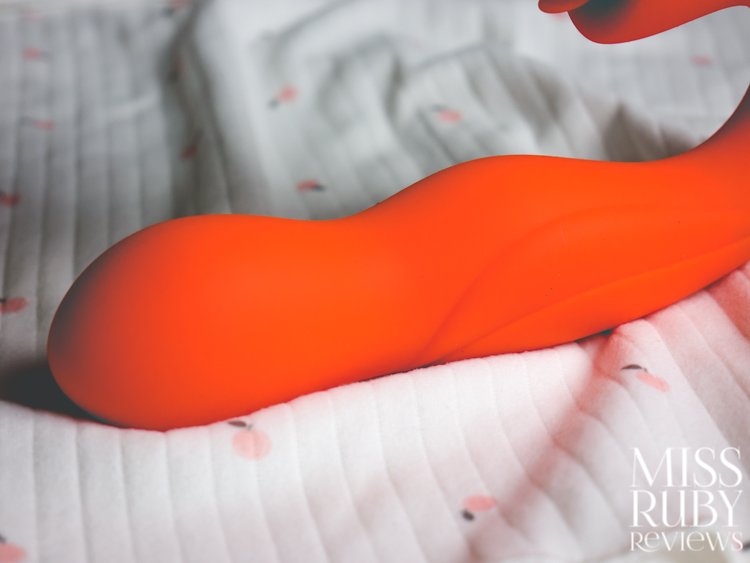 The Honey Play Box Joi's shaft vibrates AND rotates 360°. It's shockingly hard to find a rotating toy nowadays, so I'm thrilled. The shaft's design is curvy — the tip is bulbous, then it narrows and tapers back into another bump before tapering in again. Subtle, swoopy ridges line the sides for extra textured stimulation. The shaft is about 5″ long (insertable) and 1.5″ wide.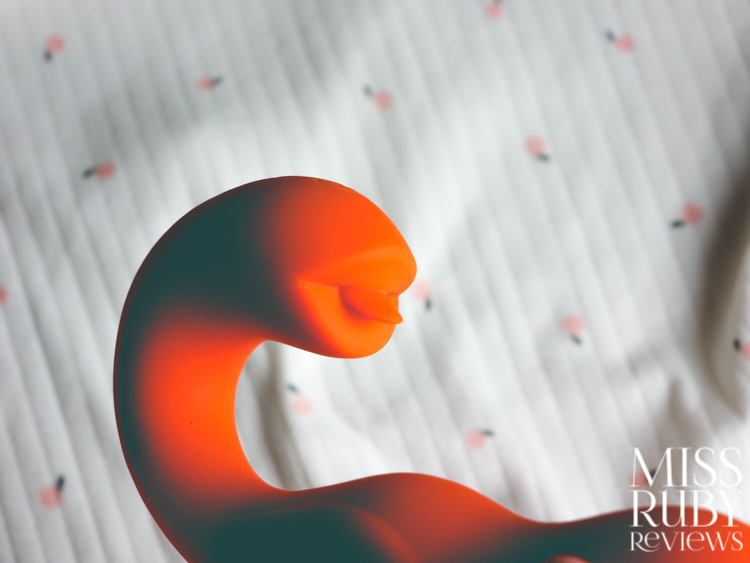 The next big feature is the tongue. It's small (maybe 12mm long and 11mm wide) but it flicks furiously. It's attached to the shaft with a somewhat-flexible neck, effectively making this a "rabbit" style sex toy.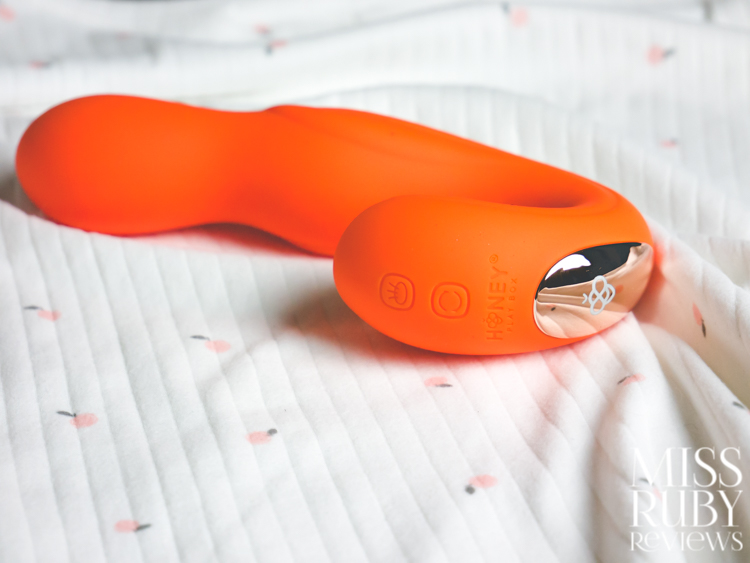 I have to say, I absolutely love the Honey Play Box Joi's colour options. I got mine in Orange, which is a really bright, neon, true orange. It's cheerful and fun. It also comes in Yellow (also love it) and Maroon (if you'd like something more traditional).
Accessibility
This section is to help folks determine if they might have any issues using/accessing this toy.
Size: The Honey Play Box Joi is about 6.75″ long (total) with about 5″ of insertable shaft. It's about 1.5″ thick.
Weight: At about 215 grams, it's a medium-weight dual stimulator.
Buttons: There are two round buttons on the body (close to the flicking tongue). They're about 8mm wide and 4mm apart. They sit flush with the surface and take little pressure to press.
Vibration transfer: The flicking tongue causes no vibration transfer. The rotating shaft does cause vibration transfer because it vibrates at the same time — a moderate amount reach the handle.
Other: There's a strong factory scent that clings to the silicone. I'm not sure if it's the silicone itself or the packaging it arrived in. I've washed this a few times and it still lingers. It'll probably take several more washes to fade. Just an FYI if you're sensitive!
Price: The Joi is regularly priced at $89 USD, making this a fairly reasonable price for something that vibrates, rotates, and flicks.
How to Use the Honey Play Box Joi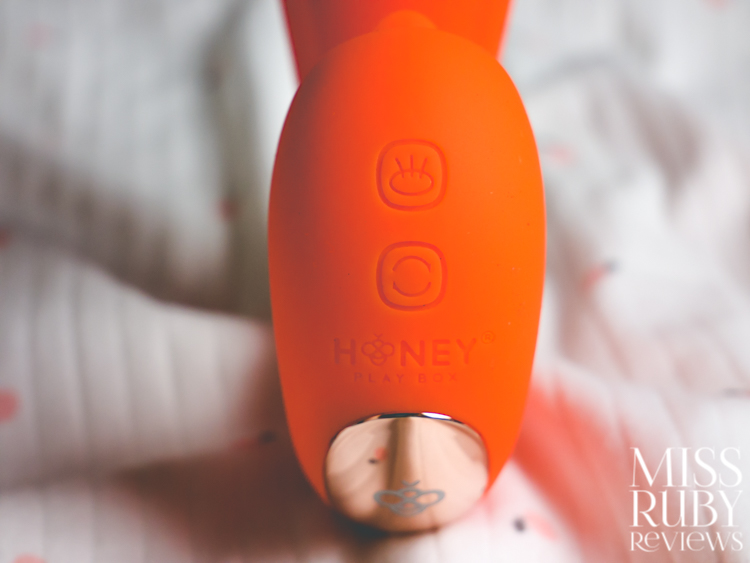 Button control
There are two buttons on the Honey Play Box Joi.
The first button (closest to the flicking tongue) controls the tongue. Hold it for 2 seconds to start the tongue flicking, then keep pressing to cycle through the 7 licking patterns.
The second button (farthest from the flicking tongue) controls the shaft rotation. Hold it for 2 seconds to start it, then cycle again between the 7 rotation patterns.
Long press each corresponding button again to turn off the modes.
The modes can be used independently (ie, just tongue licking, just rotation, or both at varying intensities).
The vibrations come on at the same time as the shaft rotation — you can't turn them off.
Using it with your body
I would personally recommend:
Apply some water-based lubricant to both the shaft and the tongue.
Insert the shaft vaginally and center the tongue over your clitoris. The shaft joint is slightly bendy to accommodate different bodies.
Turn on each mode and play around with speeds that work best for you.
If it feels like there's any drag (that you don't like), try to apply more lubricant.
Honey Play Box also says you can insert the shaft vaginally and then center the tongue over your anus.
If you'd just like the tongue over your clitoris (no shaft), turn it upside down so the shaft comes up over your pubic bone instead.
Packaging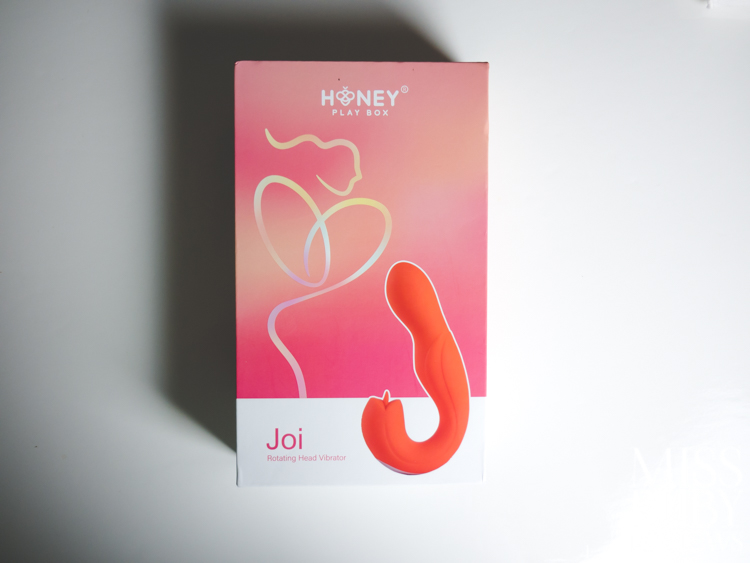 The Honey Play Box Joi comes packaged simply in a white and pink box. When you open it, you find the Joi sitting snugly in a black foam cushion. You also receive the USB charging cable and the user manual.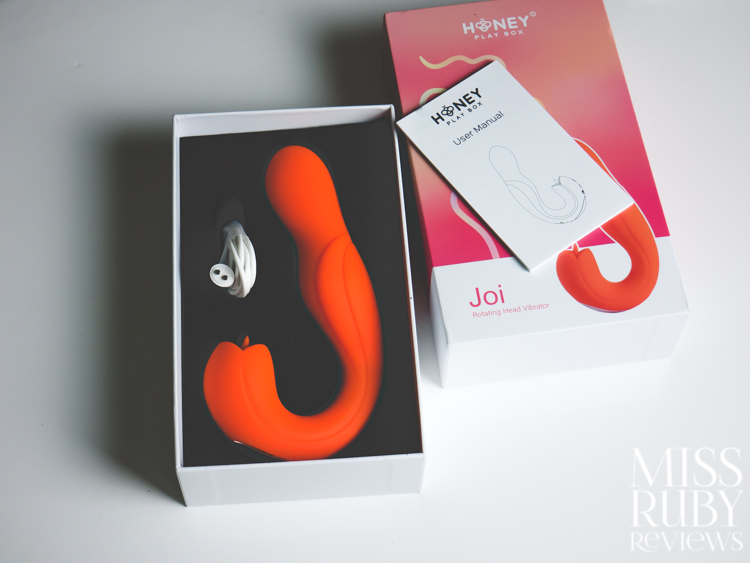 Material and Care
The Honey Play Box Joi is made from Silicone (the body) and ABS plastic (the gold decorative plate on one end) making this a bodysafe toy. The silicone has a creamy, matte finish that feels soft and luxe.
The Joi is IPX7 waterproof, so you can take it into the shower and clean it easily.
To clean, I rinse the whole thing in warm, soapy water before and after each use.
If you'd like to add lubricant, Honey Play Box carries their own water-based lubricants.
To charge, attach the magnetic end of the USB charging cable (included) to the two silver pins at the bottom. Connect that to your computer or a USB wall adapter. A full charge takes approx 1 hour and gives you 2 hours of playtime.
My Experience with the Honey Play Box Joi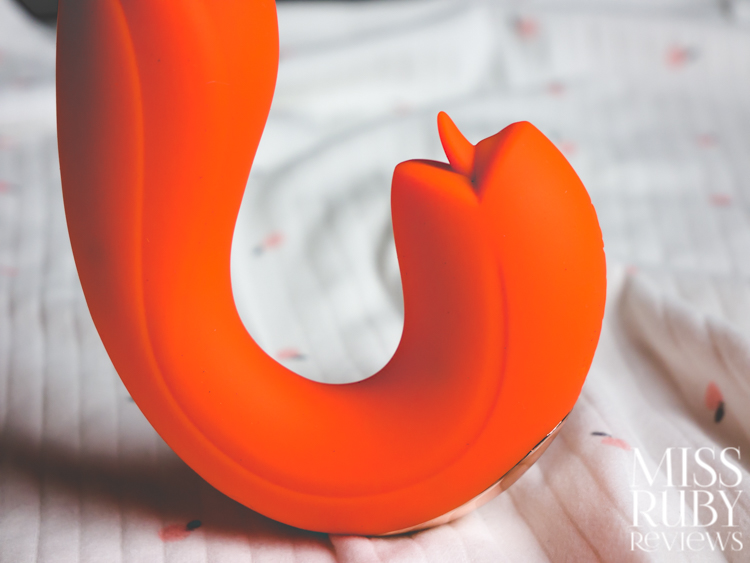 I was a little skeptical of the Honey Play Box Joi. I've never found a tongue-flicker sex toy that I've liked.
But I DO know that I love rotating shafts. I haven't tried a rotating shaft in YEARS — they used to be common in old-fashioned jelly (toxic) rabbits, but they're rare nowadays.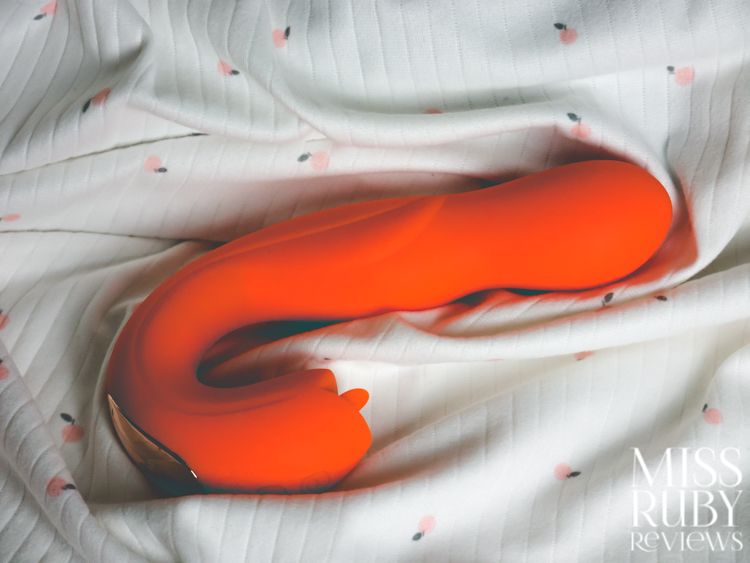 Rotations
The Honey Play Box Joi doesn't look big, but it feels girthy going in — that's because the bulbous head is nearly perfectly round — make sure you use lots of lubricant. Once it slides in, it kind of 'pops' into place (twice) as you pass both bumps on the shaft.
The rotations are divine. If you've never tried a rotating shaft, you're missing out. I don't know why they're not more common — the Joi's bump slides against the G-spot as it moves round and round, endlessly rubbing it back and forth.
Downsides? The vibrations on the shaft are nothing to write home about. I would have been perfectly happy with just rotations — the vibrations are shallow enough that they don't add anything.
But the rotations are where it's at.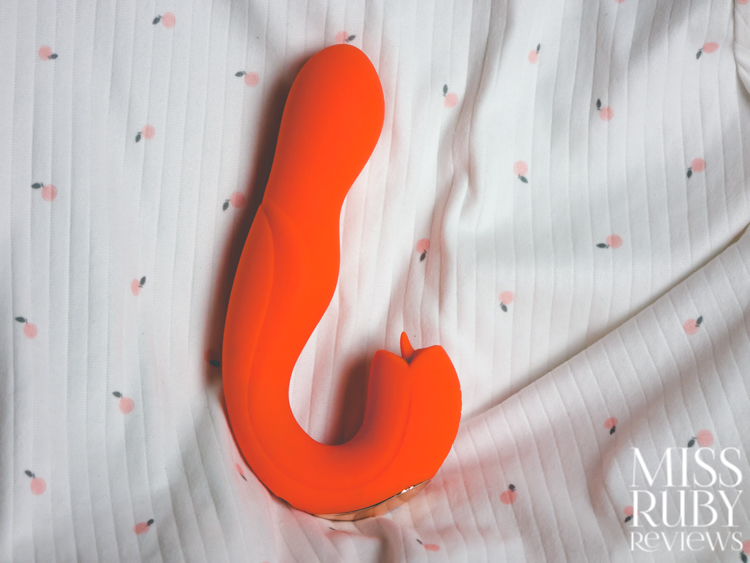 What about the tongue?
I expected to find NO pleasure from the tongue. My clitoris needs firm pressure to go anywhere, so I wasn't hopeful.
To my surprise, there was definitely pleasure…
My clitoris still needs firm pressure (generally speaking), but the flicking was extremely exciting. Lots of lubricant was needed so there was no uncomfortable drag, but it slid around and flicked beautifully. The silicone tongue is soft and flexible and gives very pin-point stimulation, and I loved it.
Orgasms?
Yup. This one was a winner for me! Rotations and tongue flicking, who would have thought?
Honey Play Box Joi Review – Overall Thoughts
If you're in the market for something a little novel, this might be one to consider. A rotating shaft against the G-spot is a novel sensation, one that I love (and have missed). The tongue flicker gave me far more pleasure than I expected it to, which is saying a lot. Don't expect strong vibrations though — in fact, you may as well pretend there are no vibrations anyway. But I was perfectly content with the rotations and flicking.
You can pick up your own Honey Play Box Joi here! Why shop at Honey Play Box? They ship internationally and you can get free continental US shipping on orders over $69! You can also get 15% off with code RUBY15  !

See below for my Honey Play Box Joi review breakdown.

Honey Play Box Joi Review
Overall thoughts - 8.5
8.5
$89
PROS
Novel rotating shaft
Intense tongue flicking
Silicone construction
Rechargeable
Waterproof
Fun colour options
CONS
Shop Now
Last Updated on July 5, 2023 by Miss Ruby