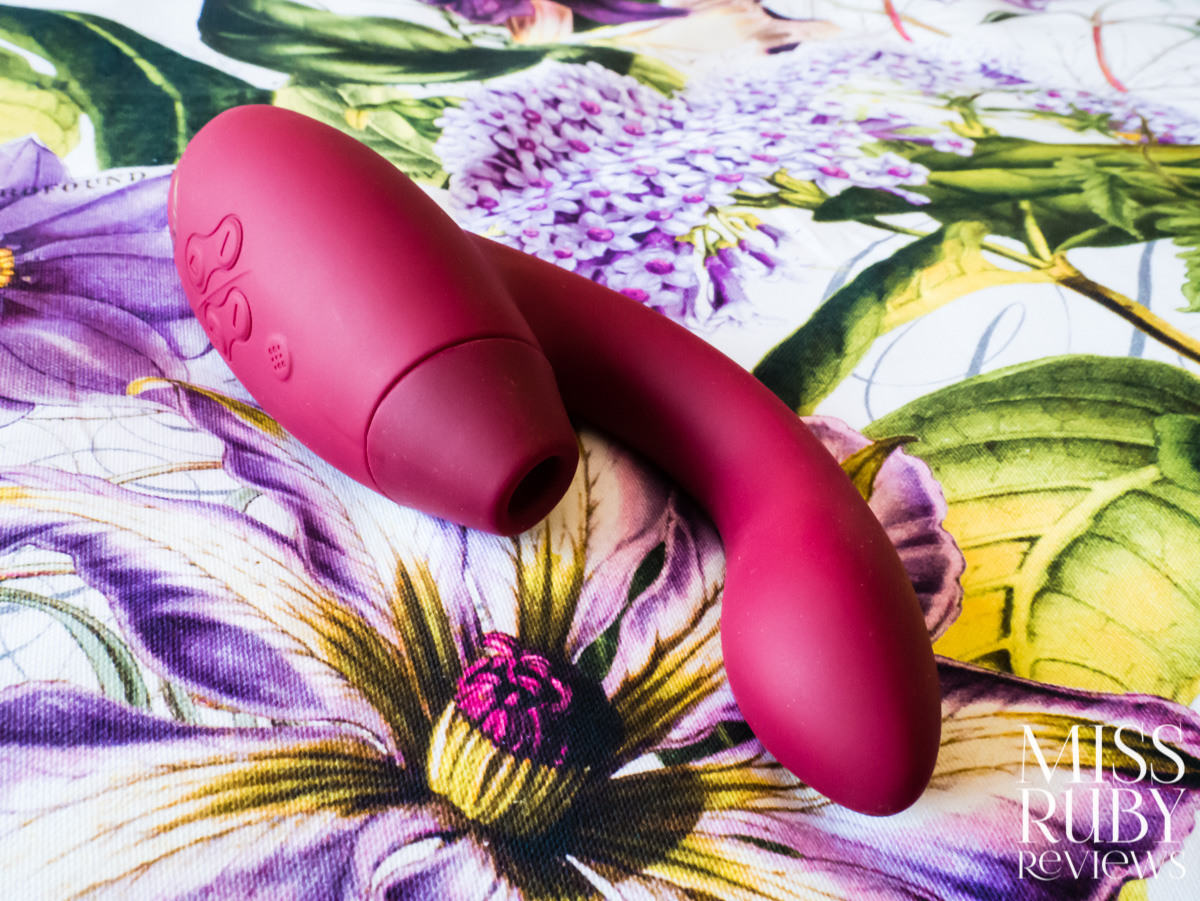 The Womanizer Duo is a magical mishmash of suction and vibration! Read on for my Womanizer Duo review!
Design | 360° View | How to Use | Packaging | Material and Care | My Experience | Overall
Design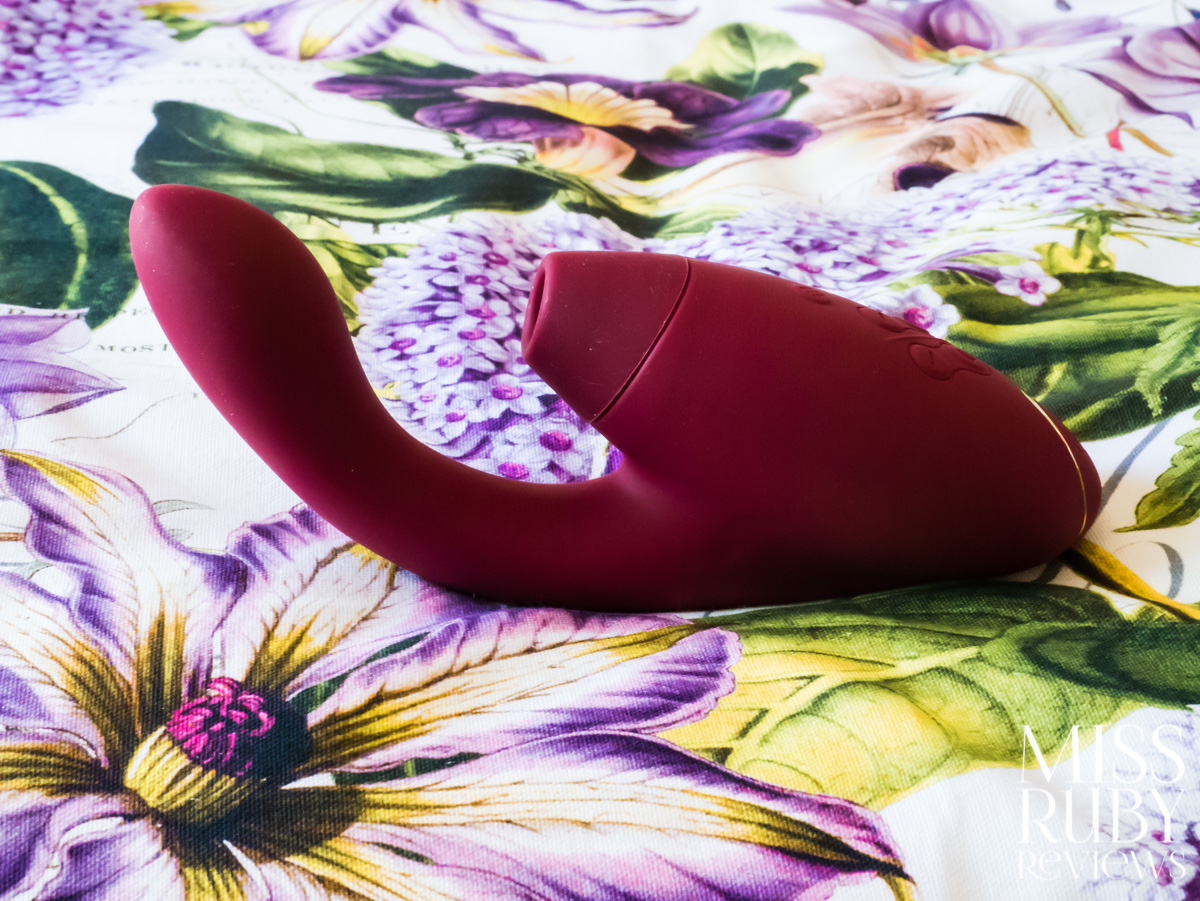 I love Womanizer toys — they're hella pricey but they're amazing — bodysafe, strong, quiet, and the original brand of suction-based toys like these.
The Womanizer Duo is Womanizer's first stab at a rabbit-like toy. This bulky little monster gives you both G-spot vibration AND clitoral suction stimulation, which piqued my curiosity. While vibrators have been around for ages, suction pressure wave toys are relatively new, and I've never seen them together in one toy.
If you haven't heard of it before, pressure wave technology provides touchless clitoral stimulation, which makes your clitoris feel like it's being sucked by air. It's an incredible and effective sensation, and this technology has spread to many brands (though Womanizer was the first to pioneer it).
Combined with vibration, that's a LOT of technology to push into a single toy, and the resulting product is fairly large:
Total length: approx. 8 inches
G-spot arm: approx. 4 inches insertable length, and approx. 1.25" in width
There's also a whopping 6 buttons, which must be some kind of record.
It's quite the beast, but who says that beasts can't be sexy.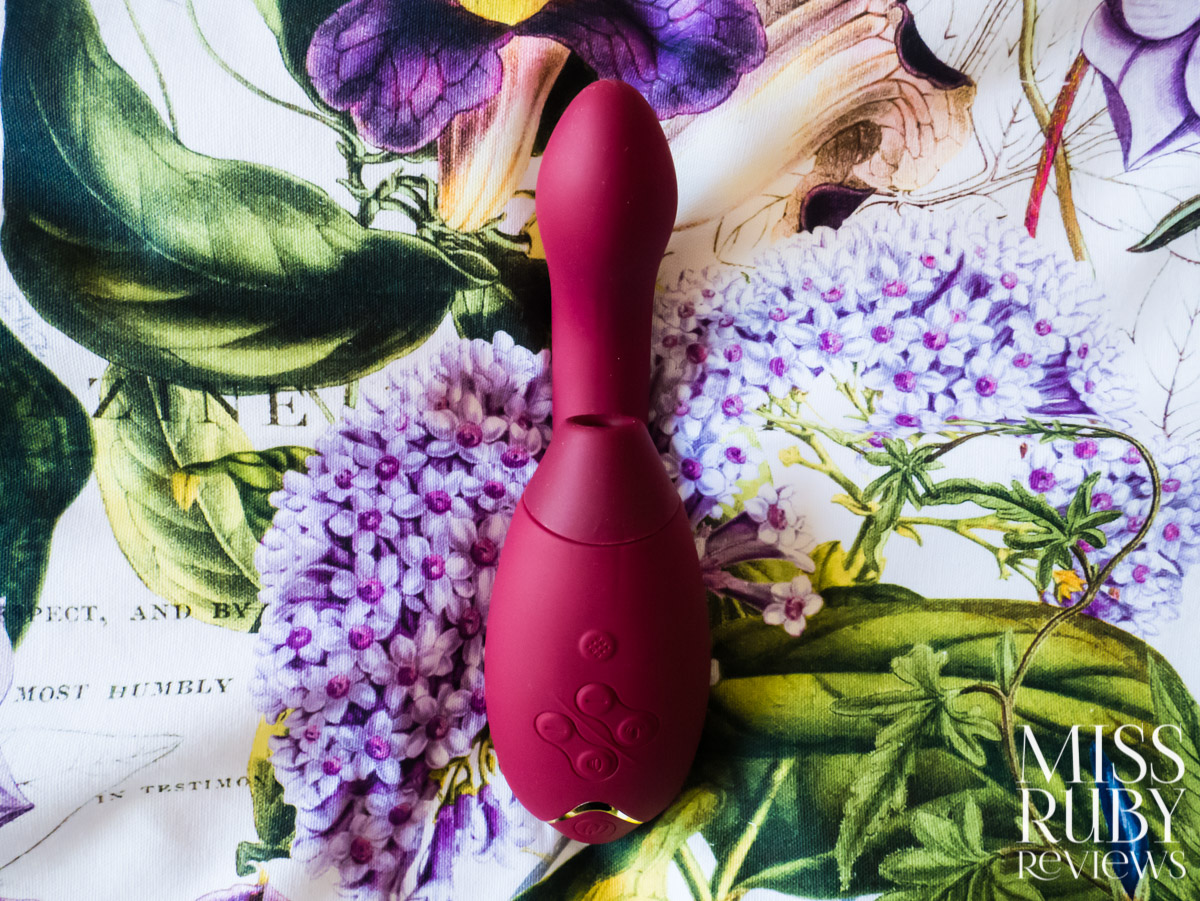 The Womanizer Duo has a Smart Silence mode. It's on by default, and means that your product won't provide stimulation unless it's near your skin. Even if the device is turned on, if it doesn't sense a surface near its head, it won't use any pressure waves or vibrations. If you don't like this mode, you can deactivate it by pressing the suction mode's + and — buttons (together, for about 2 seconds).
360° View
Click and hold the image above to move it around.
How to Use the Womanizer Duo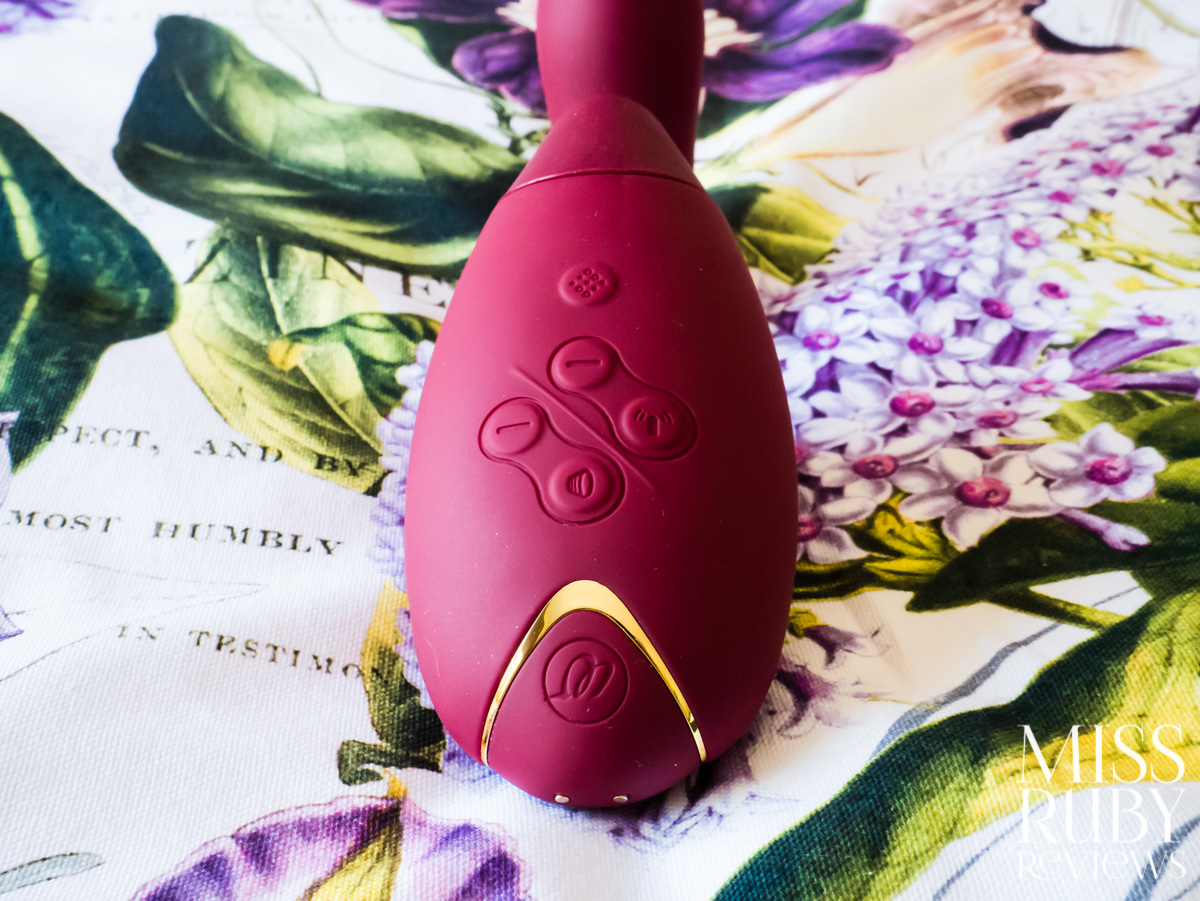 To turn on the Womanizer Duo, press the power button (located at the back of the toy near the base). It'll turn on in standby mode.
Insert the shaft so it rests against your G-spot and the head falls over your clitoris.
Press the pressure wave button (kind of looks like a speaker icon) to start clitoral stimulation. Keep pressing that button to increase intensity, to press the corresponding — button to decrease it. There are 12 suction intensities.
To start vibrations, hit the vibration button (looks like a tiny bullet vibrator). This button works the same way. Keep pressing it to increase vibration strength, and hit the corresponding — button to decrease it. There are 12 vibration intensities.
There's also a little button that looks like a dial-pad; tap that to cycle through 10 vibration patterns.
Not working? Remember – it won't do anything unless the toy detects something near the head's opening. That's the "smart silence" feature.
Packaging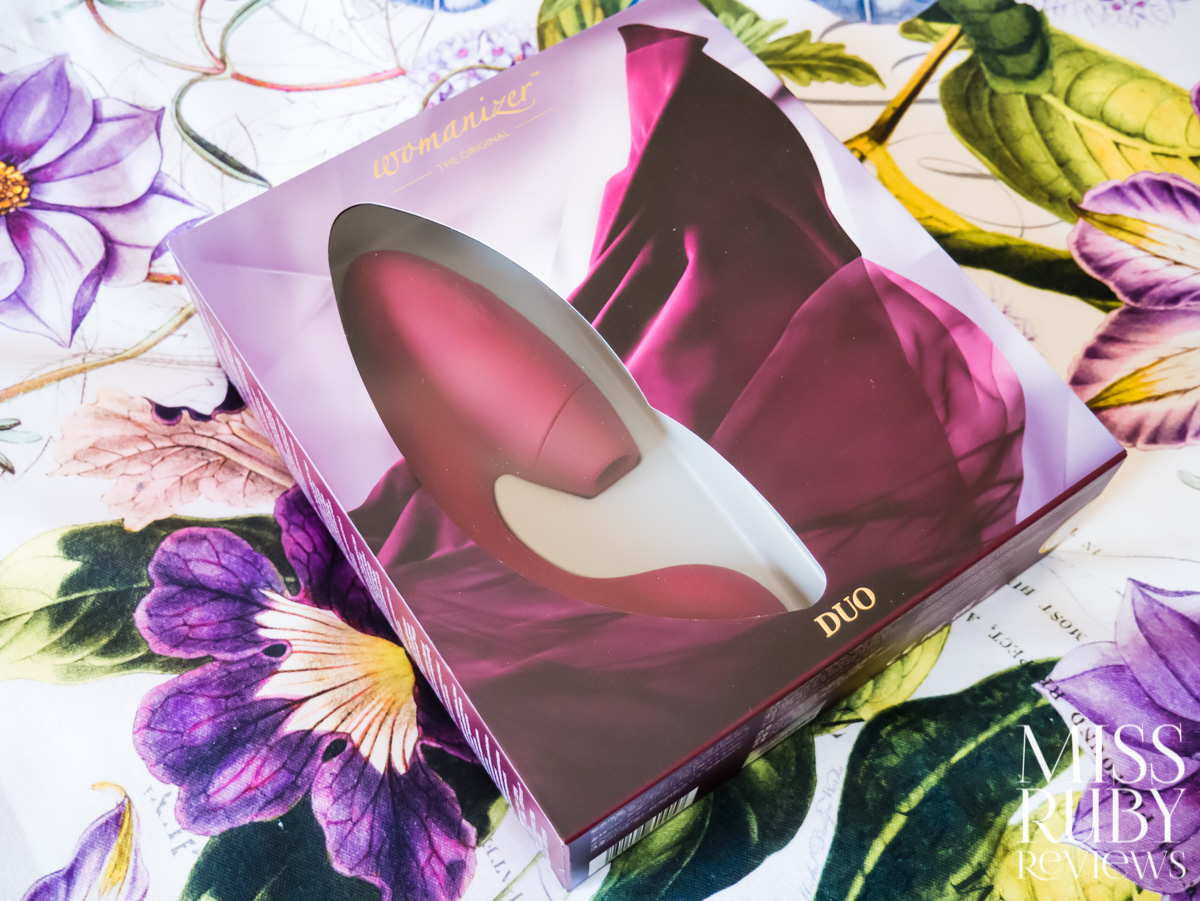 The Womanizer Duo comes packaged in a lovely box. Inside the package, you receive the Duo, an instruction manual, a back-up head (in size large), a USB charging cable, and a fabric drawstring pouch with a removable small tassel.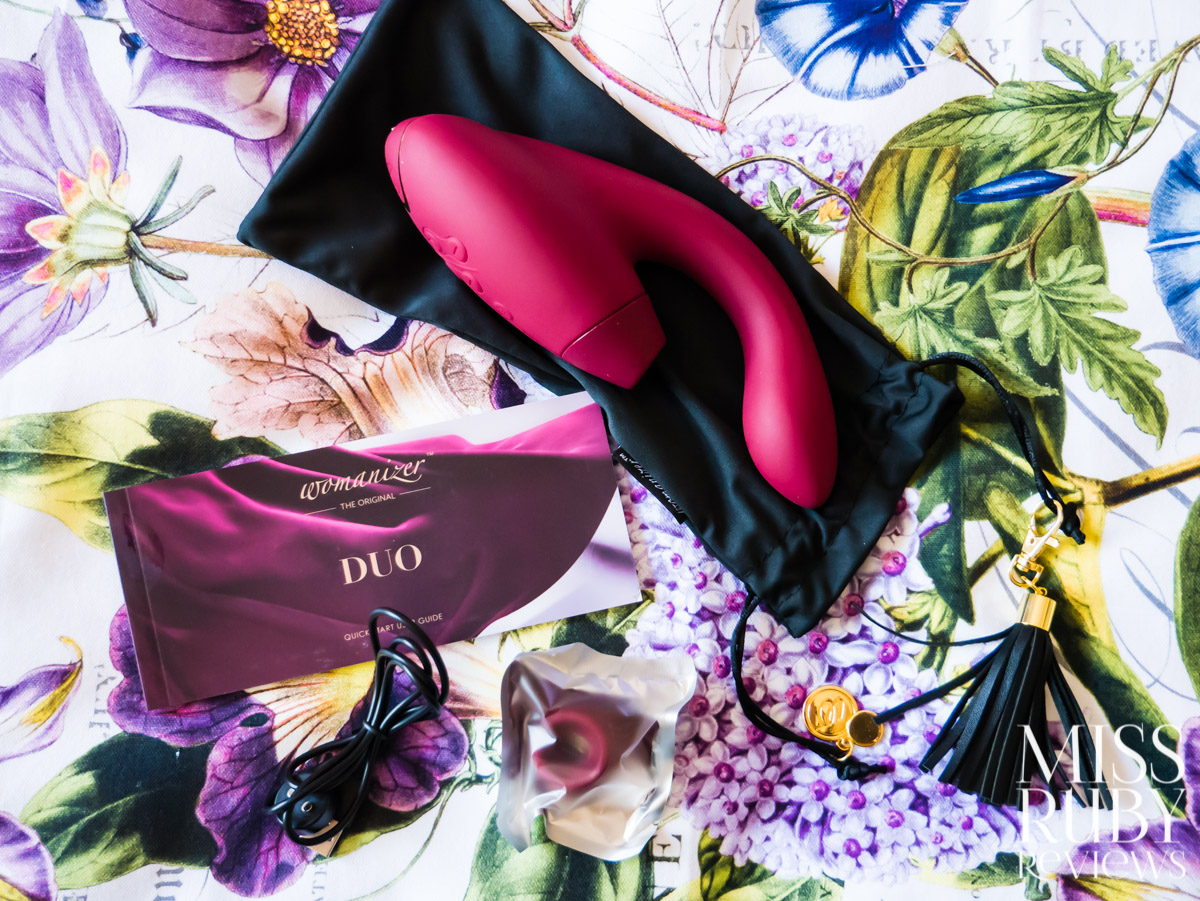 Material and Care
The Womanizer Duo is coated in soft, silky silicone. The gold band around the base appears to be gold-coloured ABS plastic. The head is also made of silicone. These materials make the Womanizer Duo a very bodysafe toy: non-porous, non-toxic, and as good as it gets in the sex toy world.
The Womanizer Duo is waterproof. To wash, I find it easiest to remove the silicone head and wash it with warm, soapy water. Womanizer also recommends that you spray some sex toy cleaner into the exposed pressure chamber of the toy's body, switch it on, and immerse it in warm water. Remove from water, turn off, let dry, and put the head back on.
If you'd like to add lubricant (which I recommend), try a good quality water-based lubricant like my favourite Sliquid H2O.
To charge, make sure the Womanizer Duo is dry, then connect the magnetic USB charging cable to the 2 small round pins at the base. Plug the Duo into your computer or a USB wall adapter and allow it to charge. You'll know it's fully charged when flashing light inside the pressure chamber turns steady. A full charge takes about 2 hours and can get you around 2 hours of playtime.
My Experience with the Womanizer Duo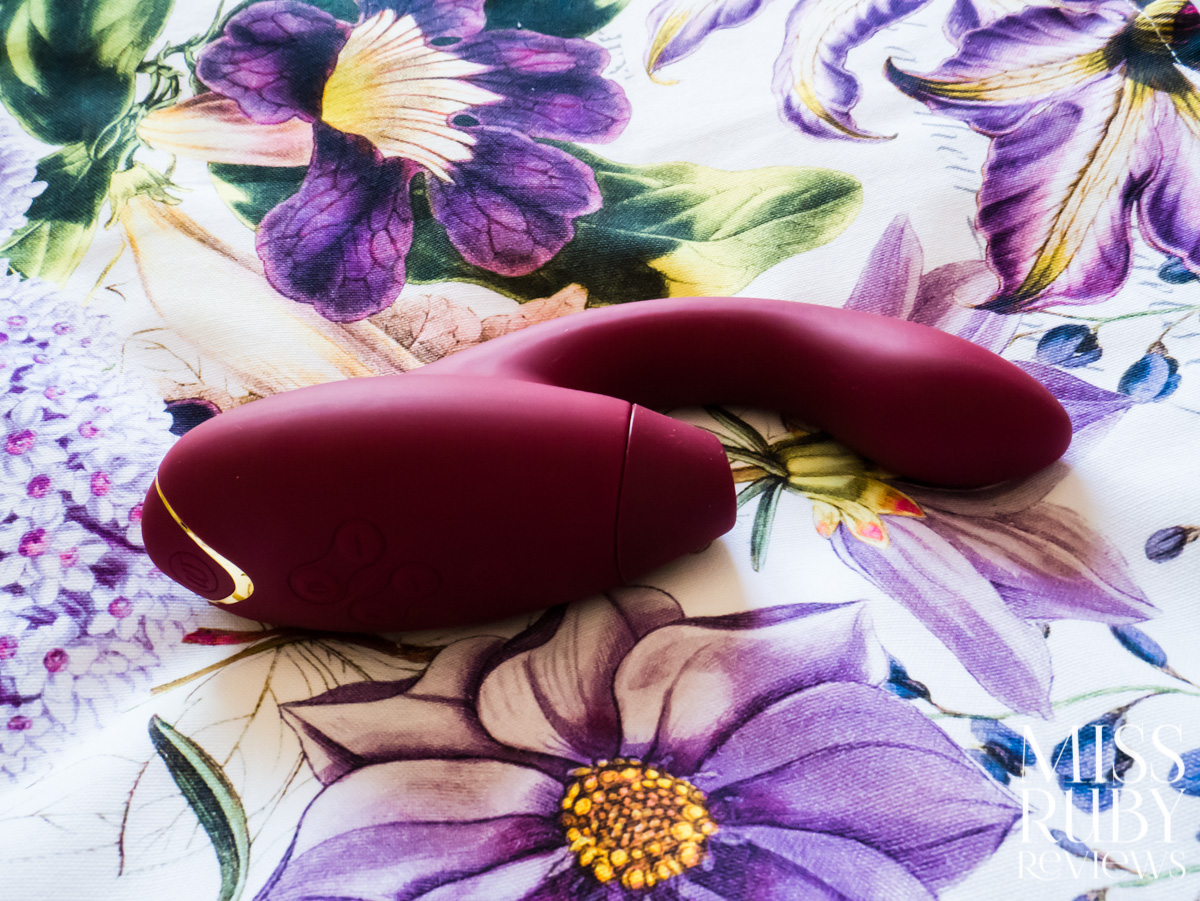 Rabbit toys are always going to be tricky. Bodies come in different dimensions and measurements — and this means one person's distance between their clitoris and their vaginal opening will differ from another's. My distance is around 2″, which is longer than many rabbits allow for. But, the Womanizer Duo allows for enough re-positioning that I'm still able to get both points of stimulation (woohoo!). If your distance is approximately 1-2 inches, I think you'll be able to get both points.
The Womanizer Duo's G-spot shaft vibrations are strong. This isn't surprising, seeing as Womanizer is owned by the WOW Tech brand, which also owns We-Vibe (creator of amazingly strong products). The shaft's vibrations against the clitoris aren't what this was intended for, but work really well. Internally, they also feel great at the higher vibration intensities (the lower ones are just too soft for me).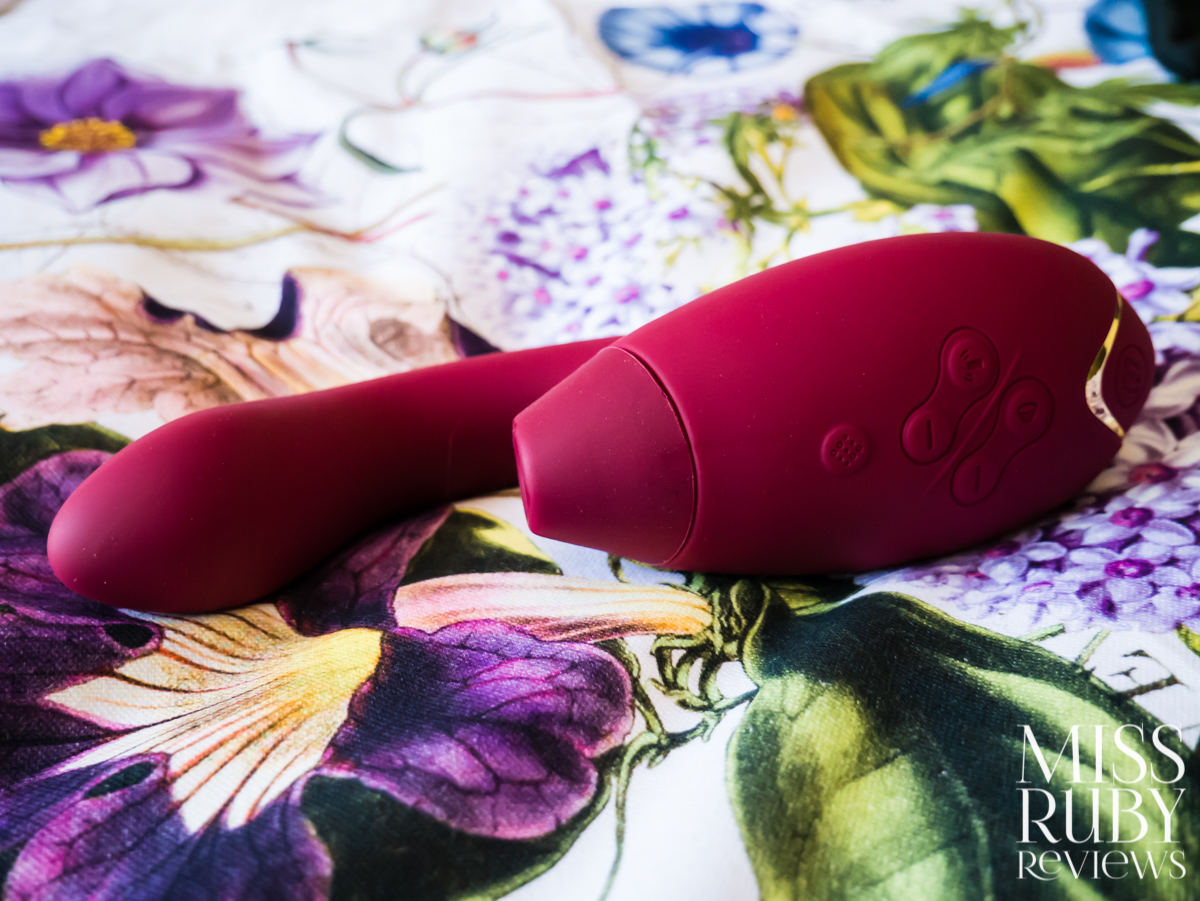 Suction-wise, the Womanizer Duo doesn't disappoint. Though you may find stronger suction in single-function toys like the Liberty, the suction in this toy is more than enough to make me happy.
And put together, the pressure wave suction and the internal vibrations feel divine. The blending of both sensations is fantastic and brings on orgasms pretty easily.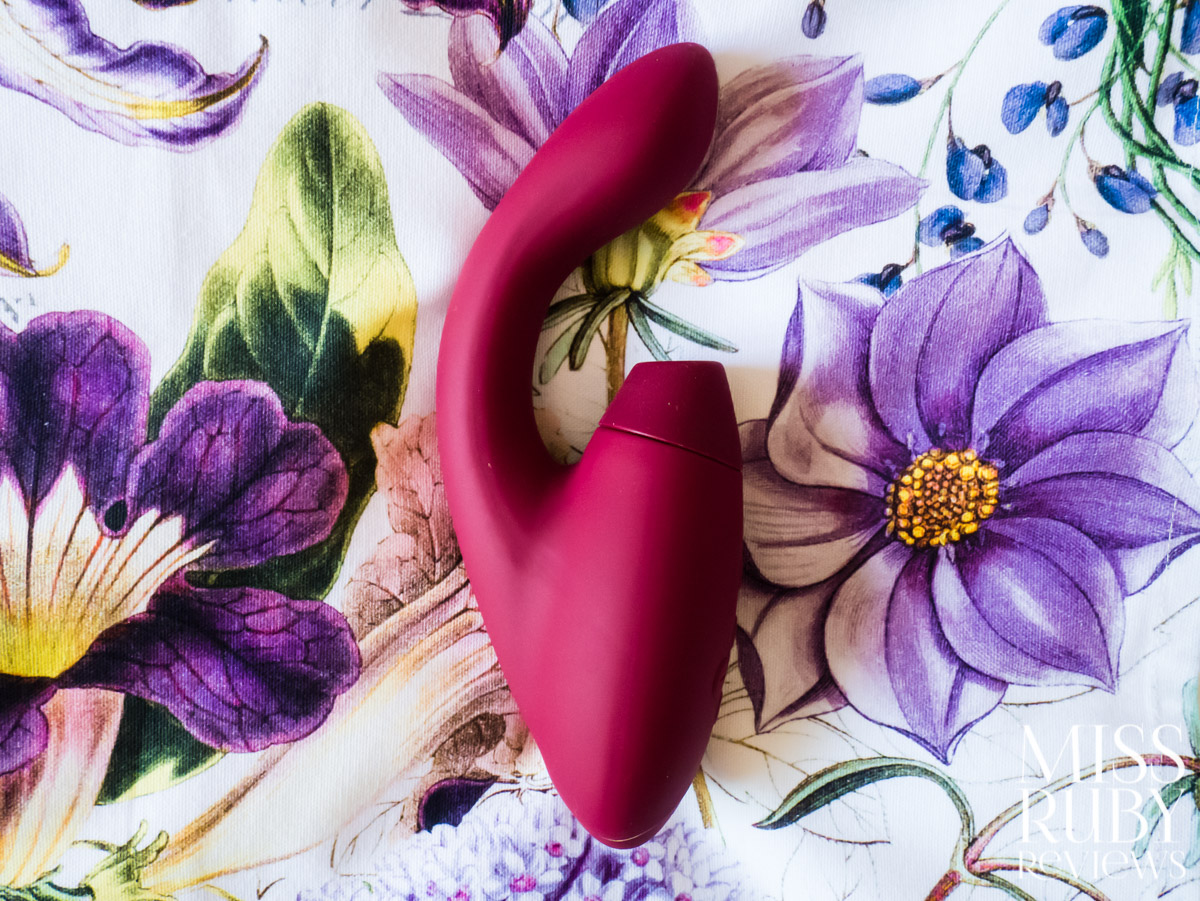 Cons? Well, it's noisier than most standalone pressure wave Womanizer models. It's trying to do a lot of things at once, so this is understandable… but I would be a pinch nervous if I had thin walls. Secondly, it's awkward/bulky during use. There are so many buttons that I have to see what I'm doing when I want to increase/decrease, and they're hard to get to when I'm holding it in place. Lastly – it's pricey at $219 USD.
Also – you almost may as well just buy two separate toys (i.e., my current fave Womanizer Liberty, plus something like the Jopen Key Comet II or Je Joue Uma). It'd be cheaper and gives you more flexibility. Still, I can see the appeal in it being all in one package. It's simpler than coordinating two toys, less to think about (only 1 toy to charge versus 2), and it's pretty.
Overall – Womanizer Duo review
The Womanizer Duo is a solid step into the land of rabbit-like suction toys. This toy gives you strong clitoral suction plus nice G-spot vibrations, and that's no mean feat.  On the downside, it's pricey and awkward to handle during playtime, but it's also pure luxury.
You can pick up the Womanizer Duo at Peepshow Toys. Why do I like Peepshow Toys? They ship internationally, only carry body-safe products, and you can get a 10% discount off your whole purchase with coupon code RUBY. 

See below for my Womanizer Duo review summary.
REVIEW SUMMARY
Overall Thoughts - 8.8
8.8
$219
PROS
Strong suction
Strong vibrations
Bodysafe
Waterproof
Luxurious
CONS
Pricey
Noisy
Awkward to handle
Shop Now