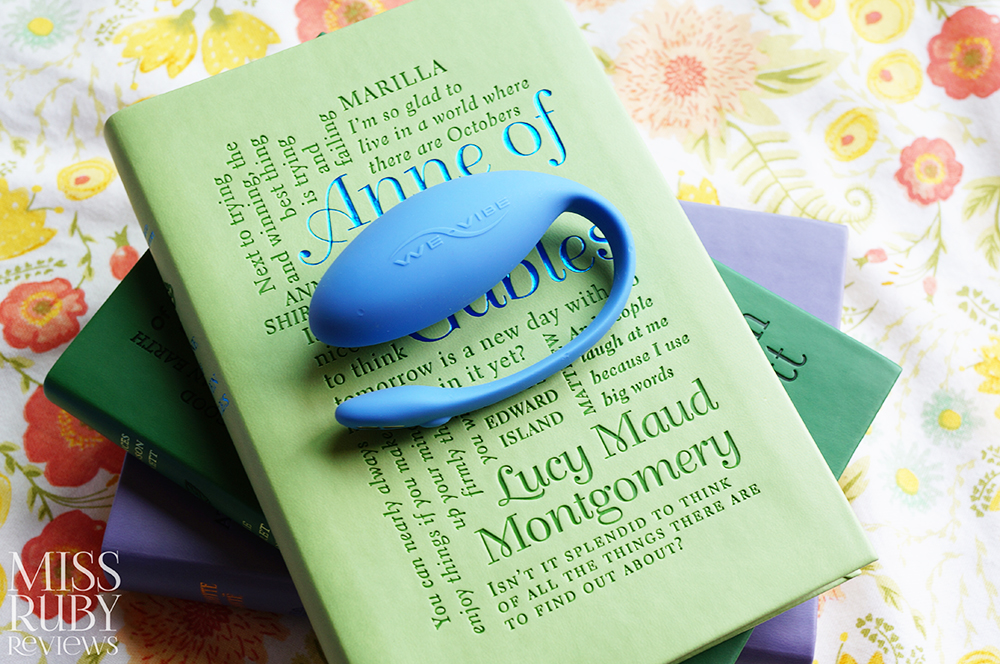 As a rule, I'm prone to loving We-Vibe products. Read on for my We-Vibe Jive review!
Physical Details | Packaging | Material and Care | My Experience | Overall
Physical Details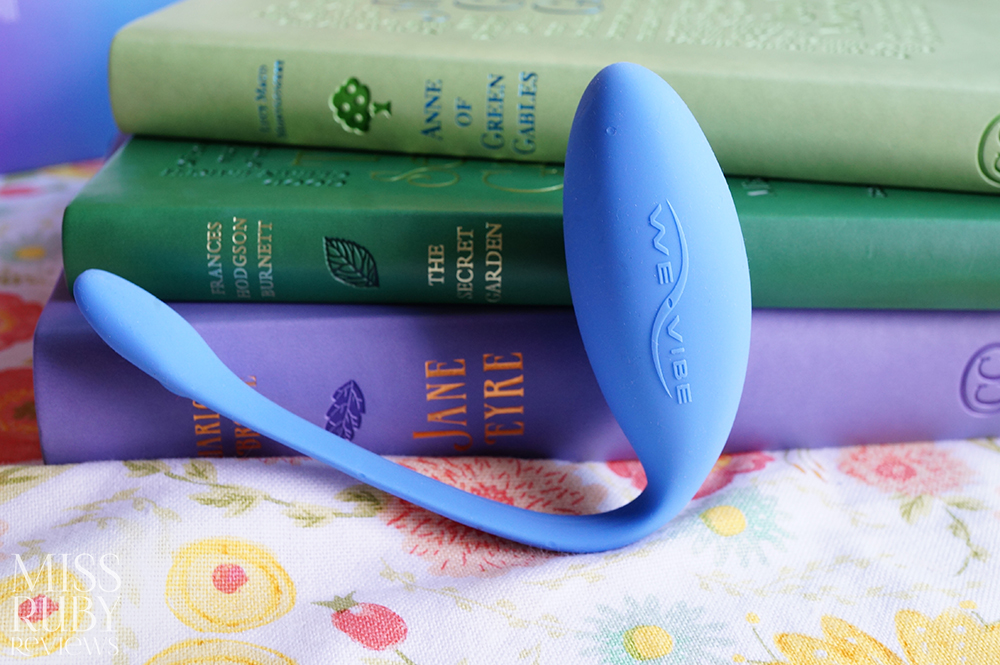 My We-Vibe love affair started many years ago with the We-Vibe Tango (STILL the best bullet vibe on the market), and then the Touch, and then it expanded to other great items. So, naturally, I had to try out the We-Vibe Jive, a beautiful deep sky blue wearable vibrator that pretty much looks like sperm.
Design
I'd love to know if We-Vibe wanted the Jive to look just like sperm. I feel like it was probably accidental, but I hope not.
The We-Vibe Jive is a wearable vibrator meant to be inserted vaginally. The body is oval, reasonably sized (about 1.5″ wide and 3″ long), and is attached to a flexible stem tail. The tail hangs outside your body (can snugly hang out in the sling of your underwear). The tip of the tail has a metal charging plate for recharging, and a raised ovular control button. It's Bluetooth compatible so you can also control via your smartphone.
It's a simple no-frills design. The We-Vibe logo can be seen on the body, but otherwise there are no distracting decorative features. Functional and streamlined.
Do not use this anally (it will get lost and you would have to explain to someone in the ER that you didn't follow my instructions).
Vibrations and Sound
The We-Vibe Jive doesn't bring to the table the kind of vibrations that the Tango or the Nova has. At the strongest level, I'd say we're looking at about a 7/10 in strength. They also don't feel as deep, rumbly, or penetrative as I'm used to with We-Vibe products.
Noise wise, the Jive is pretty quiet on the lower settings. At its strongest setting, you could probably wear this out in public in a noisy setting, but I'd be hesitant to use those settings in, say, a quiet library. Lower settings are very discreet though.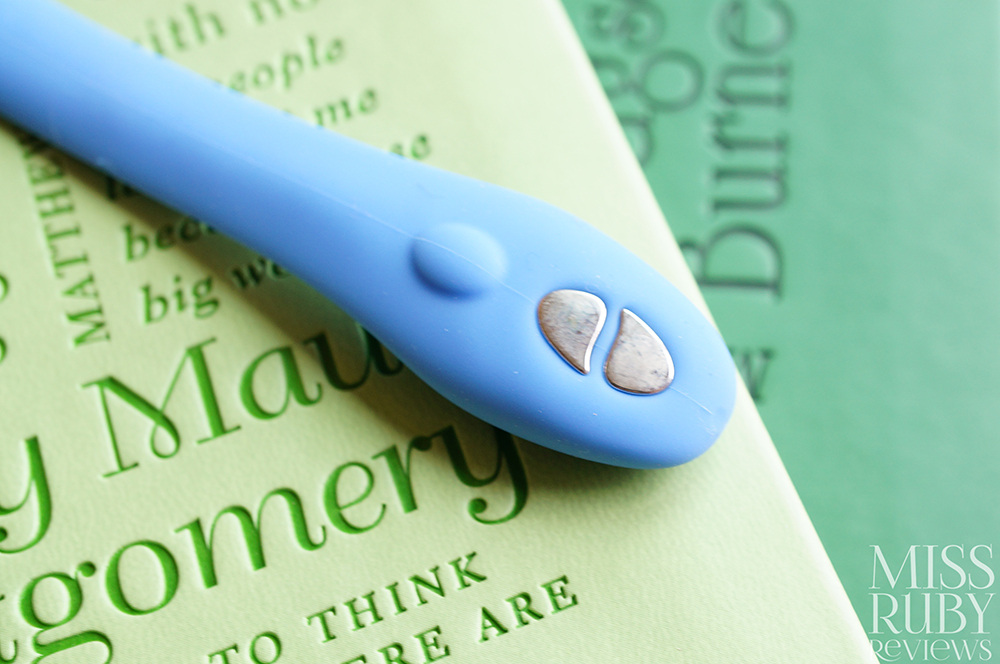 How to use the We-Vibe Jive
Via Button:
I'm old-school, so I love the button. Simply press the We-Vibe Jive's single button to start cycling through the modes. There are 10 pre-set modes: 4 increasingly strong steady states and 6 vibration patterns.
Via We-Connect App: 
If you want to have your partner control this while you're out and about together, use the We-Connect App (search for it in the Google or Apple app store). The app connects to the We-Vibe Jive via Bluetooth and lets you play together while in the same room. For the best results, connect from <30 ft of direct, line-of-sight distance and approx. 20 feet of 360-degree range. The Bluetooth connects to something in the tail, so if you're having issues remember that it needs to communicate with that part of the toy.
If you're in a long-distance relationship, you can still play together using the We-Connect App. In that case, the Jive will just pair to the phone closest to it.
Charging:
Use the magnetic charging cable (included) and attach it to the small metal plate at the tip of the tail.  Plug the USB cord into your computer and wait 90 minutes. While it's charging, a light will blink. Once the We-Vibe Jive is fully charged, the light will remain on. If you don't see any light, the charging cable isn't properly connected because that means it's not getting any power.
Packaging

Swoooon. The We-Vibe Jive comes packaged in a lovely blue/purple box. Inside the box, you receive the Jive, a charging cord, a white satin storage pouch, an instructions booklet and some sample lubricant.
Material and Care
The We-Vibe Jive is made from silicone, making it bodysafe, non-porous, and free of phthalates.
It's totally waterproof so, to clean, I simply wash it in warm, soapy water before and after use. Silicone can be sterilized, so if you want to share it with a non-fluid bonded person, you can give it a quick wipe-down in 10% bleach water (and rinse thoroughly afterwards).
If you'd like to use a lubricant (always recommended with silicone toys), opt for a good quality water-based lube like my favourite Sliquid H2O.
My Experience with the We-Vibe Jive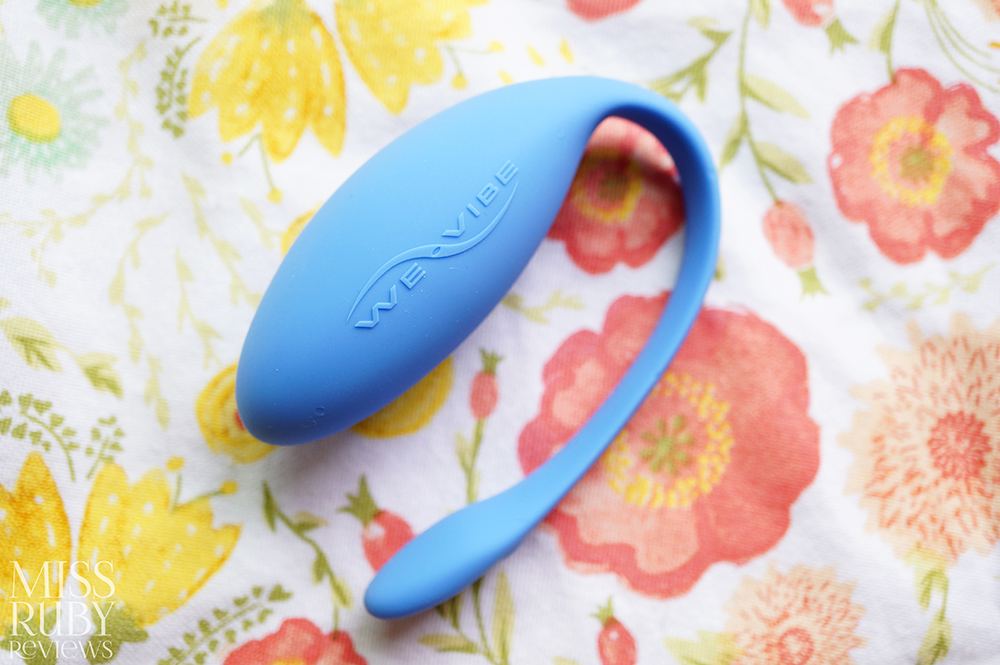 I haven't tried a wearable vibe like this in a long time, probably not since the disaster that was the L'amourose Paramour Set Pour Femme.
They're a tricky kind of toy to design because (a) they have to be both strong and quiet (hard to manage) and (b) hit all the right spots, no matter the wearer.
The We-Vibe Jive is pretty easy to use. It slips in like a breeze with that ovular shape, and the tail is most comfortable when it wraps around the public bone (landing around the clitoris).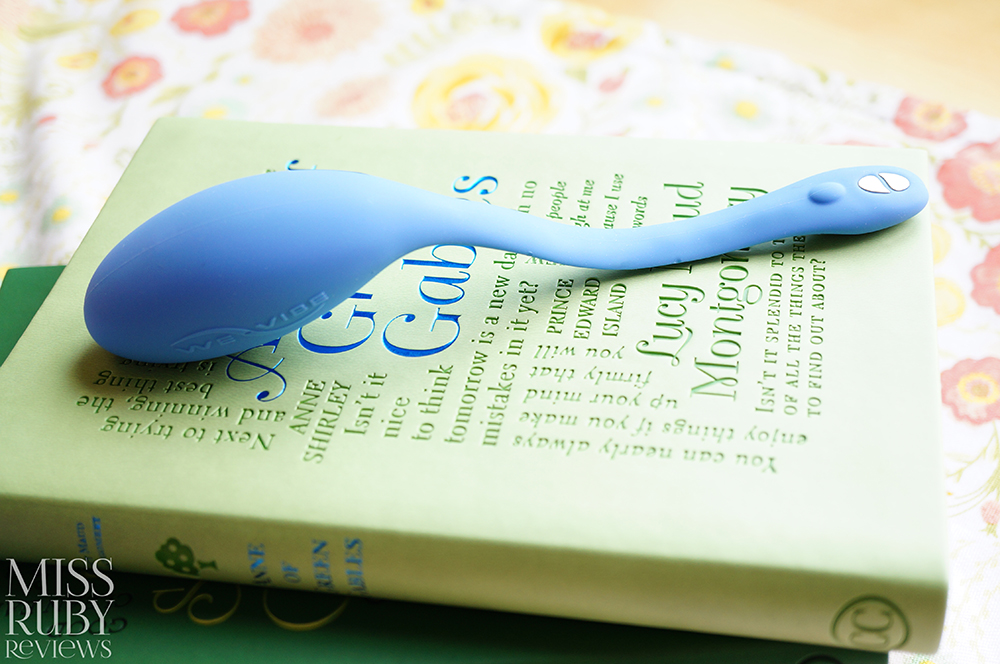 So how does this actually feel, pleasure wise? The We-Vibe Jive does add noticeable stimulation. It finds the G-spot and the vibrations are pleasing, but I don't think its shape can effectively push firmly against the G-spot (and G-spots need firm pressure, which is why so many G-spot vibrators/dildos are curved). Because of that, I'm left feeling that I'm more or less just wearing a vibrating kegel exerciser, not something that is giving me mind-blowing G-spot pleasure.
This is understandable, in a sense… We-Vibe had to design something that could be comfortably worn while you're out and about town, having dinner, playing tennis, or whatever it is all you (my readers) get up to with their partners. If something was providing constant pressure against my G-spot while I was going all of those things, it could get uncomfortable/annoying pretty quickly.
That's why I wish the vibrations were a tad stronger. They're noticeable, and they're nice, but they'd be best for someone who enjoys gentler sensations (rather than a jaded sex blogger like me).
We-Vibe Jive Review – Overall Thoughts
I do think the We-Vibe Jive could add a fun and kinky aspect to a dinner date, but it'd be best for people who don't need intense vibration power. The Jive is bodysafe, rechargeable, waterproof, and, more importantly, comfortable to wear. But the design, which makes it comfortable to wear, means that it won't be able to give you the kind of pleasure other dedicated G-spot toys can. If you're happy with that, consider adding it to your cart.
To purchase the We-Vibe Jive, head on over to Peepshow Toys. Use coupon code RUBY to get 10% off your order.
See below for my We-Vibe Jive review summary.

Last Updated on March 18, 2023 by Miss Ruby