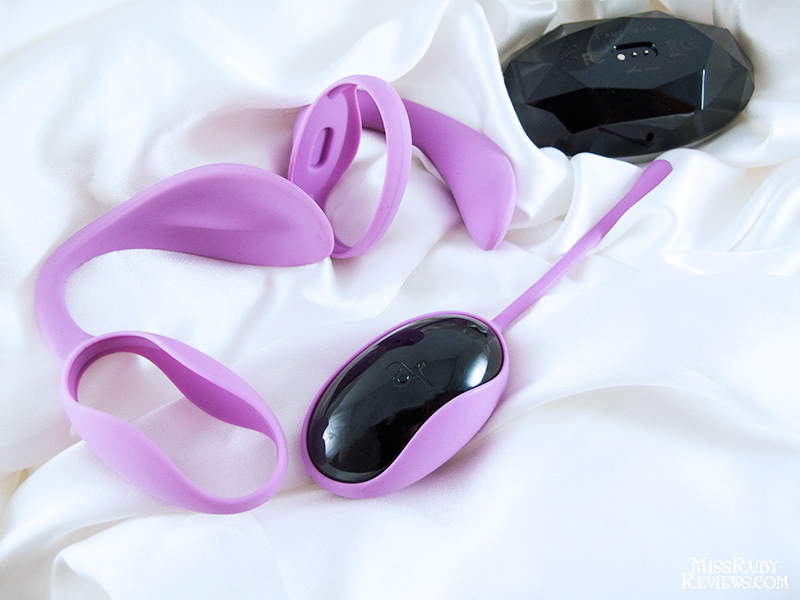 A velvet pouch full of goodies, but one that I never want to use again.
Breakdown of each toy | Material and Care | Packaging | My Experience | Overall
Breakdown of Each Toy
The L'amourose Paramour Set pour Femme is a collection of bullet-vibe compatible harnesses. Because this collection is, essentially, three different toys, I'm structuring this review differently than my usual way: I'm doing mini-reviews of each!
MAE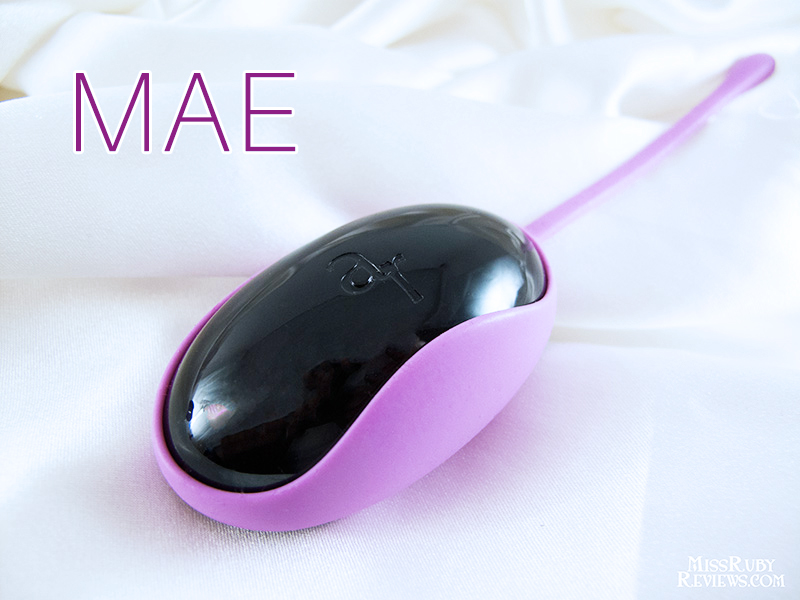 MAE is the bullet vibrator. It comes with a sling, enabling you to use it internally (like a G-spot bullet vibe, with a pullable cord for easy retrieval). You can also, of course, opt to use it clitorally.
MAE measures around 2.5″ long, making it about as small as you want for a bullet vibe (any smaller, and your hand might get cramps). It's rechargeable and waterproof (yay!).
As for vibrations? MAE has moderate vibration strength, falling around 5/10.  I am (unfortunately) a power queen, meaning that it takes a lot of effort to get decent stimulation using MAE. I also find that the vibrations have a definite shade of buzziness.  This is surprising: I absolutely adored the vibrations from the L'amourose Prism VII, which were strong and rumbly, so this is a sharp contrast. It also doesn't help that I'm usually a pin-point gal: I like precision stimulation. But MAE's vibrating edge is the broad long side, which delivers broad stimulation, not precision.
It's just no We-Vibe Tango, unfortunately, and can't get me to orgasm.
It is quiet, though (8/10). It can't be heard through walls or doors.
L'amourose went all out with the remote control. There are 5 vibration patterns, followed by a Touch mode and a Memory mode. All of these use the remote control — a shiny black diamond-backed little component in the set.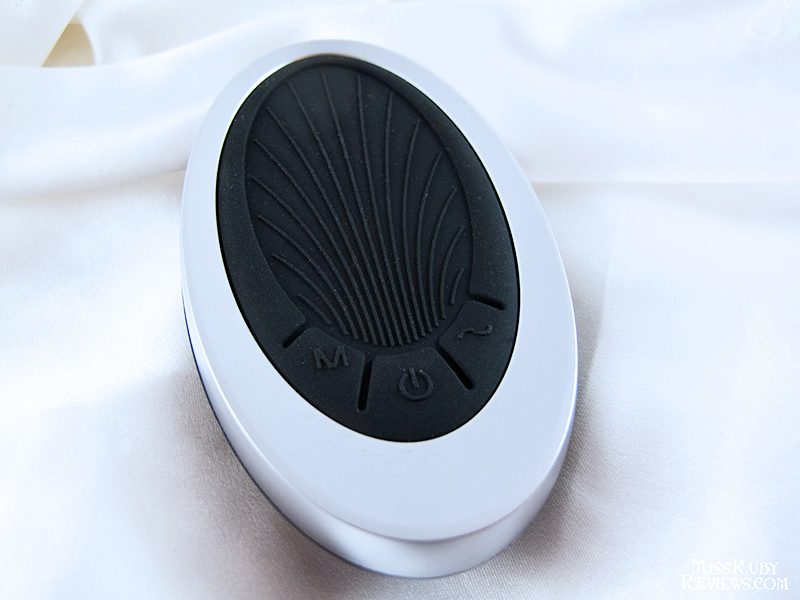 Using the remote, you can cycle through the 5 vibration modes using the squiggle ~ button. After you get through these 5, you'll activate Touch Mode. In this mode, you can control vibration strength with "the speed of your touch…. the faster you move your finger around the touch pad, the greater the vibration intensity. The slower you move around the touch pad, the lesser the vibration intensity."  You can even, then, enable Memory Mode (button M), which memorizes and repeats a 10-second pattern, based on your finger movements.
Sheesh. This is all fancy and so on, but honestly I just prefer to set my vibrators to one solid speed and then let it go. If I fiddle around, I'm often too distracted to orgasm. BUT, that being said, my partner had fun using the control being in charge of my bullet vibe, so I can see this feature being neat if you have a partner. For myself, though, I just use the remote for clicking to a good vibration speed.
CORA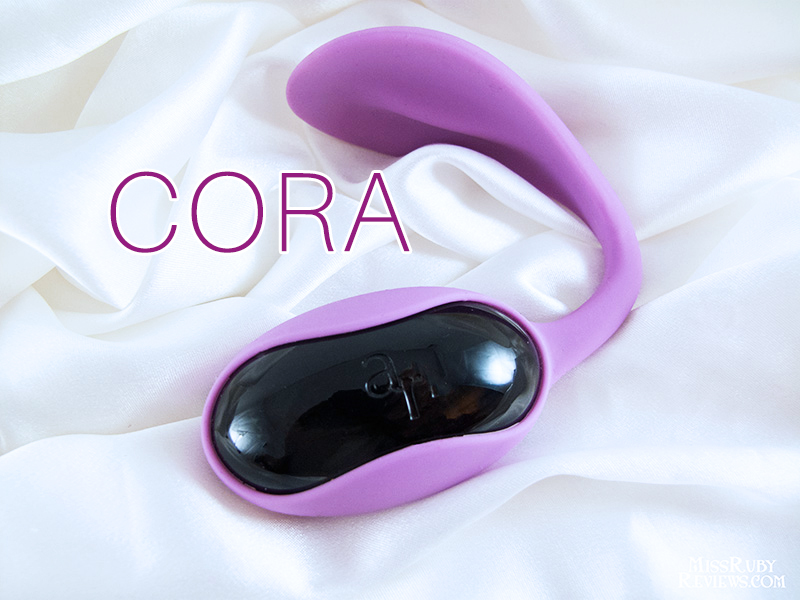 CORA is a sling designed to hold the bullet vibe (internally) against your G-spot while covering your vulva / clitoral area with an "ergonomic" leaf-like petal. The vibrations from the internal bullet are meant to transfer to the thin petal, providing external vibrations.
I do actually enjoy the sensation of CORA's soft surface against my vulva. It's super smooth and, when it brushes up against me, certainly excites me. However, with the bullet on its highest setting against my G-spot, my vulva isn't stimulated with strong vibrations. The vibrations carry, but only mildly. The thin petal-like surface means that the vibrations disperse easily.
So, while I like the sensation of CORA resting against my vulva, I can't get actual, concrete, tactile stimulation. Not one for me to try again.
LANA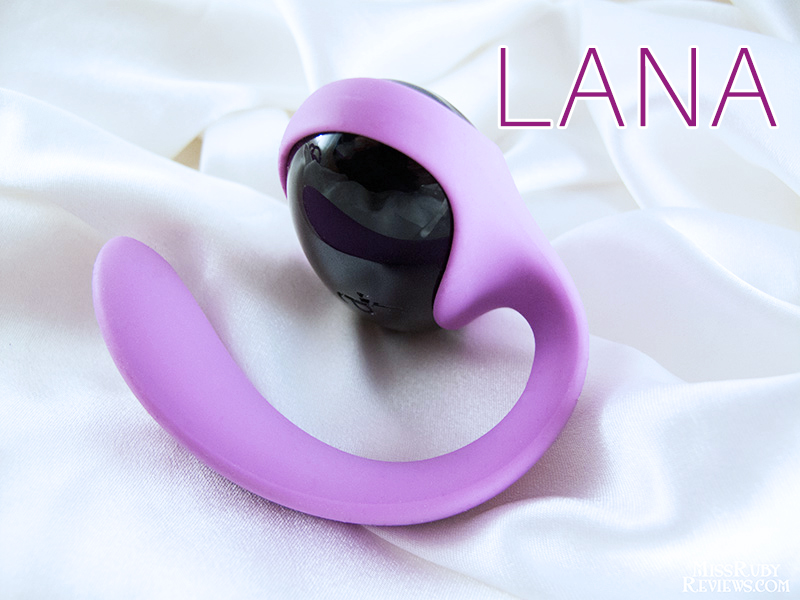 LANA is structurally designed as a partner toy, much like a We-Vibe. The bullet vibe sits horizontally across the clitoris, while the curved arm slips internally to rest on the G-spot.
While trying this solo, I did find that LANA could provide me with hands-free stimulation. The cradle worked (surprisingly) well to keep in place. However, this cradle is best designed for people whose clitoris falls no further than 1.5″ from the entrance to their vagina. Unfortunately, I am not one of those people. Once the G-spot stem is inserted, the bullet vibe simply can't reach my clitoris. It gives me some indirect stimulation, which isn't too bad, but I wish the cradle accommodated the bullet vibe being vertical, as then it might reach my clitoris (which sits about 2″ up).
Like with CORA, the bullet's moderate vibrations could only transfer mild vibrations to the inner stem. As a result, it was impossible for me to get serious G-spot stimulation.
Material and Care
All of the bullet cradles are made from 100% silicone, making them bodysafe. If you're going to use lubricant, be sure to use a water-based lubricant. I recommend any of Sliquid's water-based lubes.
The little bullet vibe itself is made from bodysafe ABS plastic. It's waterproof, meaning cleaning is pretty easy. Just rinse it under warm, soapy water before and after use.
Packaging
L'amourose always has gorgeous packaging. The L'amourose Paramour Set pour Femme is packaged neatly in a simple, non-pornographic box. Inside the box, you receive the bullet vibe, the 3 cradles (MAE, CORA, and LANA), a black velvet pouch, the remote control, a USB charger, a wall adapter, a travel adapter (so you can charge only just the bullet), an instruction manual, and an 18 month warranty card. Wow. A lot is packed in there.
Overall
Overall, I can't recommend the L'amourose Paramour Set pour Femme. It's seriously expensive — L'amorouse suggests a retail price of $225. With a price like this, a vibrator that gives off only moderate vibrations simply isn't good enough. And without an extra-strong bullet vibe, the fancy cradles cease to be interesting. And, while clearly a lot of research, time, and money has gone into developing the fancy Touch Mode and Memory Mode remote control, this simply isn't enough to draw me in to use it again.
I still love L'amorouse, mind you. Their Prism VII is a fantastic, strong vibrator, and I look forward to what L'amorouse will continue to come out with in the future.
Few retailers carry this set, but I did manage to track them down at Liberator — if you're still interested in this set, you can purchase one from Liberator.
Last Updated on March 14, 2020 by Miss Ruby