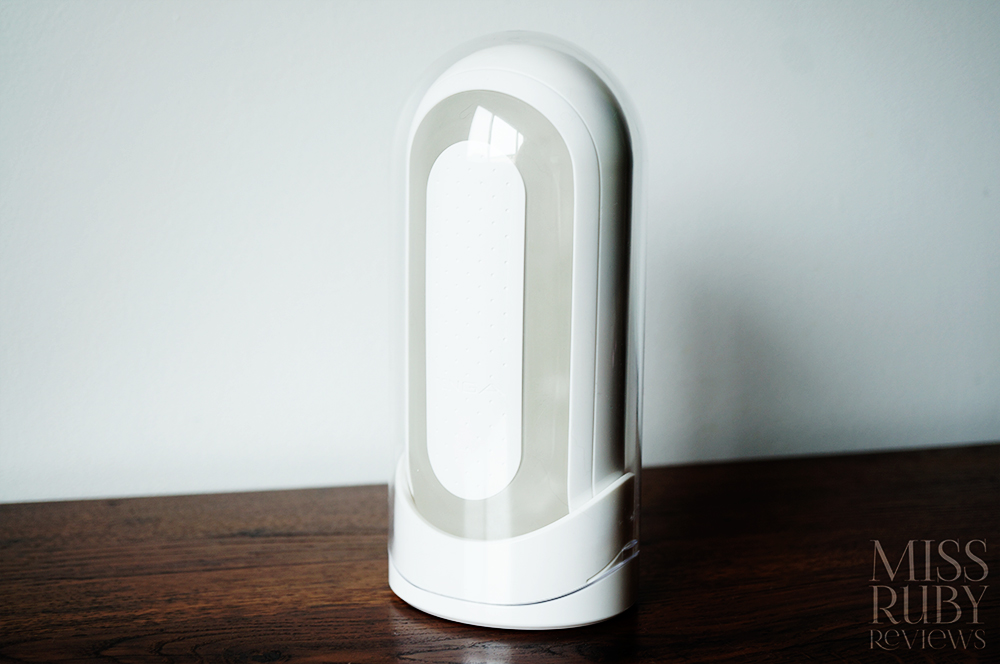 White, sleek, and totally discreet, the Tenga Flip Zero is a stunning new streamlined sex toy for your penis. Read on for my Tenga FLIP 0 (ZERO) review!

Physical Details | Packaging | Material and Care | My Experience | Overall
Physical Details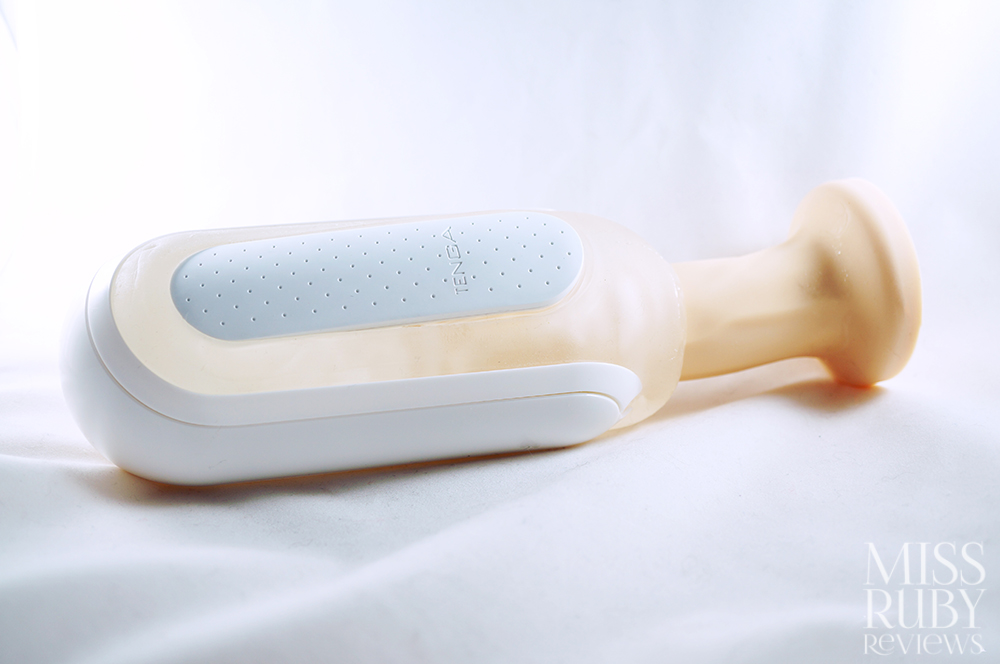 A little while ago, Mr. Ruby and I reviewed the Tenga Flip Hole White, which at that point became our favourite penis sleeve to date.
Now, Tenga has come out with the Tenga Flip Zero, which of course we HAD to try.
Design
The Tenga Flip Zero is a tube-like structure designed to pleasure your penis. You don't have to identify as a man to use this… you just need to have a penis. This sleeve structure envelopes your penis and stimulates with various ridges/details. This doesn't vibrate or move by itself or anything; you'll still need to move it up and down to get pleasure (essentially, it replaces your hand).
On the exterior, the Flip Zero has a quiet, unassuming appearance. This doesn't look like a sex toy and will disappear in a drawer quite well.
Internally, it's a whole different story.  The Tenga Flip Zero is PACKED with intricate detail, curves, ridges, and shapes to deliver pleasure.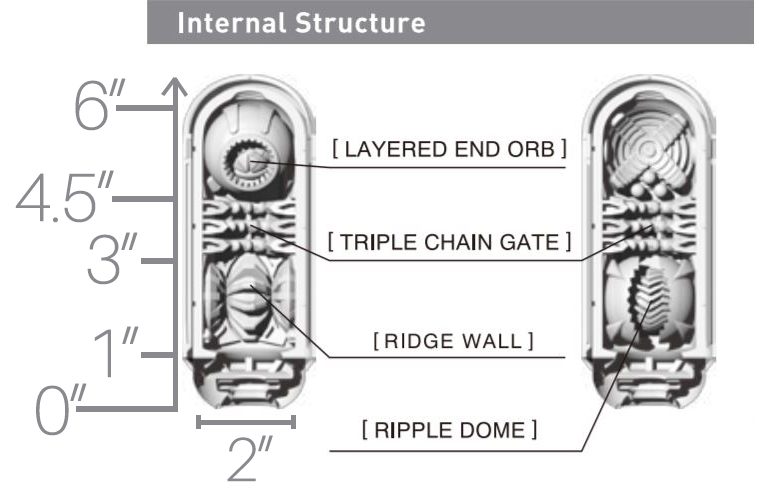 On entry, you first slide past a ridge wall on one side and a "ripple dome" on the other. The Ripple Dome is basically a textured ball with flaps on either side rising up and around to envelop you.
As you move into the Tenga Flip Zero's midsection, you feel the "triple chain gate," a series of balls/nubs to stimulate both sides of your penis.
Lastly, you reach the layered end orb. This is an impressive enveloping hole for the head of your penis that (in Mr. Ruby's opinion) gives the most intense sensations.
To get to the final section, you'll need to be around 5″ to 6″ inches long. I tried to map out the insertion lengths needed for each section in the above image. If you're below 4.5″ in length, you'll still get a great deal of stimulation, but you won't be able to get the capstone finishing touch.
The Tenga Flip Zero will accommodate penises with widths of 2″ or less.
If you are longer or girthier than this, then I recommend sticking to Fleshlight, whose models are typically way bigger.
How is the Flip Zero different than the previous Flip Hole series?
The Tenga Flip Zero was a sleeve with two separate halves. The halves were held together with a hinge, whereas the new Tenga Flip Zero model has an integrated pivot towards the entrance (a hinge inside its body). Instead of the entrance consisting of two separate halves, now the entrance is one seamless hole, making the insertion point more comfortable, less likely to leak lubricant, and more vacuum-suction intense.
The Tenga Flip Zero is also reported to have better engineering technology, giving it more intricate details.
We also find that the Tenga Flip Zero is a bit easier to hold. It's narrower, has more squish to the body, and has less hard plastic structure than the previous Flip Hole series.
Packaging
Great packaging! The Tenga Flip Zero comes simply wrapped in plastic. You receive it in the storage container, which it can live in full-time when not in use.  When you open the package, you receive the Tenga Flip Zero, the stand, the clear storage case, two sample lubricants, and a user manual.
There's also a funny little white rubber band included, but that's just to keep the Tenga Flip Zero from knocking around its case in the warehouse. You can toss it.
Material and Care
The Tenga Flip Zero's white firm structure is made from ABS plastic. The soft translucent parts are made from Thermoplastic Elastomer (TPE). TPE is a material you generally want to avoid for toys you're inserting into your body (like a dildo or a vibrator) because it can be porous. However, for penis sleeves, Tenga's TPE is fine. It's widely popular and trusted.
You'll want to wash thoroughly when you first buy it and then again after every use.
To wash, slide off the slide arms and open the Flip Zero. Rinse out the body with warm running water. Take care to rinse out all the nooks and crannies. Lastly, you'll want to dry it. This part is important so that mildew doesn't develop. Shake off as much water as you can, then prop it open upside-down on the slide arms and the stand. It's a bit of a balancing act, but once it's properly balanced, it'll stay like that for hours.
Once it's fully dry (do a final shakeout to make sure), you can close it up again and slide the clear storage case over it. This is a safe/easy way to keep it dust-free.
Use a good quality water-based lubricant with your Flip Zero. Do not use oil-based or silicone-based lubricants with this toy. This comes with a couple of samples of Tenga's lubricants, but we've just been using Sliquid's H2O.
Our Experience with the Tenga Flip Zero
If the Tenga Flip Hole was Mr. Ruby's favourite penis sleeve of 2017, the Tenga Flip Zero has become his favourite sleeve to date. The Flip Hole has been quite forgotten about… Flip Zero has taken over.
Orgasms happen QUICKLY, the sensations are INTENSE, and there are fewer spills with lubricant. The Layered End Orb was by far his favourite section. The folks at Tenga really know what they're doing here.
Mr. Ruby also loved that it wasn't too heavy (meaning he can use it as long as he wants without tiring his arms) and the size was appropriate. When you use something like a Fleshlight, anyone with an average-sized penis will feel small, which psychologically can hinder your experience. But the Tenga Flip Zero is designed for men 6 inches and under, so most people will feel like they're using a toy designed for them.
From a partner perspective, I find it pretty easy to use on Mr. Ruby. The narrower size is better for my hand, and it's easy to play around with the suction/pressure pad. I also really love how translucent this toy is. There's something weirdly sexy about seeing your partner's penis move in and out of something translucent. You get to watch its every move and location, which is pretty titillating (because, let's face it, it's not like I can see that when we actually have sex).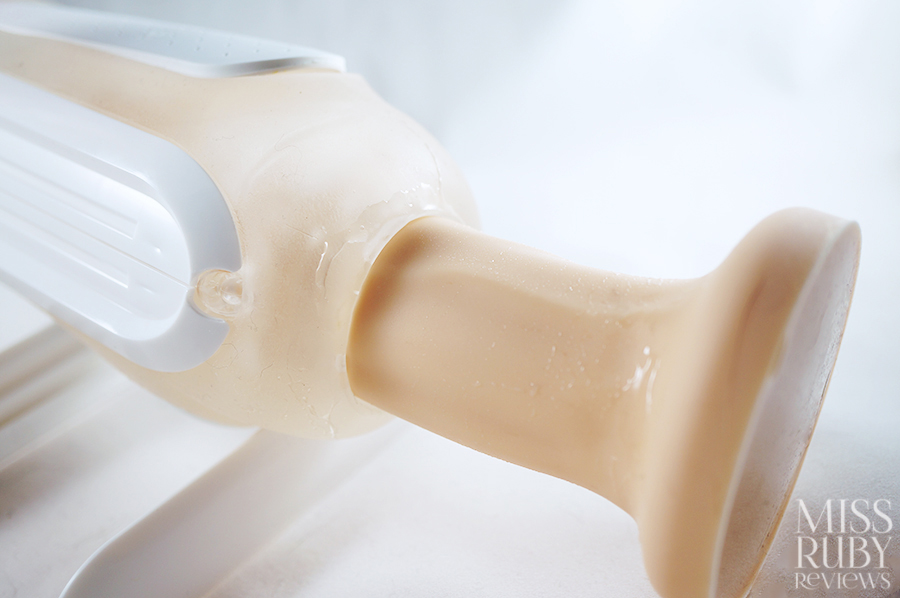 How to use the Tenga Flip Zero
After sliding out the arms, you can separate the Tenga Flip Zero's body by squeezing the rails on the side until the lock clicks out of place. That lets you open up and see the interior. Pour lubricant, close and lock it again, and replace the slidearms. I also recommend you add some lubricant around the entrance point.
The Flip Zero has some discreet pressure pads. After you've inserted yourself, squeeze the pressure pads to feel an internal suction/vacuum. Stroke yourself using the Flip Zero and play around with the pressure points. Based on Mr. Ruby's reactions and experiences, this really does feel amazing.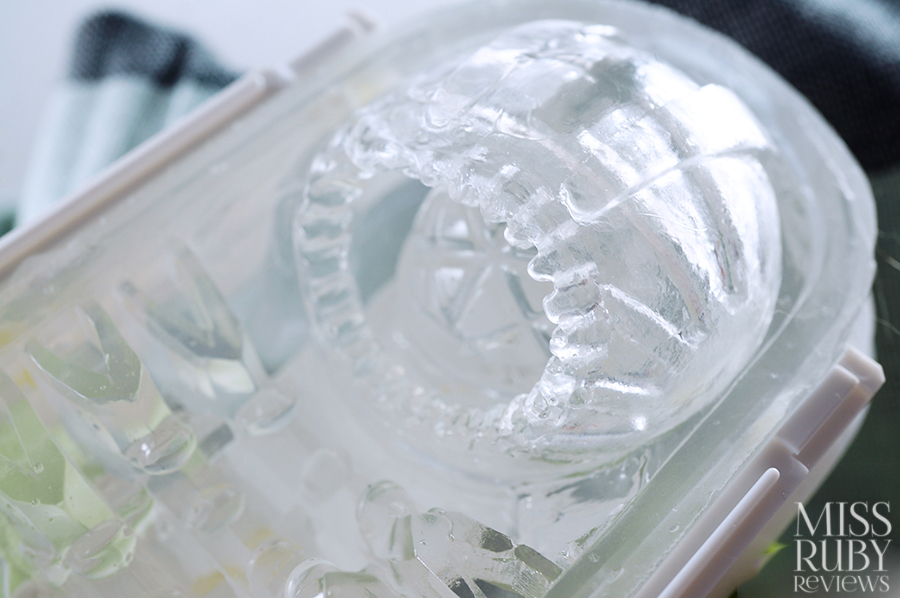 One gripe we do have is that there are sooooo many nooks and crannies in the internal design that you really have to be thorough when cleaning. It's not enough to just rinse with water… you need to use your fingers to peel away the layers, separate the ridges, and get the water in there.  If you're new to penis sleeves, the whole clean up and drying process may be daunting or irritating (definitely a lot more work than if you just masturbated with your hand). While we don't like putting in all the effort to clean it, it's difficult to clean precisely because it is so detailed and intricate, so we can't really hold that against it.
Tenga FLIP 0 (ZERO) review – Overall
The Tenga Flip Zero is more pleasurable and intense than previous penis sleeves we've tried, making it our favourite non-vibrating sleeve to date. It looks and feels great, and it's simple to use. Enough said.
To buy the Flip Zero, head on over to SheVibe ($99 USD at the time of this post).
See below for my Tenga FLIP 0 (ZERO) review summary!