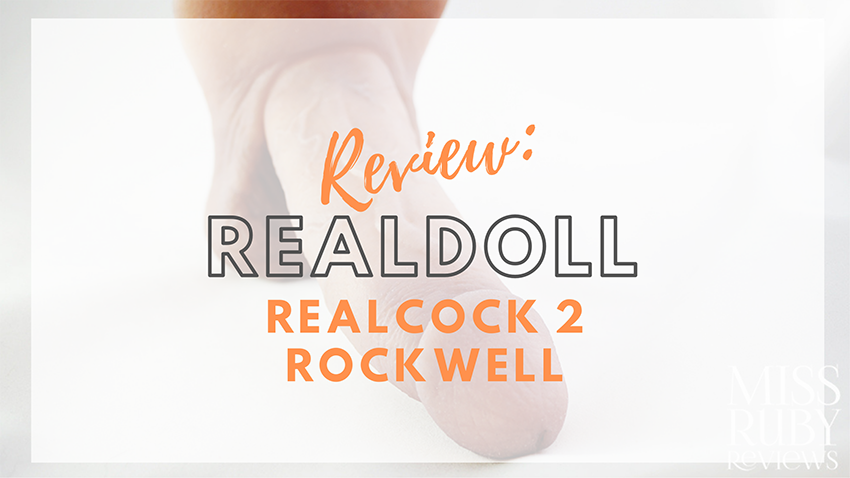 Oh boy. Not a dildo for the faint of heart, the RealDoll RealCock 2 Rockwell (formerly the RealCock 2 DTF) is about as realistic as they come…. Read on for my RealDoll RealCock 2 Rockwell review!

Physical Details | Vac-U-Lock | Material and Care | My Experience | Overall
Physical Details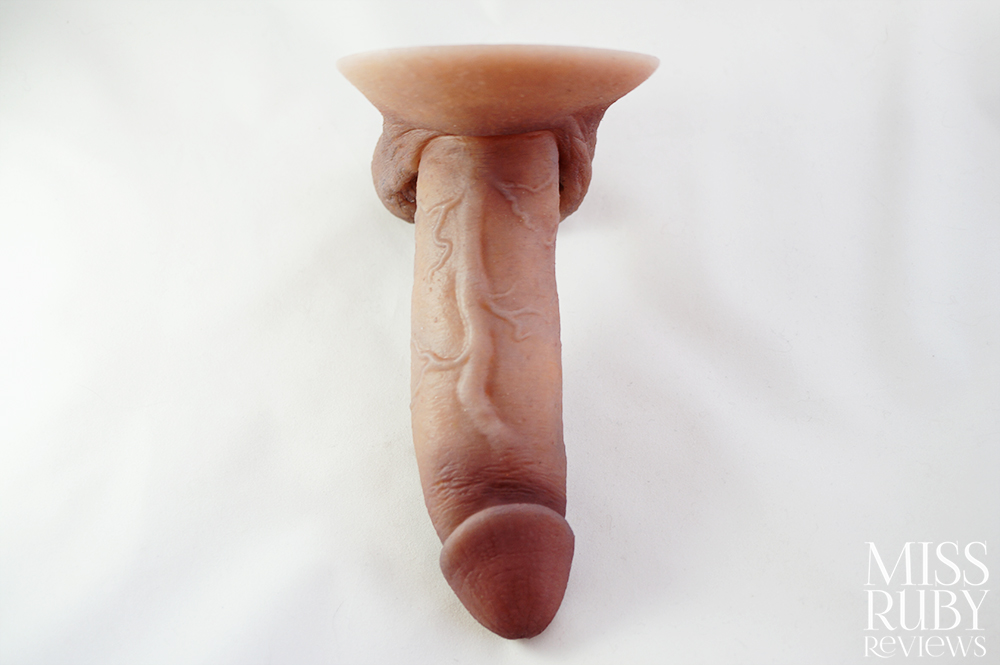 The RealCock 2 Rockwell is a brand new model in RealDoll's silicone RealCock line. The original RealCock 2 Dirk (reviewed here) absolutely blew me away with its realism and perfection. One issue that my readers ran into, though, was that it wasn't strap-on compatible or suction cup compatible.
Now, RealDoll has released the RealCock 2 Rockwell.
Strap on compatible? Check.
Suction cup compatible? Check.
Every bit as realistic as the original Dirk? Yep!
Though this model is an extension of the RealCock 2 line, it sets itself apart with: (1) a fresh new design and (2) a hole in the base for Vac-u-lock suction cups or strap on harnesses.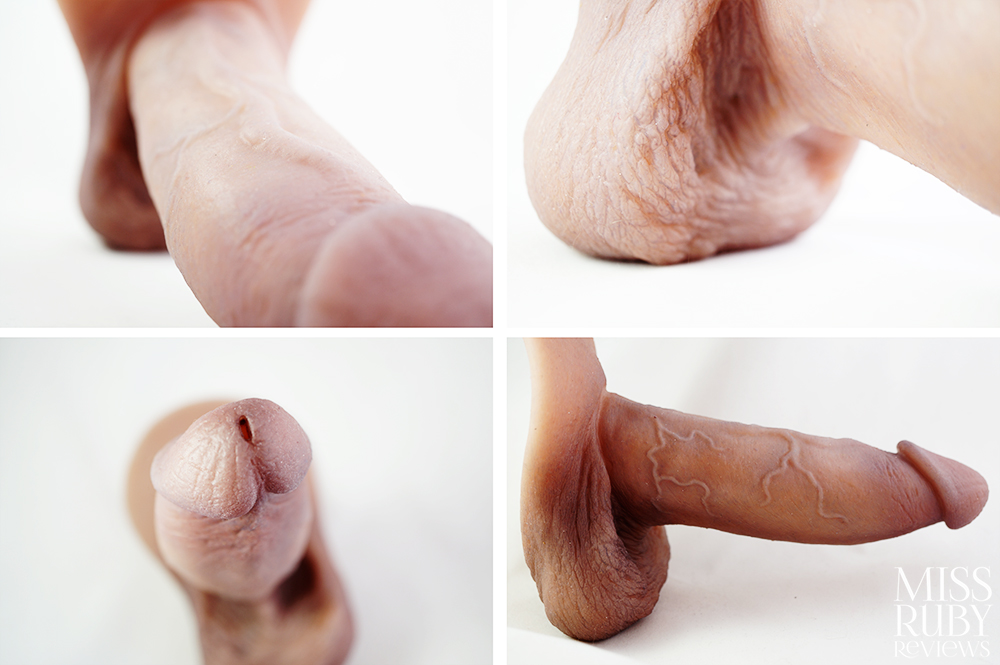 Design
Compared to the original RealCock 2 Dirk (pictured in my review), the RealDoll RealCock 2 Rockwell is smaller. Not small, mind you, but smaller. I measured 6.25 inches (insertable length), 7 inches (total length), and a girth of 1.75 inches.  It's a pretty sizable and attractive hunk of silicone.
The RealCock 2 Rockwell comes with a completely new design. Whereas the original model was straight and symmetrical, the Rockwell's shaft curves slightly to the left, and its head is smaller and more tapered. Its testicles hang lower, and its scrotum isn't as tight. These testicles are actually more 3D than the original; even the back of the testicles are textured and realistic, rather than a smooth wall of silicone.
To me, this version actually feels more realistic than the RealCock Dirk. Something about its asymmetry and its low testicles feels more organic than the perfect Adonis that was the RealCock Dirk. I love it.
I received my Rockwell in the "Medium" colour. It also comes in two other gorgeous colours – Fair and Dark. All three are pictured in the image below. For those of you who are millionaires, for an extra $1,000 you can even work with a RealDoll rep to create a custom skin tone to perfectly match you.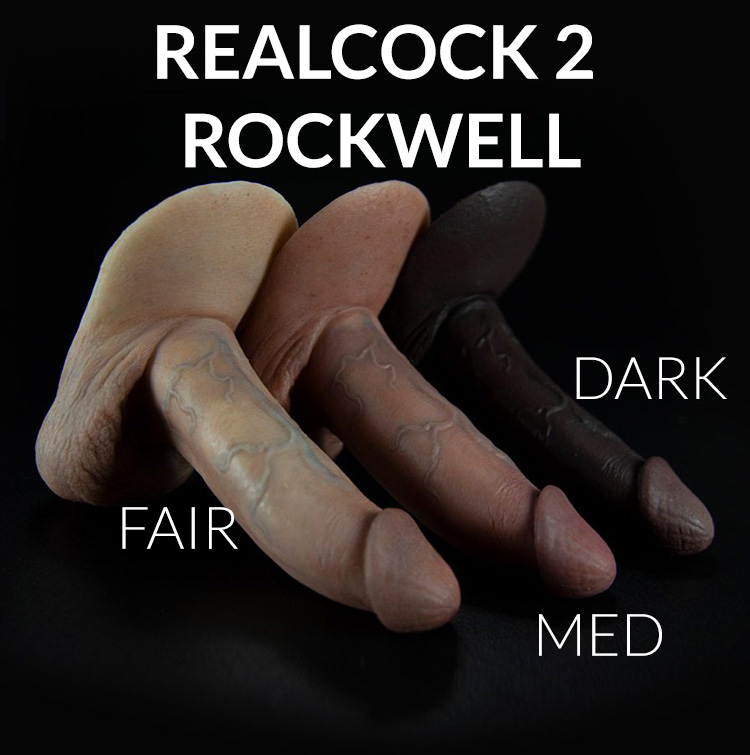 Movable Shaft. Triple Layering, and Individually floating testicles
Like with the RealCock Dirk, the RealCock 2 Rockwell still features that fabulous movable shaft.  Yep, you heard right: when you stroke this up and down, the "skin" on the shaft moves like real skin (example here).  This is thanks to RealDoll's great Sil-Slide™ technology, which allows a soft outer layer to slide along a firm core. So you can stroke it and squeeze it and it feels more realistic in your hands than any other conventional dildo. If you were wearing this in a strap-on, you could essentially give yourself a handjob and watch the shaft's skin move under your hands.
You'll also notice that the colouring on this dildo is superb. Unlike most dildos, which are cast from a single colour of silicone, this dildo has an additional (third) layer for silicone coloring and color texturing. That means you have flushes and shadows and pink tones where you'd find them in a real penis. This does a lot to increase its realism. At a glance, this LOOKS so super real.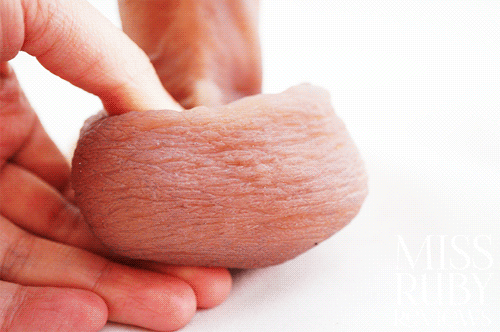 Okay, these testicles are awesome… Like with the original RealCock 2 Dirk, the RealCock 2 Rockwell features two individual floating testicles. These are two firm silicone balls floating inside the softer silicone scrotum. I can dig my fingers into the scrotum, locate each testicle, and squeeze. I can grab the area right above the testicles and squeeze, pushing the testicles down below my hand, as if I was grabbing a real person.
Vac-U-Lock Compatibility 
Huzzah! The RealDoll RealCock 2 Rockwell has a hole in its base to accommodate the Vac-U-Lock system. This opens up a whoooooole world.
First off, you can now wear the RealCock 2 Rockwell as a strap-on dildo/prosthetic. Keep in mind that this won't be a subtle packer; it'll be a large erection at all times. You may be able to tuck it in your pants, but it'll be a sizeable and hard bulge. If you're looking for something small and discreet, look elsewhere.
If you'd like to wear this dildo as a strap on, you could opt for a basic harness, or upgrade to the extra support version. Here's a link for non-USA customers.
With the Vac-U-Lock hole at the base of the dildo, you can also give it a basic suction cup so that it sticks to walls or the shower (because this dildo is large, you might want to try a heavy duty suction cup).
You can even make it vibrate with your favourite wand, strap it to knuckles, or use it with this compatible sex machine.
Simply put, there's a ton of options for you. The Vac-U-Lock system is pretty popular.
Warning that the Vac-U-Lock insert will get stuck inside the hole and hard to remove unless you dust the insert with powder beforehand.
Material and Care
The RealDoll RealCock 2 Rockwell is made of 100% platinum-cure silicone, making it non-porous, bodysafe, and durable. Even though silicone is durable, don't do anything super destructive to it (i.e., bite or pierce it. You don't want to tear it). With normal use, silicone products last ages; they don't deteriorate like some TPE and jelly products, so this is a long-term investment.
A lot of realistic dildos on the market (especially with this level of shading and colouring) aren't silicone. A reminder that, if you're using a realistic dildo, you need a silicone one if you want it to be hygienic. Silicone toys can be sterilized; porous materials can't. You can read more about material safety here.
To clean, I wash with warm water and antibacterial soap before and after each use. The deep urethral hole is particularly tricky, and I find myself focusing on that area to make sure there's nothing stuck inside.
Only use water-based lubricant with this product. I store mine wrapped in cloth (to keep it dust-free) in a drawer.
My Experience with the RealDoll RealCock 2 Rockwell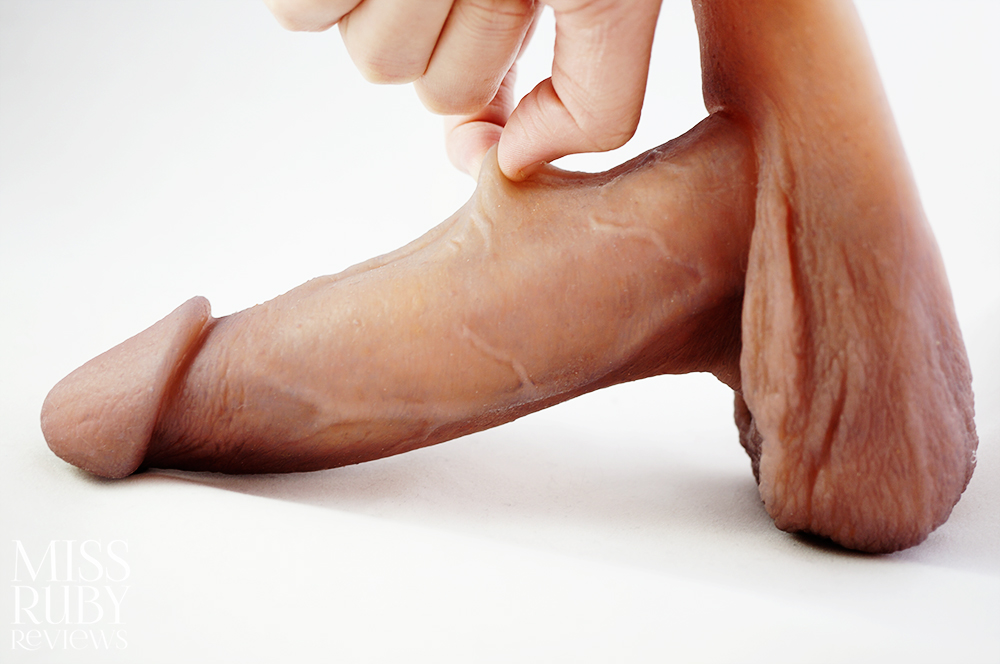 I was super pumped when I heard that RealDoll was releasing a new toy in their RealCock line. I loved the RealCock2 Dirk version, and I suspected I'd feel the same way about the RealCock 2 Rockwell.
Although non-realistic dildos certainly have appeal, I love realistic dildos for their visual stimulation. And with this level of detail… there's just so much "foreplay" to be had, whether simply stroking it, simulating a blowjob, or rubbing it against yourself. It's exciting by itself before it's even inside, which is fantastic.
The RealCock 2 Rockwell feels large. Though the head is somewhat small and tapered (which makes entry much easier than a rounder, broader head), the girth ramps up pretty quickly. Once it's totally inside, I feel full and stretched. The coronal ridge does a great job of rubbing against the G-spot during thrusts.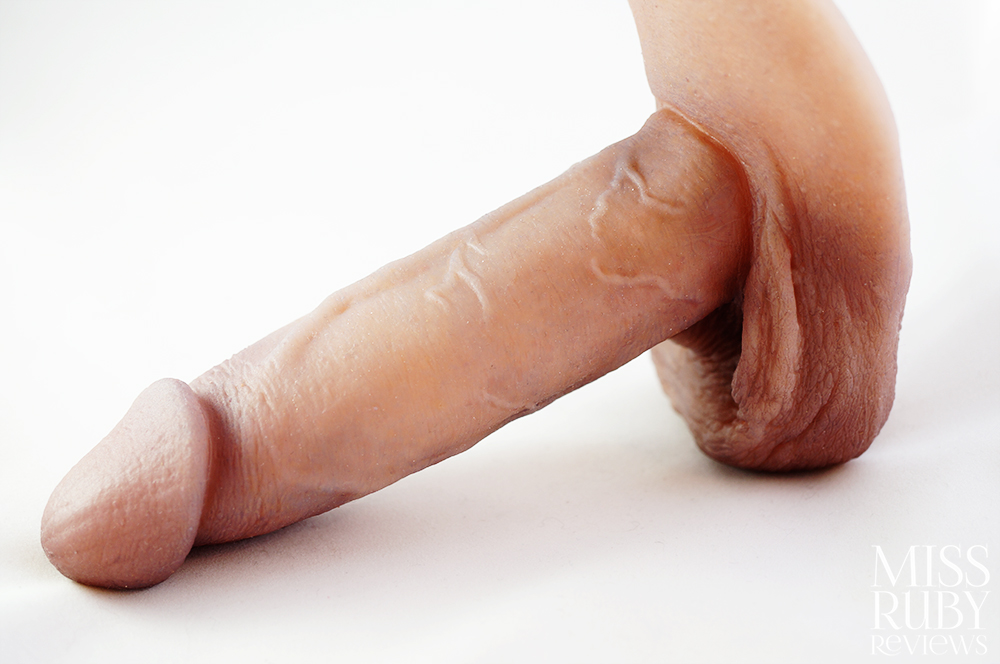 One thing to note is that the head isn't as soft as in the original RealCock 2 Dirk. The firmer inner core (at least in my copy) extends further into the head, making it not totally soft and squishy.  It's not rock hard though, luckily, so I didn't find it uncomfortable against my cervix.
I was worried I'd find the leftwards curve uncomfortable (I've never experienced a side-ways curve like this before). Fortunately, the curve wasn't uncomfortable (or even particularly discernible once inside).
Like with my experience of the original RealCock 2 Dirk. the RealCock 2 Rockwell feels realistic. There's the slight sensation of the movable shaft skin, and I can reach down and feel testicles, feel a pubic mound, feel the light veins along the shaft.
And can I just add how great it was to be able to stick this on the wall using a suction cup? Dildos are always better when they can stick on a surface. It's a great way to enjoy hands-free thrusting, or to simulate a threesome if your partner is involved.
As for drawbacks? It's super pricey. At $499 USD, it's one of the most expensive realistic dildos you could come across. That being said, I can understand why it's expensive — each dildo is handmade to order and you get amazing realism here. If you're in love with this product, this is one you'll need to save and budget for.
RealDoll RealCock 2 Rockwell Review – Overall
The RealDoll RealCock 2 Rockwell is a fantastic product. It was ingenious to make it Vac-U-Lock compatible; not only is it a realistic dildo with a movable shaft, individual floating testicles, and detailed shading, but now it can also be worn as a strap on or slapped against the wall with a suction cup.  Nicely done, RealDoll. Nicely done.
To buy the RealDoll RealCock 2 Rockwell, head on over to RealDoll USA.
See below for my RealDoll RealCock 2 Rockwell review summary
RealCock 2 Rockwell review summary
Overall experience - 10
10
$499
PROS
Incredibly realistic
Suction-cup compatible
Strap-on compatible
Bodysafe silicone
Comes in 3 colours
CONS
Shop Now