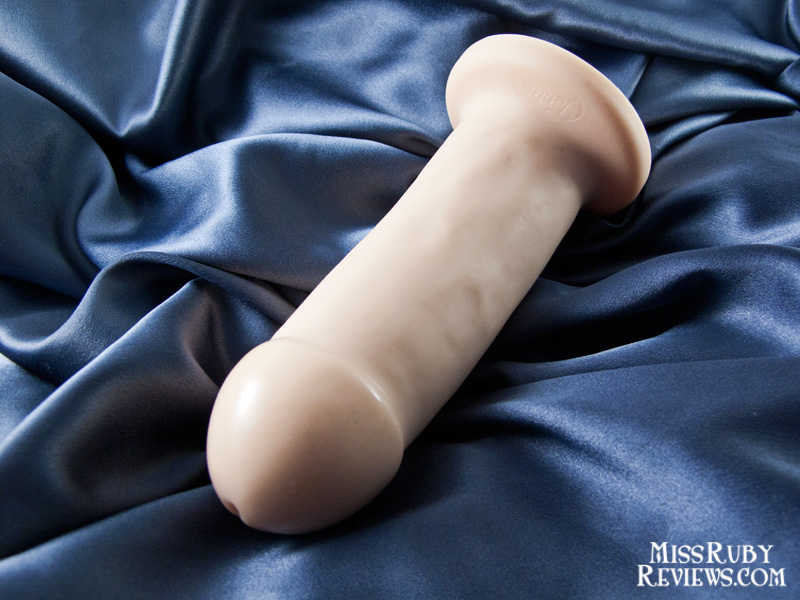 Update: The Tantus Mikey has been discontinued. Tantus has released a similar toy — the Tantus They/Them which has the same design. 
—————-
Short. Stout. Divine.
Packaging | Physical Details| My Experience | Overall
Shipping and Packaging
Though you can buy Tantus dildos from several amazing shops, you can also just buy from Tantus directly. Shipping from Tantus is quick. My order was placed on March 25th and I received my package on March 31st. I received a plain brown box and "Tantus" wasn't listed anywhere on the box. The return address was very discreet. However, for international customs, the box contents were listed as "silicone massagers," which may have raised an eyebrow or two. I would have been more comfortable with the general "silicone sculpture" that many companies use.
Tantus' packaging is clean and fun. The Mikey comes in a white and orange box. Care directions are on the box itself, and inside the box the Mikey is encased in firm plastic.
Physical Details
Design:
Meet one of the cutest dildos you'll ever come across. The Tantus Mikey O2 is a semi-realistic dildo that sports clean lines and a simple – almost cartoonish – design. It's adorable, truly. Its smooth, shiny head is detailed with a urethral dent, a subtle coronal ridge, and a lightly-lined frenulum. The shaft itself is very plain, detailed only with a few veins. The shaft flares out to form a wide base, making this toy safe for anal play and compatible with O-ring harnesses.
I asked for my Mikey to be sent in this lovely milky cream color, but it also comes in a darker cocoa shade.
Before I actually held the Mikey O2 in my hands for the first time, I assumed that it was a really small dildo. Staring at the Mikey product page, with no frame of reference for size, my brain assumed that it's a small dildo, which was silly of me because it's stated clearly on the product page that it's 6 inches tall. Maybe it was some sort of optical illusion. It's so thick that, compared to it's length, it seems very chubby and stout. But in real life, this dildo isn't small. It's safely in the "average-sized" category of phalluses, with 5.25 inches of insertable length and lovely 1.75″ diameter. Good size.
Compared to the Tantus Mark O2, you can see that the Mikey is considerably thicker, shorter, and less detailed.
Firmness:
The Mikey is part of Tantus' O2 line of dildos. This means that the Mikey features dual-density silicone. The shaft has a firm inner core surrounded by a softer layer. When you squeeze the shaft, you can feel the inner core below. The head itself doesn't have an inner core, so it's simply delightfully squishy. Compared to Tantus' non-O2 dildos, this dildo is very squishy. But compared to other brands, the Tantus Mikey O2 is firmer than the Pleasure Works line of dildos and the Fun Factory Tiger. I find that dildos with an element of squishiness are much more comfortable to use.
Material and Care: 
All Tantus dildos are made from 100% silicone, the best material you could ask for in a sex toy. This means that this dildo is totally waterproof and non-porous. It's free of phthalates and any toxins. I wash mine with warm soapy water before and after each use, but you can also boil it for a few minutes, chuck it in your dishwasher, or rinse with a 10% bleach solution. I recommend that you use a water-based lubricant with this toy. Unfortunately, Tantus doesn't send their dildos with storage pouches, so my Mikey lives in a clear plastic ziplock bag.
My Experience with the Tantus Mikey O2
In this world, you can put sex toys into one of three categories. (1) Sex toys that don't work for you at all, (2) Sex toys that don't work at first, then feel better as you get used to them, and (3) Sex toys that make you want to weep from pleasure from the moment they touch you. I've tried many toys, but only a few a few toys have made the last category for me, including the We-Vibe Tango and the Fun Factory Tiger.
For me, the Tantus Mikey falls into that last (3) category. From the very first session, and every session following, this dildo has rendered me into one of those helpless it-feels-too-good-I-can't-feel-my-legs states.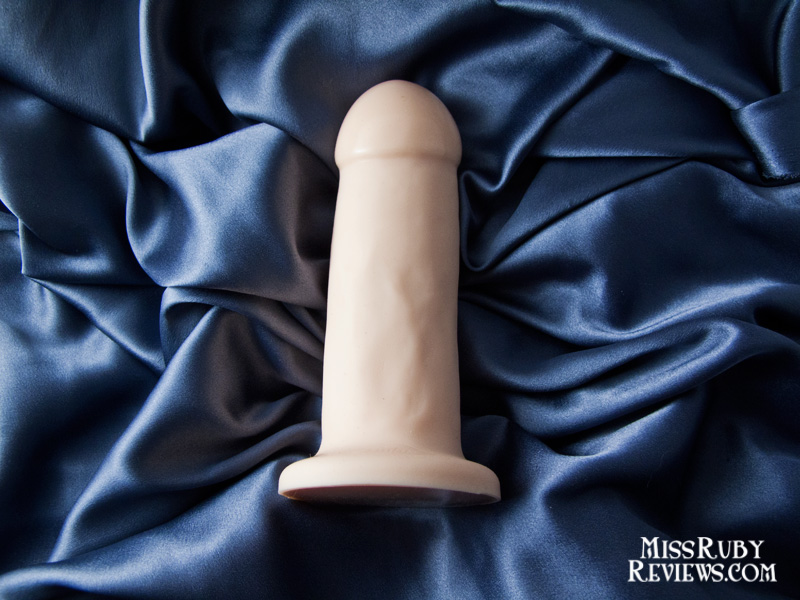 The girth makes this dildo so good, I think. It must be. The coronal ridge is too subtle…it doesn't jut out to milk your g-spot like other dildos. The shaft is too straight for targeted g-spot stimulation. There are no obvious features that could render this dildo so good.
And while I'm perfectly happy with the girth that the Tantus Mark gives me, the Mikey's girth makes you feel full. Very full. It's girth means that your g-spot can't hide very easily. Mine can't, anyway. Despite the straight shaft, this dildo hits all of my right spots. Thank you, Tantus, thank you.
Plus, because it's so short, my vagina can actually gobble up (om nom nom) the whole thing. The dildos I'm sent for review are often over 6 inches, which means I usually can't accommodate the whole thing. But Mikey only has an insertable length of 5.25 inches, so I get a sense of satisfaction knowing that I can fit it all inside.
I only have three complaints. First, the silicone (while lovely) eats up a ton of lubricant. During one particularly vigorous playtime, I noticed that my vaginal walls were burning from friction. Additional lubricant ensures that this doesn't happen, so be sure to reapply several times during use. Secondly, the base makes for a very thin and awkward handle. Because the whole shaft can fit inside my shorty vagina, all that I'm left with to hold onto is the thin base, which is difficult. Lastly, I wish the base was hollowed out slightly so that it could be suction-cupped to flat surfaces. Dildos with suction cup capabilities really expand their usability.
Other than those three considerations, plus the lack of included storage bag, my vagina is very happy to announce that this one is a gem.
Overall thoughts
Between uses, Tantus Mikey goes straight into my quick-access favourites drawer. It's cute, bodysafe, and simplistic.  And it may be short, but the Mikey's sheer girth pulls me into one of those amazing frenzied states of pleasure.
Update: The Tantus Mikey has been discontinued. Tantus has released a similar toy — the Tantus They/Them which has the same design.