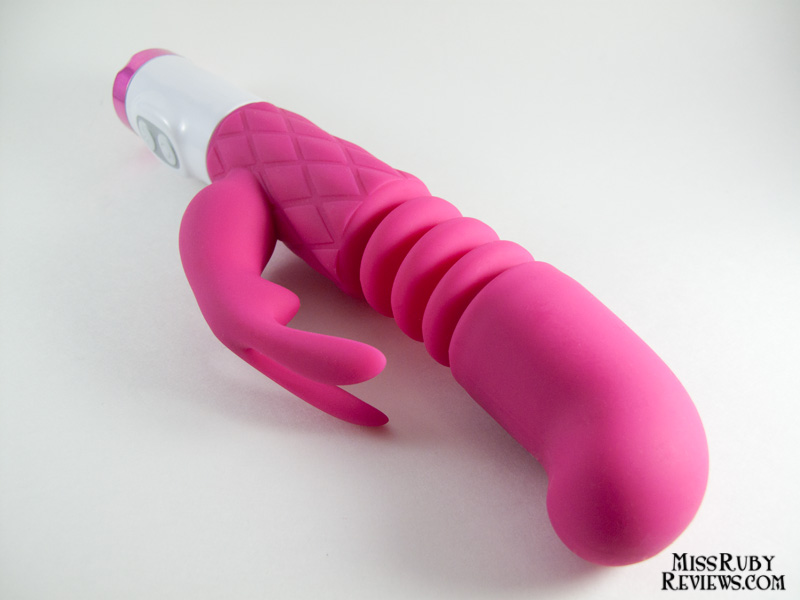 I didn't know what to expect from this weird-looking rabbit vibrator. But, seriously, it delivers…
About the Store | Physical Details| My Experience | Overall
About the Brand: Blush Novelties
Blush Novelties is a US-based sex toy manufacturer. They make a wide range of sex toys, including some very curious-looking vibes and a line of luxurious silicone vibrators. When browsing through their product pages, I was quite intrigued by the G Rabbit's strange plunger-like shaft, and I was very happy when they offered to send me one for review. This product has just been released, so this is the first review you'll find on this toy. Communication with Blush's marketing contact was smooth and friendly.
Physical Details
Design:
The Blush Luxe G Rabbit Plush is, as its aptly named, a rabbit vibrator. A long pink shaft (meant for vaginal use) is coupled with a smaller arm for simultaneous clitoral stimulation. The shaft curves up suddenly towards the tip to hone in on your g-spot. Part of the 5-inch insertable length consists of the "plunger" like section, which is hollow inside to allow for the shaft's movement.
The Blush Luxe G Rabbit Plush's clitoral arm is shaped like a rabbit. Rabbit vibes often can't align well with your clitoris because all bodies are made differently, and I love that this vibrator gives options for someone whether their clitoris is close or far from their vaginal opening. A nobby nose juts out halfway down the clitoral shaft to reach a close clitoris, but two ears reach out for people with a  further clitoris. The nobby nose will stimulate people with a C-V (clitoris to vaginal opening) distance of around 1 inch, whereas the ears will accommodate people with a C-V distance of up to 2.5 inches. I was happy to see that the clitoral arm is actually quite flexible. It's much more flexible than, say, the arm on the LELO Ina Wave. It can nearly be pulled back to a 90 degree angle, which means that this rabbit can also accommodate people whose vagina-to-clitoris angle is more perpendicular.
The pink sections are covered with soft, silky silicone. Half the shaft sports a quilted imprint design, which is purely aesthetic. I'm pretty impressed with the quality of this silicone. It feels lovely to stroke and it's scent-free. However, I'm less impressed with the ABS plastic sections (the white handle and the pink battery cap. When you unscrew the battery cap, the plastic feels quite flimsy and cheap, which is a huge contrast to the luxurious-feeling pink silicone.
I was pleasantly surprised to find that this vibe isn't rock-hard. The g-spot curved tip and the nobby "rabbit nose" of the clitoral arm is delightfully squishy.
Rotate/Thrust Function:  
What really stands out about the Blush Luxe G Rabbit Plush rabbit vibrator is the way the shaft moves. It kind of rotates and thrusts at the same time. This rotate/thrusting movement has increasing speeds. You can have this movement going on without any vibrations.  This vibrator is powered by three AAA batters. They aren't included, so be sure to have ones ready.
Vibrations:
In addition to the rotating/thrusting motion, there are 3 steady vibration speeds and 4 vibration patterns. The motor is for the clitoral arm, but some of the vibrations from the clitoral arm travel down into the g-spot shaft.
Strength wise, this vibrator isn't too shabby. The vibrations themselves are fairly rumbly in the "rabbit body" but grow more surface level as they travel up to the tip of the ears. The strongest vibrations are felt at the eartips and these are satisfyingly strong for even my power-hungry clitoris. I'd rate the vibration strength a solid 7/10.
Noise: 
The Blush Luxe G Rabbit Plush is pretty noisy. The vibrations themselves aren't terribly annoying because they have a deeper rumbling sound. The rotation function, however, is quite high-pitched and whiny. When everything is going full speed, I can hear it faintly through walls. This isn't a problem for me because I don't live with roommates and family I need to hide my toy from. But, if you have to be very discreet, I suggest you only use this on full speed while covering yourself with several blankets to muffle the sound.
Material and Care: 
The pink insertable parts of the Blush Luxe G Rabbit Plush are made of silicone. This means that it's non-toxic, free of phthalates, and bodysafe. The handle is made from ABS plastic. This is not a waterproof toy, so it can't be submerged in water. It is, however, splashproof, and the instructions state that you can take it into the shower. To clean this toy, I carefully rinse mine with warm soapy water. I'm careful not to get any water in the seams between the silicone and the white handle in case it destroys the motor. Unfortunately, this rabbit doesn't come with a storage pouch. I store mine in a clear ziplock bag in between uses. Only use water-based lubricant with this toy.
My Experience with the Blush G Rabbit Plush Stroker
I have a thing about rabbit vibrators. The second sex toy I ever owned was a horrible jelly rabbit vibrator that I could only use a few times because the chemicals in the jelly made my skin burn. But I loved the rotations it offered. When I started shopping for silicone rabbit vibrators, I was sad to see that there were so few rotating rabbit vibes. They're out there if you look hard for them, but there's not much to pick from. Nowadays, I generally get non-rotating silicone rabbits, which are also fun, but don't have that extra kick you get from a moving shaft. So, I'm pretty thrilled that I now have my first rotating (and thrusting) silicone rabbit vibe.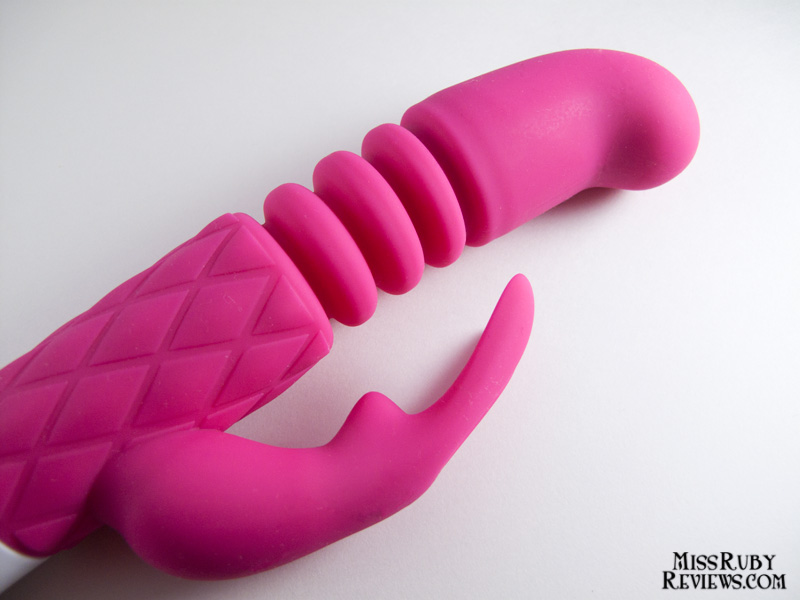 First, the clitoral arm is great. Its vibrations are solidly strong. My clitoris can be hard to please at the best of times, so I really need strong vibrations, and I was happy to see that this vibe delivers on that. Also, my C-V distance is longer than average, so I love that this vibrator has long rabbit ears to reach my clitoris. I do wish that the rabbit nose could reach me so that I could have that firm pressure against me, but I compensate by pressing the little rabbit ears firmly against me during play. That takes me where I need to go.
Second, the rotation/thrusting tip wiggles against my g-spot throughout my playtime. That tip is curved to dig into your g-spot and, once you turn the movement on, it moves side-to-side in a circular motion.
I don't insert the shaft as far as it can go. Instead, I enjoy this rabbit best when it's inserted only as far so that the plunger section of the shaft is taking up the first inch of my entrance. I find this gives me a deliciously textured sensation to my entrance to an otherwise textureless experience.
Cons?
I have noticed that the rotations slow down considerably when I clench my PC muscles, which I need to do to get to orgasm. Sometimes I realize that the rotations are slowing down to a complete stop, so I have to consciously unclench my PC muscles. Also, I've noticed that when the shaft is inside of me, I don't notice any difference between the three rotation speeds. All three feel exactly the same internally. Lastly, I wish this toy came with its own storage bag and that it was quieter.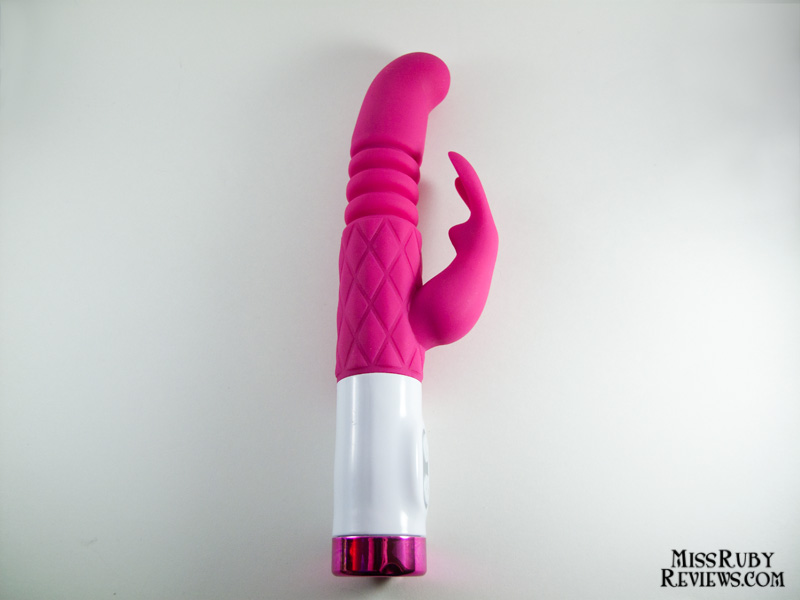 I've never managed a g-spot orgasm, but my most satisfying orgasms consist of a clitoral orgasm plus good g-spot stimulation. These blended sensations are amazing, which is why I'm always on the hunt for a good rabbit vibe. This vibrator reminded me just how awesome rotating/thrusting shafts can be. Each time I've used this rabbit, I'm able to orgasm within three minutes.
Overall
Despite a few drawbacks, I think the Blush Luxe G Rabbit Plush is pretty solid vibrator. All bodies differ, certainly, but I can say that this rabbit takes me to orgasm very easily due to that strong clitoral arm and its moving shaft. I'm thrilled to own a silicone rotating/thrusting vibrator again, and I think this would make a great purchase for:
(a) someone wishing to toss out their jelly rotating rabbits for a body-safe one.
(b) someone with a Clitoris-to-Vaginal distance of between 1-2.5 inches.
(c) someone who loves dual stimulation
You can't buy the G Rabbit Plush Stroker directly through Blush, but you can always pick one up from SheVibe.