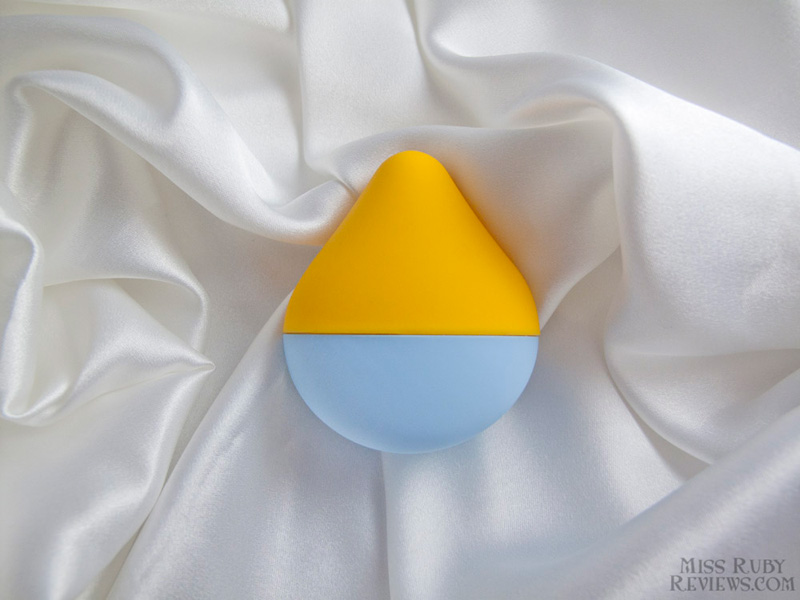 I looove the Tenga Iroha Mini's colour combination. Deep yellow and pale blue? Never seen it on a sex toy before and I love it. I can already smell summer. Read on for my Tenga Iroha Mini review!
About the Store | Physical Details| My Experience | Overall
About the Store: Womyns Ware
A couple of months ago when I was visiting Vancouver, I picked up this little toy at a store called Womyns' Ware. Since I started blogging, I rarely purchase sex toys, and it's even rarer for me to find time to review a toy that wasn't sent to me by a company.  But I've found a scrap of time to tell you about this toy. Womyns' Ware is a feminist sex toy store in Vancouver that embraces female sexuality. I'd forgotten how great it is to actually walk into a woman-friendly sex toy store. Instead of anonymously browsing product pages online,  I was able see and touch sex toys in real life before buying them. The two people running the store, Leslie and Ann, gave me a tour of their health-oriented store. It was great to see many bodysafe toys in one space! There's something really empowering about being in a safe place that embraces your sexuality. I come from a pretty conservative background where sex/sexuality is seen as shameful, and even just standing in Womyns' Ware helped to chip a little bit of that away.  In any case, readers, if you happen to visit or live in Vancouver, definitely check this store out and tell them I sent you. 🙂
Physical Details
When I was at Womyns' Ware, I spotted the Tenga Iroha Mini, and it was just so adorable that I had to pick it up. Whenever I see a toy that isn't pink or purple, my interest skyrockets. When I saw this little beacon of yellow/orange and blue, I knew I had to take it home with me.
The Tenga Iroha Mini is a small palm-sized clitoral vibrator. It's roughly shaped into a triangle. The bottom portion (blue) screws off to accommodate one AAA battery. The orange portion tapers to a soft tip to provide pinpoint stimulation. It's elegant, aesthetically-pleasing, and remarkably discreet. Nothing about it screams "SEXY TIME" so you could get away with leaving this on your windowsill without it scandalizing your neighbors (though if you do manage to scandalize your neighbours, good on ya).
The Tenga Iroha Mini has a very simple function. Like many small, inexpensive vibrators, there is only one constant vibration speed that you activate with the barely-visible on/off button on the side of the vibe. Though the vibrations aren't strong, they're certainly not the weakest I've encountered for something in this price range. I'd put its vibrations around a 4/10. The majority of its vibrations are fairly buzzy though.
On the flipside, softer vibrations allow this vibrator to be pretty quiet. It emits a soft, mid-frequency sound that can't be heard through doors or walls.
The bottom portion of the vibrator is made from ABS plastic and the top part is made from elastomer, making this vibe phthalate-free and non-toxic. It's also waterproof, which I wasn't expecting for something in this price range. Because it's waterproof, you can submerge it in water, take it in the shower, and clean it easily. I wash mine with warm soapy water before and after each use.
My Experience with the Tenga Iroha Mini
I'm a fairly tall woman. Having large-ish hands comes with the territory of being tall, and my hands dwarf this little vibe. Most of my small clitoral vibrators are around 4 inches tall, and they fit in my hands well. The Tenga Iroha Mini is only about 2.5 inches tall, which means that my large hands find it fairly awkward to hold and move around during playtime. They've started to cramp up on me on more than one occasion when using this vibe.
To my disappointment, a lot of the vibrations disperse into the handle, where they meet my hand with an evil grin. My hands feel uncomfortably buzzed-up after my sessions with this toy.
Despite these drawbacks, I manage to scrape up some enjoyment from this vibe. Yes, it's weak. It's buzzy. It also cramps and buzzes up my hand. But it also lets me apply firm, pin-point pressure to my clitoris, something that I really need and appreciate whenever I can get it. The firm, pointed nub gives me a much firmer sensation than my finger can give me.
Plus, surprisingly enough, my clitoris doesn't go numb with this vibrator, which in itself is a small miracle.
Does it make me orgasm? Only around 1/3rd of the time. During the days it does, I'm feeling particularly sensitive. Most days, though,  I can only get off with the strength that the Tango gives me. This vibe is nowhere near the price of the Tango, though, so I can't expect it to perform at the same level.

Tenga Iroha Mini Review – Overall Thoughts
The Tenga Iroha Mini isn't perfect. It won't give you Hitachi or Tango strength. But, even though this isn't a vibe I'll be using often, I think it can still make certain types of bodies happy. I think people will enjoy this vibe if: (a) they have a sensitive clitoris; (b) they enjoy pinpoint stimulation; and (c) they're looking to try out inexpensive vibes before graduating to higher-end ones.
If you'd like to purchase this online and you want to support me by using an affiliate link, head on over to SheVibe.