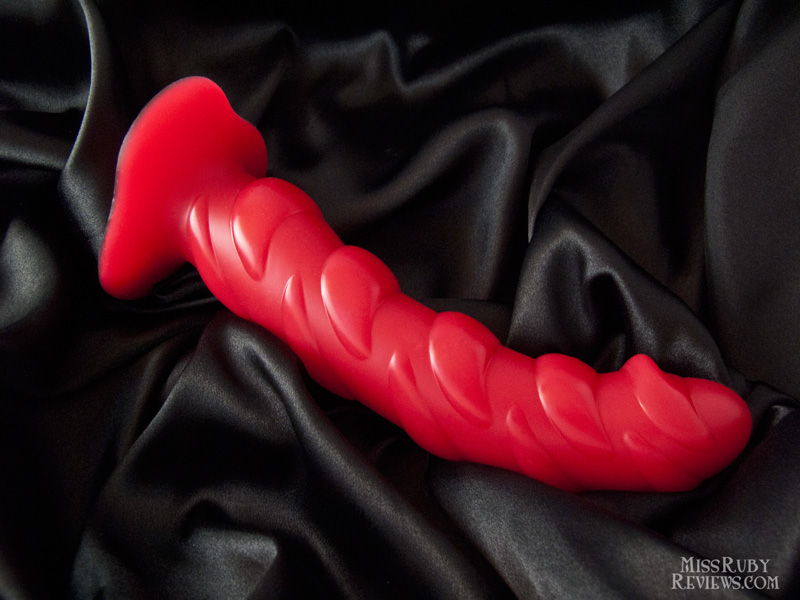 Update: The Fun Factory Tiger has been discontinued. I recommend you check out the Tantus Magma (visually similar) or the Funkit Swing (also has mad ridges!)
Doesn't the Tiger make your mouth water? Doesn't it remind you of summertime strawberries and cherry lipstick and cold sugary drinks? It did for me, at first. Now it just reminds me of sex.
About  | Physical Details| My Experience | Overall
Physical Details
Design: Well folks, this is very obviously a dildo. With one glance, anyone could tell what it is, so don't leave it on your windowsill unless you'd like to excite your neighbours.
Standard lipstick case for scale
Lovely ribbed bands up the shaft for texture
The Tiger is a beautiful dildo. And I know I have the bad habit of calling (almost) all sex toys I review pretty/gorgeous/beautiful, but it's only because it's true. This one is gorgeous, eh? Its shaft is slightly curved. The shaft is covered in swoopy ridges. Its head sports a prominent coronal ridge. And it comes in this rich, mouth-watering, delicious shade of red. It reminds me of strawberry gummy bears, and makes my teeth gnash in frustration that I'm not eating gummy bears. The Tiger also comes in black, but I suggest the red. The red, the red, the red. I like it.
This dildo is fairly big. At over 7 inches tall and 1.75 inches in diameter, the Tiger is one of the bigger toys from Fun Factory.
The shaft narrows slightly at the base to accommodate a strap-on harness. Because it has a flared base, this toy is safe for anal use, so go knock yourself out.
The Tiger supposedly sports a suction cup base that allows it to adhere to flat surfaces. My arms are either superbly strong or there is no suction, because it clings to the floor for a single tug before slapping loose. So don't count on it sticking to the floor or the wall for more than a hump or two.
Packaging
Flat base
Underside
Firmness: I'm happy with the Tiger's firmness. Any firmer, though, and I'd find it too firm. It's not as squishy as my Pleasure Works dildos but it's certainly squishier than the Tantus O2 line. I wish it was a teensy bit softer, but only because I've been spoiled by super soft silicone lines. Like any good silicone dildo, there's a bit of give to it when you squeeze and you can fold it in half, twist it about, and it springs back straight. One thing I've noticed is that the prominent coronal ridge feels softer than the rest of the toy, likely because it's a thinner ridge.
Material and Care: The Tiger is made from pure silicone. It's non-toxic, non-porous, and doesn't contain phthalates. Even straight out of the package, there was no chemical scent lingering on the toy, which some other luxury toys can't boast. I wash mine with warm soapy water, and I suggest you wash it before and after each use. Only use a water-based lubricant with this toy. I store mine in a clear plastic ziplock bag.
My Experience with the Fun Factory Tiger Stub Dildo
I review many dildos. Often, during the first time I test them out, I go slowly and patiently and take careful notes. Not with this toy. I didn't take any notes the first session. I was too busy having my partner madly thrust it in me. With the Tiger, I had no interest in stopping for notes. It was that good.
The culprit? Blame the head's coronal ridge. That gummy-bear-like ridge of silicone is unflinchingly glorious against your g-spot. The rest of the smaller, banded ridges feel nice too, but they're nothing compared to that coronal ridge, which juts out from the shaft to milk your g-spot into submission.
AKA, I think this toy's strength is definitely g-spot play. I can't insert more than 5 inches of the Tiger (my vagina is a shorty, don't tease her), so it's pretty easy for me to fill up. But I find myself less interested in getting the "full" feeling from this toy because I'm too preoccupied with exploiting the coronal ridge for my hungry g-spot.
You know that achy feeling you get during sessions with hard sex toys? The kind that makes you a bit tentative because you don't want to accidentally punch your cervix with your dildo? Well, I don't get that with this toy, which is saying a lot, because I get that feeling pretty easily. The Tiger's head is just squishy enough so that it cushions against my walls, allowing no discomfort, only happiness.
Overall
In other words? The Tiger is one sexy dildo. It's big, it's banded, it's beautiful. With the right thrusting, it'll milk your g-spot until you whimper.
It's going straight into my favourites bin.
And it comes in red, did I mention? Ruby red, you could say. <3
Update: The Fun Factory Tiger has been discontinued. I recommend you check out the Tantus Magma (visually similar) or the Funkit Swing (also has mad ridges!)