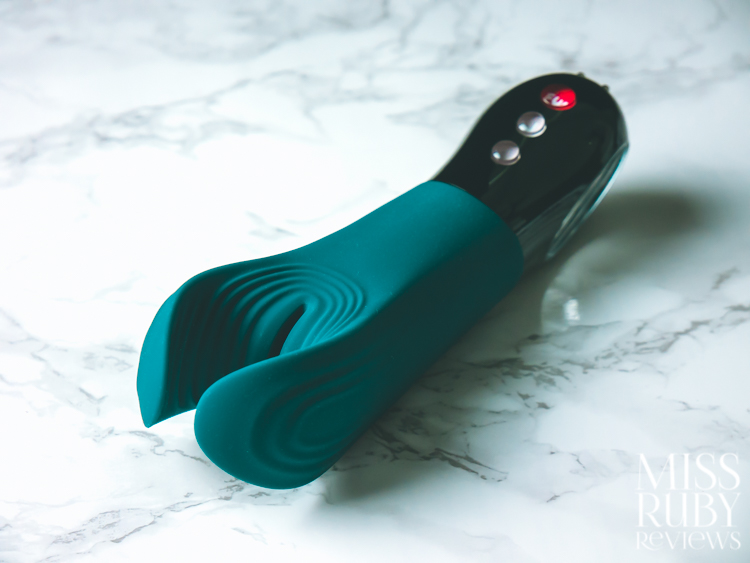 Pretty much the most amazing oral sex accessory ever. Read on for my Fun Factory Manta review!

Design | Accessibility | How to Use | Packaging | Material and Care | Our Experience | Overall
Design
The Fun Factory Manta is a vibrating 3-in-1 toy for penises.
During oral sex, it can be held along your shaft while your partner goes down on you, strengthening your sensations all around.
During solo play, it can be used (with lube!) to stroke up and down (as a stroker), or to hold/focus it on one spot while you masturbate.
During sex, it can be held against the shaft of your penis — The vibrations travel throughout your shaft to turn your penis into a vibrator.
In other words, the Fun Factory Manta has the potential to really enhance play time, with or without a partner.
To be so versatile in function, the Fun Factory Manta has a pretty unique design.
The Fun Factory Manta's body consists of two wings that wrap around the penis. Those wings are totally flexible, allowing for a wide range of penis sizes (~3.4cm diameter and up; if you're smaller than this, simply squeeze the wings around you with your other hand).
The vibrations come from the base of the wings, where the wings meet in the middle. From there, they travel to the tips of the wings for wrap-around effect.
The stimulation area (wings and base) are covered with ridges. At first, I thought those were just for decoration, but they're actually for lubrication. When you coat that area in lube, lubrication slips into the deep ridges, which act as a reservoir. This prolongs periods between reapplication.
The Fun Factory Manta's bottom portion is a black, ABS plastic handle with a loop. The handle's loop is super handy for better grip and control.
We received our Fun Factory Manta in Deep Sea Blue (a teal blue colour), but it also comes in Moss Green (an olive green tone). We really like the Deep Sea Blue though — it's a deep, matte, and beautiful dark peacock green.
Accessibility
This section is to help folks determine if they might have any issues using/accessing this toy.
Size/Weight: The Fun Factory Manta is about 17 cm long (total) and 4.5 cm wide (at the widest part, outside measurement, without stretching open the wings). It's a lightweight toy (about 230 grams). The inside dimensions of the handle's loop are 2.8 cm by 2 cm.
Buttons: The three control buttons are located on the handle. Like the rest of the handle, the buttons are made from a hard, smooth ABS plastic. The buttons require moderate pressure to press down and make a quiet click noise. The buttons are small (1 cm and 0.7 cm wide), and spaced 5 mm apart. They're about 2mm tall.
Handle buzz: Some of the vibrations transfer to the handle. Your hand will rattle a bit when you hold it.
Other notes: The + and — button signs are hard to see (they're printed faintly inside the buttons). If you have visual difficulties, for your reference the button farthest from the silicone body is the FUN button, followed by the + button and the — button. The charging port is fairly distinct to feel (2 metal pins on the tippy end of the handle).
Price: At $139 USD, this is an average price for a silicone vibrating penis stroker.
How to Use the Fun Factory Manta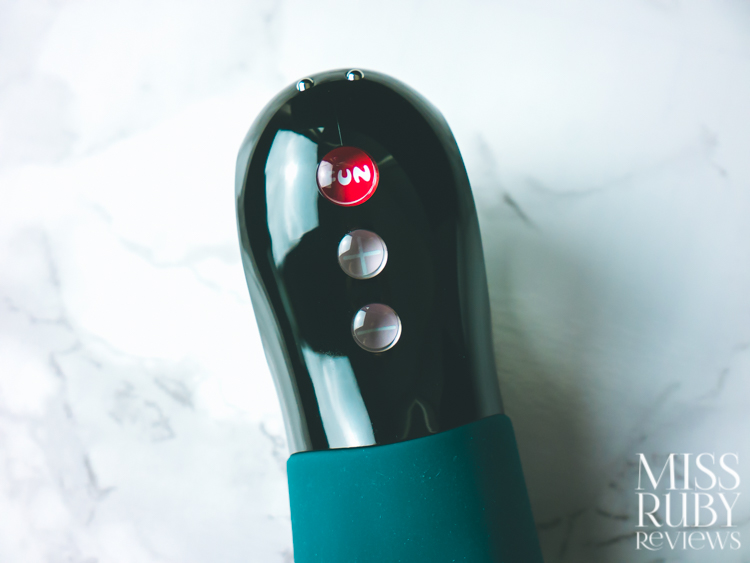 The Fun Factory Manta arrives travel locked. Unlock it by pressing the + button and the red FUN button simultaneously.
To turn it on, press the red FUN button.
Slip the wings or your partner's penis. If you're using this solo, use some water-based lubricant to transform it into a stroker. If you're using this with a partner, try holding it against your partner's shaft while giving them oral sex.
Use the + and — buttons to cycle through the vibration speeds and patterns. There are 6 steady speeds and 6 vibration patterns.
To turn it off, press the red FUN button again.
To travel lock it again, press and hold the — button and red FUN button simultaneously.
Packaging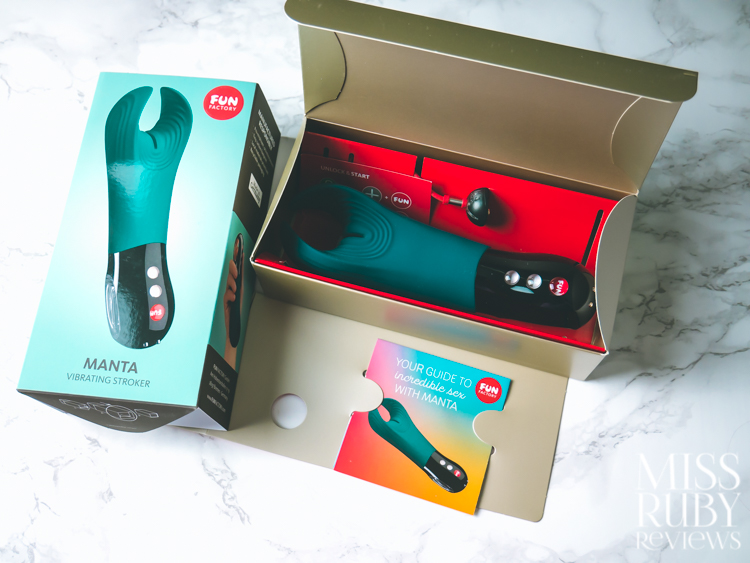 Fun Factory's packaging is pretty luxe. The Fun Factory Manta arrives in Fun Factory's signature gold-coloured packaging. It's fancy and high quality (making this toy particularly gift-worthy).
Inside the packaging, you receive the Manta vibrator, a red USB charging cable, an "Unlock & Start" quick guide, an ideas guide on how to incorporate the Manta into your playtime, and a manual on technical info.
If you'd like a specific toy bag/case to hold all this stuff (not necessary, but always nice), you can browse for some here.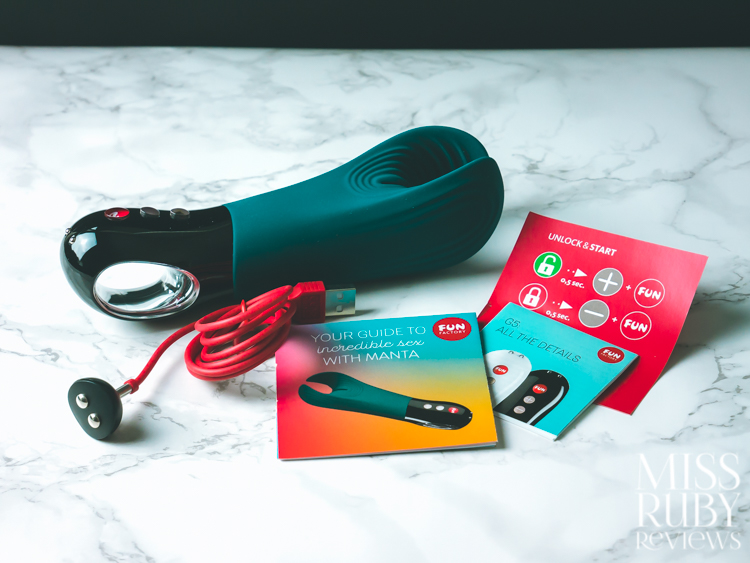 Material and Care
The Fun Factory Manta is made from silicone (the coloured body) and ABS plastic (the handle). This makes it bodysafe. This particular silicone finish is sticky to the touch, which attracts lint and dust.
The Fun Factory Manta is fully waterproof. To clean, I rinse it in warm, soapy water before and after each use. You could also add a dedicated sex toy cleaner if you like. Allow to air dry before storing it away.
If you'd like to use lubricant with this toy (which enhances partner play, but is absolutely essential if you're using this as a solo stroker), choose a good quality water-based lube like my favourite basic Sliquid H2O or vegan Wicked Simply Aqua.
This toy comes with a 2-year manufacturer's warranty against defects, so keep your online receipt.
To charge the Fun Factory Manta, attach the red magnetic charger (included) to the two little metal pins on the handle. Plug that cord into your computer or a USB wall adapter. Before its first use, you'll want to charge it for 6 hours. After that, you'll get up to 2 hours per charge.
Our Experience with the Fun Factory Manta
On paper, the Fun Factory Manta is a versatile, unique penis toy — but how does it actually perform? We tried it in all three ways: during oral sex, masturbation as a stroker, and PIV sex.
First off, the Fun Factory Manta's vibrations are fairly strong — stronger than I was expecting. They have a good range as well — from a low, steady rumble in the lower speeds to a strong oomph at its sixth speeds. It's no magic wand but, hey, it's a lot smaller. It's not particularly noisy either.
With blowjobs, it's amazing
Hands down, the Fun Factory Manta makes for a great blowjob enhancer.
During oral sex, we've tried holding it at the base of Mr. Ruby's shaft. Even at only the mid speeds, the tip of his head vibrates, so he's getting full vibrating stimulation along the length of his shaft (if you're particularly huge, you'll probably need to use the top speeds to feel vibrations all along your length).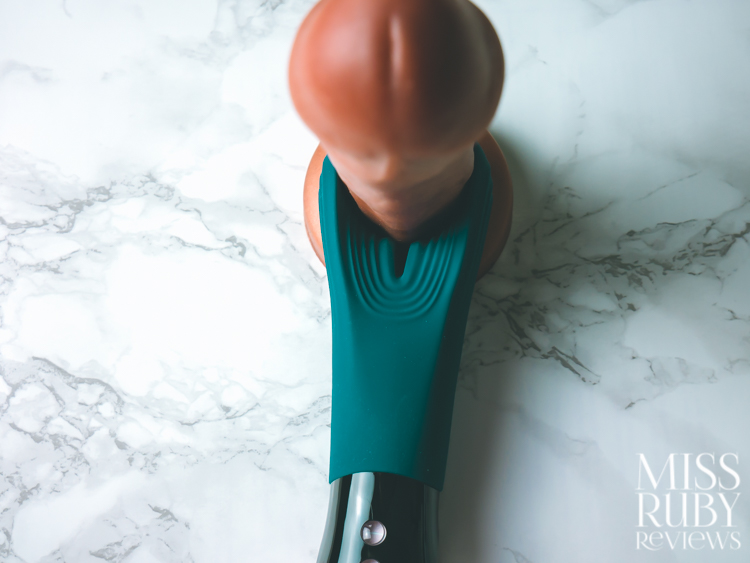 From a practical perspective, we found this really easy to incorporate. When he wants a turn controlling it, he can simply hold it at the base of his shaft from above (so it stimulates the top half of his base, closest to his stomach). This is handy for when he wants to control the speeds and pattern choices himself, rather than me cycling through them at random.
But when I specifically want to control the Fun Factory Manta (which, let's face it, is most of the time, because blowjobs are way more fun when your partner gives up all control), then it's easy to coordinate both the Manta and my movements.
For a basic, easy method, I just hold it at the base of his shaft. I can hold that in place with one hand (essentially pushed out of the way), which allows lots of room for my mouth. That gets results quickly.
For a particularly intense sensation, we lube it up and I start with it just below his head — that way, I can slide it up and down his shaft while focusing on his head with my mouth. This is basically just a standard blowjob-with-hand maneuver, except the Manta increases sensations ten-fold (instead of just a hand on his shaft, it's a vibrating, textured machine).
Both of these methods techniques have provided quick, explosive results. I'm someone that always likes to edge my partner during oral sex, controlling exactly if and when he's allowed to orgasm. It's been a challenge to keep things in rein because the process speeds up so much when we incorporate the Manta. So this has proved pretty amazing, and no complaints from him…
As a solo stroker, it's okay
We've also tried the Fun Factory Manta on Mr. Ruby as a stroker. Unless you have a sex partner(s), this is how you'll be using the Fun Factory Manta.
As a stroker itself (i.e., actually stroking it up and down), Mr. Ruby didn't find it intuitive to continually stroke with. Most strokers are something you plunge into (like the Maia Piper), but this is something you need to balance against your shaft.
The Fun Factory Manta felt too long — when Mr. Ruby would hold it by the handle, he didn't feel like he had very good control over movement (kind of like trying to write with a pencil when only holding the eraser tip). The more of the body he grips, the better control he has, but no matter how he held it, he couldn't effortlessly stroke with it.
In the end, Mr. Ruby found it easiest to hold it in place at the base of his shaft, then use his other hand to actually stroke. He does find this more pleasurable than solo masturbation. But, to be fair, he doesn't specifically need the Fun Factory Manta to do this — holding any small-to-medium sized wand vibrator there would do the same thing.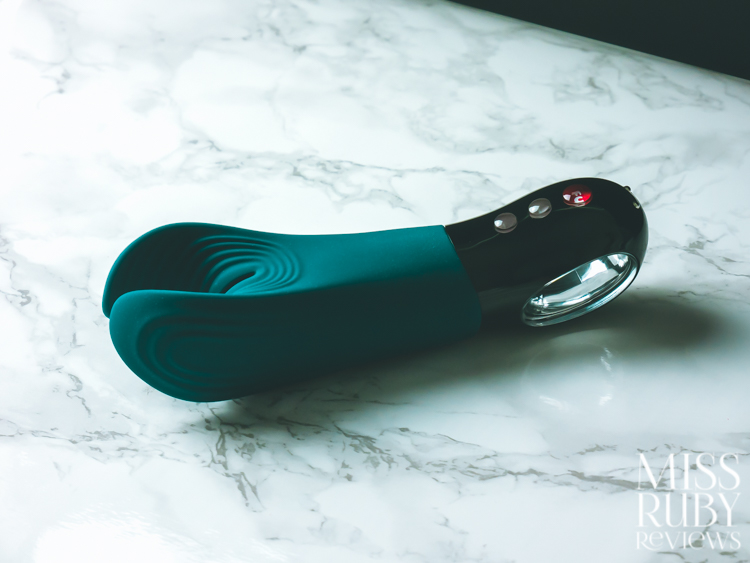 Use during sex?
During sex, we needed to use the Fun Factory Manta's top speed for me to feel any vibration through his shaft (this will vary depending on the length of the penis). This was okay, but the actual practical limb arrangement was tricky — for cowgirl sex, I had to hold it behind my body and try blindly angle it at his shaft. This wasn't comfortable for more than a couple of minutes. So, if you're specifically looking for a vibrator only to enhance PIV sex, I don't recommend this toy (try for the We-Vibe Chorus instead, review here).
Other notes:
First, during oral sex, you may find that the top vibration speeds overpower the sensations from your partner's mouth. Mr. Ruby preferred to stick to the lower speeds during oral sex for this reason. Fortunately, there's a wide range of strengths and patterns programmed into the motor.
Second, in Mr. Ruby's words: "Basically what this toy gives me is novelty. If I'm looking to add a new, different sensation to what I'm used to, this is a good option."
Lastly, if your penis isn't huge and you're worried about this toy fitting, the above picture shows the Manta fitting comfortably around a smaller dildo, the Uberrime Splendid in Small size (with a 1.43" shaft diameter). The smaller your penis, the more the wings will wrap around your shaft, which isn't at all a bad thing. If you're smaller than that, remember that you can always just squeeze the wings together with your other hand. If you have a massive penis (like, >2.5″ diameter), then the wings will stimulate one side of your penis at a time, rather than wrap around more fully.
Fun Factory Manta Review – Overall Thoughts
The Fun Factory Manta was super fun to test with Mr. Ruby. We found that its best use is as a blowjob enhancer, though it also adds makes solo masturbation better. We didn't particularly find it useful or comfortable to use during sex.
The fact that Fun Factory is trying to cover all three of these bases is pretty impressive. Despite our limited success with it during sex, it won us over during oral sex — it certainly makes blowjobs a more intense, explosive experience.
You can pick up your own Fun Factory Manta here! Why do I like Peepshow Toys? They ship internationally, only carry body-safe products, and you can get a 10% discount off your whole purchase with coupon code RUBY. 

See below for my Fun Factory Manta review breakdown.
Fun Factory Manta review summary
Overall thoughts - 8.5
8.5
$139
PROS
Acccomodates a wide variety of penis sizes
Great blowjob enhancer
Okay for solo use
Waterproof
Rechargeable
2 year manufacterers warranty
CONS
Tricky to use during sex.
Shop Now