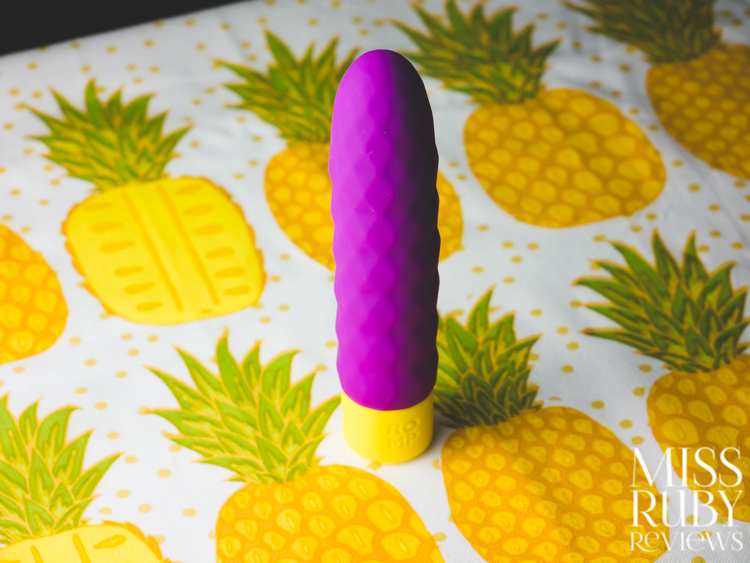 New brand alert! New brand alert! Read on for my ROMP Beat review!

Design | Accessibility | How to Use | Packaging | Material and Care | My Experience | Overall
Design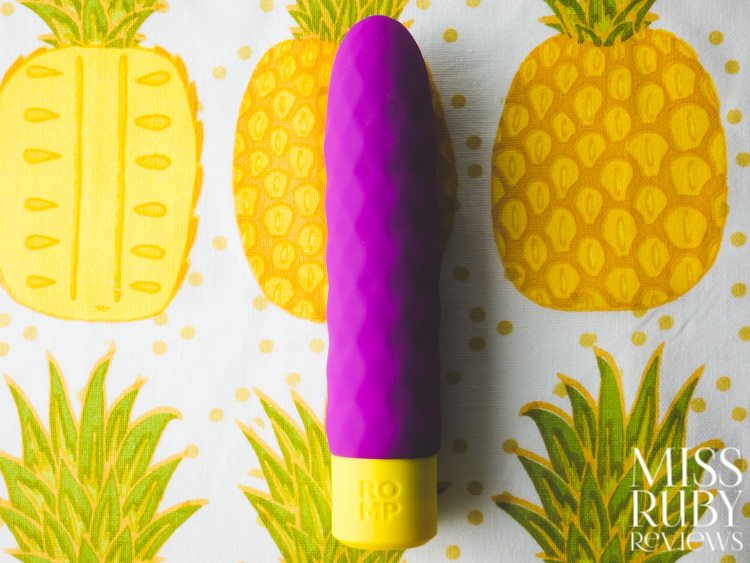 Beat is a bullet vibrator designed by an exciting new brand — ROMP.
ROMP just appeared on the scene this year with a line of colourful, affordable bodysafe products. In addition to this bullet vibrator, there's also:
All of these are priced at shockingly low prices — between $24-$49 USD, which is a rarity for bodysafe, silicone vibrators. Nearly all of these are rechargeable and waterproof too. This really grabbed my attention.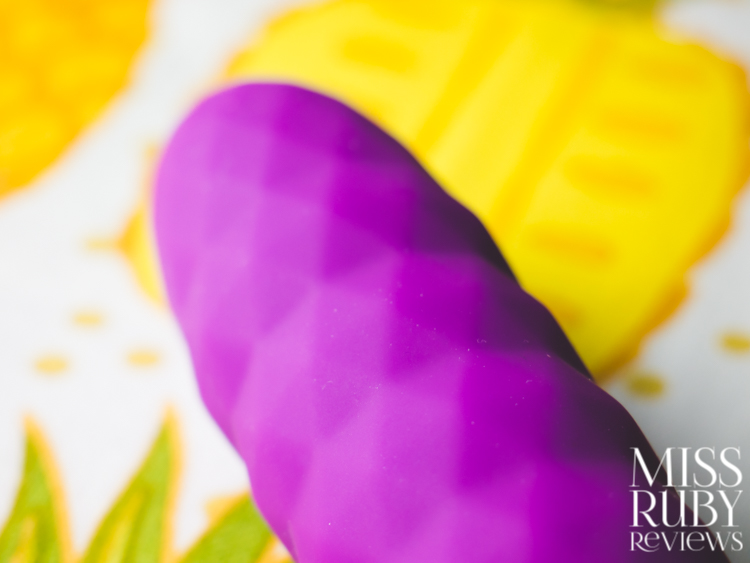 The ROMP Beat is their "bullet" vibrator model. While the design is quite streamlined and simple, I think it's quite pretty.
The body is decorated with a repeated, mesmerizing diamond pattern that wraps around completely. The pattern is very subtle to the touch, but it makes it look like light bounces off of it.
At the very bottom of the toy, there's a large single power button. I'm a fan of single-button toys, especially for bullet vibrators — as long as there aren't too many modes, it's so easy to just have one button (rather than 2-3 buttons) to click through.
The body is coloured a bright, electric purple. While I'm not a fan of purple sex toys, I'm glad to see they coloured the base/handle of the toy bright yellow for contrast. Yellow is super rare in sex toys, so it's refreshing to see it here.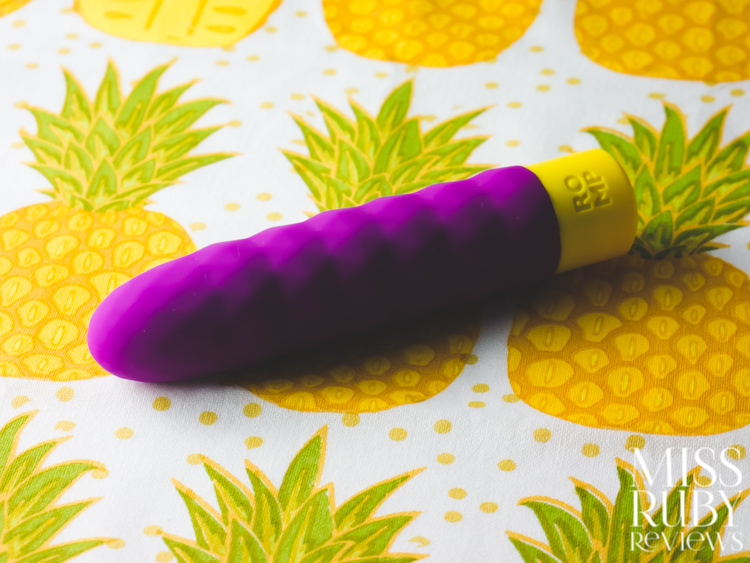 While the ROMP Beat is called a bullet vibrator, it's actually large enough to be used internally. There are about 5 inches of insertable length, which can be plenty if used correctly. There is a tiny amount of flexibility in the body, but the surface itself is firm.
Accessibility
This section is to help folks determine if they might have any issues using/accessing this toy.
Size: The ROMP Beat is a hand-sized vibrator. It can be considered a large bullet vibrator, or a small internal G-spot vibrator. By my measurements, it's 15.3 cm long (total) by 3.2 cm wide.
Weight: It's a lightweight toy (35 grams).
Buttons: The 1 control button is located at the very bottom of the base. It sits flush with the surface, but you can feel the ridge with your fingertips. It's easy to press down and makes a solid 'click' noise. The button is large (about 1.9 cm wide).
Handle buzz: Some vibrations do transfer throughout the body, including to the small handle portion. Your hand will buzz a little while holding this.
Other notes: If you have visual difficulties, you may have trouble finding the tiny charging port. It's hard to feel with your hands — it's a tiny hole close to the handle that you push through with the needle-end of the charging cord.
Price: At $24.99 USD, this is extremely inexpensive compared to other clitoral vibrators with similar features.
How to Use the ROMP Beat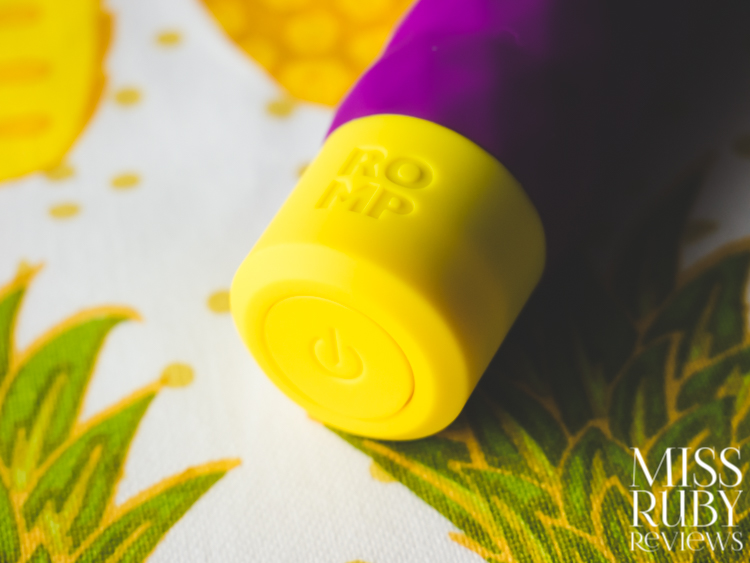 Turn on the ROMP Beat by pressing the single power button (at the base) for 2 seconds.
Tap the button again to cycle through 6 steady levels and 4 pattern modes.
Apply the ROMP Beat to your body. This is designed for clitoral and vaginal use, though of course you can also press it against the shaft of a penis or nipples instead. However, don't use this anally as it doesn't have a flared base.
To turn it off, press and hold the power button again for 2 seconds.
Packaging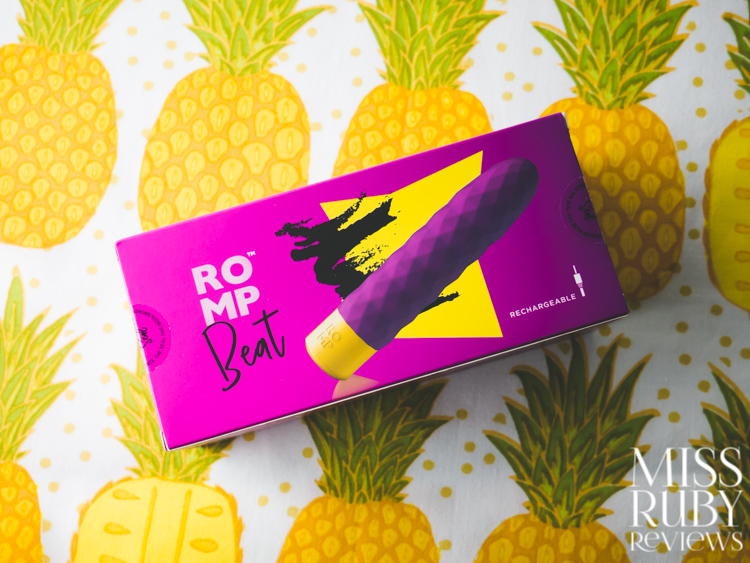 The ROMP Beat comes in colourful packaging. The box is purple and yellow, and the design is refreshing.
Inside the box, you receive the Beat, a USB charging cable, an instructions manual (which opens up on the other side to a "pleasure for the people" print-out), and a sheet of awesome stickers.
The Beat doesn't come with a dedicated storage pouch. If you'd like to have one (not necessary, but always nice), you can browse for some here.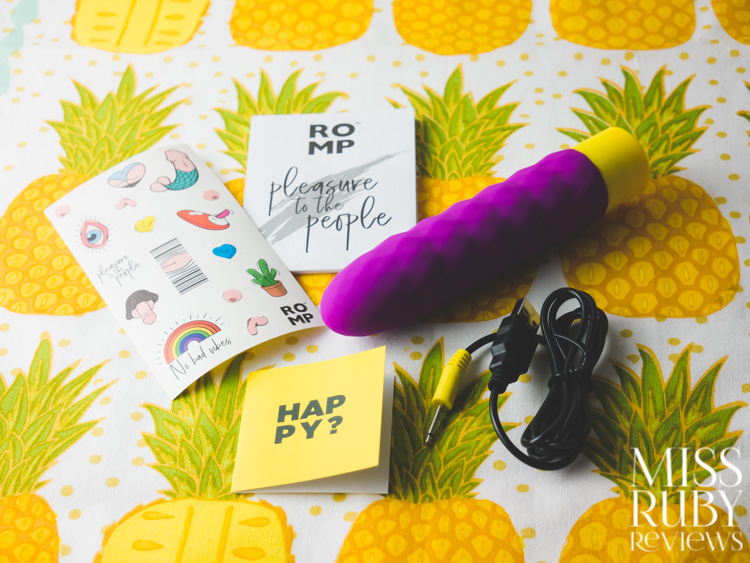 Material and Care
The ROMP Beat is made from silicone (the body) and ABS plastic (the yellow cap at the handle), making it bodysafe.
It's also fully waterproof, so you can submerge it underwater, take it into the bath, etc.
To clean, I rinse it in warm, soapy water before and after each use. You can also add a toy cleaner. Allow to air dry before storing it away.
If you'd like to use lubricant with this toy, choose a good quality water-based lube like my favourite basic, paraben-free Sliquid H2O.
To recharge the ROMP Beat, use the included USB charging cable; plug in the needle end into the little hole at the base. Plug that cord into your computer or a USB wall adapter. A full charge should get you up to 60 minutes of playtime on the top speed.
My Experience with the ROMP Beat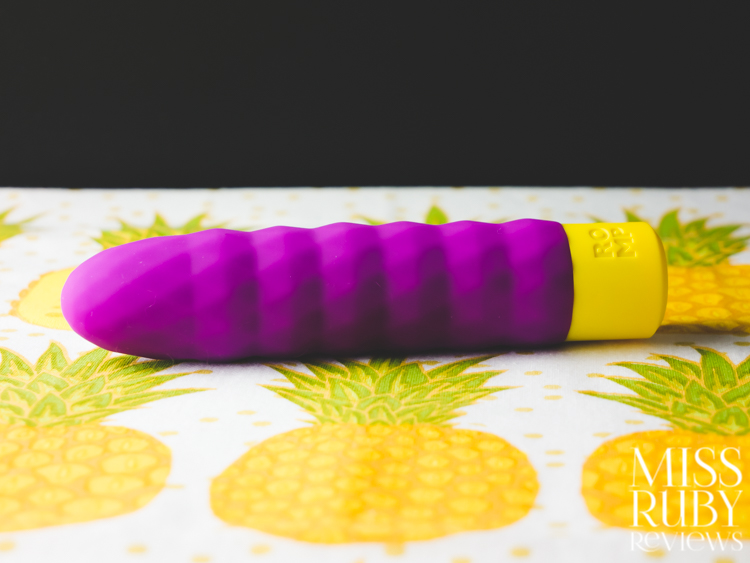 The new ROMP brand is owned by WOW Tech, which also runs We-Vibe and Womanizer. We-Vibe is famous for their strong motors, so I was curious if ROMP also got some of that good strong-vibrator-tech.
Vibrations and sound
The ROMP Beat has moderate vibration strength (6/10). The vibrations are sort of in-between being somewhat rumbly and somewhat buzzy. If this was a $100+ vibrator, I'd be irritated, but for a $24 vibrator, it's pretty decent.
It's also a super quiet vibrator. At its top speed, this can't be heard through my bedroom walls.
Will power queens dig the ROMP Beat? Honestly, it'll probably be too soft for people that can only orgasm from mega-strong, top-of-the-line motors. This isn't the We-Vibe Tango or even the FemmeFunn Ultra Bullet. But it's also about a third of the price tag.
To be clear, this isn't a weak vibrator. The ROMP Beat can get me to orgasm without hassle, and I suspect a lot of users will have the same experience. It still packs a punch.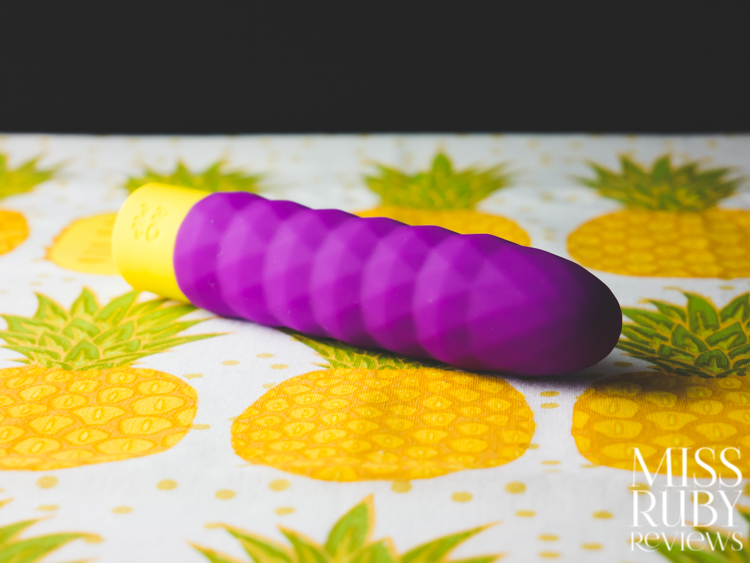 Clitoral vs internal use
Personally, clitoral orgasms for me with the ROMP Beat are a breeze. This toy has just enough strength and rumble to get me over the edge. It helps that the tip of the Beat provides firm, pin-point stimulation, which my body really responds to.
But ROMP boasts that the Beat can do both clitoral and vaginal stimulation. So, how does this perform as an internal toy?
Surprisingly, not too shabby. This isn't a huge toy (again, you'll get 5″ insertable length and about 1.25″ of diameter), but you don't need a massive vibrator for G-spot pleasure. Because the design is so straight, you need to get creative with angling it correctly so it dives straight against the G-spot, but you don't have to insert it very far. It can reach the G-spot easily enough and provide it with much-needed pressure.
This won't give an overwhelming feeling of stretch, it can't be as effective against the G-spot as a curved or bulbous toy, and its vibrations feel muffled internally, but it'll certainly do in a pinch.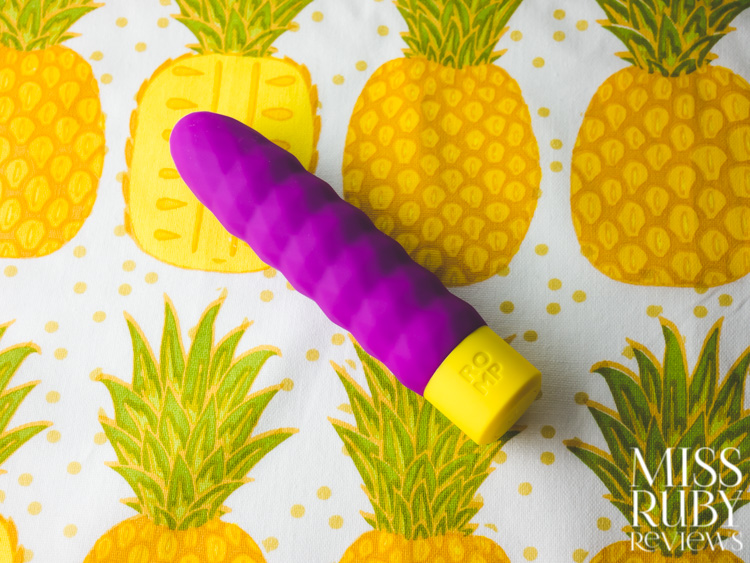 ROMP Beat Review – Overall Thoughts
The ROMP Beat is an impressive little toy. As a clitoral bullet vibrator, I like that it has a firm, pin-pointed head for stimulation, coupled with decent vibrations. It's also large enough to double as an internal toy, and it scores okay in that regard… but naturally you'd get more intense G-spot stimulation with a curved shaft.
But the ROMP Beat is only $24.99, and that's a shockingly good price. This toy is fully waterproof, rechargeable, and made of bodysafe silicone, and that price makes the ROMP Beat truly a rare find. With a price like that, it's hard to go wrong.
You can pick up the ROMP Beat at Betty's Toy Box for $25 USD (minus 15% when you use coupon code RUBY! Why do I like Betty's Toy Box? They ship discreetly to the continental US for free on all orders over $49, plus you can get 15% off your whole purchase with coupon code RUBY. 

See below for my ROMP Beat review summary.

ROMP Beat Review Summary
Overall thoughts - 8
8
$24.99
PROS
Moderate vibrations
Quiet
Can double as an internal vibrator
Very inexpensive
Bodysafe silicone construction
Rechargeable
100% waterproof
CONS
Power queens will need more oomph
Shop Now
Last Updated on November 9, 2022 by Miss Ruby