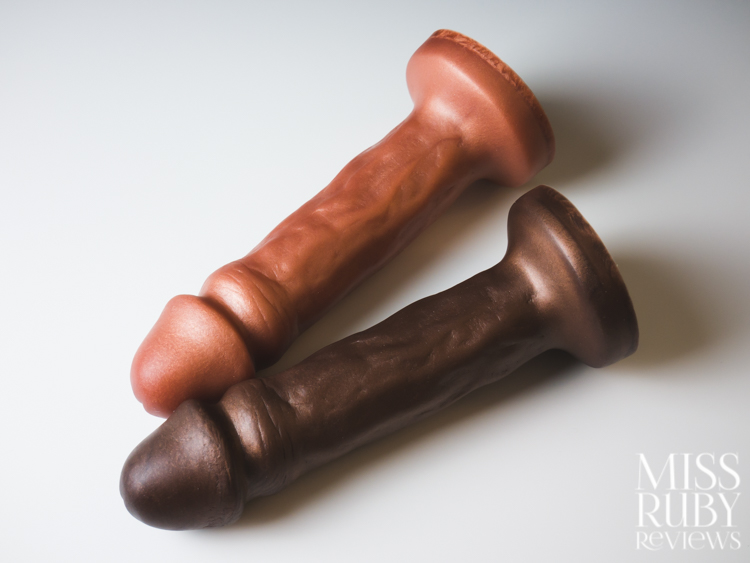 Mouthwatering, aren't they? Read on for my Uberrime Bella review!

Design | Accessibility | How to Use | Packaging | Material and Care | My Experience | Overall
Design
The Uberrime Bella is a moderately-large, realistic, platinum silicone dildo. While it comes in a range of tones and colours, it also comes in two entirely different density structures: dual-density and triple density.
Dual-density dildos have been around for a while — most notably through mega-brands like Tantus, Vixen, and Blush. I've reviewed enough of them to know I'm ALWAYS going to prefer a dual-density realistic dildo over a single-density one. Why? Dual-density dildos have a firm inner core, surrounded by a softer layer. This makes them squishy and a lot more realistic to squeeze (with your hand or PC muscles).
The Uberrime Bella comes in "triple density" as well though. Wat?? I had to give this a go.
Instead of 2 layers (a firm inner core and a squishy outer layer), the triple-density Bella has 3 distinct layers: a firm inner core, a very squashy middle layer, and lastly a fine layer of silicone that's slightly firmer than the middle one. I've never seen this before. I'll go over how this version feels below in My Experience.
Just a note before we get started:
The triple-density Uberrime Bella is exclusively available through the manufacturer's website here.
The dual-density Uberrime Bella, on the other hand, is also available through select distributors like Peepshow Toys, SheVibe, and Spectrum Boutique.
General design notes
The Uberrime Bella looks swell. A long, veined shaft rises up to a squishy, gathered foreskin below the head. A corpus cavernosum runs up the length of the underside, adding to its realism. The head itself is broad and plump, with a distinct coronal ridge and urethral dent. The flared base at the bottom makes this O-ring compatible and safe for anal-use.
Finer design considerations have also been made. The gathered foreskin has horizontal brush strokes to enhance the resemblance to folded skin. Uberrime also somehow darkened the Bella's heads, which makes them looked deliciously flushed.
With an overall length of 8″ (7.25″ insertable) and a head diameter of 1.97″, the Uberrime Bella is also a formidable beast to use. Sure, there are bigger dildos out there, so I can't say this is a monster dildo… but this is pretty sizeable. In the picture above, I've set the Bella beside the small Uberrime Splendid Gentleman — it's totally dwarfed by the Bellas. When held up, the Bella's long shaft dips under its own weight.
Colour options
The Uberrime Bella (dual-density) is made in 10 different tones:
If you opt for the triple-density version, you can choose all 10 colours through the manufacturer.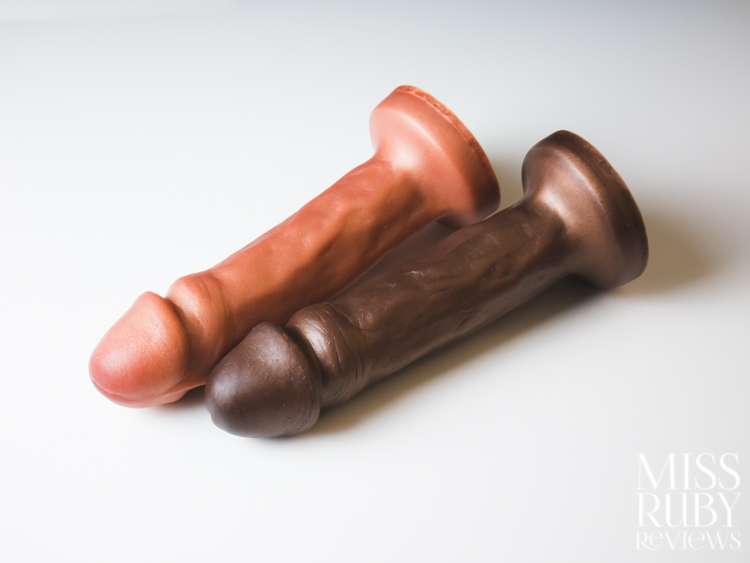 Accessibility
This section is to help folks determine if they might have any issues using/accessing this toy.
Size: 8″ overall length (7.25″ insertable) x 1.97″ wide at the head. This is moderately-large.
Weight (dual-density): My scale says this is 377 grams.
Weight (triple-density): My scale says this is 386 grams, so it's slightly heavier
Handling: Like most dildos, there's no dedicated "handle" section to hold onto. You're left holding onto the floppy flared base, which measures 8cm diameter x 1.6cm tall. The shaft has a lot of bend to it, which may or may not make things easier for you.
Other notes: There's no dedicated strong suction cup, so you can't go hands-free.
Price (dual-density): You can pick up the dual-density Bella for $99 USD through Peepshow Toy, SheVibe, or Spectrum Boutique. For a realistic dual-density dildo, this an average price.
Price (triple-density): The triple-density Bella is exclusively sold through Uberrime for $149 USD. This isn't cheap. I've certainly seen pricier dildos though, and this extra $50 reflects that it takes 3 separate pours to make (so a lot more effort/time).
Tips on using the Uberrime Bella
Apply water-based lubricant like some Wicked Simply Aqua. Even if you naturally produce lubricant, silicone tends to use up a lot so having some extra on hand is always a good idea to keep things gliding.
This can be safely used vaginally or anally.
If you'd like to use this with a strap-on harness, I recommend something with a 1.75″ or 2″ O-ring, which should be able to squeeze over the head and rest at the 1.7″ wide shaft (above the flared base).
Packaging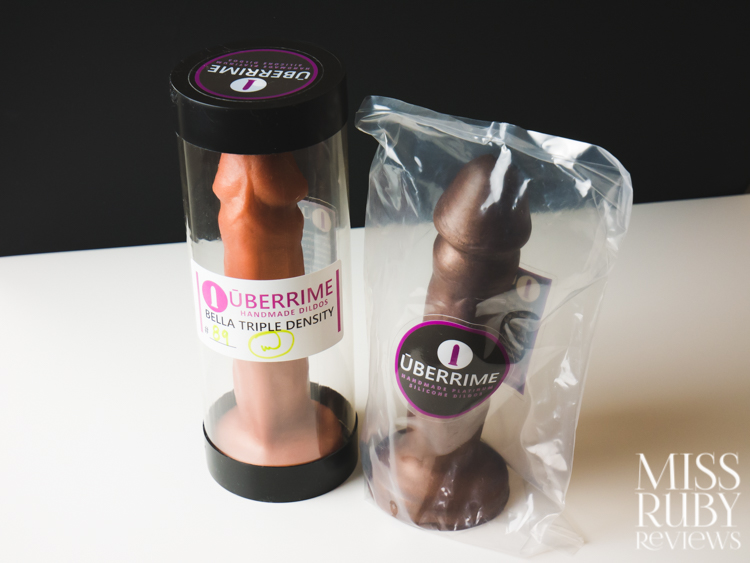 The Uberrime Bella Dual Density comes sealed in a plastic bag. Also included is a card that goes over care instructions.
The Uberrime Bella Triple Density comes in a clear plastic tube and includes a longer guide.
My parcel also came with a Uberrime card (with contact info) and a sticker.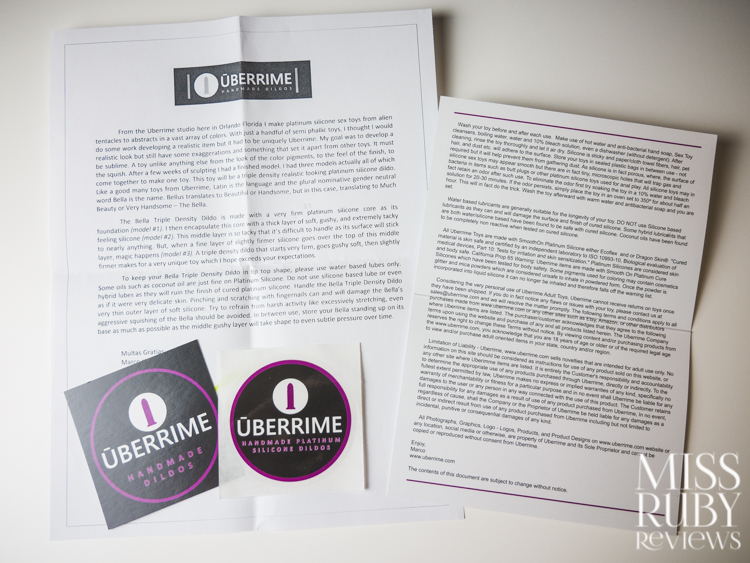 Material and Care
The Uberrime Bella is made with platinum silicone, making it bodysafe (nontoxic, free of phthalates, etc). This particular silicone finish is very sticky to the touch, which attracts lint/dust.
To clean it, I wash mine in warm, soapy water before and after each use. Because this is silicone, you can also use: sex toy cleaners; boiling water; a water + 10% bleach solution; and even a detergent-free dishwasher.
I recommend sticking to a good-quality water-based lubricant with the Uberrime Bella. Something like the paraben-free Wicked Simply Aqua line works well. Don't use a hybrid or silicone lubricant because they'll ruin the silicone finish of this toy.
It's also recommended that you treat the skin of the Uberrime Bella like you would your own skin. Avoid aggressively scratching or squashing it.
When storing the triple-density Bella, Uberrime recommends standing it upright on its base as much as possible; if you bend it in storage, the 2nd middle layer will take shape over time.
My Experience with the Uberrime Bella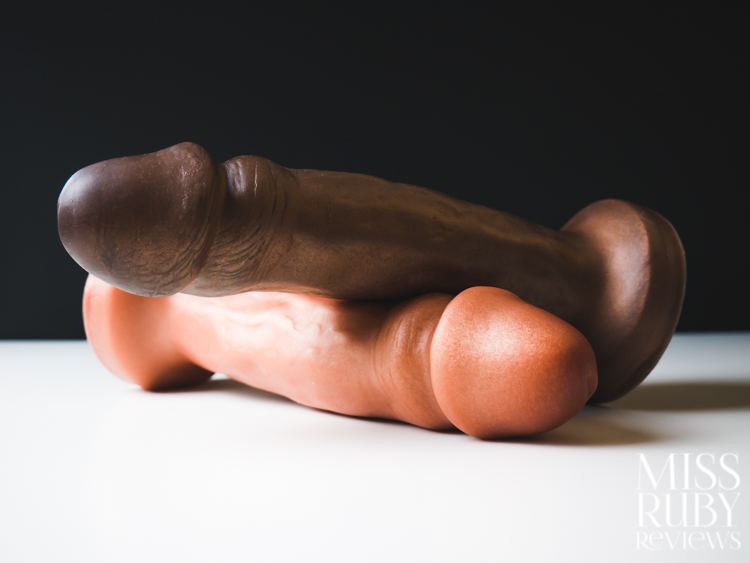 To recap: the Uberrime Bella comes in two versions: dual-density and triple-density.
The dual-density version has a firm inner core and a squishy outer layer. This already is a big jump up from single-density dildos.
The triple-density version has a firm inner core, a very squashy middle layer, and lastly a fine (slightly firmer) silicone layer.
I've never seen this before. The RealDoll RealCocks I reviewed in the past (here and here) do say they're triple-layered, but their third layer consists of silicone colouring and colour texturing… not a separately poured silicone layer. So this is new to me.
How different does the Triple Density Bella feel?
For those of you who are used to dual-density dildos, even specifically Uberrime's past dual-density products, I can confirm that the Uberrime Triple Density is a whole other planet.
Can I tangibly feel the triple-density version's 3 distinct layers? Nope. But the 3-layer structure makes the triple-density Bella gloriously squishy. I can tug and pull on the skin around the shaft. I can squeeze the bundled foreskin with ease. And the head is spongy, squishing without complaint.
In comparison, while the dual-density version can be pulled and tugged somewhat, there's a lot of resistance. Its outer layer doesn't want to be pulled/tugged as much. For a dual-density dildo, this is the norm — but when I compare it to the triple-density version, I'm left wanting.
In other words, the triple-density version essentially feels turbo-charged.
During use, both the dual-density version and the triple-density version feel great.
The head is broad and filling, the shaft feels girthy, and the coronal ridge and gathered foreskin bumps along the G-spot with some solid oomph. The coronal ridge/gathered foreskin act as two G-spot-targeting missiles, so it feels great to thrust shallowly, angling them upwards.  Despite the veined detailing along the shaft, the shaft feels smooth and nontextured during use, gliding easily.
Dildos this big can sometimes be intimidating to vaginally thrust with because you don't want it to punch your cervix, but the Bella's squishy head prevents any discomfort.
When coupled with one of my favourite clitoral vibes like the We-Vibe Tango or the FemmeFunn Ultra Bullet, I'm able to have deliciously satisfying orgasms.
Which version do I prefer to use? The dual-density version is great, but the triple-density version really ups the game. Not only does the squish help it glide in easier, but clenching it feels more satisfying because my walls can feel the shaft's squish. Its shaft also flops and bends easier and (as someone who loooves the look/feel of a mostly-erect penis) I think this is super sexy. So personally, I'll always grab the triple-density version over the dual-density version.
Any negatives?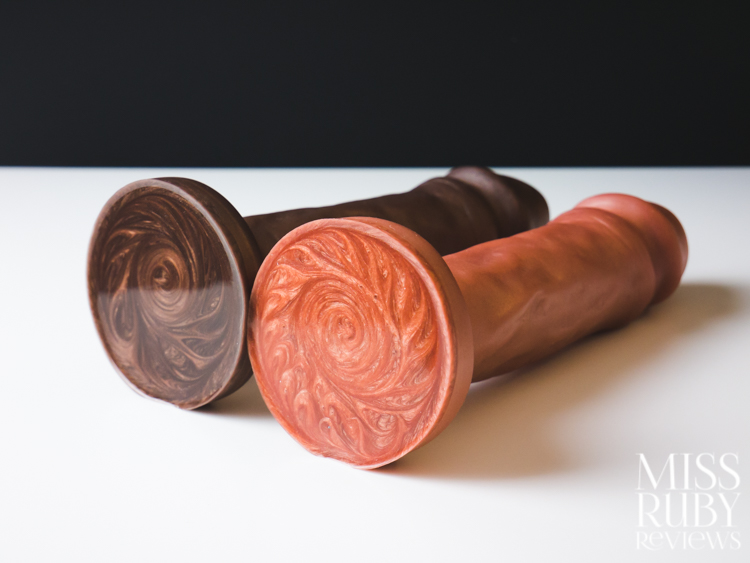 There's not much to complain about.
One thing to consider is that the Uberrime Bella will be too large for some folks to easily use it. You'll want to buffer in some time to warm up before inserting it. This isn't the biggest dildo I've come across (not by a long shot), but it's still moderately large. If you're used to smaller dildos, this will be an adjustment.
I also wish the base was hollowed out more thoroughly to form a solid built-in suction cup. The bases are mostly flat (with a teenie lip around the edges). While there is some natural suction when you slam them down on a smooth surface, they don't provide reliable heavy-duty suctioning. In my humble opinion, a dildo with a solid built-in suction cup is always better than one without.
Uberrime Bella Review – Overall Thoughts
The Uberrime Bella is a gorgeous realistic dildo. It's bodysafe, carefully sculpted, and comes in beautiful shades. While the dual-density version is great, if you can spare the extra $50, definitely choose the triple-density version. It's much squishier and gives you a much more life-like feel during use.
To buy the dual-density Uberrime Bella, head on over to Peepshow Toys (use code RUBY for 10% off), SheVibe, or Spectrum Boutique.
To buy the triple-density Uberrime Bella, head on over to Uberrime!
And see below for my Uberrime Bella review summary!

Uberrime Bella review summary
Overall thoughts - 9.5
9.5
$99-$149
PROS
Feels girthy
Hits the G-spot
Beautifully handsculped
Realistic design & feel
Bodysafe silicone construction
O-ring harness compatible
Flared base so safe for anal use
CONS
May be too large for some users
Wish the base was hollowed out further to create a suction cup
Last Updated on November 15, 2020 by Miss Ruby