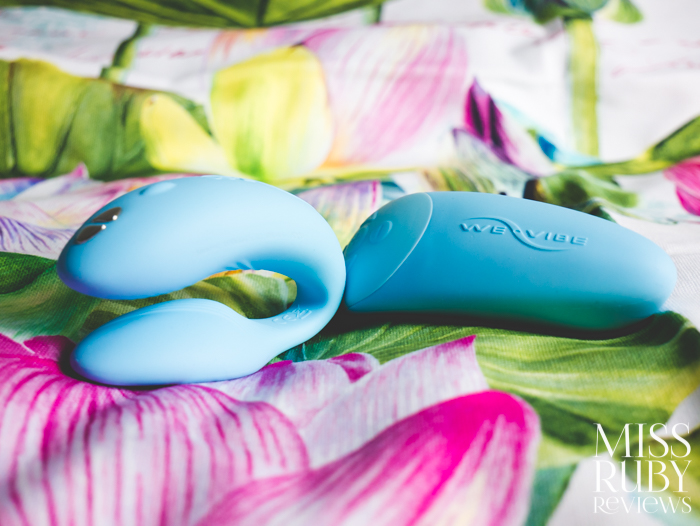 Honestly, this is We-Vibe's best C-shaped vibrator to date. Read on for my looooong We-Vibe Chorus review!

Design | 360° View | How to Use | Packaging | Material and Care | My Experience | Overall
Design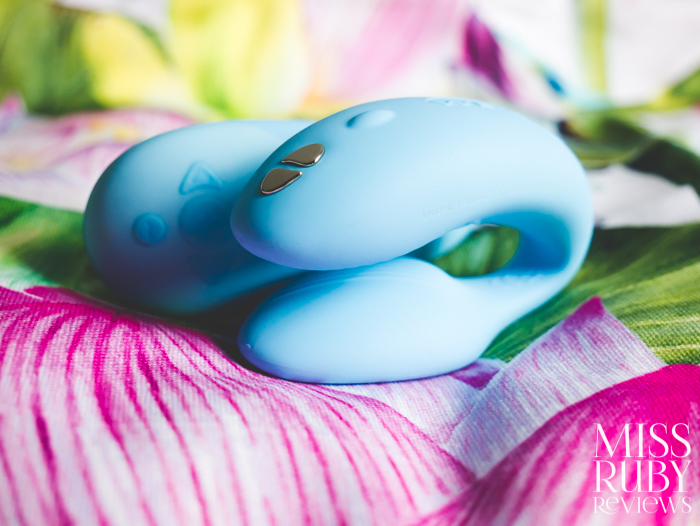 The Chorus is We-Vibe's newest toy creation for partners. We-Vibe has been coming out with sex toys like these for nearly 20 years… they created the original C-shaped vibrators (designed for Penis-in-Vagina sex) and, up until 2015, I didn't think these products were particularly good.
But then the We-Vibe Sync came out in 2016 and I LOVED it. I've been eagerly awaiting the We-Vibe Sync's upgrade, and it looks like it's finally here.
The We-Vibe Chorus comes in this absolutely gorgeous powder blue as well as cosmic pink and purple. I highly recommend the blue though… it's very pastel-toned, refreshing, and unique.
The We-Vibe Chorus is packed with a ton of features that I've never seen before. This review is a biggie because I try to touch on most of them… so let's go!
First off, what does the We-Vibe do?
The We-Vibe is designed to be used during PIV sex. We-Vibe assumes there'll be one penis and one vagina involved so this, unfortunately, isn't designed for gay or lesbian couples (though I'm sure it could be creatively tried in other ways).
The slimmer, shorter arm slips inside the vagina, resting up against the G-spot, while the larger arm wraps around the body and rests against the clitoris. Both arms vibrate and enhance pleasure for both you and your partner. (Vagina-owners: the clitoris and G-spot gets vibrations and gently textured surfaces) (Penis-owners: the penis slides against the smooth surface of the internal arm, which vibrates to add sensation).
As an aside, the internal arm also makes your vagina snugger for your partner's penis because it takes up a bit of room. This could be a pro or a con, depending on both of your bodies' dimensions.
Vibrations against the penis tend to enhance pleasure A LOT, as well as the clitoris and the G-spot. So, what you're signing up for is an enhanced, more intense sexual experience for both parties.
Customize your fit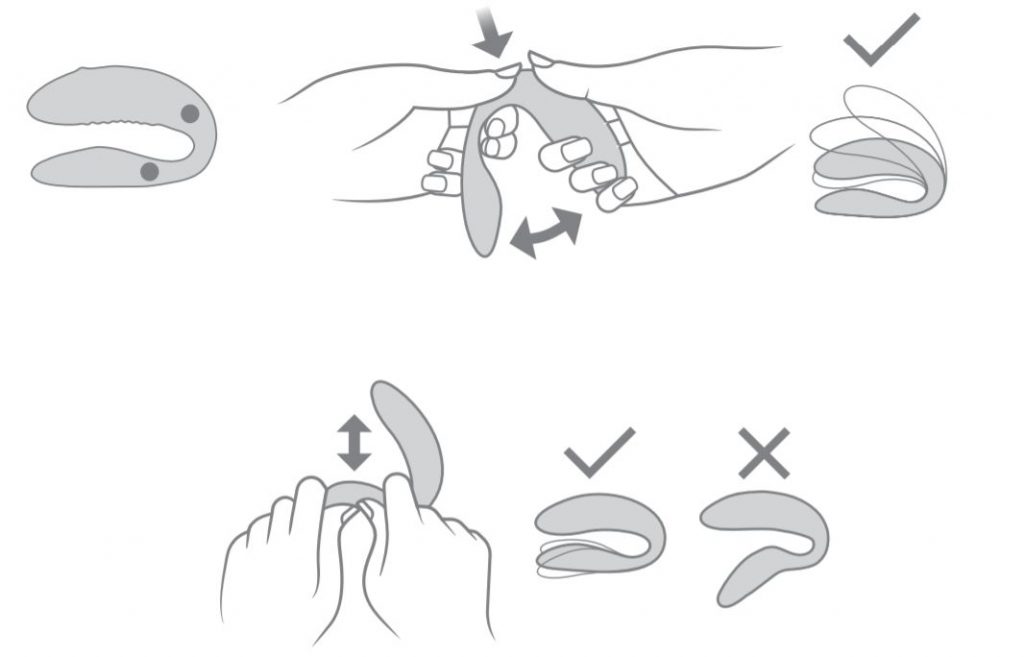 The We-Vibe Chorus has an impressive amount of customization. There are two joints (located in the upper neck and lower neck) that can be pinched or pulled apart to create smaller or wider angles. Once you've found a good position, it stays in place. This is fantastic because a lot of people's bodies have slightly different angles, so the one-size-fits-all C-shaped vibrator doesn't necessarily work for everyone. The Sync also had this feature, and I'm glad to see it again here.
Below is an image of the most extreme bends. This is way more than you'd ever need to use, but the picture can illustrate just how drastically you can change the shape of the We-Vibe Chorus.
Be careful while bending the two joints — you don't want to go too far and break anything.  Bend it using gentle, slow pressure.
Vibrations & Sound
The We-Vibe Chorus has AMAZING vibrations. They're stronger and rumblier than the older We-Vibe Sync, and don't fail to get me to orgasm. Seriously, that top strength is the best out there in terms of C-shaped toys like this.
The clitoral arm gets more oomph than the internal arm, but this is common in C-shaped vibes and it's not a problem for me. The internal arm still has plenty of power.
I'm satisfied with how quiet this is too. You can hear it during playtime, but it's not a loud distracting buzz. I can't hear it through walls.
Interactive 360° View
Click and hold the image above to move it around.
How to Use the We-Vibe Chorus
Physically using the We-Vibe Chorus:
Customize the fit of the We-Vibe Chorus to your body using the 2 joints I mentioned above.
When you've found a vibration setting you like, insert the smaller arm of the We-Vibe Chorus into your vagina (making sure the thicker arm is pointed towards your clitoris, not your butt).
At this point, your partner can join you. This is designed for penis-in-vagina sex. In missionary position, this means your partner's penis will slip into you with the internal arm resting against the top of their penis. In doggy style sex, the bottom side of their penis will come into contact with the vibe.
If everything is aligned correctly, the arms of the Chorus will stimulate your clitoris, G-spot, and your partner's penis.
Using the button on the We-Vibe Chorus:
To turn on your We-Vibe Chorus, press the button near the metal charging connector. It'll turn on at its lowest mode.
To change the vibration mode, press the button again. There are 4 steady states and 6 patterns.
The button is placed conveniently towards your clitoris during use, so you're able to press the button during most sex positions.
To turn it off, press the button for a couple of seconds.
Using the We-Vibe Chorus Squeeze Remote:
Turn on the We-Vibe Chorus by tapping the + button on the Squeeze Remote.
Press the + and — button to increase or decrease intensity.
To cycle through patterns, press the < and > buttons.
Or, simply squeeze the squishy portion of the remote to increase strength. As soon as you relax your grip, the vibrations will get weaker.
Press the ~ Function button to toggle between the manual remote and squeeze function (this is in case you don't like the Squeeze function).
To turn off the toy, press the — button for a couple of seconds.
Using the We-Connect App on your phone:
See the manual for how to pair your Chorus with the We-Connect smartphone app! It gives a better explanation than I ever could. You'll need to do this if you want to use the Touch-Sense modes.
Packaging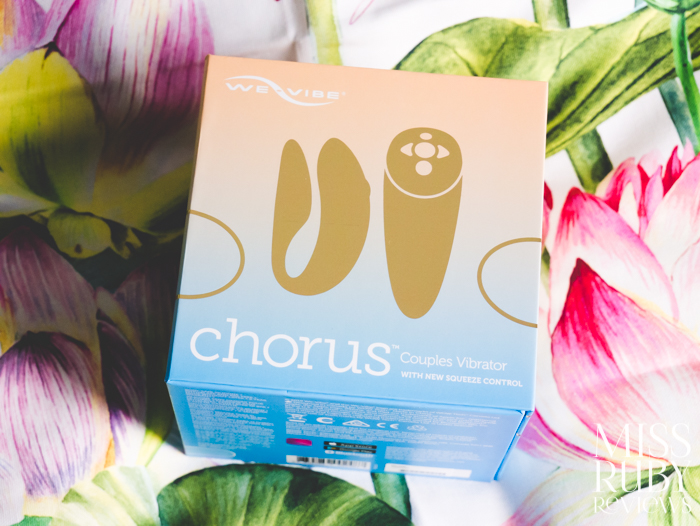 The We-Vibe Chorus comes packaged in a peach and blue box (if you get the purple or pink Chorus, your box will be colored accordingly). It's accented with gold foil and overall feels sturdy and luxurious.
When you open the box, the We-Vibe Chorus lies behind a plastic window. All in all, you receive the Chorus, the Squeeze Remote, the charging/storage case, a USB cord for the case, a sample packet of We-Vibe's lube, and the instruction manual.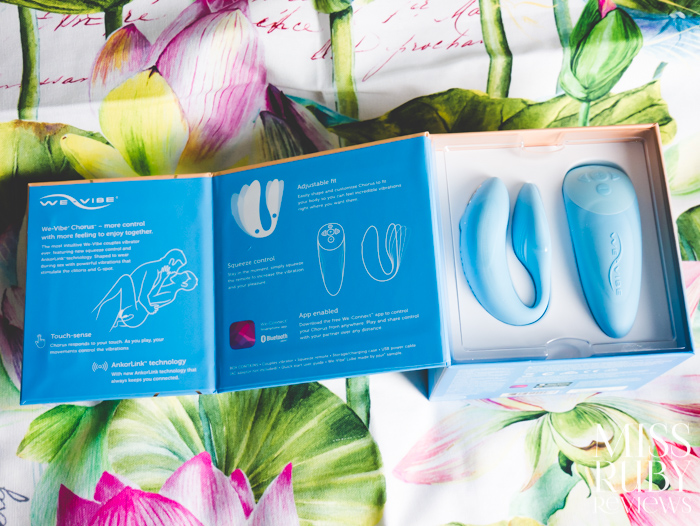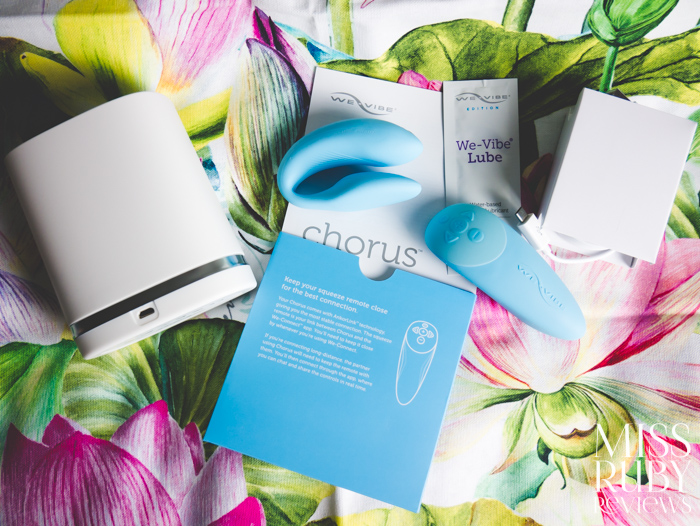 Material and Care
Material
The We-Vibe Chorus is coated with silicone, making it bodysafe (non-toxic, free of phthalates, and non-porous for hygienic cleaning). This particular silicone finish is very matte and silky to the touch. Dust and lint don't stick to it too terribly compared to some stickier silicone finishes, which is nice.
The Squeeze Remote is also coated with silicone, though it has what looks like a hard ABS backing behind the buttons (this is also perfectly safe).
Washing
The We-Vibe Chorus is totally waterproof, making cleaning a breeze. I simply wash mine in warm, soapy water before and after each use.
The We-Vibe Chorus' Squeeze Remote is NOT waterproof. It's water-resistant, so I consider it splashproof but I never submerge it. If water gets inside, you're supposed to take the remote apart and dry it out, but the remote may not work after that. Soooo be mindful when cleaning the Squeeze Remote.
Lube
I highly recommend adding lubricant when using the We-Vibe Chorus (silicone always seems to eat up natural lubricant quickly, so both you and your partner will appreciate extra lube. Because this is a silicone device, don't use silicone-based lubricant. Instead, opt for a good quality water-based lubricant like my all-time favourite, Sliquid H2O.
Charging & Warranty
To charge, place your Chorus and the Squeeze Remote into the charging case. If you like, you can place the case cover so it's all neat and tidy. Then, plug in the included USB charging cord into the little port on the side of the case. Plug that into your computer or a USB wall outlet. A full charge takes about 2 hours.
This toy comes with a two-year manufacturer's warranty against defects. Check out the manual for deets.
Our Experience with the We-Vibe Chorus
I can't really just review the We-Vibe Chorus by itself… I have to compare it to my previous favourite, the We-Vibe Sync. The We-Vibe Sync is still widely sold today, so it's the Chorus' main competitor.
Vibrations – Chorus wins
The We-Vibe Chorus' vibrations are stronger and rumblier. This much is obvious to me. Its top level is definitely stronger than the Sync's top level.
Pleasure – Chorus wins
Mr. Ruby and I both found the We-Vibe Chorus to feel better than the Sync. Partly because the vibrations were stronger. But also because the Chorus's internal arm slightly juts out at a sharper angle into the G-spot (the material here is soft and spongy, don't worry). This means the G-spot can get more targeted stimulation during every thrust.
It's really fun to use during sex, but be mindful that your partner may orgasm faster than usual.
Comfortable fit – Both same
I find the We-Vibe Chorus just as comfortable to wear as the We-Vibe Sync. They are about the same size, with no major structural differences, so this makes sense.
Both the Chorus and the Sync can be customized at the same joints, so each can be made suitable to your body.
Keep in mind, your experience with this product WILL be shaped (at least partly) by how large your partner's penis is. If they have below-average girth or average girth, you may not notice any discomfort. But if your partner is packing a seriously girthy penis, things may feel too snug for both you and your partner. Always be sure to warm up a LOT before starting sex… your vagina will need some time to relax and prepare.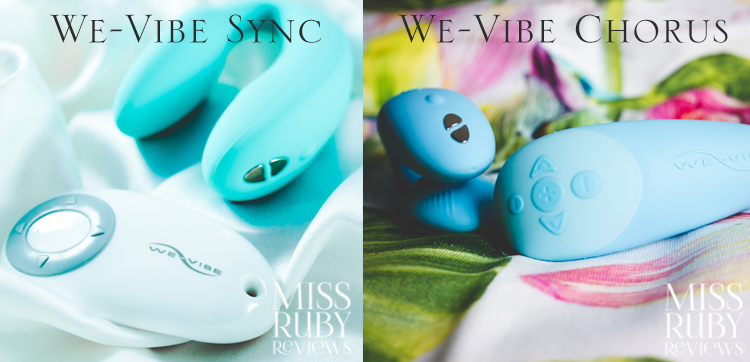 Remote control – Chorus wins
The We-Vibe Sync had a good, basic remote control where you controlled speed and patterns. This was totally fine for 2016, but in 2020 we expect a bit more from our remotes!
The We-Vibe Chorus' remote can just do so much MORE. The Squeeze function, in particular, is fun to use. It's receptive to your touch (just takes a split second after squeezing it for the Chorus to ramp up), and it adds a new excitement to your play.
I find the Squeeze function a really satisfying middle point between just using the control button on the toy, and using the actual smartphone app. Not everyone wants to use a smartphone app… but with the Squeeze Remote, you or your partner can still control your experience without fumbling about with the toy itself.

Extra features – Chorus wins (Touch-Sense mode)
For the first time, We-Vibe has introduced "Touch-Sense" modes, which effectively lets you control the We-Vibe Chorus' vibration strength using your shared movements. The sensor is located externally, starting at the We-Vibe logo and ending around the power button. This means the best position to activate it is missionary.
All Touch-Sense modes are activated through the We-Connect App.
A summary of the modes are below:
TOUCH-SENSE MODE 1: The vibrations increase and decrease in vibration level according to each touch. The vibrations will step up each touch until it gets to maximum strength, then it'll skip down to the lowest strength and repeat.
TOUCH-SENSE MODE 2: Vibrations will increase and decrease in a wave pattern by default. Then, when there's contact against the sensors (either with your finger or your partner's pelvis), the vibration increases and holds. If you stop contact for 3+ seconds, it reverts back to the wave pattern.
TOUCH-SENSE MODE 3: The vibrations will turn on when the sensors are touched, and turn off entirely as soon as you move away.
I don't like that you have to use the We-Connect App to access these features (as a general rule, I hate fumbling with my phone during sex), but I appreciate the novelty of this feature. The last mode is the most fun, and I think folks who love interactive sex toys will get a kick out of this.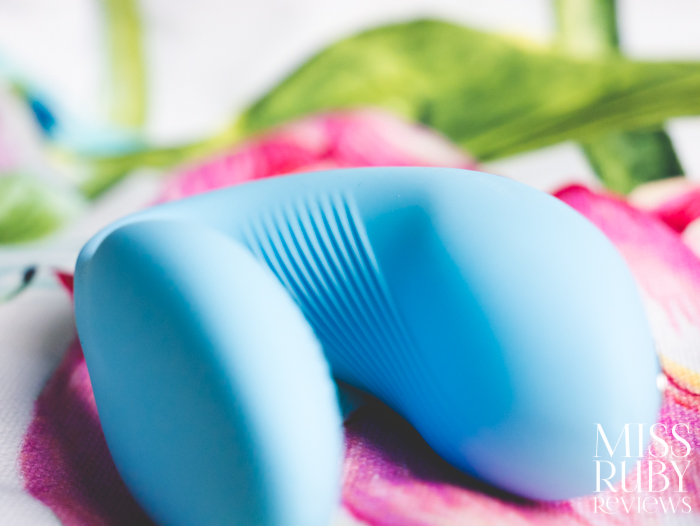 We-Vibe Chorus Review – Overall Thoughts
The We-Vibe Chorus is a fantastic upgrade to the We-Vibe Sync, which was my previous favourite C-shaped vibrator.
It's not only powerful, quiet, and pleasurable, but it introduces new features I've never seen before in this kind of sex toy (notably the Squeeze Remote and the Touch-Sense feature).
I think this would make a fantastic luxury Birthday, Christmas, or Valentine's Day gift to yourself or your partner. If you both want to explore vibes like these, you won't find a better one on the market.
You can pick up the We-Vibe Chorus at Betty's Toy Box for $199 USD (minus 15% when you use coupon code RUBY)! Why do I like Betty's Toy Box? They ship discreetly to the continental US for free on all orders over $49, plus you can get 15% off your whole purchase with coupon code RUBY. 

See below for my We-Vibe Chorus review summary.
We-Vibe Chorus Review Summary
Overall thoughts - 9.6
9.6
$199
PROS
Strong and rumbly
Quiet
Pleasurable
Squeeze Remote & Touch-Sense features
Waterproof & rechargeable
2 year manufacturer's warranty
Bodysafe
3 color options
CONS
Squeeze remote not fully waterproof
Shop Now