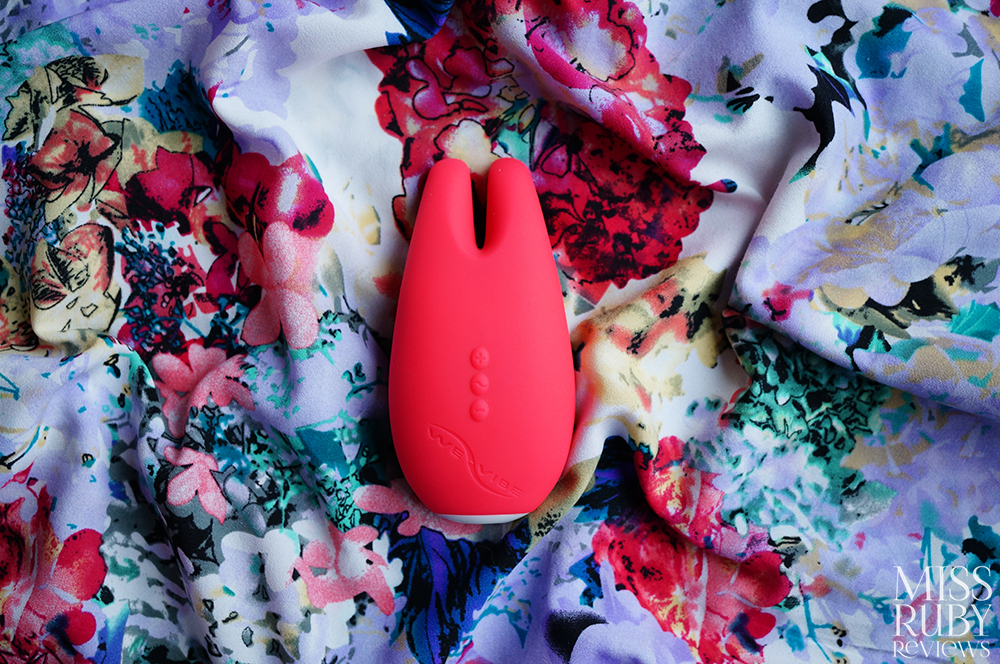 This may look like a very realistic lobster, but it's actually just the We-Vibe Gala, one of the latest vibrators from one of my favourite companies. Read on for my We-Vibe Gala review!

Physical Details | Packaging | Material and Care | My Experience | Overall
Physical Details
Design
The We-Vibe Gala is a palm-sized vibrator designed for clitoral use. Strawberry pink and silky smooth, it's an attractive addition to the bedroom. Unlike most We-Vibe solo toys, which have one main point of vibration, the Gala's body diverts into two separate bunny-like tips. These tips are firm and not flexible… and each has their own suspended motor inside.
The Gala's two tips are to be positioned on either side of your clitoris. Depending on the size of your clitoris, you may not be able to insert it fully between the two tips, but even people with stubby little clitorises (like mine) can at least rest in the middle area.
Of course, sex toys aren't restricted to just one body part. This can totally work on erect nipples, or be used with a penis (i.e., placing the frenulum or coronal ridge between the tips of the Gala).
Design-wise, this is a pretty new, bold move for We-Vibe. Previous models, like the Tango, Touch,  Wish, and Jive  haven't gone with two, distinct and separated pleasure points before.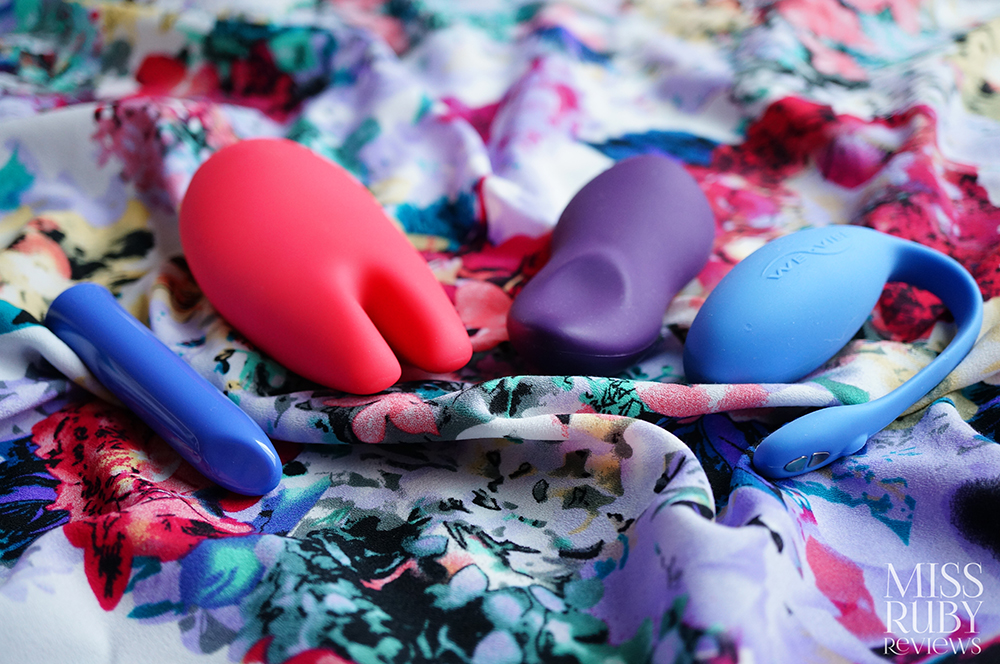 Above: (Left to Right) We-Vibe Tango, Gala, Touch and Jive
Vibrations and Sound
We-Vibe has become synonymous with rumbly. The Tango and Touch went down in my books as some of the strongest and most pleasurable clitoral toys ever to cross my bedroom threshold. The Tango (which you can get at Peepshow here) remains my #1 recommended bullet vibe, and it's left me with an insatiable urge to try any We-Vibe toy.
The We-Vibe Gala is a pretty strong and rumbly vibe. It is NOT as strong as the Tango, Touch, or even Wish, but there's a bit of kick here.
It's also super quiet. It can't be heard through walls or a closed door. It can't be heard in the same room if there's some music on.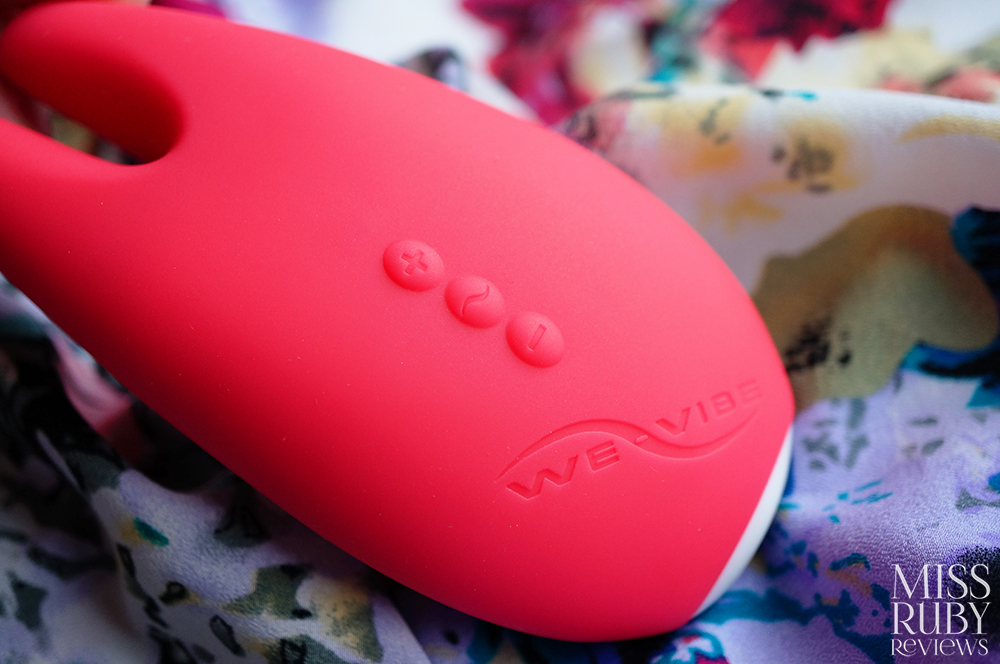 How to use the We-Vibe Gala
We-Vibe excels in ease-of-use when it comes to controls. There's a 3 button interface: (+), (–), and (~). To turn on the We-Vibe Gala, hit the (+) button. From there, you can keep pressing (+) to increase the strength. To decrease strength, hit (–). If you hold (–) for a few seconds, it'll turn off.
Pressing (~) will run you through 10 different vibrations modes (i.e., patterns like pulse, wave, cha-cha-cha).
You can also control the We-Vibe Gala using We-Vibe's free We-Connect App. This is a good choice if you want to share control of the Gala with a partner, or if you want to create custom patterns.
To charge, connect the magnetic charging cable to the metal connectors on the white base of the Gala. Plug the cord into your computer's USB port (or a USB wall adapter, if you have one). Let charge for 1.5–2 hours. The magnets aren't super strong so make sure they don't break contact and stop charging.
To read the full manual, head here.
Packaging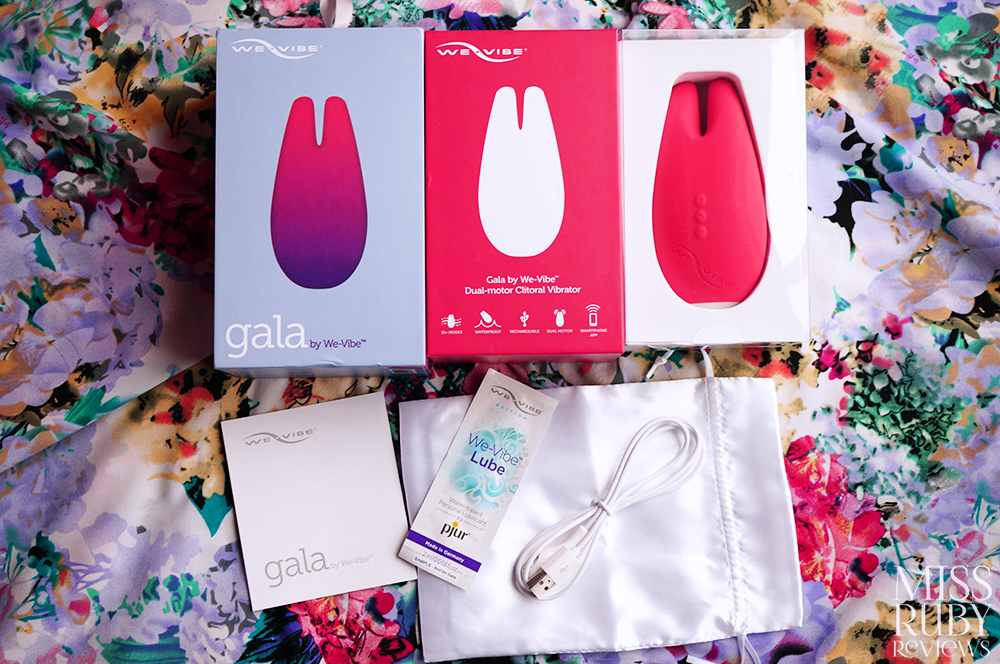 The We-Vibe Gala arrives beautifully packaged. The outer box is clean, colourful, and non-explicit.  Inside, you receive the Gala, a USB charging cord, a short instructions pamphlet, a pjur lubricant sample, and a satin storage pouch.
Material and Care
The We-Vibe Gala is coated in silky soft silicone, making it totally bodysafe. Silicone is inert, hypoallergenic, non-porous and non-toxic.
To clean, I wash my Gala with warm, soapy water. It's totally waterproof, so you can submerge it while cleaning.
If you'd like to add lubricant, I recommend choosing a good quality water-based lubricant like my favourite Sliquid H2O.
My Experience with the We-Vibe Gala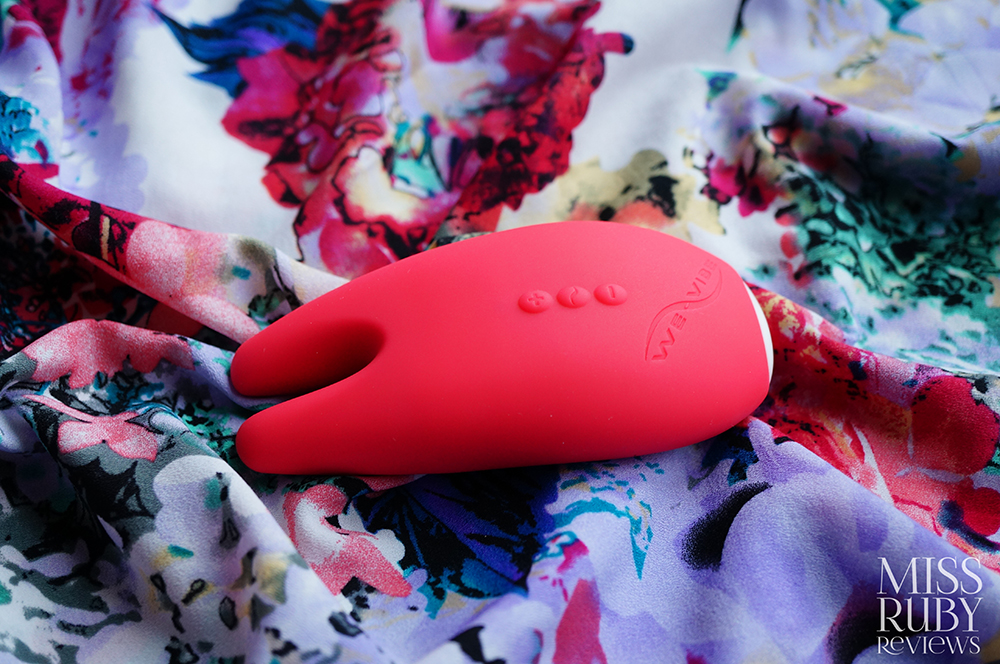 In use, I think the We-Vibe Gala is a solid vibrator, but I don't think it'll work for everyone.
Strong, rumbly vibrations go a long way for sex toys. To be good at all, a vibrator must be able to deliver decent strength, and the Gala gets most of the way there.
When I use the Gala, I press the two tips on either side of my clitoris and let it run its course. I don't try to push my (tiny) clitoris and actually insert it between the two tips; I just let the Gala's tips rest on either side. By vibrating either side of my clit, I'm able to get to orgasm pretty quickly, especially if I'm sensitive and haven't orgasmed in a while. By keeping stimulation to the side areas of my clitoris for extended periods, I also notice that the vibrations start to reach my internal clitoral areas (which is always a fantastic feeling). Happy camper here.
If you generally enjoy vibrating areas around your clitoris, then I think you'll enjoy this toy.  If you don't like stimulating the areas around your clitoris though, I don't think this is for you.
Interestingly, using the Gala sort of tricks my body into thinking I'm using a broad wand-style head. The stimulation spreads over a large surface area, and I seem to forget there's no vibrations in the middle.
When I want to switch to true pin-point, I just turn the Gala to the side and use one of the tips instead of both. This works fairly well, but the single tips don't feel as strong as both at once. For this reason, if you enjoy pin-point stimulation, I really don't think you should get this… you'll want to stick with the Tango or Touch then, which feel stronger.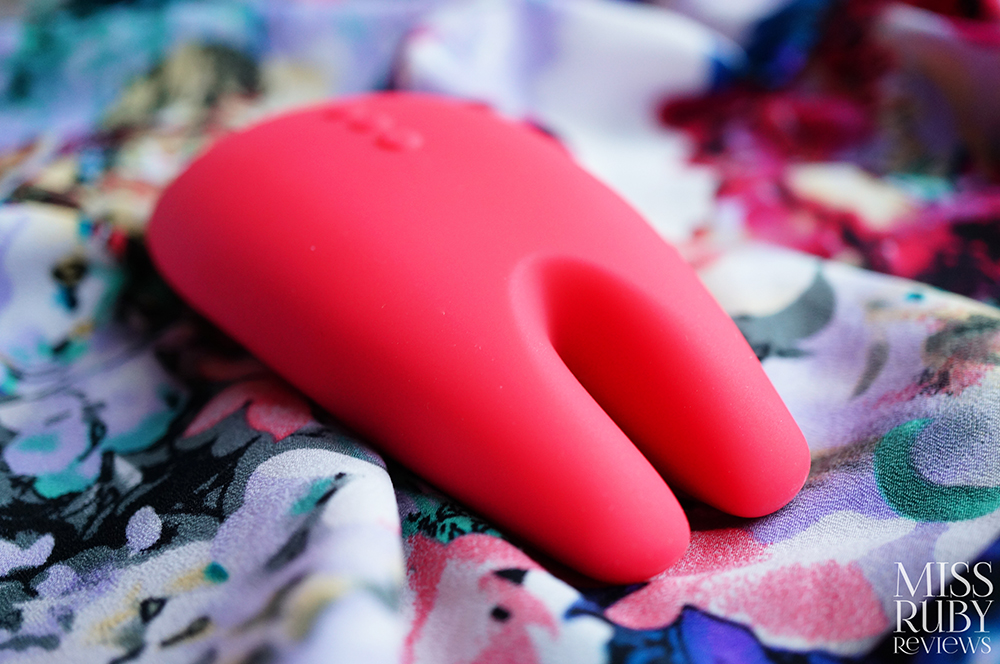 Is there anything I dislike about the Gala? Yep — those vibrations travel throughout the whole body, meaning my hand rumbles a bit along with everything else. I have on-and-off carpel tunnel, so that's not ideal for me. If you have arthritis, stay away.
Lastly, the motors here don't have as much punch as the Tango or the Touch, which is disappointing. This toy can still get me to orgasm, so there is moderately good strength, but I don't think this will satisfy absolute power queens.
We-Vibe Gala Review – Overall Thoughts
I enjoyed the We-Vibe Gala. It delivers firm, decent stimulation to the sides of the clitoris, which will be fantastic if you enjoy this form of pleasure.
If you don't enjoy stimulation on the sides of your clitoris, or you just need one single point directly on your clitoris, then I don't think the Gala is for you. In that case, I'd recommend the Tango or the Touch, which are stronger vibes in of themselves.
If my We-Vibe Gala review has convinced you that this is the toy for you, head on over to We-Vibe.
See below for my We-Vibe Gala review summary!
We-Vibe Gala Review Summary
OVERALL - 8
8
$129
PROS
Bodysafe
Waterproof
Okay vibrations
CONS
Vibrations travel through handle
Shop Now