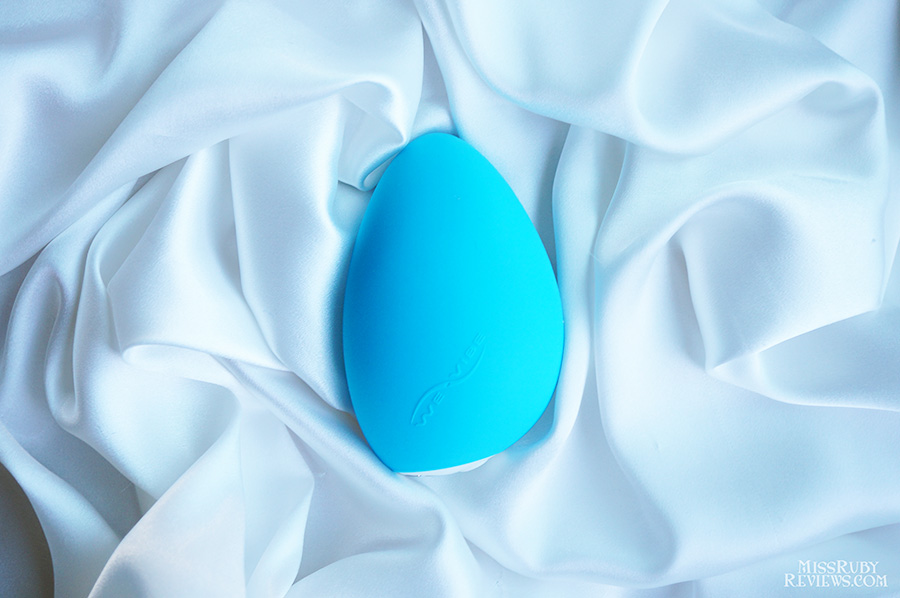 We-Vibe's clitoral vibes have been some of my favourite sex toys to date. So, when I saw that another one was coming out, I just had to get my hands on it…
Physical Details | Material and Care | Packaging | My Experience | Overall
Physical Details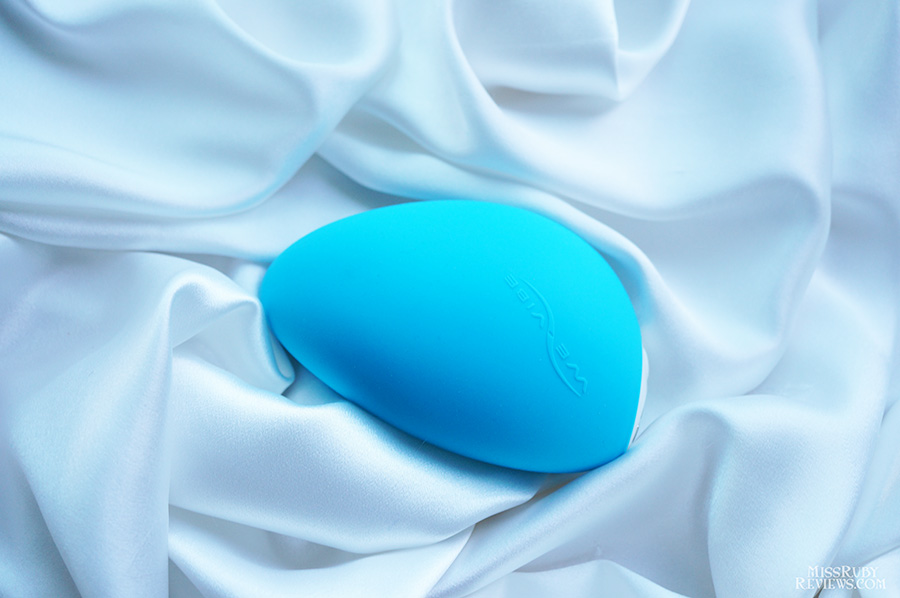 Design:
The We-Vibe Wish is a fluffy cloud. Or a pebble. Or a marshmallow. Whatever it may look like to you, it's cheerfully blue and blissfully squishy. Designed for clitoral stimulation, the Wish is comfortably-sized; its asymmetrical shape fits perfectly into your palm.
It's also shaped for the whole vulva. It's the perfect size to press the full body of it against the entirety (or close to it) of the vulva. This makes it fun to insert in the sling of your underwear (though, granted, the shape is a bit too full to walk around with it).
Functions/App:
PowerPulse technology sets the Wish apart from We-Vibe's other small handheld clitoral vibrators (the Tango and the Touch). When you turn the Wish on, you're greeted by 10 pattern modes —the first three are increasingly-strong PowerPulse modes: Low, Medium, and High. The pulses are close together: so close that they almost feel like a steady-state, but not quite. Instead, the vibrations come as a rapid wave. At first this puzzled me, until I realized that the We-Vibe Wish contains two motors that work in a complimentary fashion (to understand this, look at the "Vibration Modes" picture — The PowerPulse modes have a rapid, short wave that is complimented by a secondary, longer, smoother wave).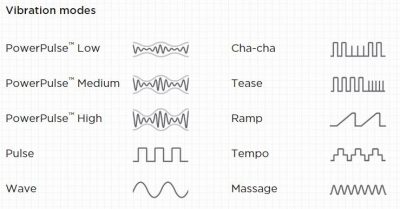 You can control the Wish by a single button on the base. But this toy can also be controlled by We-Vibe's app: We-Connect. In this app, you (or a long-distance partner) can change the patterns, increase and decrease, and create patterns of your own.
Vibrations:
As far as palm-sized clitoral vibes go, the Wish is more suited to broad stimulation. The majority of the vibrations are felt in the tapered tip and the area directly underneath and, with all the squish, it's not easy to only stimulate a tiny part of your body. If you're someone that definitely needs that pin-point stimulation, the Tango would be a better bet for you.
The We-Vibe Wish's motors delivers strong vibrations. We-Vibe's motors don't disappoint me: this toy emits deep, rumbling, strong vibrations. I suspect that it's a similar motor to the one used in the Tango and the Touch: it has a similar strength. However, because the silicone is more fluffy/squishy, the vibrations feel a bit deeper compared to the Touch.
Sound:
Sound-wise, I have no complaints. The Wish isn't a noisy toy. It's not super quiet, but it won't be heard through walls or closed doors. It will, however, be heard by people within the same room.
Material and Care
The We-Vibe Wish is made from 100% silicone. This makes it non-porous and bodysafe. For everyday cleaning, you can wash in warm, soapy water. If you wish, you can add an anti-bacterial toy cleaner. If you're going to be lending this to someone else, I recommend sterilizing it by wiping it down with a 10% bleach solution (and then rinse thoroughly).
I recommend avoiding a silicone-based lubricant, as it can sometimes bond with and degrade silicone material. Instead, use water-based lubricant. I'm a big fan of Sliquid's water-based lubes.
As with any good luxury sex toy, the We-Vibe Wish is 100% waterproof, so you can take it in the bathtub or pool (or jungle pond; go wild). It's also USB rechargeable (charging it for 90 minutes will give you about 2 hours of playtime). When the battery is running low, a lower-power alert light will flash.
Packaging
We-Vibe's packaging is always streamlined and colorful. The Wish comes packaged in a simple, non-pornographic box. Inside the box, you receive the Wish, a satin drawstring pouch, an instructions booklet, and a USB charging cable.
My Experience with the We-Vibe Wish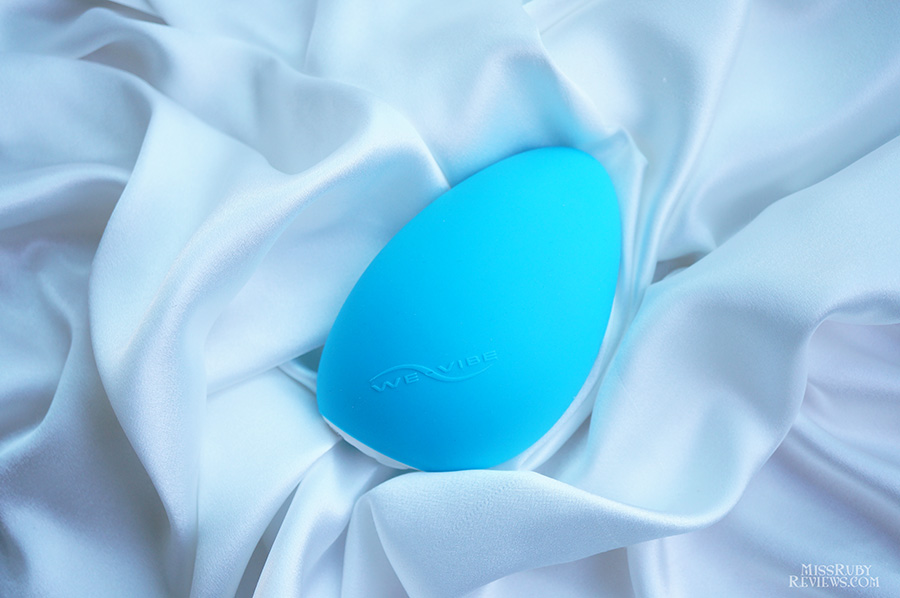 Honestly, when I realized that the We-Vibe Wish didn't have any single, steady vibration modes, I thought I would be disappointed. And, true, I wish it did offer this, just so that I know I'd have all my bases covered. But I haven't experienced any of the disappointment I expected.
I'm surprisingly pleased by the strongest PowerPulse mode. When in use, it has the delightful ability to bring me close to orgasm before the random alternating wave-like vibrations pull me away from orgasm. Sound miserable? It's weirdly not bad. Because, in practice, the Wish essentially becomes an edging machine — it brings me close, and then pulls me away, and then brings me closer again. The result is that, when I inevitably do orgasm, the sensation is more powerful than usual. It's a delayed, extended orgasm.
Even more fascinating is that I remain totally enraptured by the PowerPulse waves during my orgasm.  As the orgasm hits me, I'm carried up higher by the seemingly-random waves.
I mean, what? This is my clitoris we're talking about — the one that ignores pattern states on every single other vibrator I've ever owned. But something about this specific technology works for me. Even though I usually roll my eyes at vibrations patterns, the three "steady" PowerPulse wave patterns work really well.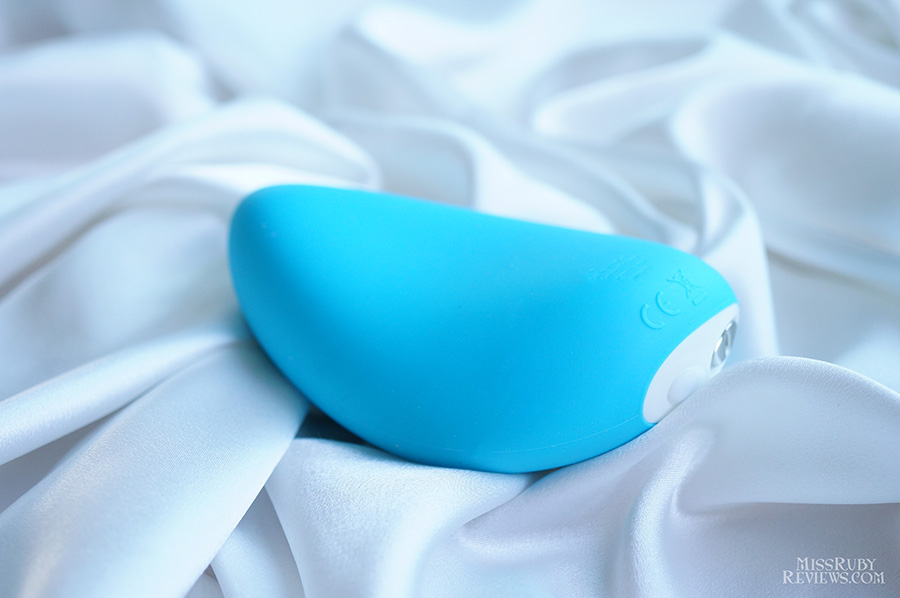 Mind you, I still ignore the remaining classic pattern-type vibration modes like the Cha-Cha, Ramp, Tempo, etc (call me conservative if you must). And for those of you who absolutely know that this won't work for you, I suggest you stick with the Tango (for narrow stimulation) or the Touch (for slightly broader stimulation).
Do I wish that the We-Vibe Wish had regular, standard steady-states in addition to the PowerPulse modes? Yup, I sure do. It's strange that they're completely missing from the picture here: I'd prefer the comfort of knowing that the Wish had everything, just in case one evening my body required the more familiar sensation. While I'm (surprisingly) thrilled with the PowerPulse technology, in future, I hope that We-Vibe continues to offer its standard steady states as well.
Overall
The We-Vibe Wish is a surprise win for me. I thought I was someone that required single steady-state vibration modes. The We-Vibe Wish taught me otherwise. Even though I still don't like the Wish's classic pattern modes, its first three PowerPulse modes (the most steady modes) work with my body, not against it. And they do more than simply bring me to orgasm — the waves essentially edge me into a more powerful category of pleasure.
To buy the We-Vibe Wish, head on over to Betty's Toy Box.