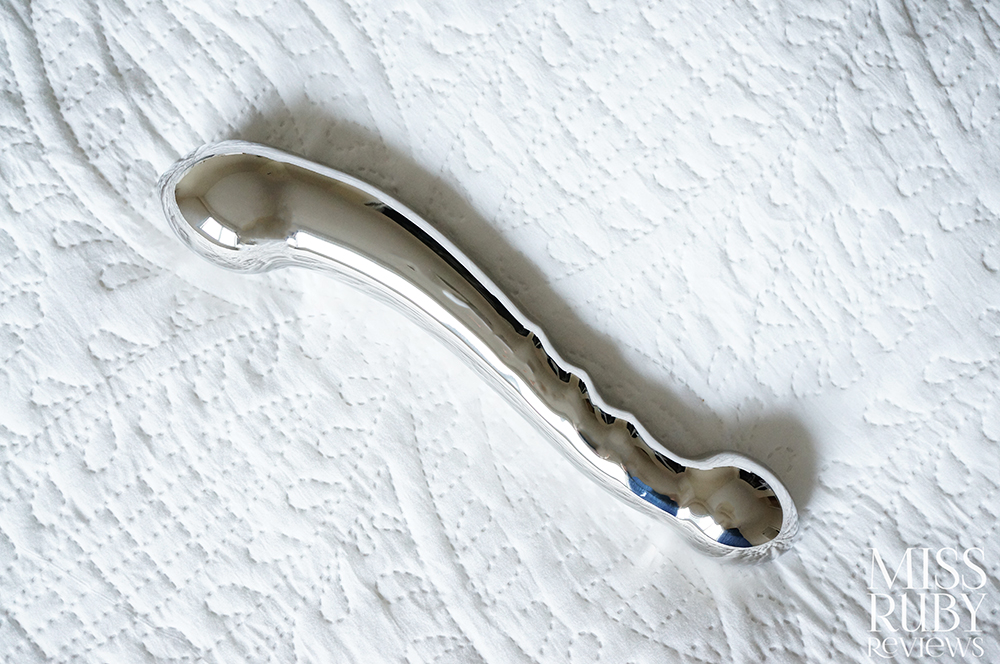 There's no going around it: the njoy Eleven is a beast. Read on for my njoy Eleven review!

Physical Details | Packaging | Material and Care | My Experience | Overall
Physical Details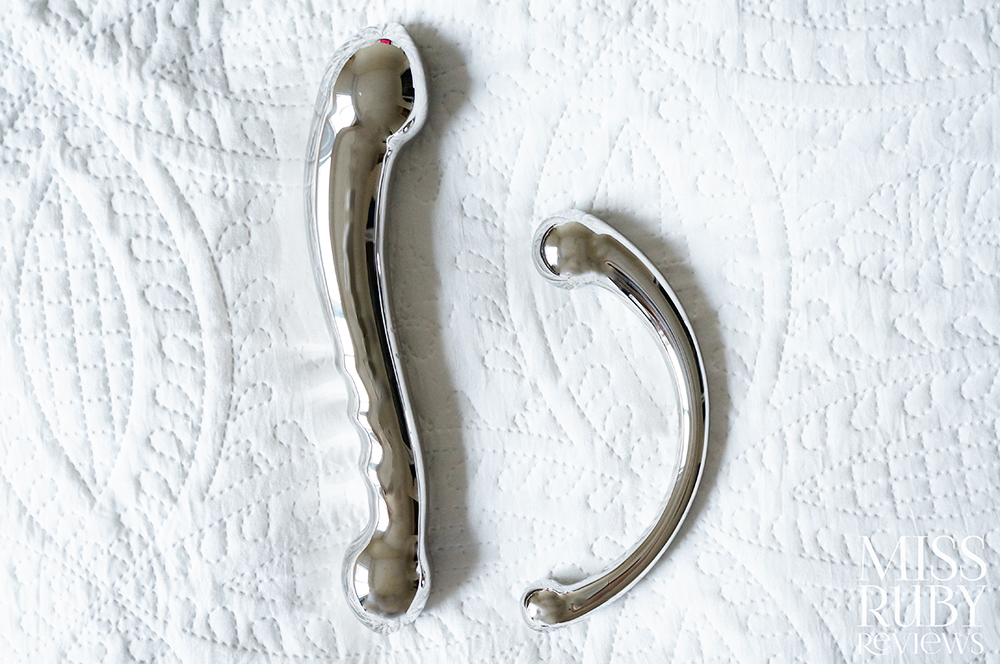 So, remember when I reviewed the rounded njoy Pure Wand? And it was magical and perfect and glorious in every way? And heavy, and filling, and seemed pretty sizeable?
Well, I got cocky. After reviewing the njoy Pure Wand, I wanted the njoy Eleven. I heard it was a bit bigger, and I thought SURE! Why not? Well readers, look at the image above. The little curved njoy Pure Wand is absolutely dwarfed by the Goliath that is the njoy Eleven.
Whoops.
The njoy Eleven is a luxurious, giant stainless steel hunk of dildo.  It's cast in 316 grade stainless steel, and hand-polished, so it's so shiny that I can see myself in its reflection and I had a real struggle photoshopping my tiny reflections out of all these images.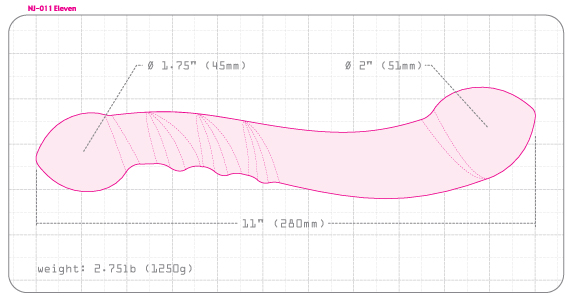 Measuring 11 inches long, the njoy Eleven features two usable ends. The smallest end is 1.75 inches in diameter, which isn't uncommon to find in dildos. The largest end is 2 inches in diameter, which is pushing things a bit. And these ends are bulbous/rounded, remember, meaning that it's 2 inches across no matter the angle you use. Spherical shapes like this feel larger than they look, and stainless steel is unforgiving and hard; this thing feels massive.
The njoy Eleven has more than ginormousness going for it; it also has some neat bumps running down the smaller end. These function as useful grip for a handle (if you're inserting the larger end), or as added stimulation/ridges when using the smaller end.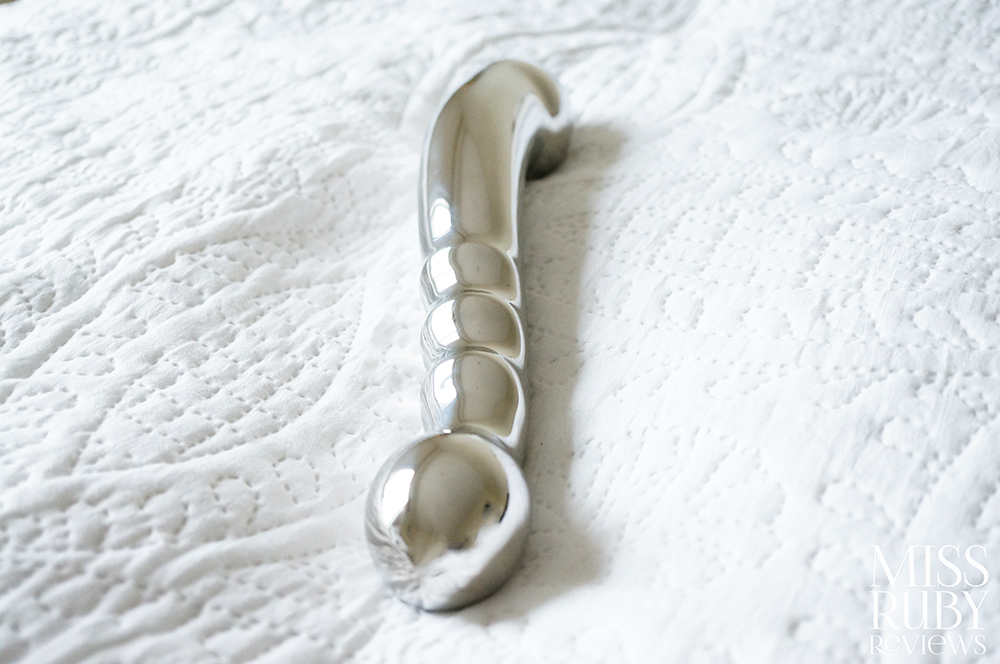 And it is glorious to behold. Shiny, large, luxurious, and HEAVY. It's 2.75 lbs, which to me doesn't sound as heavy as it feels. Because when I hold this up like a club, I have the distinct feeling that I'm holding up something that could cause serious harm; I've even been keeping it beside my bed, not for quick orgasm access, but as a home defense weapon.
Packaging
Njoy always packages their products beautifully. The njoy Eleven comes in a triangular white outer box. Inside, the njoy Eleven lies in a plastic sleeve within a leather-feel clutch bag.
Material and Care
The njoy Eleven is cast in 316 grade stainless steel, making it a medical grade. It's non-porous and can be cleaned and sterilized easily. To clean, you can rinse with warm water and soap, or chuck it in the dishwasher. If you'd like to sterilize it, you can boil it for 10 minutes or use a 10% bleach solution (and rinse thoroughly afterwards). Just don't use anything abrasive to clean it like steel wool.
Note that this material is cold to the touch at first, but will heat up quickly. Metal conducts heat, so rinsing it under warm water will crank up its own heat pretty quickly.
This material can be used with any kind of lubricant. I'm really partial to Sliquid's lubes… like this water-based one, or silicone one, or hybrid one.
My Experience with the njoy Eleven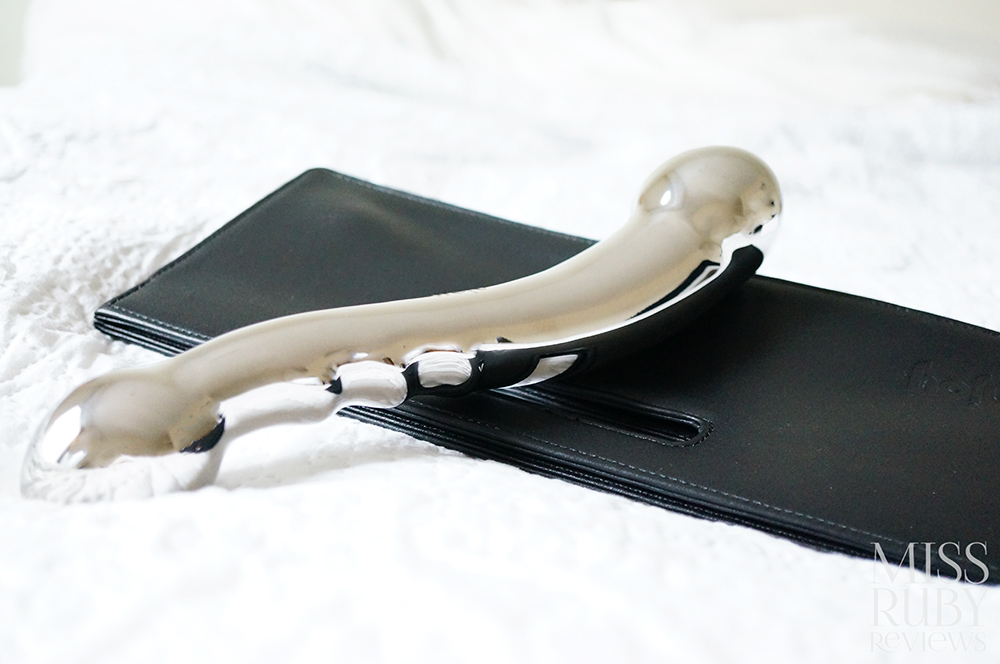 So, the njoy Eleven is polarizing. Some love it, some hate it.
I'm in the it's-great-when-I-can-handle-it camp. But I can't always handle it. The njoy Eleven simply feels huge. There's no getting around that. There's no squishing any silicone to make it fit easier.  The heads are slightly tapered, which helps with insertion, but even the "small" end is large. Coupled with the fact that the heads are spherical and cold hard steel, the njoy Eleven is challenging for me to handle. In my earlier blogging days, I regularly used large toys so my body was more adapted to sizes like this (*cough* Halfling *cough*), but apparently my muscles are lazier nowadays. I can carefully handle the smaller end, but that larger end is trickier.
On days that I can handle this leviathan, it is amazing. That bulbous shape does wonders for my G-spot, which this thing finds and presses up against firmly.  It's a great, easy sensation, one that's made even better when I soak the Eleven in warm water right before.
But the issue is that I can get just as good G-spot stimulation (if not better) from the njoy Pure Wand (review here). And that toy doesn't come with this super heavy weight or high price tag.
Because the njoy Eleven isn't easy to use. Even if my vagina was always in the mood for a 2″ ball of steel, my wrist isn't often in the mood for maneuvering something as hefty as this. It's not easy for me, and I'm able-bodied. I imagine it'll be darn near impossible for anyone with muscle/joint/mobility issues. The weight and near-foot-long shape simply isn't good for rapid thrusting. It's so easy to get intense G-spot pleasure from the Pure Wand; it's hard to even thrust the Eleven.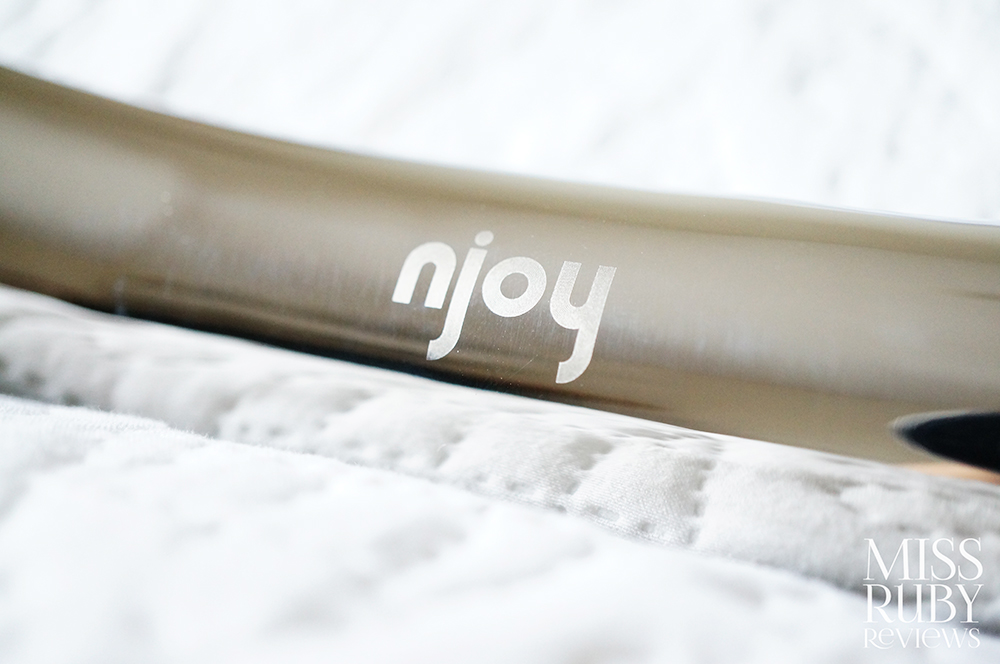 njoy Eleven review – Overall
So what am I saying, exactly? The njoy Eleven is an impressive dildo. But I don't personally ever find myself wanting to choose it over the njoy Pure Wand. It's too big, too hard to handle, and (at $299 USD) too expensive.  But if you're an absolute size queen, I suspect you'll feel differently than I. If you crave being stretched, being challenged, and have a partner that lifts weights at the gym, the Eleven might be your dream come true.
If you purchase the njoy Eleven through Peepshow Toys, you can use coupon code RUBY to get 10% off, making this ring up at $270 USD.
If you're more inclined towards the njoy Pure Wand, you can use coupon code RUBY to get 10% off the Pure Wand, making it only $99 USD.
See below for my njoy Eleven review summary!
njoy Eleven Review Summary
OVERALL - 8
8
$299
PROS
Great for size-queens
Bodysafe
Bulbous heads target G-spot
CONS
Pricey
Will be too large for some users
Shop Now