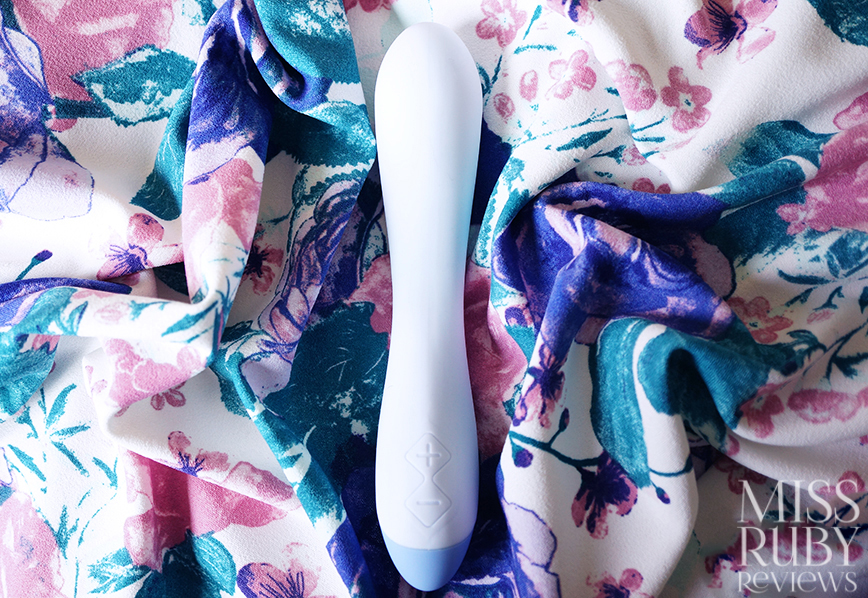 Super rumbly, rechargeable, waterproof, and powder-blue pretty, the Sola Cue is one of this year's best catches. Read on for my Sola Cue review!
Physical Details | Packaging | Material and Care | My Experience | Overall
Physical Details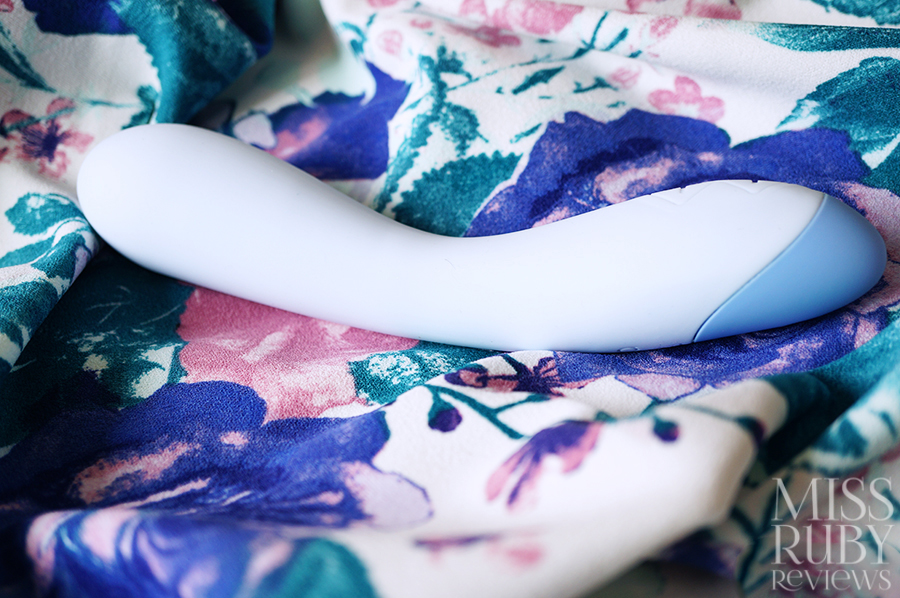 I've owned a Sola product for about a couple of years now. I never formally reviewed the Sola Sync, a wand vibrator, but it ended up being a very commonly used vibrator in my bedroom throughout 2016 and 2017 due to its fantastic battery — when all my other stronger, rumblier vibes would die, it would always be there to save the day.
So I was pretty pumped to see Sola come out with the Sola Cue, a powder blue G-spot vibrator.
Design
The Sola Cue is a gently curved G-spot vibe. A short, bulbous handle with controls (capped with dark blue) flows upward into a larger, curved G-spot section. With about 5 inches of insertable length, the Sola Cue is moderately sized and light in weight.
Though it's designed for G-spot stimulation, there's nothing stopping you from using it clitorally or against a penis. Its tapered end provides fantastically firm, moderately pin-point stimulation.
Unlike many comparably-shaped vibrators (such as the LELO Mona), the shaft is flexible. The narrowest part can bend gently, but not a lot. This is good, in my opinion (too much flex makes it hard to apply firm pressure).
Vibrations and Sound
The Sola Cue is POWERFUL. At full strength, it provides fantastic, deep, rumbly vibrations (8.5/10). The vibrations are concentrated around the entire far, bulbous tip, and I love them. Comparable to the L'amourose's delicious motors, the Sola Cue's vibrations will likely be enough for most users, perhaps even power queens.
Unfortunately, even at the lowest modes, the vibrations can't be contained to that region; instead, they travel down to the handle, which can be uncomfortable for those with arthritis or carpal tunnel issues, as your hand itself will vibrate.
Like any good rumbly vibrator, the sound that emerges is a deep purr, not high and buzzy like surface-level motors. Sola promises that it's whisper quiet,  and I can confirm that it is moderately quiet for a strong cordless vibrator (7/10).  It ramps up in sound when pressed against you. Though someone in the same room with you can certainly pick up the sound, it can't be heard through my walls or closed doors.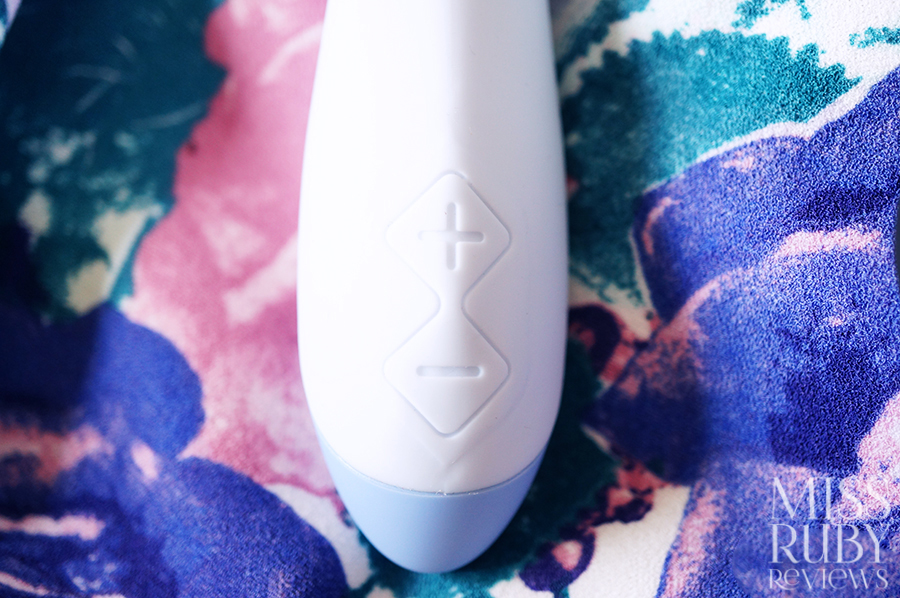 How to use the Sola Cue
You can turn on the Sola Cue by holding the (+) button for 3 seconds.  Keep hitting (+) to cycle through the 5 vibration strengths.  Once you press it for the 6th time, you'll start on the first of five vibration patterns. To turn off the Sola Cue, hold the (–) button for 3 seconds.
To charge up your Sola Cue, attach the charger to the little metal circle on the back of the Sola Cue; it will attach magnetically. Plug the charging cord into your computer or the wall (using the USB wall adapter included). While charging, a white LED light will blink. It'll become solid when fully charged. A charging cycle (1.5 hours) will get you about 1 hour of playtime.
The Sola Cue comes with a 5 year warranty. If the product fails within 5 years of original purchase date, Sola asks that you return the Cue with receipt and packaging to the address listed in their instruction manual.
Packaging

Sola's packaging is fresh, clean, and streamlined. The Cue's box is covered with a simple non-explicit white sleeve. Inside, you open a turquoise box to receive the Sola Cue, an instruction manual (with warranty details), a lint-free antibacterial storage pouch, a USB charger, and a USB wall adapter.
Material and Care
The Sola Cue is coated with silky-smooth silicone, one of the safest materials for sex toys. It's inert, toxin-free, and non-porous.
To clean, Sola recommends washing the Cue with warm, soapy water before and after each use.
As this is a silicone toy, it's best to opt for a good quality water-based lubricant, like my favourite Sliquid H2O.
My Experience with the Sola Cue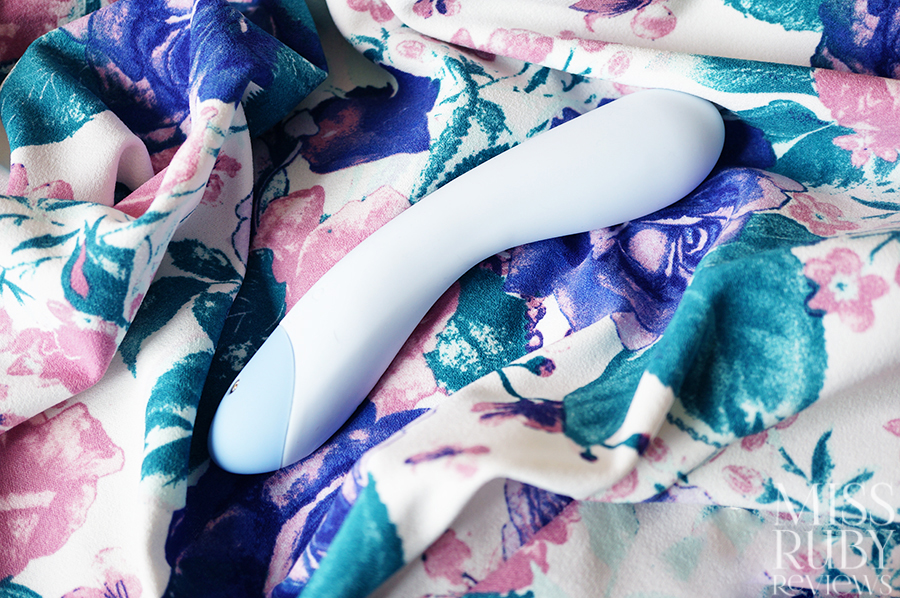 One of my favourite things about G-spot vibrators like the Sola Cue is that they don't need to be used internally at all. If you're in the market for a good clitoral vibrator, there's nothing stopping you from using this toy clitorally.
And clitorally, the Sola Cue is superb. My clitoral orgasms occur within 60 seconds of use, which for me is only possible with truly rumbly motors. It provides firm, moderately pin-point stimulation. It's not as pin-point as, say, the Tango, but provides pleasure that is much more focused than any wand-style vibe.
For those of you who don't know rumbly vs buzzy, rumbly motors tend to deliver stimulation that feels deeper, more pleasurable, and has little-to-no temporary numbing effect. Buzzy motors, on the other hand, tend to feel higher-pitched, surface level, and can create an annoying temporary numbness.  Some people do actually prefer buzzy, but I'm not one of them. Team rumbles here.
Internally, the Sola Cue doesn't disappoint either. That curved body helps to locate the G-spot quickly. And, while I wouldn't call the Sola Cue a large toy, the bulbous end (just over 5″ circumference) does feel bigger than it actually looks, making it easier to apply broad pressure to the G-spot. The smoothness of the toy allows it to glide, but like with any internal product, I recommend adding a good dose of lubricant to keep things flowing.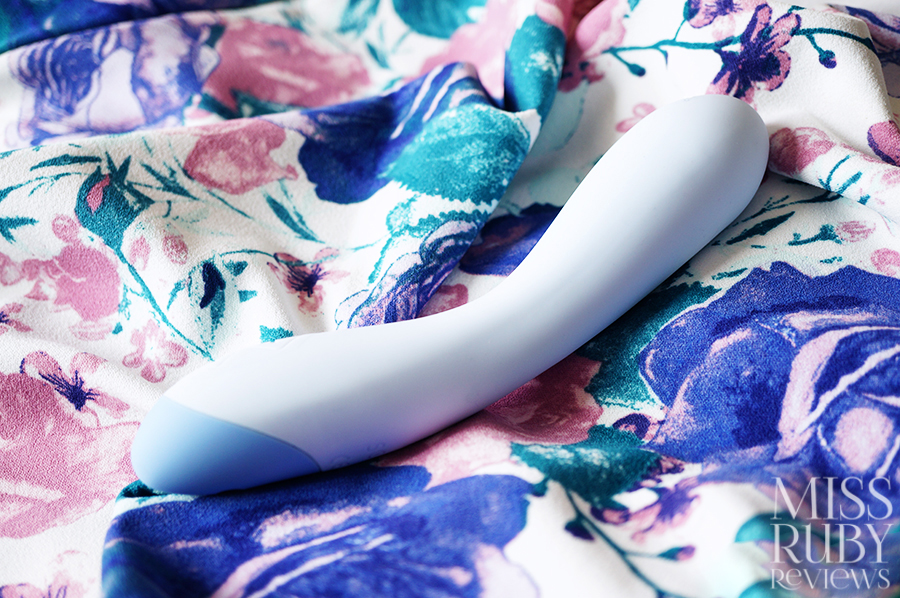 Drawbacks? I have to say, I'm bugged by how the vibrations travel to the handle. My hand starts to feel funny pretty quickly, and I wish Sola was able to keep the vibrations focused away from the handle. Other than that, though, I love this vibrator.
Overall
The Sola Cue is a fantastically versatile vibrator. Though designed for G-spot use (and effective in that regard), it also doubles as a great moderately pin-point clitoral vibrator. Those vibrations are RUMBLY and did not disappoint.
On top of that, the Sola Cue is of course waterproof, rechargeable, and coated in silky silicone. And with its sub-$100 price point, there's little to complain about. It's currently listed for $79.50, but you can get a further 10% off with coupon code RUBY.
To purchase the Sola Cue, head on over to Peepshow Toys.