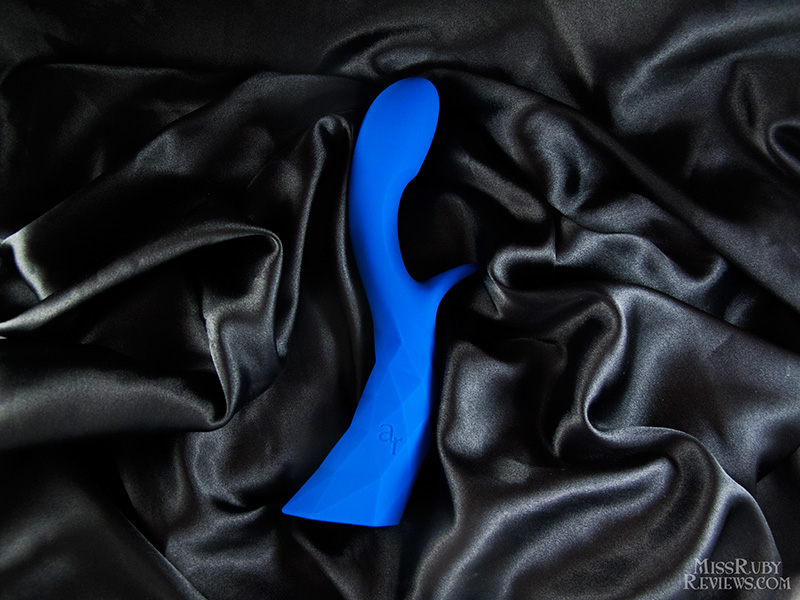 There's sex toys, and then there's art. Rumbly art.
About L'amourose | Physical Details | Packaging | Material and Care | My Experience | Overall
About L'amourose
To say I was pleasantly surprised when I received a review package from L'amourose would be a bit of an understatement. I was thrilled.
Eeeeep! Surprise review package came today! Thanks, @L_amourose !! pic.twitter.com/gbBQlvDWmm

— Miss Ruby (@MissRubyReviews) December 21, 2015
For those of you who aren't aware of this brand, L'amourose is kind of in a league of their own. Based in Paris and Shanghai, L'amourose is very well known to bloggers for their gorgeous, sleek designs, their luxurious packaging, and their rumbly motors. Thanks again to L'amourose for sending me this product for review!
Physical Details
Design:
The L'amourose Prism VII is a rabbit-style vibrator. Designed to stimulate both the G-spot and the clitoris at the same time, the Prism VII offers dual motors, several vibration patterns, and everything a luxury vibe needs: it's waterproof, 100% silicone, and rechargeable.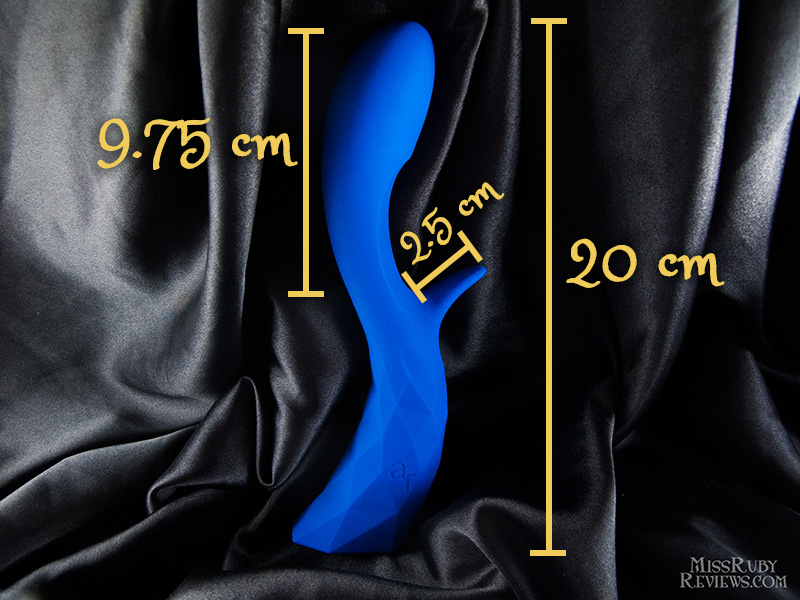 Plus, it's pretty to look at. If you can't tell from the pictures, the handle is designed with geometric embellishments, covered in diamond-shaped blocks. The Prism VII that I received is in Azure Blue which, by the way, is beautiful. It also comes in a light pink and a deep shade of red, both of which look lovely as well, but I love my Azure Blue 🙂
So what about the actual shape design? The shaft gently curves upward for G-spot stimulation, but the tip of the head is fairly bulbous for maximum coverage. It's an obvious winner for G-spot stimulation.
The not-so-winner is the clitoral shaft. It's only 2.5 cm long, meaning that this will only be a solid rabbit vibe for people whose clitoris is very close (2.5 cm or less) to their vaginal opening. As great as rabbit vibes can be, they are never a one-size-fits-all, so before buying this vibrator, definitely take a ruler and measure your C-V distance. Me? With a C-V distance of about 2 inches, my clitoris doesn't stand a chance.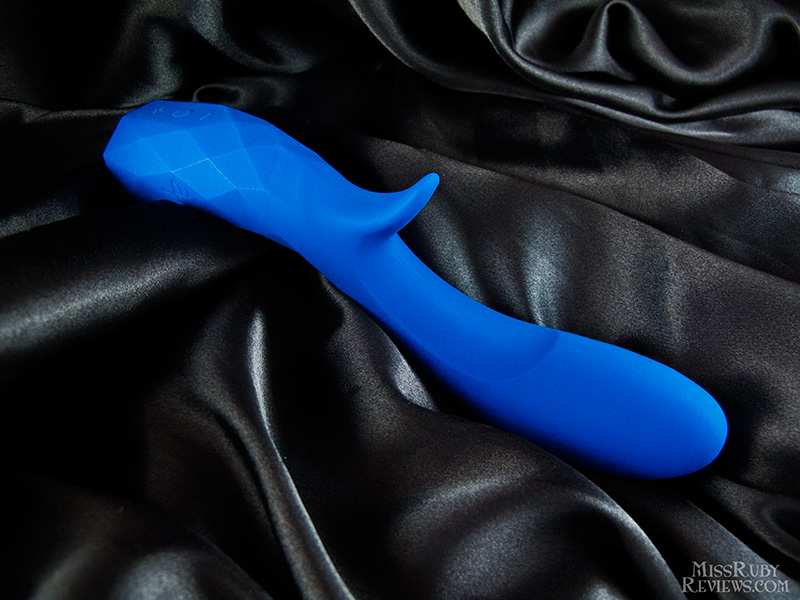 Vibrations:
Wow. The L'amourose Prism VII can vibrate. It may not be as strong as the Doxy Wand's mains-powered vibrations, but it's a lot stronger than I'm used to for rechargeable vibrators this size. I can't imagine that the main shaft vibrations would disappoint anyone. They're plenty strong enough for me, not to mention rumbly.
Unfortunately, I can't say the same for the clitoral shaft. The vibrations in the clitoral shaft are fairly weak, not anywhere close enough to the strength I need to have a clitoral orgasm.
Noise:
This isn't the noisiest product in the world, but it's not the most quiet. It emits a mid-frequency noticable sound, so I'd make sure to close the door and use this under the covers. Can it be heard through walls though? Nope. In any case, based on its strength, I'm not too worried about the noise. Many really quiet vibrators can't deliver on strong vibrations, so it follows that stronger vibrators will be a bit noisier.
Packaging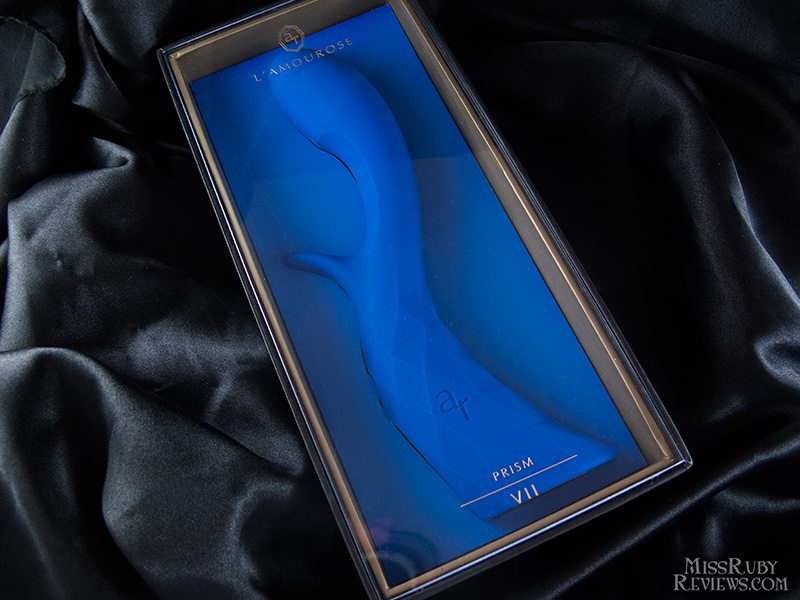 L'amourose doesn't skimp on packaging. The Prism VII was cleanly packaged. Inside the box, you'll find the Prism VII, a USB charging cable, a warranty card, an instruction booklet, and a black velvet storage pouch.
Just a word on the warranty: it's pretty good. You're covered for defects for 18 months from receipt of purchase. After 18 months, if you come across a defect, you receive 50% off your purchase of another L'amourose product. Not too shabby.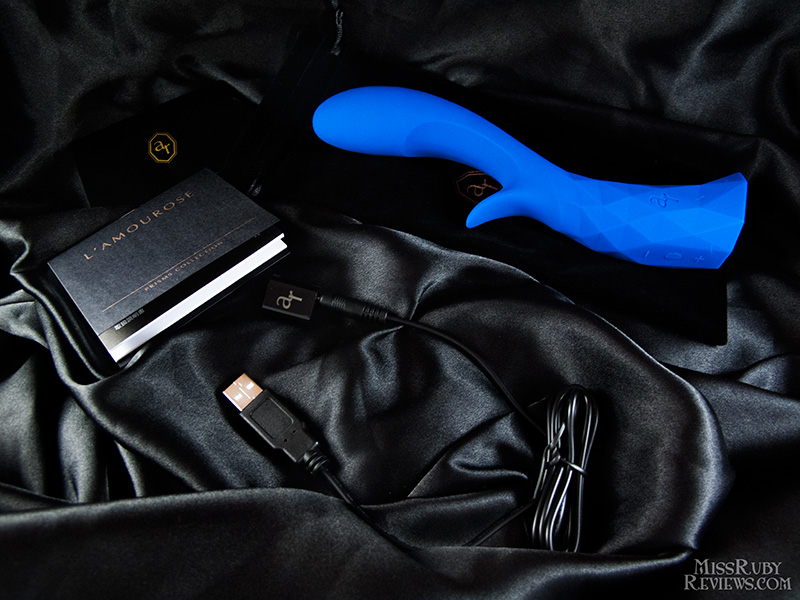 Material and Care
The L'amourose Prism VII is made from 100% silicone, making this product completely bodysafe. It's non-porous, non-toxic, and free of phthalates. For everyday cleaning, I rinse my Prism VII with warm water and anti-bacterial soap before and after each use. If you want to use this anally or share it with someone else, you'll need to sanitize it before and after each use. To sanitize it, wipe your Prism VII down with a 10% bleach solution.
Charge your Prism VII using the USB charging cable provided. 1 hour of charging time will get you approximately 2 hours of playtime.
When it comes to storage, make sure your Prism VII is totally dry. Then, place it in the velvet storage pouch included.
This product is waterproof, so feel free to go bananas in the pool or shower.
My Experience with the Prism VII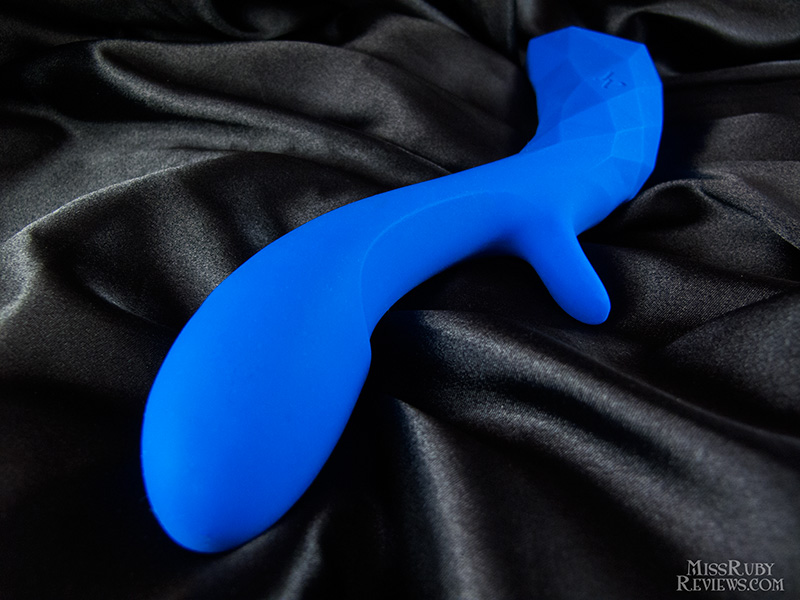 I'd be lying if I said I only use this as intended.
Although the L'amourose Prism VII is designed for internal stimulation, the main shaft makes a wicked clitoral vibrator. Yes. I'm using a rabbit vibe as a clitoral vibe. Why? Because it works. While it's a bit awkward as a clitoral vibe because it's way bigger than it needs to be, the main shaft vibrations convince my clitoris and my holding hand that it's all worth it. There's no numbness, there's there's no worry about batteries dying, there's just a quick and effective climax. Because it's so rumbly, this is one of those rare vibrators that can take my clitoris into orgasm so perfectly that the Prism VII is now one of my go-to clitoral vibrators. If I want a clitoral orgasm that's so easy that I don't have to work for it, this is a solid choice.
So how is it internally? The vibrations that feel so rumbly on my clitoris feel (no surprise) immediately stimulating to my G-spot. But when it comes to my G-spot, I'm usually a lot more interested in shape than vibrations. Fortunately, this toy's shape doesn't disappoint. The head is just bulbous enough to target my G-spot, meaning that I don't have to dig around — its shape locates and stimulates it with ease. The slightly curved/hooked design helps this along considerably, meaning that thrusting the vibe in and out works to intensify G-spot stimulation (instead of avoiding it like a straight shaft might).
When it comes to judging this as a rabbit vibe, however, the Prism VII does disappoint. The clitoral shaft's vibrations are surprisingly weak, especially given that the main shaft is so strong. It seems like there's no actual motor in the clitoral shaft itself; rather, there might be one just in the base of it below. But even if the clitoral shaft was strong, it would never ever ever reach my clitoris. Unless you have a clitoris that's ≤ 1 inch from your vaginal opening, your clitoris will get no stimulation. If your clitoris does happen to fall closeby, congrats, but you still won't get strong clitoral vibrations. What could have been done differently to fix this? (a) Lengthen the clitoral shaft so that more users can find it useful and then (b) insert a motor in the shaft itself. That being said, the clitoral arm isn't a total loss: if you're looking for an anal-safe L'amourose toy, the small clitoral arm is large enough to make this toy safe for anal use. So have a party, prostates.
Overall
I love this vibrator. It delivers vibrations so strong and rumbly that my clitoris blushes at the sound of it. I am disappointed by the clitoral components though. The clitoral shaft is tiny (which makes it stylish but totally useless for my anatomy). On top of that, the clitoral vibrations are very weak, especially compared to the mega vibrations that the main shaft gets. I would have loved to see a longer clitoral arm and stronger vibrations.
But its clitoral shortcomings don't particularly matter to me. This toy is still something I definitely want in my closet. And for those who would prefer that your vibrator heats up using thermal technology, you can pick up the Prism VII Rouge for about $45 more (note: the Rouge sounds awesome. Heat to your genitals = more blood rushing there = more sensitivity = more pleasure).
To buy the L'amourose Prism VII, head on over to SheVibe! (hint: It's only $105 which, for a product of this quality, is a rare good deal).
And if you like the sound of this vibrator but not its rabbit attachment, you can opt for the Prism V one of the following places:

 Lovehoney USA ($124 USD and 1-year happiness guaranteed policy)

 Lovehoney UK (£94 GBP and 1-year happiness guaranteed policy)

 Lovehoney Canada ($174 CAD and 1-year happiness guaranteed policy)
 Lovehoney AU ($174 AUD and 1-year happiness guaranteed policy)

 Lovehoney EU (€129 and 1-year happiness guaranteed policy)