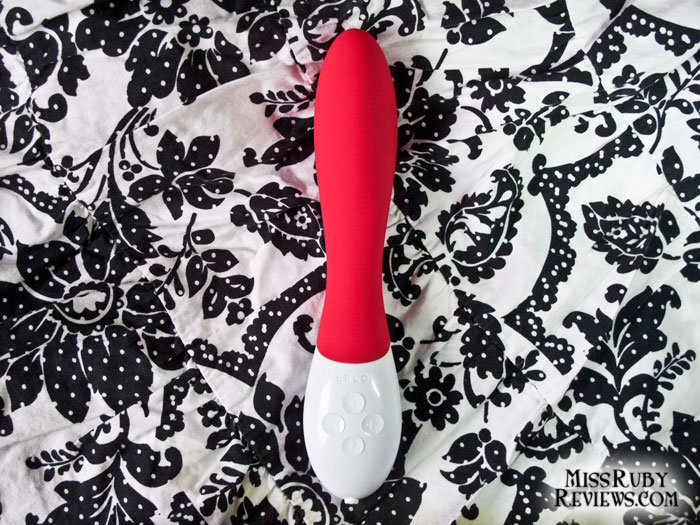 Update in Sept: I'm updating this LELO Mona 2 review to reflect my experiences since I originally wrote this in January.
Physical Details| My Experience | Overall
Physical Details
The LELO Mona 2 screams designer. Not whisper, no. Screams. I am luxury, it yells. I am beauty. Worship me.
It's hard not to love looking at the Mona 2. LELO's products are beautiful, and the Mona 2 is no exception. The Mona 2 comes in that soft, silky, matte silicone finish that LELO does so well. The silicone tapers into an ABS plastic handle, with sticky raised buttons for those slippery situations.
And have I mentioned that it comes in red? Not a garish, fire-truck red, but a deep, rich, rose red.  Personally, I'm grateful. My toy closet is overrun with the type of pinks and purples that pervade most brands. But this red? This red is sexy.
The LELO Mona 2 is also waterproof and rechargeable. I was impressed by that, once charged, the Mona 2 can lie around on standby for 90 days without losing its charge. This is pretty rare for sex toys. Its battery life is also solid. It boasts a 2 hour playtime length, and I'm secure in that. Some of my other toys boast the same thing, but only actually perform half that. But the Mona 2 stays true to its word: I'm confident in its ability to last as long as it's promised me.
I never tried the first Mona model, but the LELO Mona 2 comes with 100% more power than that model. The lowest steady vibration is little more than a gentle purr. It revs up to an impressive strength and then offers multiple pulsation patterns. It gives you the standard steady pulsations, the cha-cha-cha beat, and the looping cycles. The last pattern, however, is a distinctive, catchy beat. It sounds like a song you could dance to. In other words, this thing literally serenades you to orgasm.
It's also pleasantly quiet. Even at the highest level, the LELO Mona 2 is hard to hear when muffled under a blanket. It cannot be heard through walls.
My Experience with the LELO Mona 2
The first time I turned on the LELO Mona 2, I squealed with glee. It purred this amazing, deep, rumbling sound. My mind was sure I was going to love it right away.
But my body didn't love it right away. My first attempt with the Mona 2 ended with me getting grumpy and frustrated and switching to another toy. I told myself that my body was just being weird that night, that it was going to be amazing the next night, and that it would be great.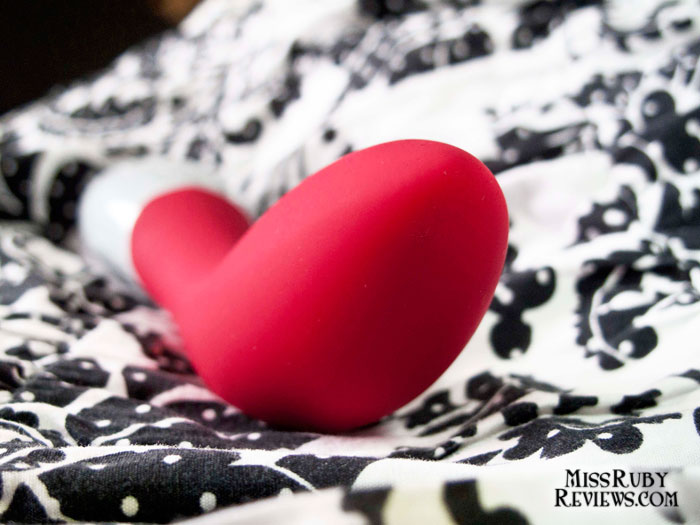 But it didn't get great the more I used it. Though Mona 2's sound suggests lovely rumbles, my clit finds it rather buzzy. My clit (which I'm starting to nickname the buzz-o-meter) really likes the first 5 minutes with the Mona 2, but then it goes starts to go numb. That being said, those first 5 minutes do feel really nice….but I think my clit deserves more than 5 minutes of pleasure.
But that doesn't take away the fact that, after 5 minutes, my clit starts to feel distinctly numb. I get the impression that I could have one of those work-super-hard-and-face-the-discomfort orgasms if I wanted to pursue it further than that, but I don't. So that's when I get my Tango out and try using the Mona 2 internally.
The LELO Mona 2 doesn't look big. When I first held it in my hands, I was skeptical about its size. It looks decidedly small. Despite this, I find that the Mona 2 feels very filling inside. The broad, raised curve definitely hits what it needs to. What's more, the same vibrations that feel so buzzy on my clit are less numbing when used internally, which could be because my G-spot isn't as sensitive/tactile as my clitoris.
One thing that impressed me was that the strongest vibrations are definitely felt in the raised contour, the patch that is meant to hit your g-spot. The handle gets very little vibration, which keeps your hand from going numb from the vibrations. It's not easy to design a dildo whose vibrations barely reach the handle, to props to you, LELO.
Interestingly, once it gets inside, my muscles instinctively tighten around it, locking it in place. It's hands-free in this regard; I've tried getting up and walking around with it still in me, and it stays in place. However, I also noticed that I'm not comfortably able to thrust it quickly or deeply. Instead, the Mona 2 feels best using shallow thrusts and rocking it side to side.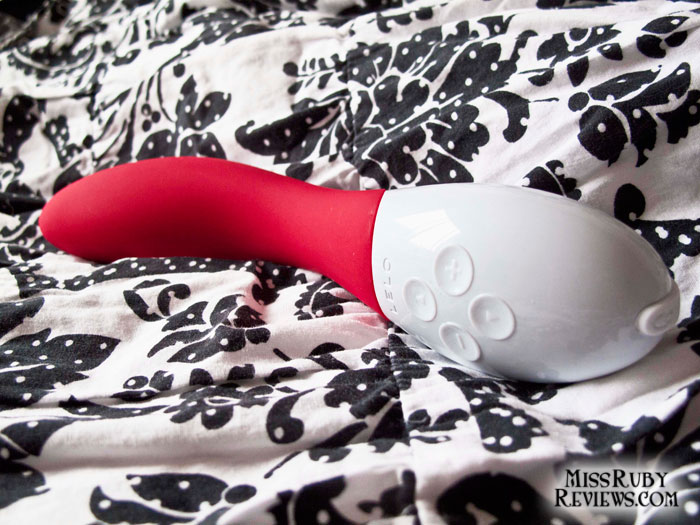 But I don't think any of this redeems the Mona 2 for me. I can get good G-spot stimulation for much cheaper. And, after owning this toy for 9 months, it's safe to say that I never use it. I used it back in January to review it, and then that was that. It's been packed away for months and months now, and I'm ticked off that I spent so much money on a toy I rarely use.
Overall thoughts – LELO Mona 2 review
I never use the LELO Mona 2. I find it buzzy. My clit gets numb. G-spot wise, it feels nice, but good G-spot stimulation doesn't need to cost $150. A lot of bloggers LOVE this toy though. Some don't like it, but many love it. So I definitely recommend that you check out some of the other reviews out there. But for me, it's merely a buzzy disappointment.
To buy the LELO Mona 2, here are some recommended stores: