Edit: On January 27, my blog was unexpectedly down for most of the day due to server issues with my hosting provider. Giveaway extended to Jan 29.
The Sponsor: LubeZilla
LubeZilla generously offered to sponsor this flash giveaway. LubeZilla has arguably the most expansive online collection of lubricants. If it's on the market, they probably have it. I particularly recommend their selection of Paraben-free and Organic lubricants. They're definitely one to keep on your radar for your next binge lube purchase (sex toy reviewer mantra: you can never have enough lube). Thanks again, LubeZilla!
The Prize: 1 of 5 bottles of Sliquid Organics Silk Hybrid Lube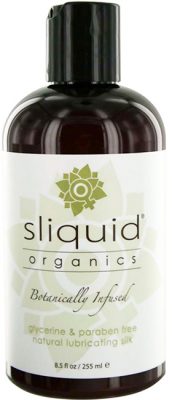 Win a large bottle of Sliquid Organics Silk Hybrid Personal Lubricant!
Sliquid is my favourite brand of lubricant. True story: the first time I tried one of their bottles, I was hooked, and I've never shopped for another brand again.
So, suffice to say, I think the five winners will love their prize.
Large 8.5 fl oz

sized bottle
Water and silicone hybrid lubricant with a creamy, moisturizing texture
Suitable for sensitive skin
Glycerin and paraben free
Silicone helps keep this lubricant long-lasting, while its water-based nature makes clean up simple
Includes certified organic botanical extracts and Vitamin E

Latex, condom, and sex toy safe (including silicone sex toys)

Each bottle retails $18.75 USD. 
Small Print
This contest will run for one week only, from January 21 to January 28, 2017.
Each of the 5 winners will receive 1 (One) unit of Sliquid Organics Silk Hybrid Lubricant (size large)
You must be 18 years or older to enter and live in a region where sex toys are legal to import.
Open USA only
Please, no giveaway accounts.
Five winners will be randomly selected and contacted by me by email within the 1st week following the giveaway. Each winner has 48 hours to reply to me with their address otherwise a replacement winner will be drawn. Each winner agrees to provide me with their name, email, and shipping address that I will forward to LubeZilla, who will ship directly to the winner.
Enter Below
LubeZilla Sliquid Organics Silk Hybrid Lubricant

Update – Winners:
Congratulations to Mary, Maya, Ben, Charlie, and Lucy! 🙂