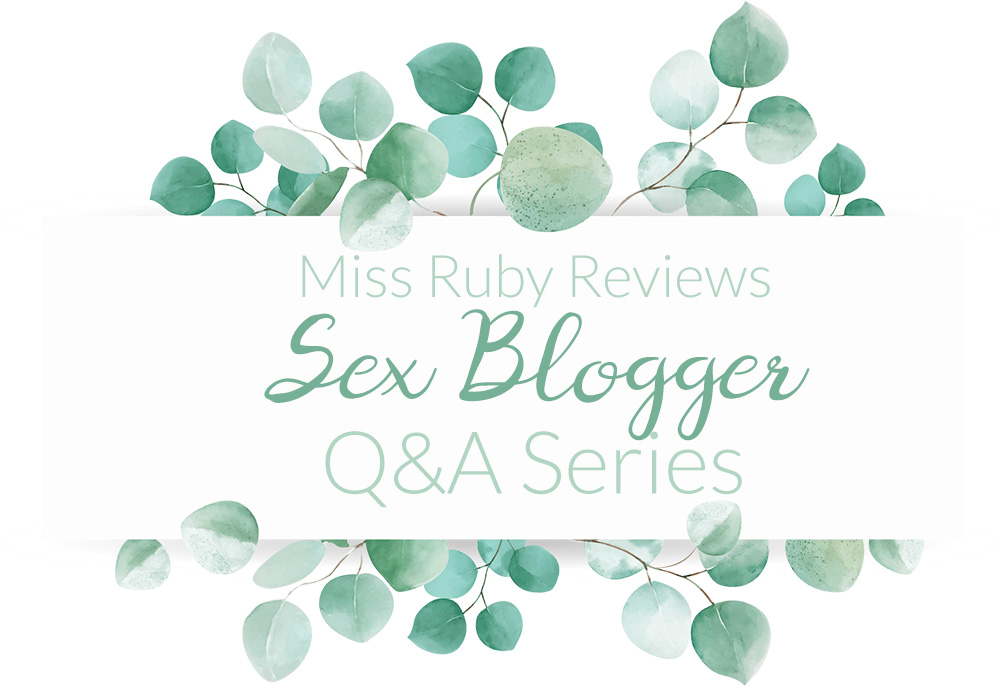 This series was created to highlight sex bloggers (new and old) to my readers. If you'd like your sex blog featured, please read my instructions and get in touch!
Viva La Sexy
Which sex-related blog(s) do you run and how long have you been at it? By what name may we call you?
I'm April, and my partner is Liam. We run Viva La Sexy, which we started in November 2013.
Sum up your blog (such as theme, goal, focus, quirkiness, uniqueness).
We write sex toy reviews with a sex-positive feminist perspective. We'd like to start branching out from doing just reviews, though, and write more about gender and queerness, pop culture, social justice, as well as mental health and chronic illness. I'm also interested in photography but it hasn't been a focus on the blog so far because I had been without a high-quality camera for a few years. But Liam recently bought me a great new DSLR for my birthday, so I'm excited to incorporate more photo-focused content into our blogging!
What is your blog's "creation story"? Why was it born? Did any already-established bloggers inspire you? 
I've always been very interested in sexuality and I'm a very opinionated person so I suppose it happened pretty naturally. I had started doing on-site reviews for a certain retailer but quickly realized that a) this site was not a good place to be writing reviews and b) I could start my own blog. So I did. Epiphora and Lilly were (and still are) two very inspiring bloggers.
What is your favourite post on your blog to date? Why? (Include a link) 
I love Liam's Stoya Fleshlight review! It was his first review and he did a great job with it. He was so thorough but also made it silly and clever. Since that review was posted, he's had a really demanding job and unfortunately hasn't had enough time to work on more reviews. Hopefully, soon he'll be doing more though, which I'm excited for because he had a lot of fun writing this one and it got a lot of positive feedback.
What does "sex-positive" mean to you?
Sadly, there is a lot of shame associated with sex for many people, so a big part of sex-positivity is working to eliminate that shame and stigma and judgement regarding sexuality. I also see it as being inclusive to folks of all genders and sexual orientations. Basically, sex-positivity is the idea that, if it's consensual and fun, go for it!
Have you found any friends (or heroes) in the sex blogging community?
Yes! I struggle with depression and anxiety disorders and, because of that, it's sometimes hard for me to get to know people, so it took me a while. But I'm glad I made an effort to reach out to other bloggers because they're an amazing bunch of supportive, inspiring, and often hilarious people who are doing good work.
How important (or unimportant) is anonymity to you?
It's very important for us, career-wise, because it could negatively affect us professionally if employers or clients associated us with the blog. As for friends and family, some of our friends know that we blog about sex and sex toys, but most of our family is fairly conservative and wouldn't react well to hearing about it. We like to have discussions with them about sexuality when it comes up, and encourage sex-positivity, but we're not quite ready for them to know about our blog (and they're not either)!
If one of these readers becomes your biggest fan, where can they follow you on social media? 
I mostly hang out on Twitter, but I'm also on Facebook, tumblr, and Instagram. I've made it a goal to post more on social media, so expect to see on my accounts soon.
Do you consider yourself an advocate/supporter/ally for any minority groups?
Absolutely. In our personal lives, social and racial justice is extremely important to us and we're very vocal about it, and we want to bring this aspect of ourselves to our blog. In fact, I'm currently working on a project to help bring awareness to issues related to sexuality that marginalized groups experience, and to elevate marginalized voices within the sex blogging community.
Have you ever had anything bizarre or horrible or funny or amazing happen as a result of blogging? 
Oh, for sure. One of the funniest things that has happened to me was when I was returning from my trip to the Woodhull Sexual Freedom Summit this past summer. Ruby from Doxy was kind enough to hook me up with a Doxy Die Cast and I was bringing it back in my carry-on luggage, so I was expecting to get stopped by TSA for a bag check. That's exactly what happened, and I knew that was the 'suspicious' item. I let the TSA agent know I had a big metal vibrator in there, and got to tell her about the conference. As she was finishing the check of my bag and found even more sex toys, she said "Ohh yeah you've got all kinds of goodies in here! I'm jealous!"
For sex toy users: Imagine your plane is crashing near a deserted, gorgeous island. Before you jump into your lifeboat, you fumble through your bags to find the perfect sex toy to use until you're rescued (by awfully good-looking sailors, obviously). Which toy did you choose?
I'm assuming there would be no electricity since it's deserted, so I can't say my We-Vibe Tango. Going to have to pick my Vixen Mustang, then!
Has sex blogging shaped/influenced you in a broader "real-life" sense? (i.e, your worldview, your personality, your confidence?)
It's definitely given me a boost in confidence. I feel proud of my blog and the work I do. Being involved with blogging has also given me a lot of opportunities to push myself to do things outside my comfort zone. Attending the Woodhull Summit meant I was going to meet a lot of new people and I had to fly alone, so that was a big deal for me, but I'm so incredibly glad I did it.
Introvert or extrovert? Cats or dogs? Coffee or tea?
Introvert, cats, and tea. Hey, that describes my ideal weekend!
If you could magically and instantaneously change something about this industry (i.e., sex toy industry, erotica, porn, sex education, etc), what would you change?
Only one thing? This is tough. I'd have to say I'd like to see the industry become more inclusive. A big part of that is having more diversity in regard to gender, sexuality, ethnicity, bodies, and abilities. Right now we see mostly thin, able-bodied, white hetero cisgender men and women represented. There are a lot of amazing companies working to change that and I hope more follow their lead. My runner-up answer, by the way, is that I would like to see only body-safe toys being sold; no more jelly toys or anal toys without flared bases!!
What are the top 1-3 factors that keep you blogging? What's keeping you here?
1. The ability to influence change in the industry, and to encourage sex-positivity.
2. The amazing bloggers I've gotten to know.
3. It's fun!
Lastly, what advice would you give to readers who are considering starting a sex blog of their own?
Know that it's a big commitment. Maintaining your site, testing products, taking product photos, writing and editing reviews, keeping up with social media, and networking all takes a lot of time an energy! And it's important to remember that it takes a while to build an audience, so it's something you have to work for and be patient with.