The We-Vibe 3 Review: Or, the one that kept slipping out
The We-Vibe 3 promised me a more satisfying sexual experience with my male partner. I'm not entirely sure if it ever delivered on that promise.
Physical Details
This is a small, silicone, dual-vibrator to be used during PIV sex, and I was really excited to try it out. It's waterproof, rechargeable has 6 vibration modes, and comes with a remote control. Its silicone finish isn't velvety, unfortunately, but a rather sticky texture. This means that it's hard to keep dust and hair off of it, especially if you have pets in the house. From the marketing, it sounded like I'd be getting what a high-end rabbit can give me while having amazing sex with my boyfriend. What could go wrong, right?
The remote control is a neat little feature, but be warned: it isn't consistent. At times, it seemed to work up to 10 feet away. A few moments later, it wouldn't work until it was right up to the We-Vibe.
This is also a fairly quiet device. I wouldn't want to wear it in public in a dead-silent crowded room, but it can't be heard through closed doors.
Intensity-wise, the We-Vibe 3's vibrations aren't weak, exactly.   On a scale from 1-10, they'd fall around a 4.5. In other words, nowhere near enough to bring me (let alone people with steel clits) to orgasm. Note that the vibrations cannot be controlled individually for both arms, and the vibrations are stronger in the external arm than in the internal arm.
My Experience
Things started out well enough. The small, flexible internal arm slipped in very easily with water-based lube. It's seamless, which meant I could avoid painful seam issues like you may get with other dual stimulators. I was happy to find that it felt snug and comfortable the moment I slipped it inside. I didn't have to fiddle (or yell or cry) to get it in place. Once it was inside, I powered it on with the remote control and went through the modes.
The moderately weak vibrations were nice, definitely nice enough to stimulate me into a more aroused state. I could feel them, and they felt nice. Not mind-blowing or instantly satisfying, or even particularly memorable. I found these vibrations to be a bit buzzy. After 20 minutes or so of the strongest steady vibration mode, I realized my clit was starting to go numb. Fortunately, the silicone body is so flexible that moving it aside for a while wasn't a problem.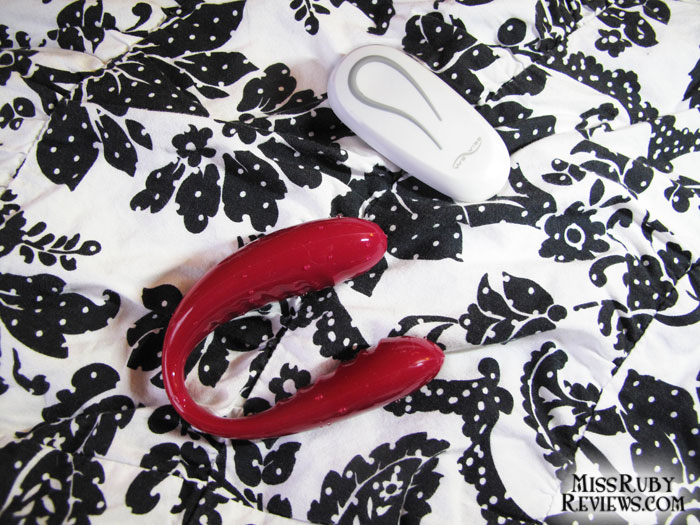 During PIV sex, I enjoyed the clit vibe, especially during missionary positions. Unfortunately, in this position, internally I felt less thrust. My boyfriend's penis' impact was definitely dampened by the silicone arm covering my g-spot.
Because this is a couple's toy, I asked for my boyfriend's opinion during PIV sex with the We-Vibe inside:
Going in was more snug than usual because the vibe takes up some space. The vibrations didn't really do anything for me. I mean, it was fine, but it feels a lot better without. In doggy style, it's a bit uncomfortable. I hit the vibe in a weird way.
I wouldn't call that a glowing review.
At first, we also thought the We-Vibe was going to be a hands-free operation. As long as I stayed somewhat still, the We-Vibe stayed in me. Unfortunately, that's the extent of the hands-free capabilities. Whenever my boyfriend removed his penis, the vibe flopped out and bounced around on the floor like a sad little fish. This meant that we couldn't change positions without having to try catch the vibe. If you're a couple that likes to change positions every few minutes, bring a net to catch it for when it falls out and flops about.
Overall
This toy can warm me up. It can stimulate me enough to get me well aroused and wanting an orgasm. But it can't deliver on that orgasm or its promise of a more satisfying sexual experience with my partner. While having PIV sex, I really just wanted to take it out and enjoy sex without the vibe.  Which, as a pricey couple's sex toy, isn't what I'd call ideal.
You can't buy the We-Vibe III anymore, even if you wanted to. I recommend you check out my review of the AMAZING We-Vibe Sync. 
Last Updated on November 6, 2023 by Miss Ruby