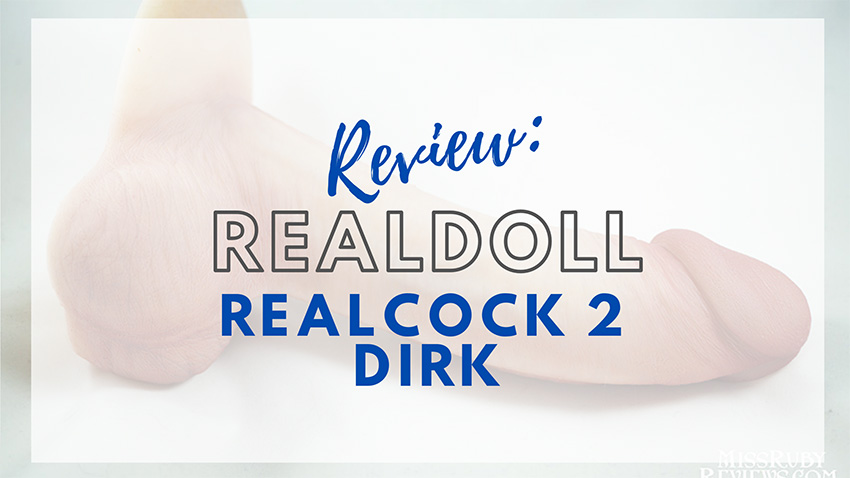 What more could I ask for? I am in realistic dildo heaven. Read on for my RealDoll RealCock 2 Dirk review!
Physical Details | Material and Care | Packaging | My Experience | Overall
Physical Details
The RealCock 2 Dirk is the most realistic bodysafe dildo I've ever come across. Handmade in the USA, the RealCock 2 Dirk is the latest stand-alone dildo from RealDoll, the leading manufacturer of silicone sex dolls. RealDoll specializes in creating a realistic experience, so I was more than a little curious about this creation.
Design
The RealCock 2 Dirk is an uncanny representation of a large, circumcised penis.  I measure 7.75 inches of insertable length (9 inches total height) and a 1.91 inch diameter. So the RealCock 2 Dirk falls safely in the big category of dildos. I'm one of the handful of reviewers that enjoys realistic toys, and I thought I'd experienced realism…but oh how wrong I was.  They were nothing like the RealCock 2 Dirk.
I received the RealCock 2 Dirk in the colour "Fair." It also comes in two other gorgeous colours – Medium and Dark. For the very rich out there, you can even work with a RealDoll agent to create a custom skin tone to perfectly match you (but it'll cost you a whopping extra $1,000).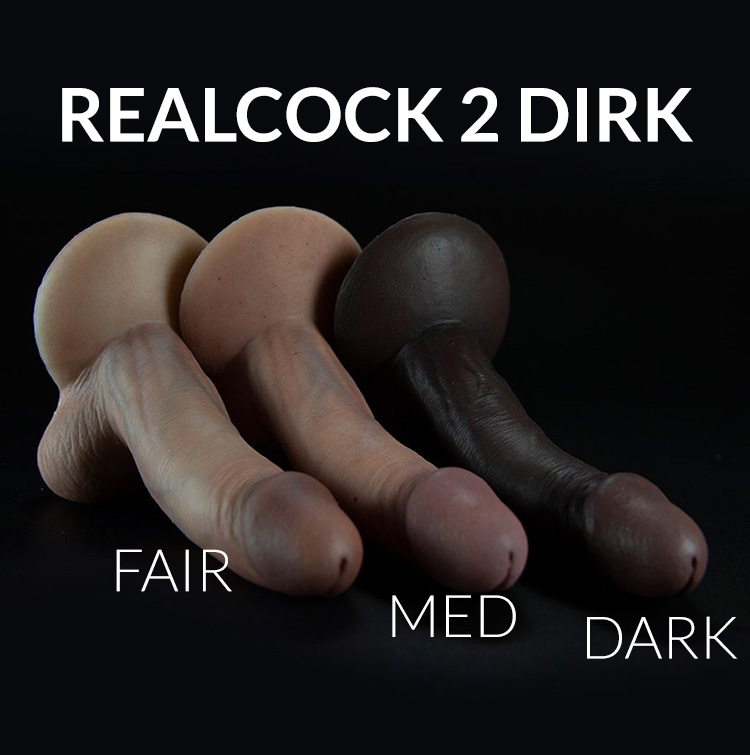 The RealCock 2 Dirk has something I've never seen before: a movable shaft skin (example here) and triple layering. The triple layers consist of the firm inner core structure, the soft outer layer, and the layer for all the silicone coloring and color texturing. I'm used to dual-density toys (think VixSkin or Tantus' O2 dildos), and I LOVE dual-density. Having a dual-density toy plus an extra layer for coloring is even another step up.
Moving Shaft
The moving shaft is thanks to the Sil-Slide™ technology: the soft, outer layer of silicone slides along a firm, inner core. I've never seen this kind of technology before, and it's fascinating. Though the outer layer of silicone is, by nature, thicker than the skin of a penis, you can still capture the same feeling. When I grab this shaft, I have the distinct feeling that I'm giving it a real handjob… this isn't something I've experienced before in a dildo. Wow.
Like with a real penis, the RealCock 2 Dirk's head is also totally squishy. The hard inner core dissipates in the base of the head, meaning the head can be squeezed down. The head is also incredibly detailed. It's not just a flat pink color: it too has some shading and detailing to make it look like a genuine engorged head. The urethral hole is deeper than most dildos, as well as shaded a tad darker, which increases its realism. If you look closely at the above picture of the head, you can even see a skin-print. It looks like it's made from real skin, with tiny natural striations and impressions.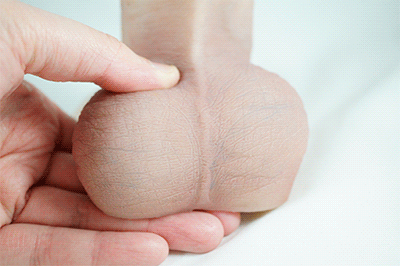 Testicles
Okay. Those testicles. Are floating. Individually. 
The scrotum lies (with optimal tightness, I should say) below the shaft. And, yes, you can totally squeeze the balls. Like with a real scrotum, you can dig around for each individual testicle and squeeze to make them pronounced (and the surface pales when you do this, like with real stretched skin). The ability to do this lies in its dual-density structure. Two firm silicone balls lie within the soft silicone scrotum. The Sil-Slide™ technology is used here as well: each ball slides around in there (though falls back to its natural position when left alone). Again, I've never encountered this before, and it adds a worthy touch of realism.
Detailing 
A quick word on detailing. Unlike most dildos, the RealCock 2 Dirk is handpainted with varying shades. The paint isn't exactly "paint"; instead, it's super-thin layers of pigmented platinum-cure silicone.  They're done with incredible detail. The veins are a faint blue, the head deepens into a natural red, the scrotum is divided with a shaded natural line, the corpus cavernosum is accentuated by lighter shading. There are also striations (almost pores, even) throughout the entire product asides from the blank base. The large veins (plus those two fun dorsal veins) are physically pronounced, allowing you to press into them and feel them individually like you would with a real penis.
Note that, because each RealCock 2 Dirk is handmade and hand-painted, each product is one-of-a-kind and custom. Therefore, actual shading and coloring may or may not vary from what you see in pictures here. I doubt there'd be much variation, but there might be some. Each one will be unique.
Material and Care
The surface of the RealDoll RealCock 2 Dirk is made of 100% platinum-cure silicone. Silicone products are the best for realistic sex toys and prosthetics. They're non-porous, bodysafe, and durable.
To clean, RealDoll recommends that you use an antibacterial soap after each use and rinse with hot water. RealDoll also points out that this is designed for "normal use" — as in, don't do anything that you wouldn't do to a real penis. Don't bite or pierce this product, as doing could tear it.
Only use water-based lubricant with this product.
Packaging
The RealCock 2 Dirk arrived in a plain, brown cardboard box. No additional packaging was used for the actual product. The box was very discreet; there was no mention of "RealDoll" or "RealCock." The name "Abyss Creations" was mentioned on the return address. The customs declaration merely listed the contents as "sculpture." If you have a nosy roommate, a quick glance at this box shouldn't arouse any suspicion.
My Experience with the RealDoll RealCock 2 Dirk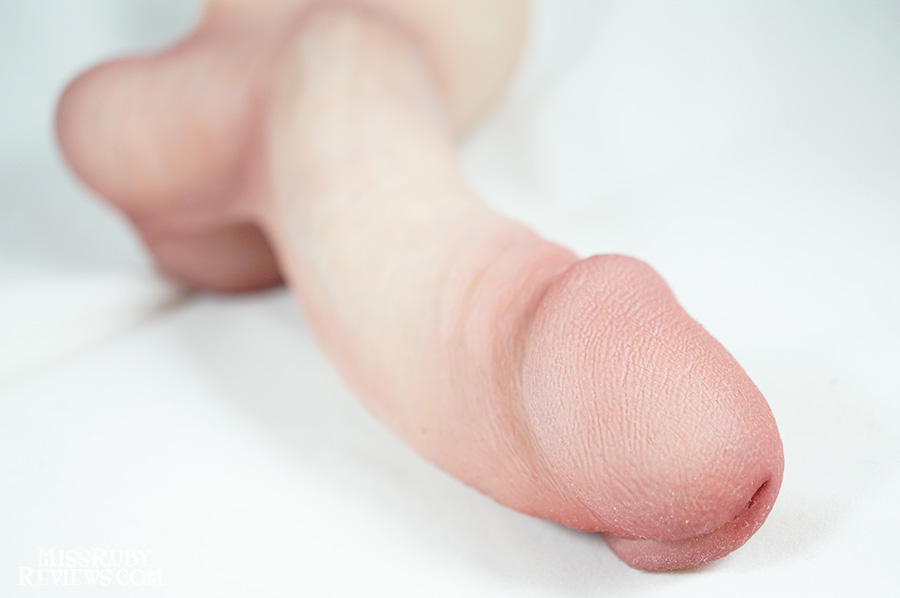 As a realistic-dildo-enthusiast, I was thrilled to try the RealDoll RealCock 2 Dirk  as a dildo.
First off, having a dildo with this much realism goes a long way in warm-up. Massaging the shaft, squeezing the head, fondling the testicles…each measure of realism considerably speeds up arousal. I also find that, when the head is pointing directly at you, it's near impossible to not go in for simulated oral. It's visually inviting, which is exactly what something this expensive should be.
As a dildo?
As a dildo, I have zero complaints. The RealCock 2 Dirk slides in easily with water-based lubricant. Make sure you're warmed up though; even the tapered head is large enough to jolt you to attention. As it slides in, you're able to feel the spongy coronal ridge; like with a real penis, this works to add extra stimulation to the G-spot.
As with any large dildo, this toy is super filling. It seems to take up every available space inside me, and I certainly cannot fit the whole length. The shaft has the slightest bit of curve to it, which gives the G-spot some extra oomph. And it feels fantastic. My vagina is easily pleased, but even my vagina can tell that this toy is top-notch.
Does it feel real?
So this looks the part of a real penis; does it feel like one too? Well, in the 30+ dildos I've reviewed, the RealCock 2 Dirk comes the closest to the sensation of a real penis. During thrusts, I can mildly feel the movable shaft skin. Though it's subtle, it reminds me of skin and it's another ingredient that adds to the whole realism experience. The soft head cushions the thrusts against my cervix and, when I reach down to grab the base with my hand, my fingers can feel those two dorsal veins. And those testicles: having floating testicles to massage definitely brings things to another level during play.
Another thing to note is the flexibility of the shaft. Although there's a firm inner core, there is some natural bend and movement to the shaft itself. During thrusts, the shaft subtly bends with movement in a life-like manner.
FtM Appeal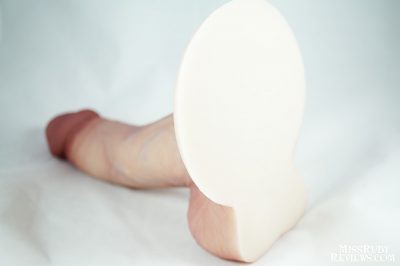 I first heard about the RealDoll RealCock 2 Dirk when a reader emailed to ask if I could review an FtM (female to male) prosthetic. He listed several brands and explained that they're all pricey and it's difficult to know which one to go with because there are few online reviews.
Out of the brands he listed, I was most interested to try the RealCock 2 Dirk . Although my own interest lies in this as a realistic dildo, this product can also be worn as an FtM prosthetic. One reason being that, obviously, this is an extremely realistic and lifelike product, much more so than most standard "realistic" silicone dildos. Plus, unlike most dildos, this comes with a built-in pubic mound. The mound itself is dual-density: a soft, squishy layer lies on top of a firm inner core. This firm inner core works as a solid platform for the hugeness of the shaft itself. This platform can be held against your own pubic bone using a prosthetic adhesive (make sure it's bodysafe and silicone safe). You might be able to even use a 2″ O-ring harness, but the testicles make it near impossible to be sturdy.
I've used an O-ring harness to wear dildos like the Tantus Pack 'n Play, which just has a circular disc base. In comparison, the extended pubic mound here feels more secure and comfortable. It also feels more enveloping. If, for instance, your RealCock 2 Dirk was poking through the unzipped opening of a pair of jeans, the surrounding mound gives a more seamless, organic look than a smaller base.
Update 2018: RealDoll has just released the RealCock2 Rockwell which is purposefully strap-on and suction cup compatible.
Update 2020: All RealCock 2 dildos now come with a hole in the base to make them Vac-U-Lock compatible! 
If you're interested in the RealCock 2 Dirk as an FtM prosthetic, one word of warning: heed the sizing. This product is huge. I don't think there'll be a comfortable way to pack this, let alone a way to pack this discreetly. When wearing this, you'll have a giant, realistic erection, which you might feel will limit its use (or not…). If you don't intend to use this to pack discreetly, this is one super realistic prosthetic (especially the testicles).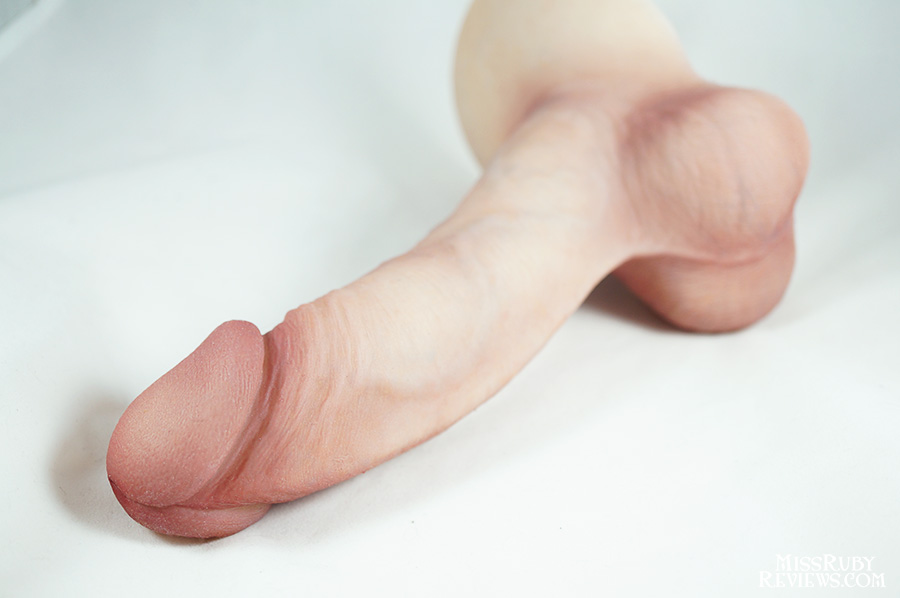 RealDoll RealCock 2 Dirk Review – Overall
The RealDoll RealCock 2 Dirk is the most realistic dildo I've ever come across, both visually and sensation-wise. It sets itself apart with its moveable shaft, individual floating testicles, and incredible shading and detail. During use as a dildo, visual realism goes a long way to speed up arousal, and the physical attention to detail enhances G-spot pleasure. For FtM people looking for a prosthetic, the RealCock 2 Dirk can give an impressive realistic erection.
To buy the RealDoll RealCock 2 Dirk, head on over to RealDoll USA.
See below for my RealDoll RealCock 2 Dirk review summary!