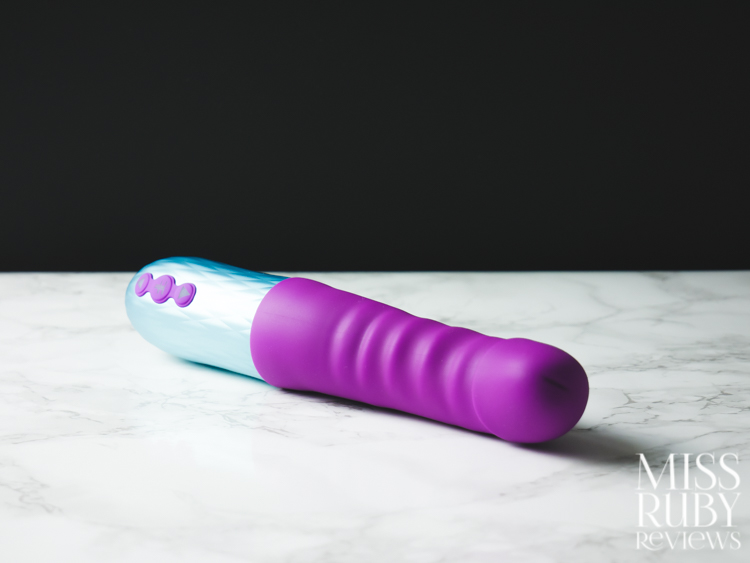 It's 2020, and the automation of sex toys is happenin'! Read on for my FemmeFunn Cadenza review!

Design | Accessibility | How to Use | Packaging | Material and Care | My Experience | Overall
Design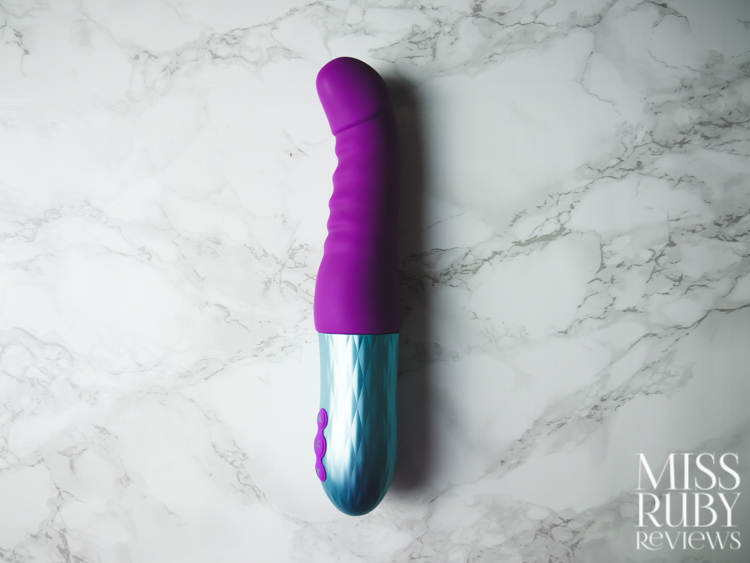 The FemmeFunn Cadenza Thrusting Dildo is a new model in FemmeFunn's line of self-thrusting toys. I love this brand because they've already created some of my bedside table regulars like the Ultra Bullet, the Ultra Wand, and a self-thrusting rabbit.
I reviewed the rabbit version (the FemmeFunn Essenza) earlier this year and adored it. Rabbits aren't for everyone, though, so I was thrilled to see them coming out with a single-shafted G-spot edition.
Unlike most G-spot dildos, the FemmeFunn Cadenza's shaft thrusts by itself. This is a complicated mechanic to pull off and comes with a hefty price tag. While the market for this genre of toys used to be dominated by Fun Factory's Stronic toys, FemmeFunn is giving them a run for their money.
To show you what I mean, check out the FemmeFunn Cadenza Thrusting Dildo's self-thrusting modes in action below:
In terms of design, the FemmeFunn Cadenza slightly reminds me of the Fun Factory Stronic Real. The shaft is also 5.5 inches long in insertable length, and also features a delicate coronal ridge.
But the FemmeFunn Cadenza adds a small urethral dent for added realism, plus a delicious curve at the head. This curved shape goes a long way in helping it target the G-spot.
The FemmeFunn Cadenza also has 8 bumpy ridges along the top of the shaft. These are meant to bump along your G-spot during thrusts, increasing sensation and pleasure.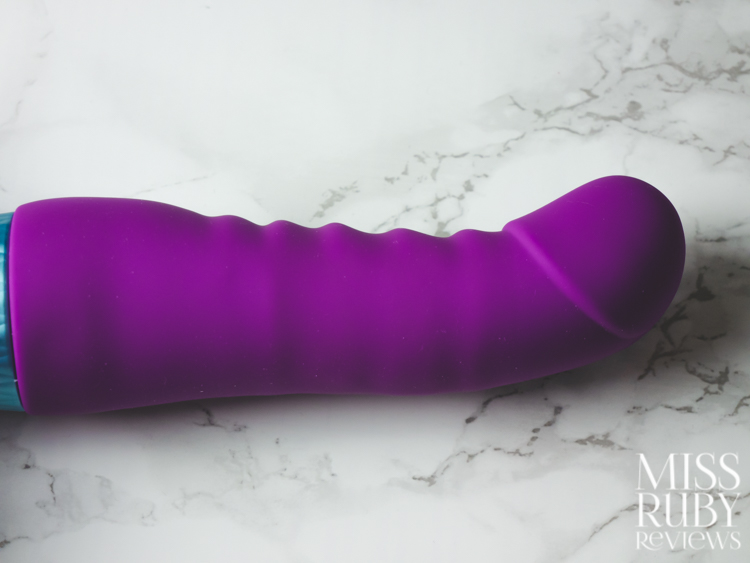 The FemmeFunn Cadenza only comes in one colour: this shade of violet purple. It's tricky to photography purple. These pictures give a pretty close representation, but in person it's slightly lighter and less saturated.
This shade is honestly probably my least favourite sex toy colour out there, but sex toy companies keep pushing out purple toys because it sells. It would have been great if FemmeFunn offered more colour options to suit more personality types.
Accessibility
This section is to help folks determine if they might have any issues using/accessing this toy.
Size/Weight: The FemmeFunn Cadenza is about 9 inches long (total), 5.5 inches insertable, and 1.2 inches wide at the head. It's a moderately heavy toy (about 390 grams).
Design texture: If you have visual difficulties, you will be able to feel the textured bumps along the shaft, a mild coronal ridge, and a faint urethral dent.
Buttons: The three control buttons are located on the handle. The buttons are made from a hard, silky silicone. They require moderate pressure to press down and make a quiet click noise. The buttons are about 0.9cm and 1.1 cm wide, and spaced only 3 mm apart. They're about 1mm tall.
Handle buzz: There's no vibrating motor, but the back and forth movement of the shaft does make the handle rumble a bit.
Other notes: The buttons aren't textured with the signs so, if you have visual difficulties, the button closest to the bottom of the base is the decrease button, followed by the power button and then the increase button. The two metal charging pins are very hard to feel with your hands; they're located at the very tippy end of the bottom of the handle.
Price: At $187 USD, this is in the standard price range for self-thrusting toys.
How to Use the FemmeFunn Cadenza Thrusting Dildo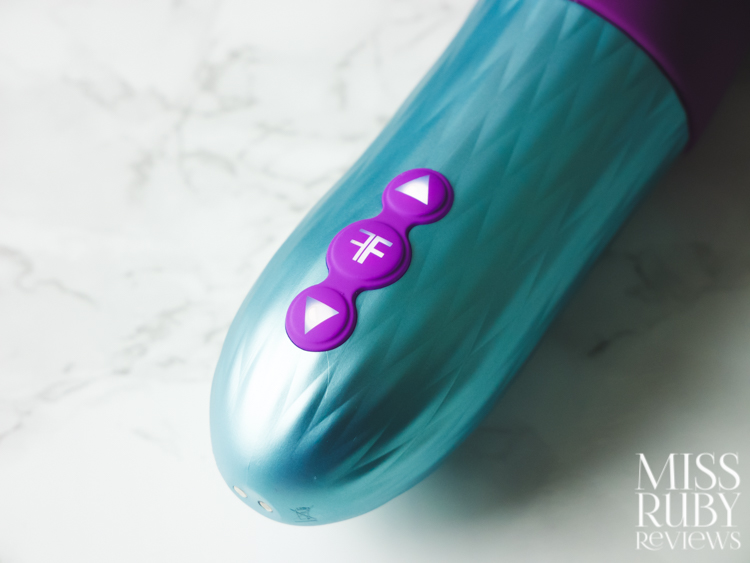 Turn on the FemmeFunn Cadenza by pressing the ꟻF button for 3 seconds. It'll now be in Standby mode.
To activate thrusting, tap the ⯅ arrow button.
Insert the FemmeFunn Cadenza and enjoy it. FemmeFunn's user manual says they only recommend this for external use, which makes no sense because this is a G-spot toy. I will note that, because it doesn't have a flared base, this shouldn't be used anally.
There are 7 thrusting speeds. To increase, keep tapping the ⯅ button, or press the ⯆ button to decrease speed.
To turn the toy off, press the ꟻF button for 3 seconds.
Packaging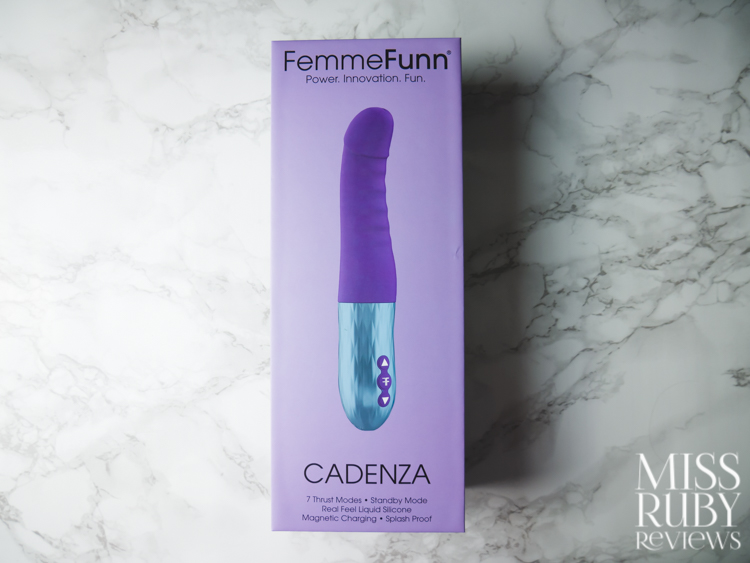 The FemmeFunn Cadenza comes packaged in a pastel purple box. The box is sturdy and feels good quality.
Inside the box, you receive the Cadenza, a USB charging cable, and a user manual.
There isn't any storage pouch included. If you'd like a pouch, consider adding something like this to your shopping cart.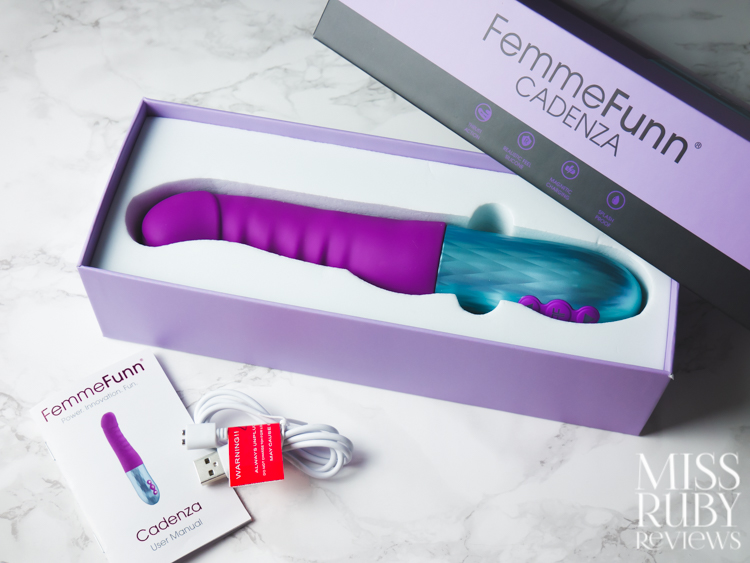 Material and Care
The FemmeFunn Cadenza's body is coated with silky smooth silicone. This makes it bodysafe (non-porous, non-toxic, free of phthalates). The handle of the toy is made of ABS plastic, another good material.
The Cadenza is only splashproof, not fully submersible/waterproof, so be careful while cleaning. FemmeFunn recommends using a dedicated sex toy cleaner and then rinsing it with warm water afterwards. Getting the silver portion damp hasn't caused any problems for me, but be sure to not submerge it.
I really recommend you use lubricant with this toy — you want plenty of lube for that thrusting motion. Because this is a silicone toy, you'll want to choose a good quality water-based lube like my favourite basic Sliquid H2O or vegan Wicked Simply Aqua.
To charge, connect the magnetic charging cable (included) to the metal pins at the very base of the toy. Plug the other end into your computer or a USB wall adaptor. While charging, LED lights will blink. Disconnect the charger when the toy is fully charged. A full charge takes about 4 hours, and you'll get up to 50 minutes of playtime with that. It's not a great charge-to-play ratio. I found that the shelf life of the charged battery of FemmeFunn's toys is really good though (as in, you can keep it for months on your shelf and the battery won't self-drain).
The FemmeFunn Cadenza comes with a 1-year manufacturer's warranty for defects. See the user manual for details.
My Experience with the FemmeFunn Cadenza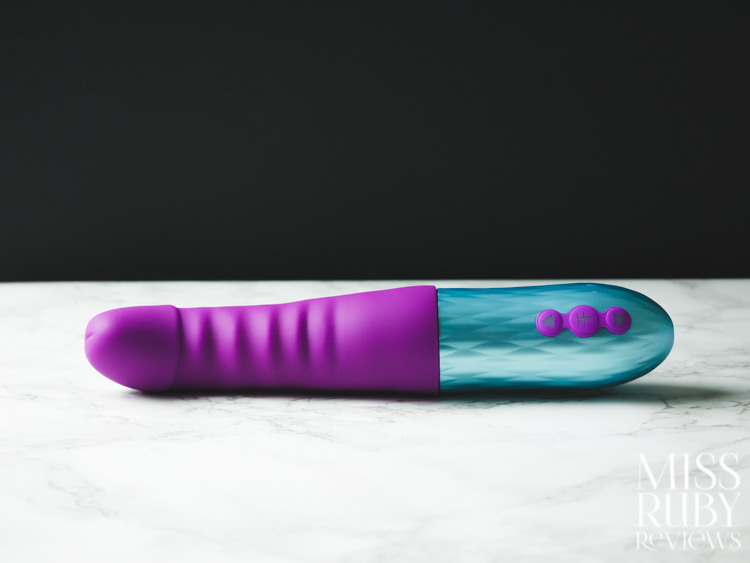 When it comes to sex toys, I tend to be a bit lazy — I love it when sex toys can do the work for me. Dildos are fun and necessary and usually more affordable, but self-thrusting dildos are soooo luxurious. It's 2020, and the automation of sex toys is the future. Even though I've now tested 8 toys with a self-thrusting function, it never loses its novelty.
Like I found with the rabbit FemmeFunn Essenza, the new FemmeFunn Cadenza delivers satisfying hands-free pleasure.
The thrusts are short, determined, and ramp-up to a truly frantic speed. After I've inserted it, I can hold it in place with my thighs (or a pillow) and focus on using one of my favourite clitoral toys (like this or this one) to get to orgasm.
The curved shaft definitely helps. The G-spot is tucked away and (for many people) quite shy at first, so the curve at the head goes a long way in helping locate and massage it. While my walls can't pick up the texture of the delicate coronal ridge, I can definitely feel the bumpy ridges along the shaft, and they feel just lovely. To keep things gliding, you'll definitely need to add lots of water-based lubricant like I did, otherwise the bumpy ridges will slow down the thrusts.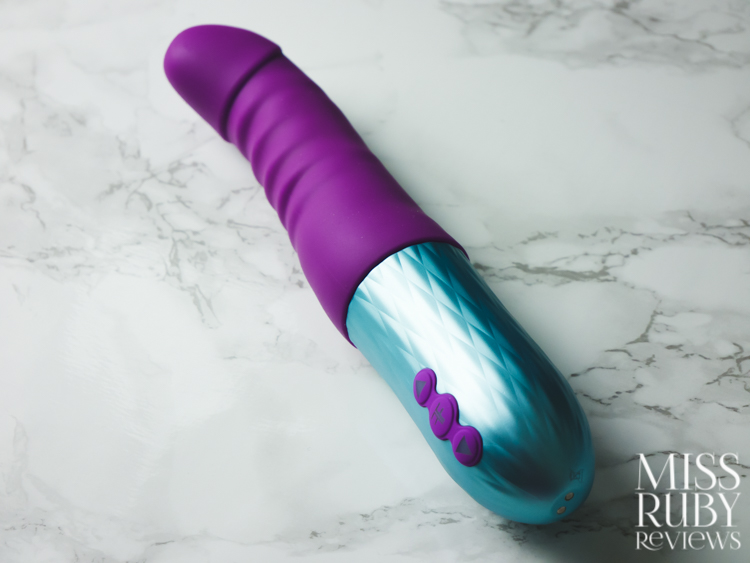 One thing I found was (when going hands-free) that I really needed to try my best not to squeeze too tightly. If you squeeze too hard, you'll basically make the shaft stay still and the handle thrust away outside of your body. So warming up, lubing up, and staying relaxed goes a long way.
While it's certainly pleasurable to use this toy, one issue I have is with the depth/length of the thrusts themselves (ie, the forward motion length of each thrust). It's not stated anywhere, so I awkwardly measured them with a ruler. The FemmeFunn Cadenza thrusts with a depth of about 0.5 cm.
This is shorter than the rabbit version, the FemmeFunn Essenza, which thrusts at a depth about 0.75 cm.
And the Cadenza's movements are totally dwarfed by another thrusting dildo out there: the Maia Max (review will be coming later this year).
The Maia Max doesn't have the Cadenza's curved shaft or petite body, but it thrusts at a depth of about 1.5 inches of forward movement! When we compare it to the Cadenza's 0.5 cm forward movement, the Cadenza is looking a little sad.
The Maia Max is also cheaper (reg $109 USD) versus the Cadenza's $187 USD price tag, plus comes with a detachable, multi-angle suction cup. Simply put, it offers users a deeper, longer thrust than the Cadenza can.
The FemmeFunn Cadenza is MUCH more portable though (petite and compact), and has that lovely curved shaft, so I can see why many people will still want to buy it over the Maia Max.
FemmeFunn Cadenza Review – Overall Thoughts
The FemmeFunn Cadenza has some great features — it's a self-thrusting dildo with a beautifully curved shaft, a <$200 price tag, a semi-realistic design and a battery with a great shelf life.
It's pricier and has shallower thrusts than a competitor (the Maia Max), so depending on your budget you may want to look into that one instead. But I love the Cadenza's beautifully compact and portable design, and I think it's nonetheless a good purchase.
If you'd like a FemmeFunn Cadenza Thrusting Dildo of your own, you can pick up one here! Why do I like Peepshow Toys? They ship internationally, only carry body-safe products, and you can get a 10% discount off your whole purchase with coupon code RUBY. 

See below for my FemmeFunn Cadenza review breakdown.
FemmeFunn Cadenza Thrusting Dildo review summary
Overall thoughts - 8
8
$187
PROS
Self-thrusts!
Thrusts quickly
Bodysafe
Splashproof and rechargeable
CONS
Very shallow thrusts
Less expensive alternative available
Not fully waterproof
Long charge-to-playtime ratio
Only 1 colour option
Shop Now

Last Updated on March 18, 2023 by Miss Ruby