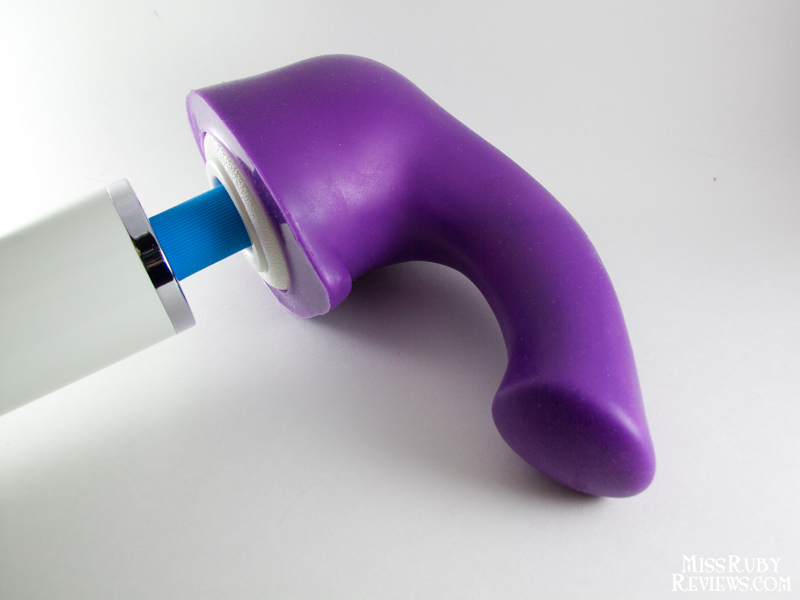 No, it's not a purple prosthetic nose. Though, I guess it could double as one…?
Physical Details | Material and Care | Shipping and Packaging | My Experience | Overall
Physical Details
It's no secret that I love my Magic Wand Original. It's not perfect, as it has a porous vinyl head, but Good Vibrations fixed that for me when they sent me the pop tops silicone attachments for review. At the same time, they sent me this lovely little attachment, which turns the wand-style clitoral vibrator into a G-spot and anal vibrator.
The Pop Tops Deluxe Silicone G-spotter slips on the head of the Magic Wand to increase its versatility. Instead of being confined to clitoral stimulation, this attachment harnesses the Magic Wand's power into an internal vibrator. Voila! It's like magic.
Of course, you don't only have to use the Magic Wand Original or Rechargeable with it. I tried to fit it on my LELO Smart Wand Large, and it fit just fine. For the purposes of this review, however, I'll be basing my experiences with this attachment as it pertains to the Magic Wand Original.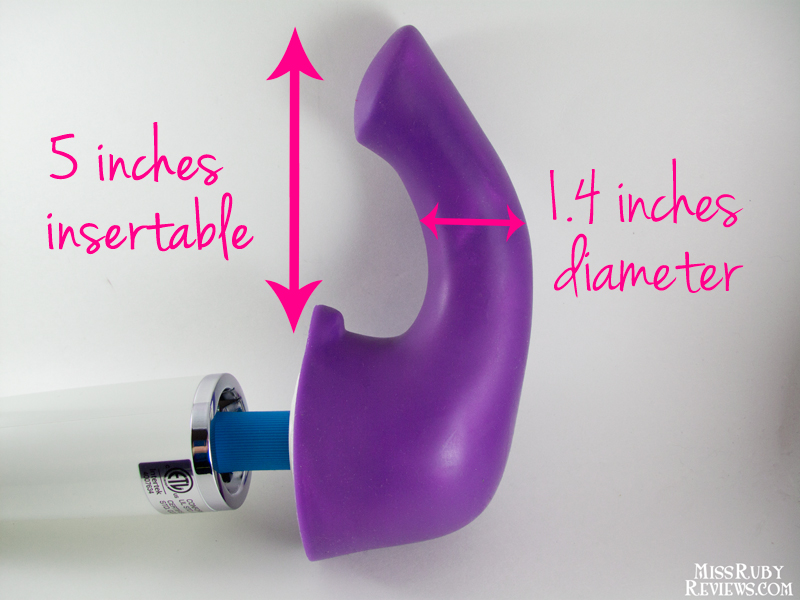 The Pop Tops Deluxe Silicone G-spotter isn't huge. It has a modest 5 inches of insertable length and 1.4 inches of diameter. But what makes this shape spectacular, of course, is that curve. To be easily stimulated, the G-spot requires curve, and this attachment doesn't disappoint. The hooked end with its flat tip reminds me somewhat of a bulky LELO Ella, which is a good thing. This shape does a great job of targeting your G-spot.
G-spot stimulation isn't all it offers, though. See that little nubby bit (pointed below)? That's meant to jut out to target your clitoris, giving you a rabbit-like stimulation. Unfortunately (as with all rabbit vibes), this isn't a one-size-fits-all design. For people whose clitoris is further than 1 inch away from their vaginal opening, this nubby bit will be rather useless. My C-V distance is around 2 inches, so I can't enjoy this part of the toy. This isn't a huge loss for me, however, as I wanted this attachment primarily for G-spot use, not clitoral.
I was surprised to find that this attachment is actually pretty bendy. The curved shaft isn't rigid like many G-spot simulators. Instead, it can be squished and bend easily.
How do I put on the Pop Tops Deluxe Silicone G-spotter? How do I get it off?
Hold the magic wand upright between your thighs so that the head is facing you.
Then pull the mouth of the attachment open with both of your hands to get it as wide as possible, then place on the Magic Wand.
Gently press down on the top of your head with the flat of the hand to push the attachment further onto the head.
Pull the sides bit-by-bit until the ends of them are over the Magic Wand head and there's no empty space inside on the top.
To take off, curl the sides upwards (as if you're rolling up a sleeve), and then wiggle it off.
One thing to note, however is that putting this attachment on your Magic Wand will make your Magic Wand louder. The sound is probably knocked up by 20% or 30% (and the Magic Wand is already pretty loud).
Material and Care
One of the great things about this attachment is that it's silicone. So many Magic Wand attachments aren't made from silicone (but rather PVC or TPR or something else you don't want in your body).
Silicone is fantastic because (a) it's non-toxic and (b) it's non-porous. Because it's non-porous, you can use this hygienically over and over again, granted you clean it appropriately. You can even use it anally as well as vaginally, or share it between partners, but you must sanitize it before transferring.
For everyday cleaning, I simply wash mine in warm soapy water. To sanitize your toy (ie, after anal use, for shared use), I recommend wiping it down with a 10% bleach solution (followed by water rinsing). Alternatively, you can chuck it in boiling water for 10 minutes.
My Experience
I'm one of those unfortunate people who can't seem to orgasm via G-spot stimulation alone. Despite this, I love G-spot stimulation, and I was keen to experience a G-spot toy that harnessed the power of the Magic Wand.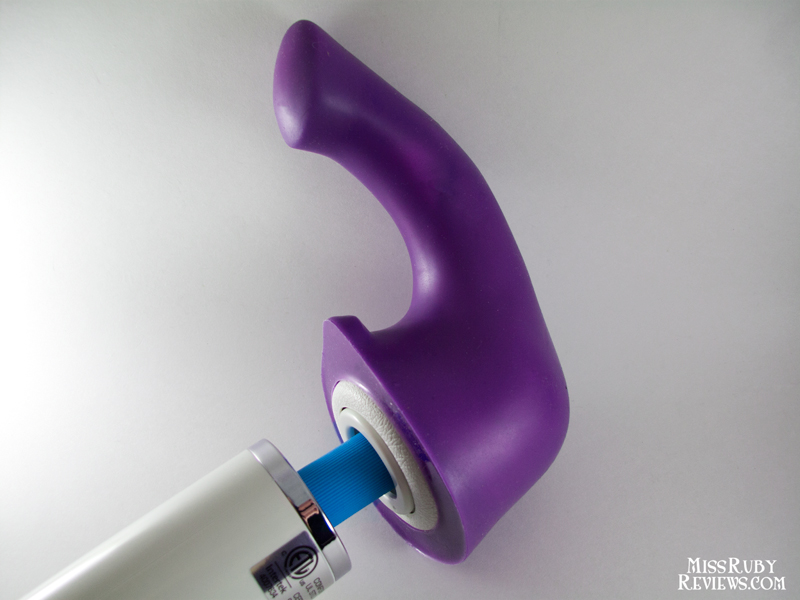 I originally had doubts that those Magic Wand vibrations would transfer well, all the way up the length of the shaft. I was wrong. I really feel those vibrations. The majority of them focus on the flat tip of the shaft, meaning that if I'm not up for G-spot stimulation, I can get some preeeettty nice pin-point clitoral stimulation. But in terms of G-spot stim, I do find it immediately stimulating. I don't even need to turn the Magic Wand to its highest level – the low level does fine, thanks to the fantastic vibration transfer.
Since I've started using this attachment, I've found that the best way (for me) to use it is just to insert, switch on, and then squeeze it with my Kegels or gently rock it side to side (all while using a good clitoral vibrator). This has proved to be a pretty speedy way to orgasm, because once that hooked shaft falls into the correct place, it immediately heightens my clitoral orgasms.  In short, props to Pleasure Works: that shape really works for me.
What doesn't work, however, is any sort of thrusting. The Magic Wand is huge, heavy, and clunky. It's not the most nimble toy in the box, and trying to wield it for G-spot stimulation is no different. Trying to hold it up and thrust it tires me out pretty quickly. This issue is compounded by that the shaft of the G-spotter is, again, quite bendy, so even when I do get a few good thrusts in there, the attachment isn't a perfectly rigid tool to press up against my G-spot. The G-spot is just behind the vaginal wall, which is why you need to use a lot of pressure, and I just can't get that from this toy.
In short, this attachment's strength is not in thrusting. Instead, it's in its ability to transfer those vibrations. Once it's inside of me, I can get really pleasurable stimulation: I just let it do its own thing.
Overall
Despite a couple of shortcomings, I think the Pop Tops Deluxe Silicone G-spotter is a great buy. It increases the Magic Wand's (or any wand with a similar-sized head) capabilities, allowing you to move things to internal pleasure. I find it difficult and impractical for thrusting, but I really enjoy just inserting it and turning it on – its shape and excellent ability to transfer vibrations makes for a great play session.
Last Updated on March 14, 2020 by Miss Ruby