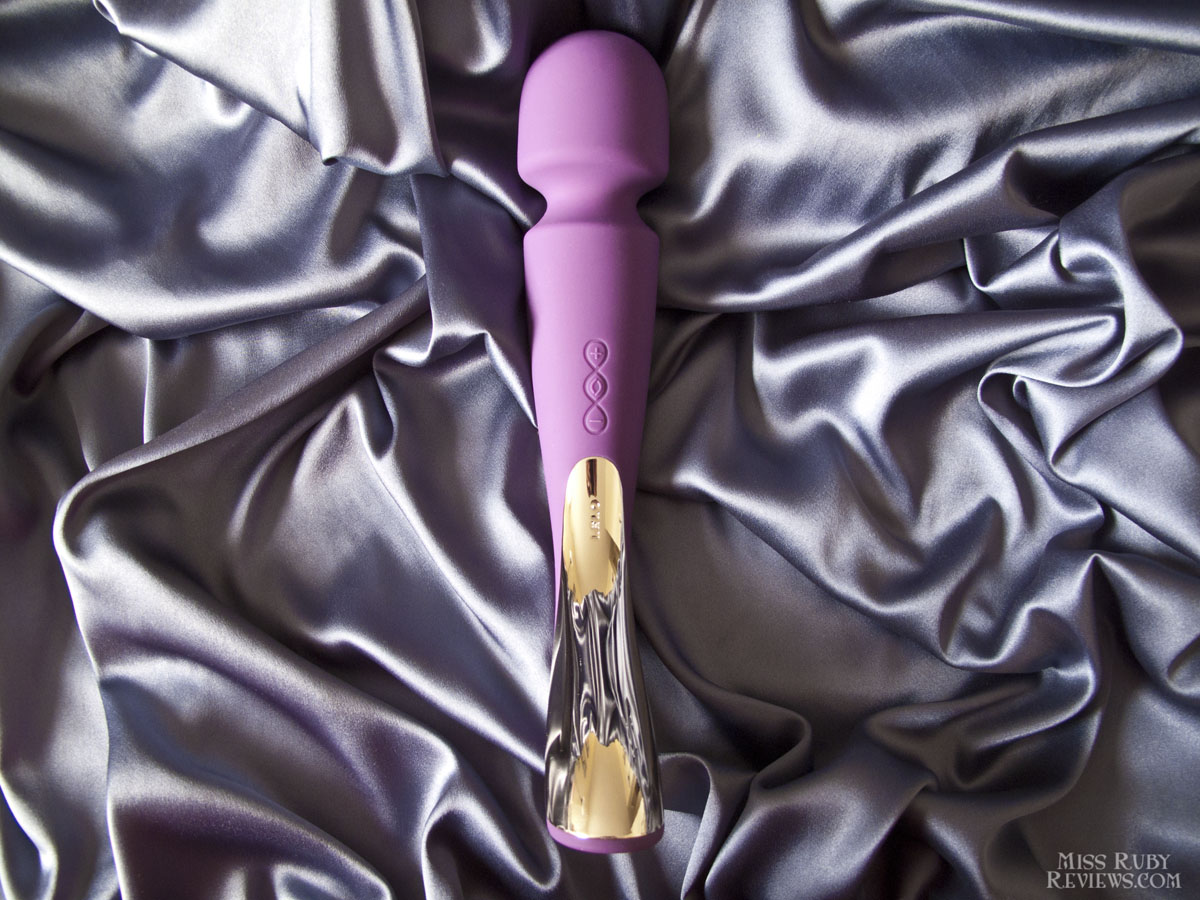 Update: This product has been replaced with the LELO Smart Wand 2. 
I'd be so much happier with this wand if it had a satin bag and no fancy SenseTouch Technology.
About | Physical Details| My Experience | Overall
Physical Details
While there's always something cute and lovable about small vibrators, the LELO Smart Wand has given me a new appreciation for large vibrators. Large things are sexy, and there's something deeply satisfying about holding this foot-long luxury vibe and thinking, "Yup…ALL of this is for my tiny clit." It's big, it's weighty, and it's hard to resist the temptation to brandish it like a club. I'd still call it elegant though, which is an impressive feat for something so large. It's sleek and streamlined, something that LELO always excels in.
While the person-in-spa-towel packaging may try to imply that this is merely an innocent back massager, anyone who has seen variations of the Magic/Hitachi Wand will recognize this as a sex toy. LELO's Smart Wand certainly does change the game with the curved handle though. Generally, massage wand handles are straight (making if difficult to actually reach your back with), but this wand's curved handle makes this quite usable for back massages. If that is why you want this toy. But I'm guessing that you're more interested in its orgasm potential.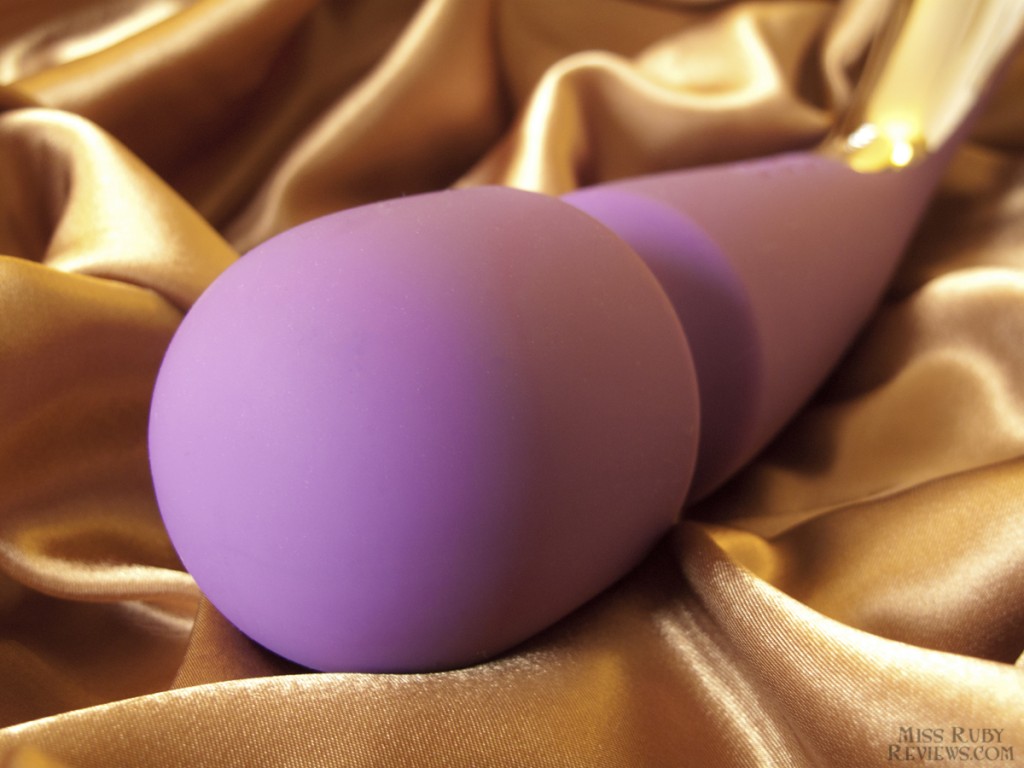 For those of you that were hoping that the LELO Smart Wand has miserably poor vibrations so that you aren't forced to buy it, I'm going to disappoint you. The Smart Wand is powerful. It's the first wand I've ever owned, so I can't compare it to the legendary corded Hitachi Wand, but it is much more powerful than I was expecting. I've heard that the medium size isn't as powerful as the large, so keep this in mind when shopping.
The lowest steady vibration speed is a lovely low rumble. It sounds like my cat purring (almost exactly the same sound, it's kind of weird). During the first few speed levels, things ramp up and the deeply resonating rumbles grow more powerful. But, by the higher speeds, the powerful rumbles start to err on the buzzy side. They're still rumbly, but they definitely have a bit of buzz in there. There are also the 8 standard LELO pattern modes, such as steady rhythmic beats and the roller-coaster.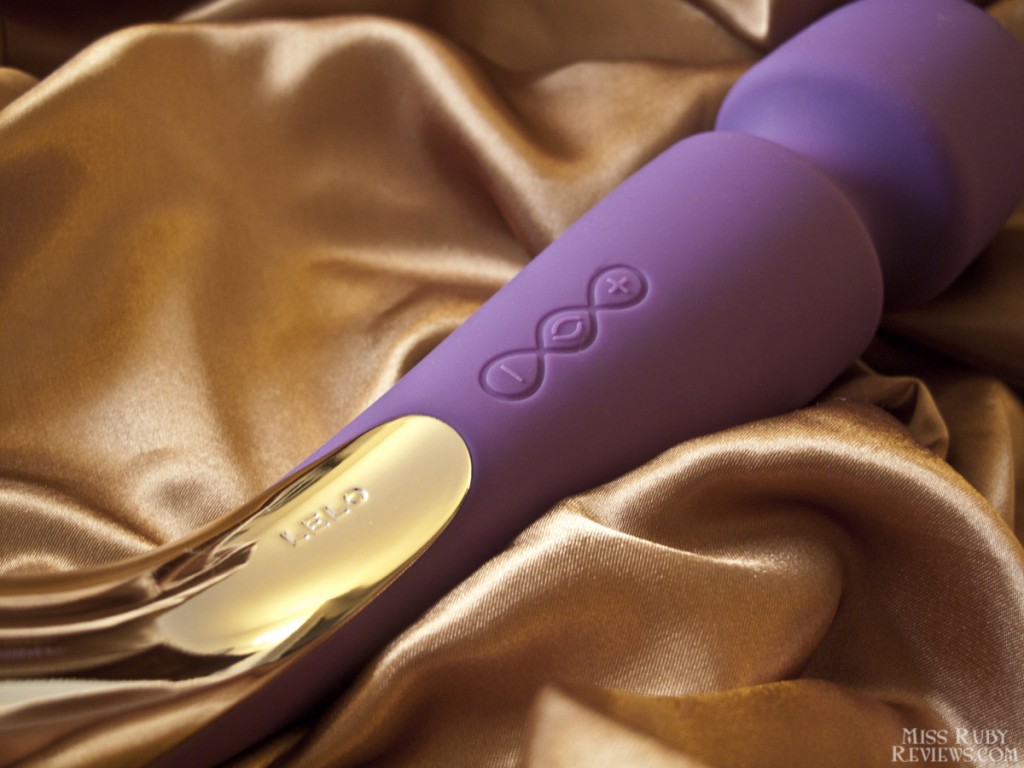 This wand is fairly quiet. The first five-speed modes are very quiet and the last three are noisier. It can't be heard through walls, even at the higher-frequency buzzy pitches. It doesn't hurt that the Smart Wand is also rechargeable and waterproof. And its silicone finish feels like heaven.
What sets the Smart Wand apart from other wands is its SenseTouch technology. I'll explain my experience with this in just a moment. Basically, the SenseTouch technology refers to the mode where the wand will rumble softly until the massage head is pressed against skin, at which point the vibrations are supposed to proportionally increase depending on how hard it is pressed against the skin. Though the mode is only supposed to be activated when you press the middle button for 5 seconds, I've noticed that this is a bit glitchy; it often seems to turn itself on when I haven't been messing around with the buttons at all.
My Experience with the LELO Smart Wand
When I first opened the LELO white box, I noticed a very strong chemical scent. The scent came from a lovely black neoprene bag (pictured below) which is supposed to be the wand's cozy home in between uses.
This wouldn't usually be an issue for me. Usually, I'd just toss the offending bag away and get straight to my vibe. However, when I tried to use the wand later that night, I realized that the wand was drenched in this chemical smell. I'm not used to silicone absorbing smells, so I wasn't super happy about this. I washed it. Didn't help. Washed again. No change. Frustrated, I decided to just use the wand under the covers. Minutes later, I got an asthma attack from the chemical scent.  This marked the first time I got an asthma attack from a sex toy, so that was surprising. I also got dizzy and started getting a headache. In short, this was no mild aroma.
So my first night with the wand wasn't very successful. I put the bag and the wand in a different room in front of an open window for a couple of days, which really helped the wand, but the bag is still smelly. I will probably throw the bag away. I'm explaining this so that other customers with asthma (even asthma as mild as mine) can be warned to air out the wand before use. I really wish LELO just stuck to the lovely satin bags that I've grown to love (and expect) from LELO products. LELO, please use satin next time!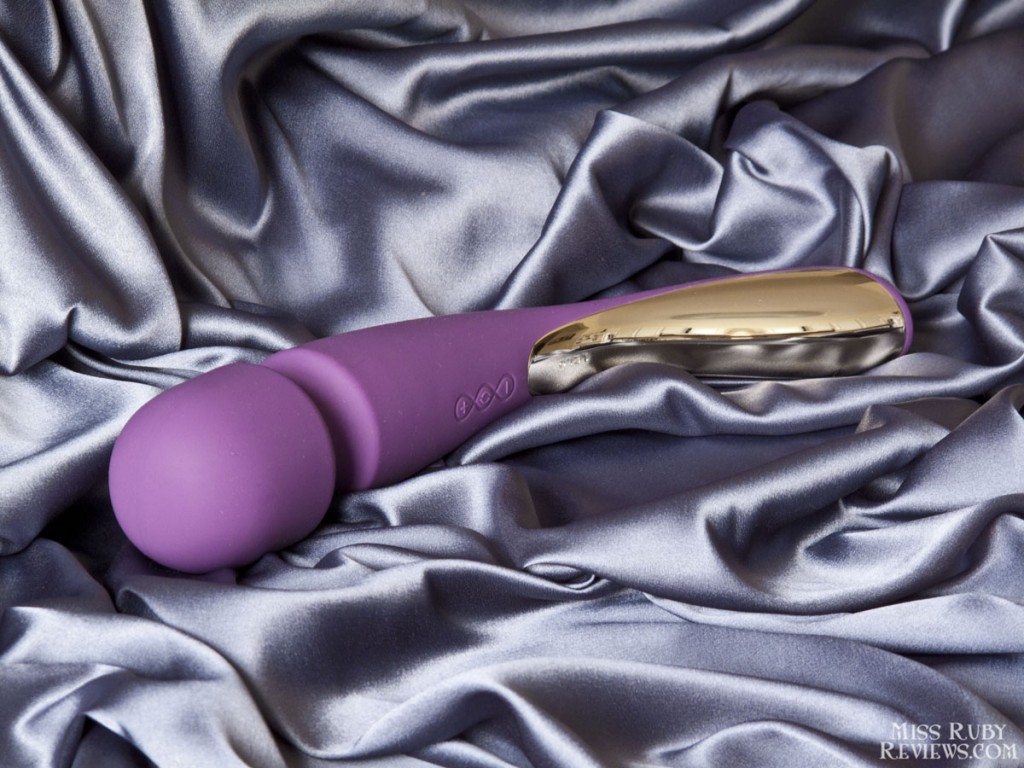 Now for the actual Smart Wand use.
The good
This wand can be really fun to use. The rumbly speeds make your whole vulva vibrate, which makes for a great warm up. It's luxurious,  feels lovely to touch, and I can take it in the shower. The charge also seems very respectable – it hasn't unexpectedly died on me yet. I've found that using this toy for a few minutes very quickly gets me turned on and ready for orgasm.
But things go downhill from there.
Issues
The main issue comes from my experience with the SenseTouch technology. The SenseTouch technology behaves itself as long as the wand is held mostly upright. But the moment the head is facing downwards (ie, when I'm on my back and using this on myself), the SenseTouch technology springs to life by itself. Not always, mind you. It seems very random. It goes from a lovely low rumble when it's not touching anything to a full blast buzzy power mode after ~2 seconds of touching my clitoris.
This sudden shift in sensation makes me flinch in discomfort and pull away. I really wish the Smart Wand didn't have the SenseTouch technology for this reason. It would be a neat feature if it behaved itself and only turned on when I turned it on (by pressing the middle button for 5 seconds). But because it does its own thing, I personally find it unreliable and unpredictable. This makes me cautious and untrusting during playtime, something I don't really want to think about.
Another issue I've noticed is that the stimulation type is too broad for my clitoris. Apparently, I need pin-point stimulation, something I wasn't aware of before trying this wand. If you don't particularly need pinpoint stimulation, however, you will probably enjoy the broad-surface vibrations this wand will give you. I have heard that this wand can fit the Hitachi Wand's attachments, and that is something I'll look into for myself.
Pleasurable?
Because of these issues, the wand has only managed to get me to orgasm once out of 5+ sessions.  I think a lot of this misfortune is circumstantial. If it wasn't for my asthma, that overpowering chemical scent might have been no more than a mild annoyance. If I didn't need pinpoint stimulation, I think this wand would have the potential to give me mad orgasms with its rumbly motor.
But I can't really imagine the SenseTouch technology working for clitoral stimulation for me in its current unreliable/unpredictable state.
On a sidenote, this wand is amazing for back massages. Since getting it, I've used it more for back massages than I have for orgasms. The SenseTouch technology really excels on your back, giving you a rich variety of light massage and deep-tissue massage. I keep it on my desk and give myself shoulder massages when I'm feeling stiff. Because of the curved handle, it's also very easy to use on my own back.
Overall
TheLELO Smart Wand (Large) is a luxurious treat, but one that has perhaps caused more distress than pleasure. I can forgive the wand for not providing me with the pinpoint stimulation I need. After all, it clearly isn't made for that, and it will please so many people who love broad stimulation. But I cannot shrug off the unpredictable SenseTouch technology that has caused more discomfort than happiness.
LELO, I love you guys, and you've created a luxurious, beautiful, sleek and powerful wand here…but it would be absolutely lovely if this wand had its usual satin bag and no SenseTouch technology.
Update: This product has been replaced with the LELO Smart Wand 2.