A must-have accessory for any Magic Wand owner.
What are these?
The Pleasure Works Silicone Pop Tops seem to have been made especially for me. They're a set of 100% silicone attachments for the vinyl Magic Wand Original's head. They slip over the Magic Wand's head (and, indeed, any wand that'll fit it), providing you with a non-porous and totally hygienic experience. After use, they snap off the head again. So instead of battling to wash your non-splashproof wand, you can wash these heads individually. What's more, they're cheap. Silicone is an infamously expensive material to buy in, but each of these only costs $22. I've seen silicone attachments go upwards of $70.
Why would I need one?
When I first received my Magic Wand Original (I ranted about how great it is here in my review), I immediately wanted an attachment for the head. The Magic Wand Original (which is pretty much the best thing $60 will ever buy you) comes with a white vinyl head, one that's porous and extremely difficult to clean.
Because you can't get the Magic Wand Original anywhere near water, and because its white head doesn't snap off to allow for easy cleaning, you're reduced to carefully wiping the head before and after each use with a damp cloth. Even doing so, you aren't guaranteed a 100% hygenic experience, because bacteria and germs can grow within its micro-pores.
Now, I treat my Magic Wand like gold. But, despite faithfully and carefully cleaning it, I'm uneasy using it right against my skin because of its porosity, and I've already noticed a couple of spots that won't go away. Heaven forbid I use it during my period…I've heard those stains just won't go. Vinyl isn't the most friendly material for on-skin contact over time.
In short, my magical Magic Wand isn't without annoyances. Hence my need for one of these.
So, what if I own the Magic Wand Rechargeable?
You might think that you don't need one of these because you have the Magic Wand Rechargeable. After all, this new and upgraded version comes with a silicone head, one that's non-porous and won't stain over time. Now, if you skipped the Magic Wand Original and upgraded to the Magic Wand Rechargeable, you can still use one of these. The new Magic Wand Rechargeable also can't be near water, so you still have to use the wipe-to-clean method. Yes, it's more hygienic because it's not porous anymore, but you can't wash it under a tap. You also don't get any of the textures, which I'll go into below.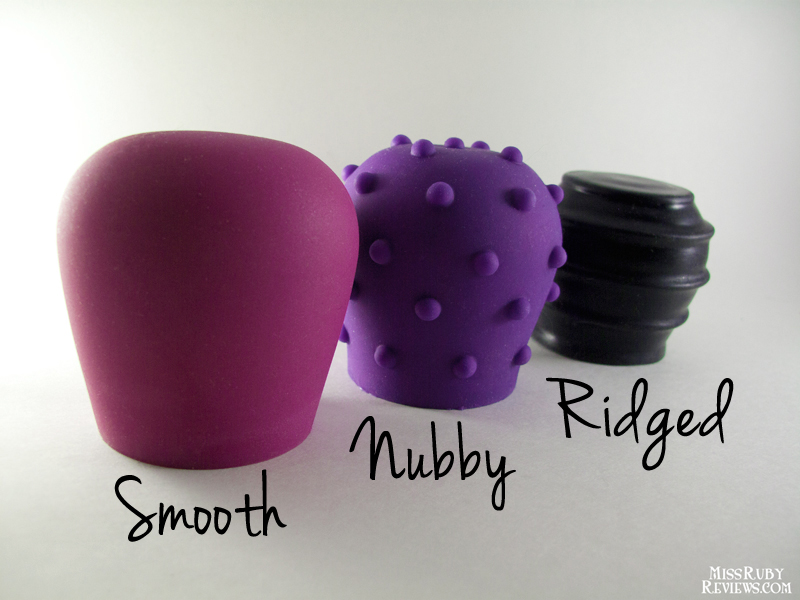 Attachment #1: Smooth
True to its name, this attachment is completely smooth, providing you with a totally non-textured experience. I was most interested to get the Smooth attachment because I'm so happy with the way the actual head on the Magic Wand performs. When it comes to internal stimulation, I don't always love texture, and I assumed that I'd feel the same way about clitoral stimulation, hence why I wanted this one first.
The Smooth attachment is around 1cm thick. The top layer seems a bit thicker, as it actually makes the whole head taller and more rectangular than it originally is. It comes in this rich, purply-pinkish tone.
Because you're covering the original head with a slab of silicone, it's expected that there will be some reduction in the power/intensity of the vibrations. But this doesn't make me freak out, even if I am a power queen. Because the Magic Wand is the strongest tool in my arsenal of sex toys, any reduction in intensity doesn't render the Magic Wand useless. Even with the attachments on, it's still the strongest vibrator I own.
With the smooth attachment, there's perhaps about a 15% reduction in vibration intensity. The vibrations are focused much the same as they would be without it: on the top flat surface of the head.
What's more, this silicone is slightly squishy, so you'll find it a bit more comfortable than the original hard vinyl head. For clitoris-owners who find the Magic Wand's head to be just a bit too hard for them, but want to retain the smooth and texture-less feeling of the original head, the Smooth Pop Top is your best bet.
Attachment #2: Nubby
Even though I generally don't like texture, I was excited to try the Nubby. The closest thing to this texture I've experienced was when I reviewed the Jopen Key Charms Lace Vibe, which was covered in similar little nubs. I loved the nubs then, so I was itching to try out this one.
The Nubby attachment is covered with little half-spheres. While the strongest vibrations are still felt at the flat surface of the top of the head, some of the vibrations are focused into these little nubs. As someone with a clitoris that loves pin-point stimulation, these are great: each little nub becomes a pin-point stimulator.
My favourite way to use this attachment is to align a nub directly over my clitoris and press it against me, giving me a pin-point and pressured feeling (which, coincidentally, is a sure-fire way to get me to orgasm). There's still about a 15% reduction in overall intensity because the sides of the walls are also around 1.0 cm thick, but this doesn't deter me. So if you're looking for something that'll provide you with some pin-point stimulation with a bit of muffled vibrations, this might be your best choice.
Attachment #3: Ridged
Okay, so it may remind me of a car tire, but this one is my favourite.
The Ridged attachment is coated in pointy, raised bands. Only the top is free of these textured bands.  Overall, this attachment isn't as tall as the others, making it more square.
For some reason, the Ridged attachment is thinner than the other two. The top flat layer feels about 50% thinner than the top layers of the other two attachments. For power queens, this is good news. There's really only a negligible reduction in vibration intensity from the silicone of this attachment (maybe 10%?). So, by far, I think the vibrations feel the strongest through this attachment.
I was surprised by how much I enjoy these ridges. When I used the Magic Wand before I got these attachments, I used the top corner of the head, where the side meets the flat top. When I'm using this attachment, I get that sensation again, and this brings me the quickest orgasms.
So, for those of you who want to still have as MUCH as the raw power the wand can give you, as well as have the choice between a textureless (top of the head) and pin-point (ridged sides) sensation, go for this one.
Cleaning and Care
For every day cleaning, I wash my attachments with warm, soapy water, and then allow to dry. If you're rinsing these before using them on your magic wand, remember to thoroughly dry the insides. They form a cup of sorts, so it's easy for water to pool, and it'd be really bad if some of that water dripped onto a plugged-in Magic Wand. So dry!
I store my Pop Tops in a clear ziplock bag. Because these are made from silicone, I recommend using a water-based lubricant.
How do I put the Silicone Pop Tops on? How do I take them off?
If the Magic Wand is going to break anywhere, it's going to break at the blue neck. For this reason, when you're putting these attachments on and pulling them off, be careful. And they can be tricky to put on. I recommend that you:
Hold the magic wand upright between your thighs so that the head is facing you.
Then pull the mouth of the attachment open with both of your hands to get it as wide as possible, then place on the Magic Wand.
Gently press down on the top of your head with the flat of the hand to push the attachment further onto the head.
Pull the sides bit-by-bit until the ends of them are over the Magic Wand head and there's no empty space inside on the top.
To take off, curl the sides upwards (as if you're rolling up a sleeve), and then wiggle it off.
One thing to note, however is that putting these on your Magic Wand will make your Magic Wand louder. The sound is probably knocked up by 20% or so, though it gets muffled somewhat when you press the head of the toy against your body.  Because the Magic Wand is already fairly loud, I didn't really notice the sound increase at first…. Whenever I use the magic wand, I expect noise anyhow. But this does add some more noise to the mix, so this is something to consider if you simply can't risk your Magic Wand being any louder. Personally, this trade-off is totally worth it to me, but I don't have to be particularly careful about how much noise my toys make.
Shipping and Packaging
As far as I'm aware, you can only buy these through Good Vibrations. Fortunately, shipping through Good Vibrations is quick and discreet. I received my toys in a plain brown box with no mention of Good Vibrations. Each Pop Top was packaged cleanly in a white box.
Overall
I feel like this is a no-brainer purchase: they make my life SO much easier. You'll be hard-pressed to find a silicone attachment that's this cheap. Yes, you can expect a 10-15% reduction in vibrations as these silicone heads muffle the Magic Wand slightly. That being said, the Magic Wand is already super powerful, so I wouldn't let that deter you. If you want to be able to use your Magic Wand without struggling to clean it, buy one of these. If you want to keep things hygenic, buy one of these. And if you want your Magic Wand to be able to provide varying and interesting textures, grab the Nubby or the Ridged!
To buy these Pop Tops for $22 each, head on over to Good Vibrations!
And if you don't have the Magic Wand Original, and know you want these Pop Tops too, Good Vibrations offers a bundled deal here for $78.
Last Updated on March 14, 2020 by Miss Ruby