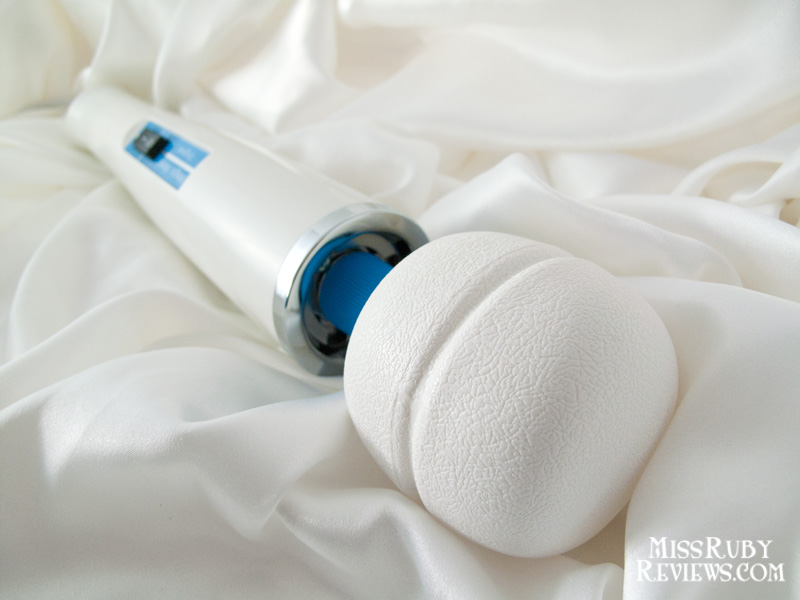 Everyone deserves a Magic Wand Original. It should be a staple in life. Like water. And air. I should write a letter to my prime minister telling him that the quality of life of his citizens could skyrocket if he provided one to all women… Read on for my Magic Wand Original review!
Details (Design/Vibrations/Noise/Packaging) | Material and Care | My Experience | Overall
Physical Details
Design:
The Magic Wand Original is large. It can double as a small child's baseball bat. Or a home defence weapon. It's about a foot long, moderately heavy, and hard. It's undeniably indiscreet. And despite all of this, I love it.
The Magic Wand Original (previously known as the Hitachi Wand) is about as classic a vibrator as you can get. This model has been around for decades, and its current design still feels very reminiscent of the vibrators of the days of yore.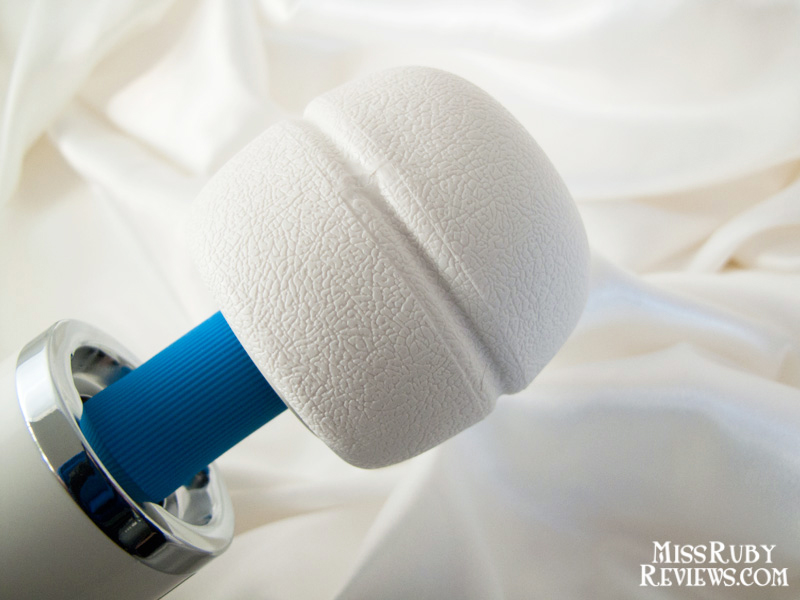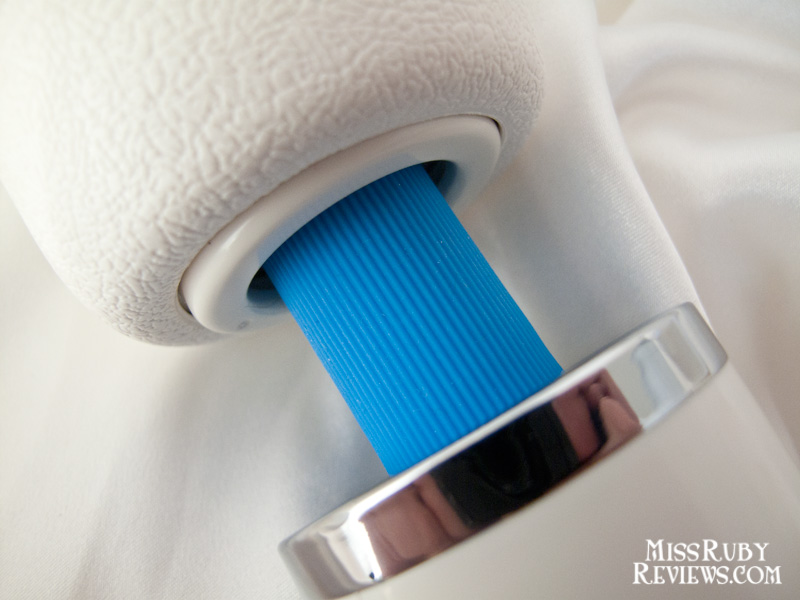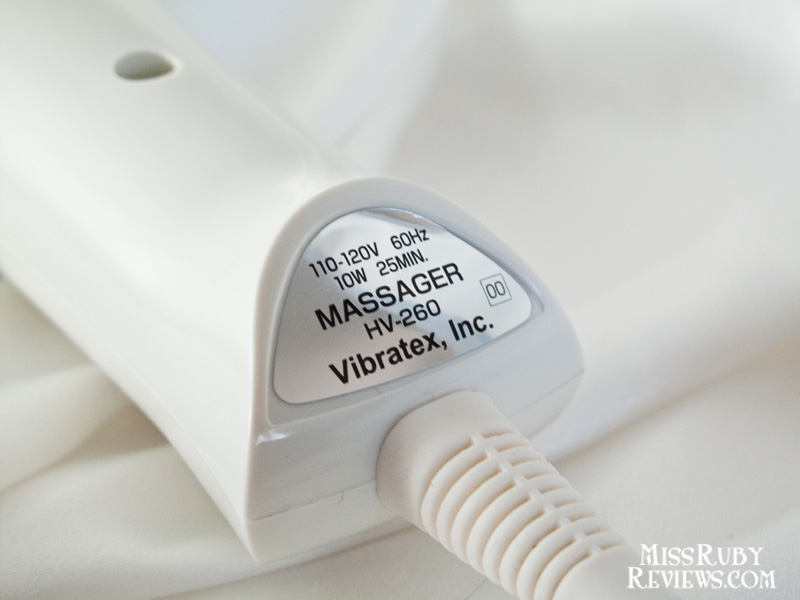 The handle is a 9-inch long formidable white shaft. At the top of the shaft is an inch of blue, bendy plastic. This "neck" of the vibrator keeps things flexible, allowing the head to move slightly. The head itself is less hard than the rest of the body. It's made from white, slightly squishy vinyl.
The Magic Wand Original uses mains power (Update: there's a new unplugged version as well), so the bottom of the shaft is home to a 6-foot long cord.
Dimensions: 12" x 2 ¼"
Cord Length: 6 feet
Weight: 530 grams
Vibrations:
I don't even know what to say. The Magic Wand Original vibrates. Heavily. It's like its designer designed it to shake the earth, then dialed things  back a few notches. It is very powerful. It makes the We-Vibe Tango look puny (something I never say).
And there's nothing buzzy about these vibrations. They don't disappear when I press the vibrating head against my skin, like buzzy vibes tend to do. These vibrations are truly, deeply, rumbly.
As far as controls go, there are only three options. I call them: Off, Earthquake, and Apocalypse.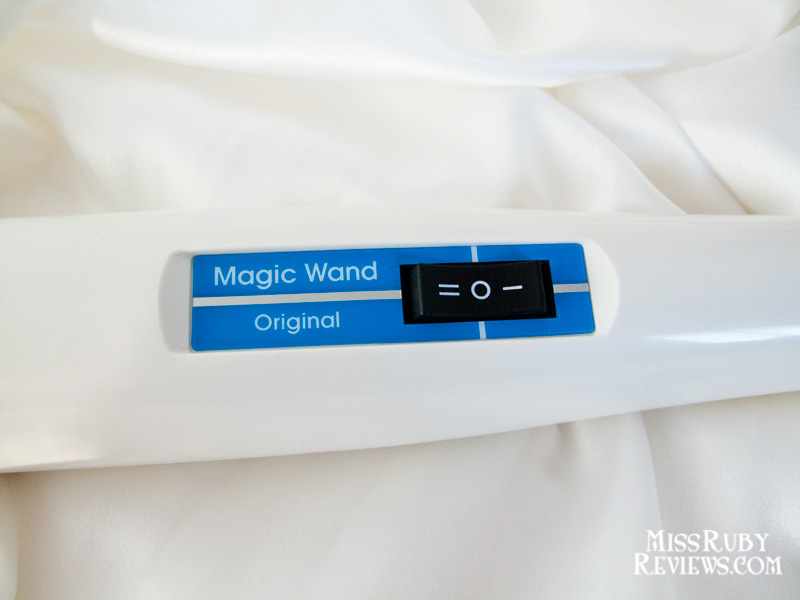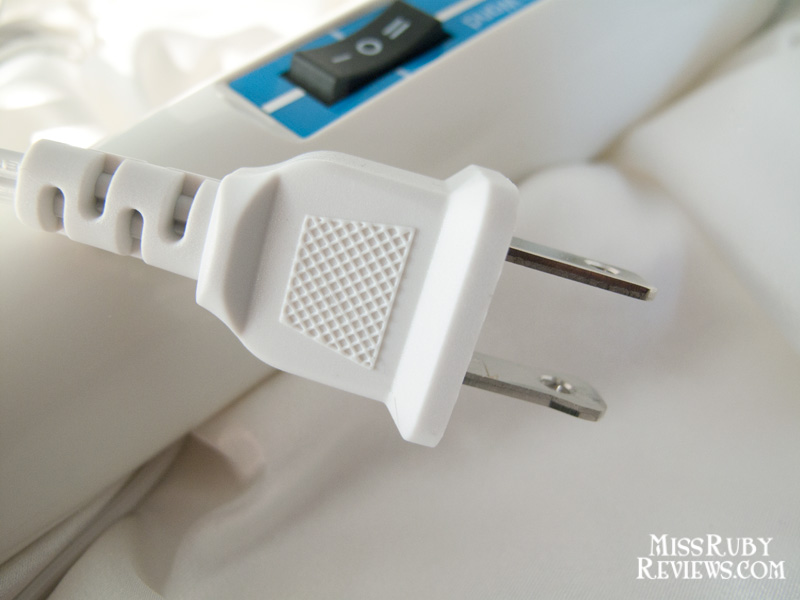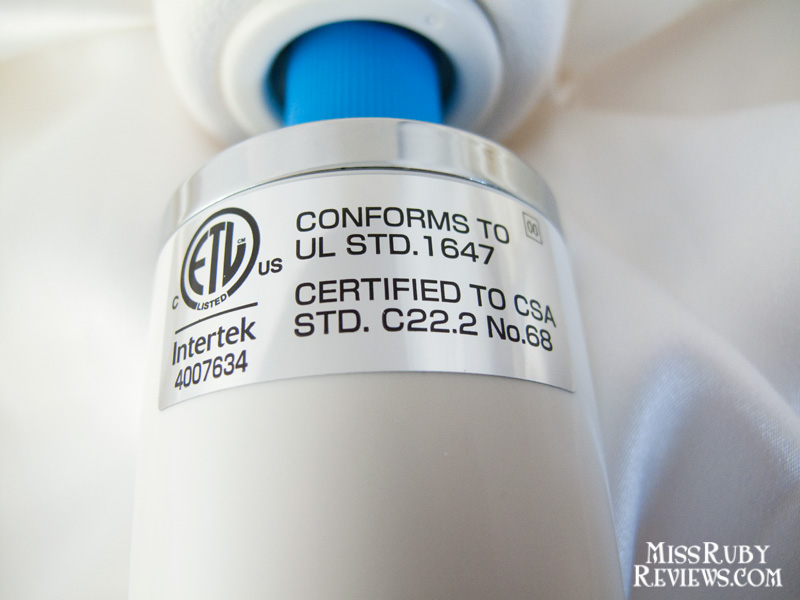 Noise:
And yes, the Magic Wand Original is loud. Will your roommates hear it if their bed is on the other side of the wall as your bed? Probably. But, relative to what I'd heard about it, I expected this to be noisier than it actually is. It's not the noisiest vibe I own either. I've found that covering myself with a blanket does muffle the noise somewhat.  And besides, for the strength that it gives you, it's certainly not unreasonably loud.
Packaging:
The Magic Wand Original comes packaged simply in a blue and white box. Inside, the wand is in a clear plastic sleeve. There's also a large information package included, which I found amusing because it seems to recommend use on everywhere other than your clitoris. How coy.
Material and Care:
This is an area where the Magic Wand Original falls short. The head of the toy is made from a porous vinyl, so I find this somewhat hard to clean and maintain.
This toy can't be submerged in water. There's a risk of electrocution, so please don't ever do this. When it comes to cleaning, this means that you can't just throw it in the bathtub along with all your dildos. Plus, the vinyl head of the toy can't be taken off to be cleaned that way.  I'm kind of paranoid when it comes to the hygiene of my toys, so I've just been keeping my underwear on when I use it. I don't find that the vibrations feel dampened at all through my underwear, and this way I don't have to worry about any liquids getting onto the head itself.
For those of you who don't want to do this, I recommend:
Wipe the head down with a damp towel when unplugged. Make sure the towel is wrung out really well and isn't dripping wet.
AND/OR … Buy one of the many silicone attachments. These snap on and off the head and can be cleaned by themselves. This is on my to-do list because it'll make this toy so much easier to clean.
Note: the new unplugged rechargeable version of this toy has a silicone head (which is non-porous), which will make things easier.
My Experience with the Magic Wand Original
Umm. Wow. If you follow my blog or twitter at all, you'll know that my favourite vibrator is the We-Vibe Tango (closely followed by the We-Vibe Touch). And I still love those vibes, but now they're merely my favourite discreet vibrators. Because the Magic Wand Original has too much power to ignore.
My clitoris needs two things: (1) strong power and (2) firm pressure. This excels in both.
Generally, second and third helpings of orgasm cake are harder to achieve than the first, but this vibrator is so powerful that even thirds is easy for me. The first time I used this toy, I came in under a minute. And I went on to help myself to seconds and thirds (and so on) within the following ten minutes.
One thing I find, which is completely new to me, is that orgasms with the Magic Wand Original exhaust me. I've never felt sleepy after orgasms (usually just hungry), but orgasms with this vibe make me feel like I've run a marathon. Sleep is often on the menu shortly after. And this isn't a bad thing. I think that orgasms with this toy are simply more full-body than I've experienced before. It's no longer just a pleasurable sensation limited to a small radius around my clitoris. My whole body tingles and contracts with the strength of these orgasms, and afterwards my body is kind of done for the day. And if I combine this vibe with a good G-spot dildo, then my body is really useless for the rest of the day.
This is pretty new for me.  My body isn't ever affected like this because my orgasms always feel neatly contained. Pleasurable, sure, but not earth shattering like these.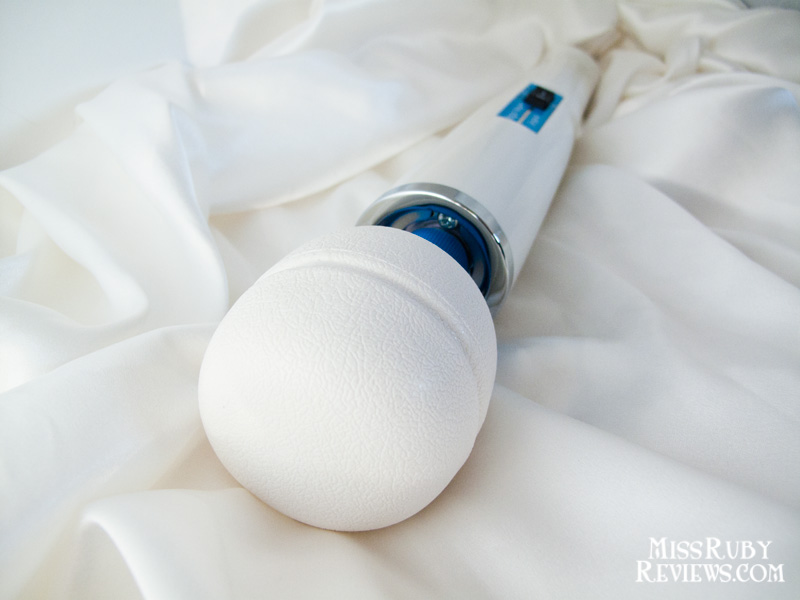 And they're so easy to have. I don't have to work hard for these orgasms. I feel like I'm cheating.
Of course, there are drawbacks. The 6-foot cord could be longer. The noise is sometimes annoying to deal with, especially because the walls in this apartment building are thin and I don't want to wake my neighbour. And I'd love to use this directly on my skin without me worrying about the porosity or cleaning it.  Lastly, it's not supposed to run for more than 20 continuous minutes, otherwise it might overheat. But all this (except for running for more than 20 minutes) can be fixed by getting the unplugged version.
This didn't impact me, but it occurred to me that women whose clitoris is quite small/hidden might struggle to get stimulation from this because this offers broad stimulation. I'm a pin-point gal myself, but I use the corner of the head and the vibrations are so strong that I orgasm anyway. My clitoris isn't particularly pronounced, but it isn't hidden by my outer lips or pubic mound, allowing me to really enjoy this vibe.
Indisputably, the Magic Wand Original has changed my orgasms forever. It sounds corny, I know, but it's true. I expect so much more from sex toys now.
Magic Wand Original Review – Overall Thoughts
I can't believe I've never owned one of these before. The Magic Wand Original is remarkably powerful. These orgasms are so powerful they feel like a different breed of orgasm. They're my orgasm's orgasms.
Dear everyone: If you're reading this and you don't own one, stop it. Just stop it. Stop not owning one. Go get one. And then petition your government to hand them out on the street corners.
I should go build a shrine…
To buy the Magic Wand Original, head on over to Betty's Toy Box (USA) or Naughty North (Canada),
To buy the updated, body-safe version of this toy, head here (USA) or here (Canada).