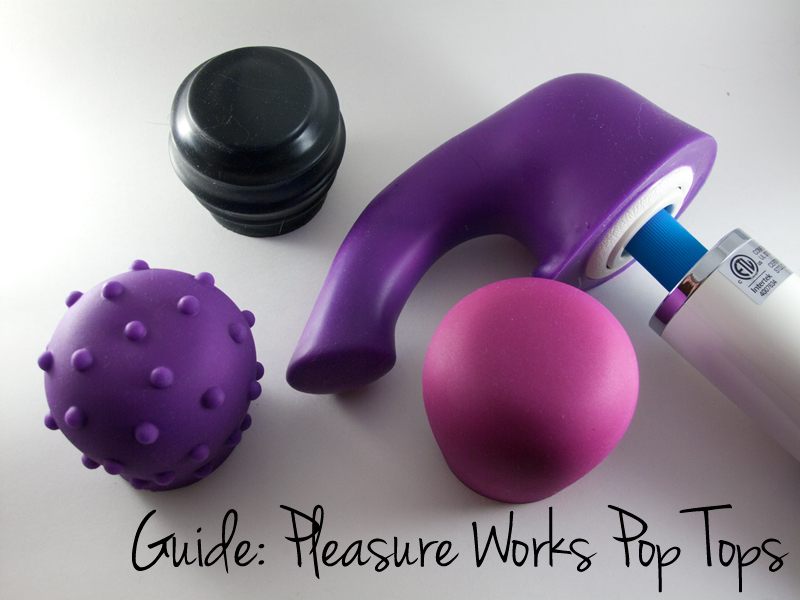 I'm a huge fan of the Pleasure Works Pop Tops line. These inexpensive silicone attachments slip over the head of your wand vibrator, allowing you to increase your wand's versatility and focus the vibrations in different ways.
So, when it comes to the Pleasure Works Pop Tops, you have 4 options:
The G-spotter (a purple or black attachment for internal use)
Smooth (a pink texture-less head)
Nubby (a purple head with raised rounded nubs)
Ridged (a black attachment with lines wrapping around it)
Each attachment is sold separately, and if you're wondering where to start, I hope this will help clear up some questions. Be sure to read my full reviews of these items here and here.
If you want pin-point stimulation:
You know that your clitoris loves pin-point stimulation if you find you go straight to it. You don't beat around the bush, so to speak. You focus right on your clitoris, and you're not too interested in the surrounding areas.
If this is your style, then I'd recommend Nubby or the G-spotter.
Nubby's nubs each become little pin-point stimulators. It's very focused. On the other hand, the G-spotter does a really good job at transferring vibrations to the flat end of the tip, making a pin-point surface roughly the size of a Toonie. (Or, err, for non-Canadian coin systems, think of a surface that's a bit bigger than a quarter).
If you want to retain as much power as possible:
Each of these attachments do dampen vibrations somewhat. It'd be impossible not to, as the vibrations need to travel through a layer of silicone before reaching your skin.
If you're a real power queen and are worried about sacrificing power, go for the Ridged attachment. Out of all four, I feel that this one muffles the vibrations the least, thanks to its thin silicone layer.
If you want Rabbit-style vibration:
If you have a C-V distance of 1 inch, you can use the G-spotter as a rabbit vibe. See that little raised nub that sits near the bottom edge of the toy (facing the shaft)? That's meant for your clitoris, if it can reach it. A C-V distance refers to clitoral-to-vagina distance, and it what makes or breaks rabbit vibrators for you. If your C-V distance is short (1 inch), you're in luck with this toy.
If you don't know whether you want pin-point or broad-stimulation:
The Ridged attachment also does a fairly good job at pin-point stimulation, thanks to those raised lines running around it. Each line, when pressed against you, do an adequate job at pin-point stimulation. At the same time, the Ridged attachment can be used to give broad stimulation, because you can use its flat-topped head.
That being said, the G-spotter can also give you both pin-point and broad stimulation. The flat tip of the shaft works wonders as a pin-point clitoral stimulator (though you can't press it firmly against you). For broad clitoral stimulation, you can simply switch to the side of the head, though the vibrations here aren't as strong as, say, the Ridged.
If you want nothing fancy:
Go for the Smooth. It's textureless, smooth, and simply acts as a silicone barrier between you and the vinyl head of the Magic Wand Original.
If you want internal stimulation:
Obviously, get the G-spotter. Wands can't be used as an internal vibrator unless you get an attachment like this, and this is definitely one of the cheaper silicone G-spot attachments for the Magic Wand available.
To buy these attachments, head on over to the Pop Tops and G-spotter page on Good Vibrations.
Last Updated on March 14, 2020 by Miss Ruby