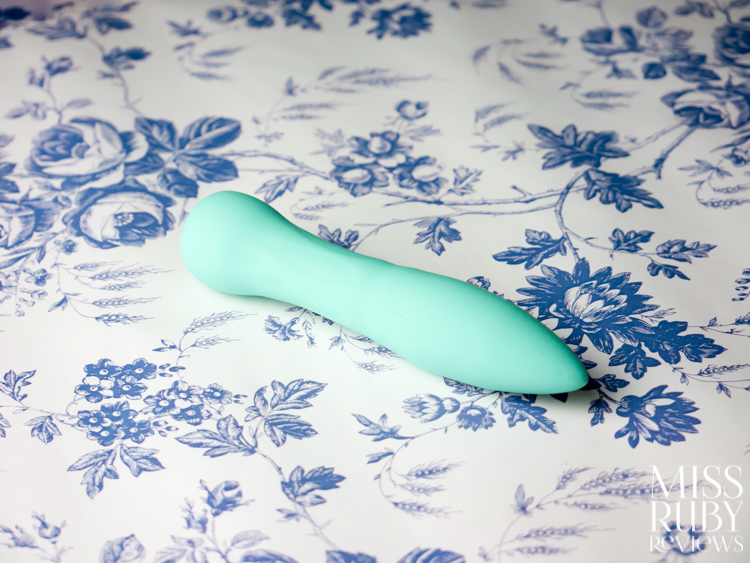 A firm, pin-point bullet vibrator for under $60! Read on for my NU Sensuelle Bobbii XLR8 review!

Design | Accessibility | How to Use | Packaging | Material and Care | My Experience | Overall
Design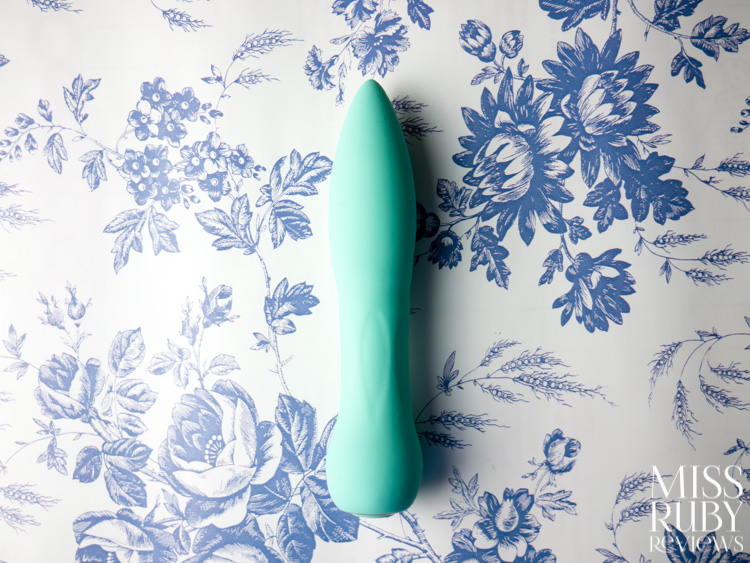 The NU Sensuelle Bobbii XLR8 is a palm-sized rechargeable clitoral vibrator with a classic bullet shape.
Style-wise, this toy is sleek and streamlined. No big seams, no loud textures — the bullet-shaped body swoops down and has a couple of subtle designs near the base, where your fingers wrap around, but nothing else. The top half bulges out before narrowing into a fine point.
Its body is firm, but not completely rock hard all around. That narrow little tippy tip? Soft and squishy, baby. This makes the NU Sensuelle Bobbii XLR8 ideal for people that love firm, pinpoint stimulation, but who also appreciate a little cushion so things aren't too pokey.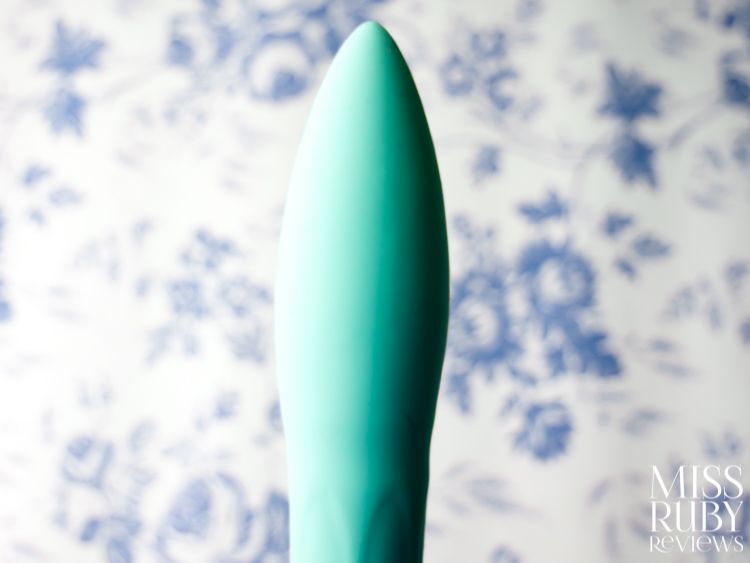 At about 5 inches tall and 1 inch wide, the NU Sensuelle Bobbii XLR8 is larger than some other bullet vibes out there (like the We-Vibe Tango), but it still fits perfectly comfortable in your hand.
I got mine in Electric Blue, which is a refreshing airy shade of pastel teal. Fans of mint green will love this.  You can also get it in Ultra Violet, which is a bright purple.
Accessibility
This section is to help folks determine if they might have any issues using/accessing this toy.
Size/Weight: The NU Sensuelle Bobbii XLR8 is a small vibrator. By my measurements, it's 12.7cm long and 2.7cm wide (at the widest part of the body). It's a lightweight toy (about 75 grams).
Buttons: There is a single round control button at the base. It's large (14mm across and 1.5mm tall). It requires moderate pressure to press down and gives a quiet click sound.
Handle buzz: A lot of vibrations transfer to the handle. Your hand will definitely buzz while holding this.
Other notes: For those of you with visual difficulties, the charging port is a small hole located near the bottom of the toy. It can be felt with fingertips. The needle end of the charging cord needs to be inserted into the little circular hole.
Price: At $59 USD (minus a 10% discount with coupon RUBY), this is an average price for toys with these features.
How to Use the NU Sensuelle Bobbii XLR8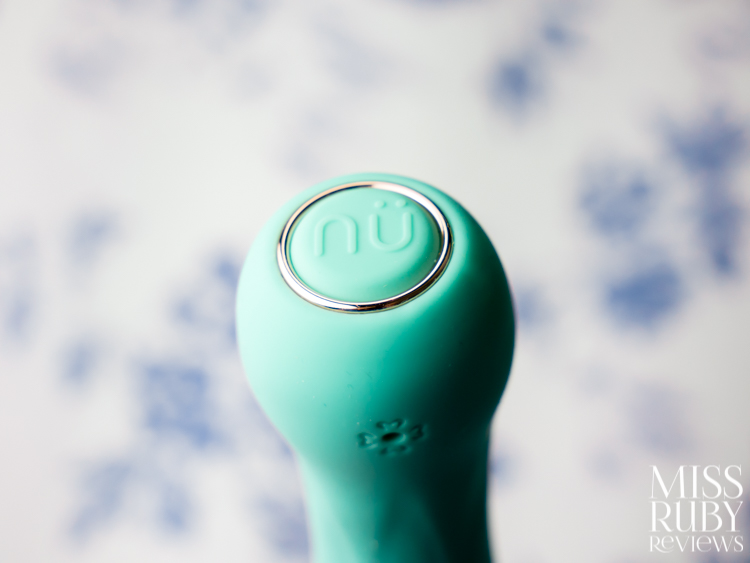 Turn on the NU Sensuelle Bobbii XLR8 by pressing the single button at the base for about 3 seconds.
Apply the NU Sensuelle Bobbii XLR8 to your body. While designed for clitoral use, this can also be used to stimulate parts of a penis or nipples. However, don't try to use this anally, as there's no safe flared base.
Click the button to cycle through the vibration modes. There are 15 modes total (I count 7 steady speeds, and the rest are patterns).
 To turn it off, press and hold the button for 3 seconds.
Packaging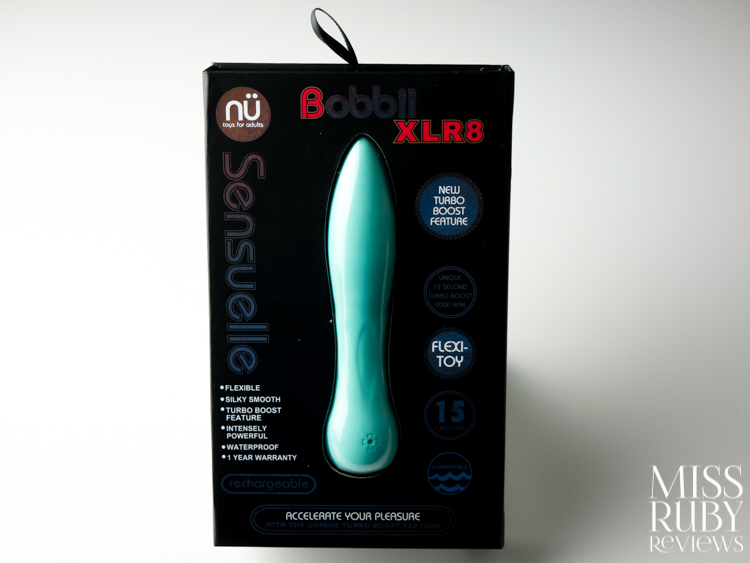 The NU Sensuelle Bobbii XLR8 comes packaged in a black box with blue and red accents. It's not particularly luxurious or artsy, but it's functional.
Inside the box, you receive the Bobbii, the instruction manual, the USB charging cord, and a small white satin storage pouch.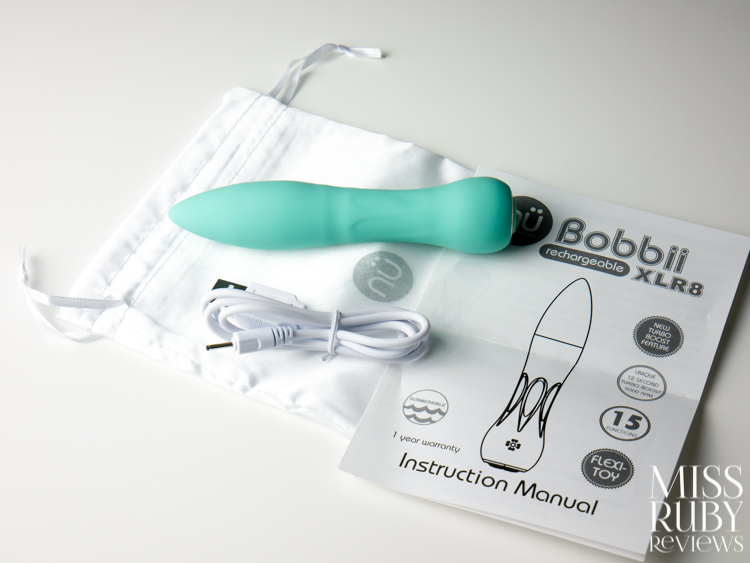 Material and Care
The NU Sensuelle Bobbii XLR8 is made from silicone. This makes it bodysafe. This particular silicone finish is matte and silky to the touch, and it doesn't attract dust too badly.
To clean, I simply wash with warm, soapy water before and after each use.  You could also add a dedicated sex toy cleaner if you like. Allow to air dry before storing it away.
NU Sensuelle's packaging says this toy is waterproof submersible, but their manual says you shouldn't get the base of the bullet wet, which is confusing. I'm not sure which it is, but I personally haven't had any trouble with submersing it.
To charge the NU Sensuelle Bobbii XLR8, insert the needle-end of the USB charging cord (included) into the small little hole near the base of the vibe. Plug the other end into your computer or a USB wall adaptor. A light will flash when charging, and will stop flashing when fully charged.
If you'd like to use lubricant with this toy, choose a good quality water-based lube like my favourite basic Sliquid H2O or vegan Wicked Simply Aqua.
This comes with a 1-year warranty through the manufacturer. Visit the manufacturer's website to register your product.
My Experience with the NU Sensuelle Bobbii XLR8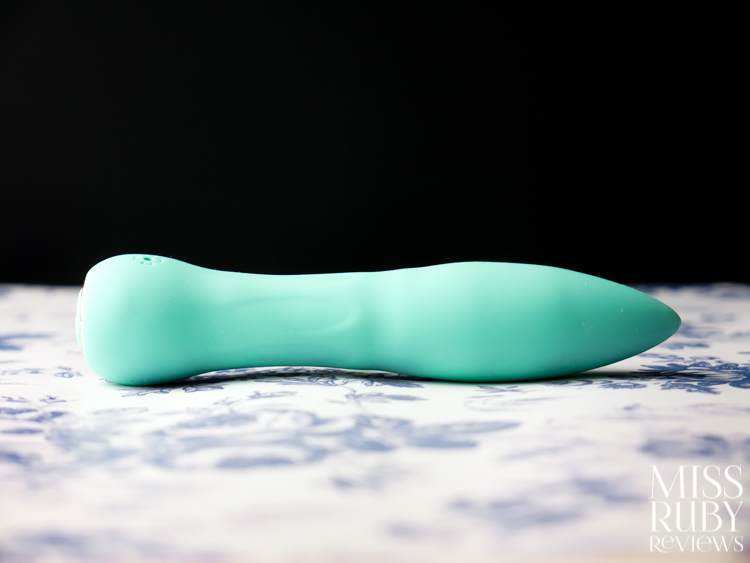 Motor quality (strength and sound)
The NU Sensuelle Bobbii XLR8 is moderately strong (~7/10). It's no We-Vibe Tango (which is more expensive), but it still packs a punch!
It's also a buzzy motor (much buzzier than the Tango or Ultra Bullet), with not much in the way of deep rumble.
What do I mean by "buzzy"? Buzzy vibrations feel more surface-level than rumbly vibrations. They don't penetrate deeply. If you're anything like me, your hands will start feeling funny/numb within a few minutes, an inevitable temporary symptom of holding a buzzy vibrator whose vibrations travel down the handle.
It's not unbearably buzzy though, and there's enough power behind it to still give pleasure.
The motor is also blissfully quiet. If you have flatmates, just keep your door closed — this shouldn't be able to be heard through walls.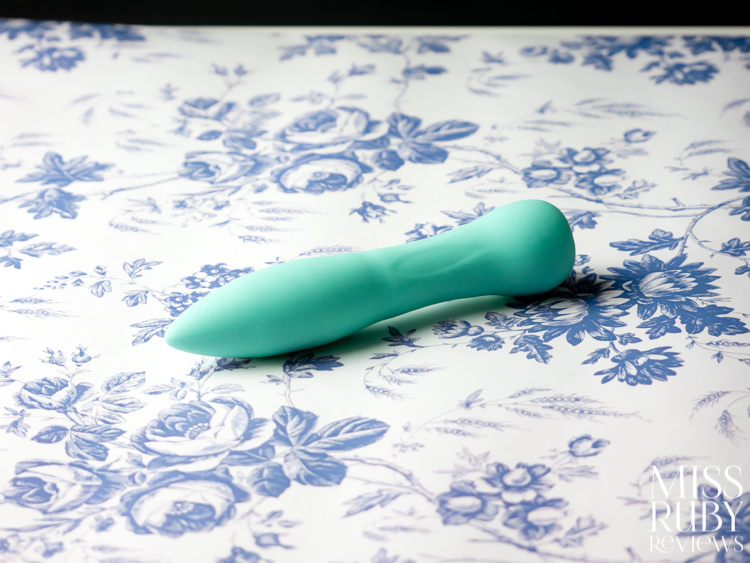 Orgasms?
Despite the buzzy motor, the NU Sensuelle Bobbii XLR8 gives me plenty of pleasure and orgasms.
With its hard body and precise tip, I'm able to get targeted, firm, pin-pointed stimulation (which is something my clitoris really responds to). The rigid body is also refreshing — sometimes bullet vibrators have a flexible body, which can be endlessly annoying because it interrupts your attempts for firm pressure, but I'm glad the Bobbii didn't go down that design route. Its firm body means I can easily target it and press down as firmly as I need.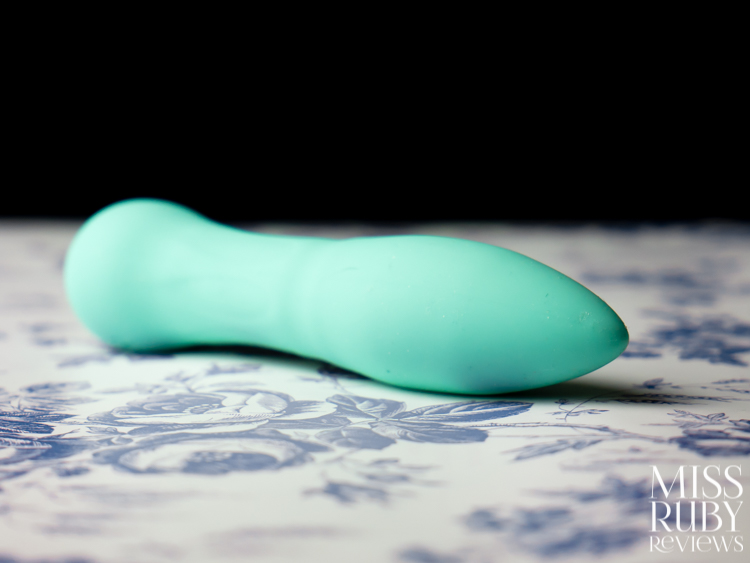 Ease of use?
My one complaint is that the NU Sensuelle Bobbii XLR8 has too many modes, and it's super easy to go past the mode you want.
For example, when I want to use the strongest steady speed, I have to count 7 clicks — and if I go one past it, I'm stuck in a land of 8 endless patterns. So then I turn it off and start counting to 7 again. In the middle of sex, this isn't exactly suave or sexy.
The frustrating thing is that many of the steady speeds are barely stronger than the previous, so it seems unnecessary to have so many different ones. Using this would be much simpler if there were half as many speeds and patterns.
NU Sensuelle Bobbii XLR8 Review – Overall Thoughts
The NU Sensuelle Bobbii XLR8 is a moderately strong, firm, pin-point bullet vibrator, one that's bodysafe and rechargeable too — all for under $60 USD.
In general, this is one I can recommend. However, full disclaimer that it's definitely on the buzzy side, so buzz-haters should stay away and stick to something like the Swan Mini Rose, the FemmeFunn Ultra Bullet, or the Rocks-Off Chaiamo.
You can pick up your own NU Sensuelle Bobbii XLR8 here! Why do I like Peepshow Toys? They ship internationally, only carry body-safe products, and you can get a 10% discount off your whole purchase with coupon code RUBY. 

See below for my NU Sensuelle Bobbii XLR8 review breakdown.
Review summary
Overall thoughts - 7
7
$59
PROS
Moderately strong
Firm body
Targeted, pinpoint stimulation
Rechargeable
1 year warranty
CONS
On the buzzy side
Easy to go past mode you want
Instruction manual confusing about waterproofness
Shop Now