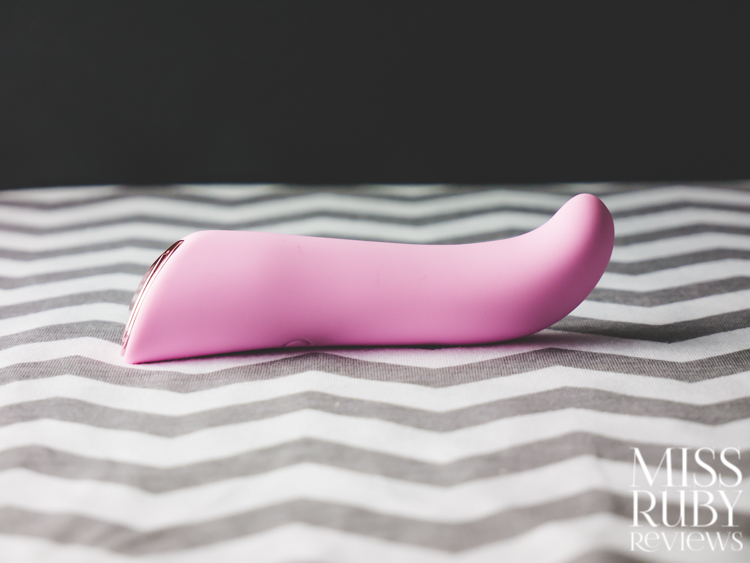 A tiny vibrator that tries to excel at both clitoral and G-spot pleasure. Does it succeed? Read on for my Jopen Amour Mini G review!

Design | Accessibility | How to Use | Packaging | Material and Care | My Experience | Overall
Design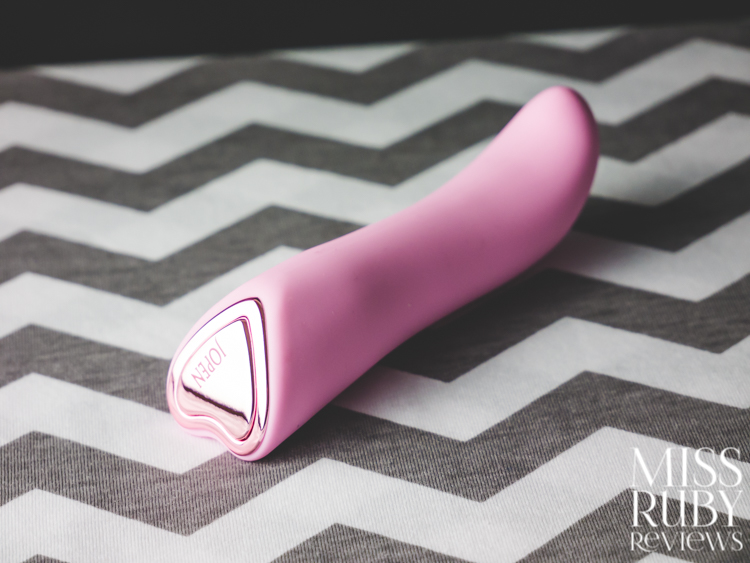 The Jopen Amour Mini G is one of those super girly and overly cutesy toys.
Blush pink silicone body? Check.
Shiny rose-gold plastic heart-shaped button on the end. You betcha.
It looks like something that should be branded under Mattel's Barbie.
Do I mind? Apparently not. It's whimsical and I'm liking it.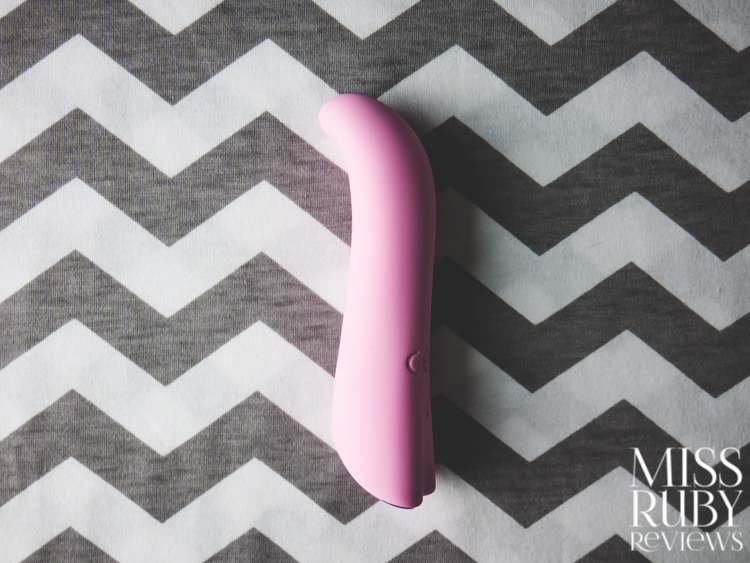 The Jopen Amour Mini G is a bullet/G-spot combo toy. It's an average size for a bullet vibrator, but truly miniature for a G-spot vibe.
Its shaft is narrow and delicate. At the tip, the shaft curves upward suddenly to a hooked point (this helps you target the G-spot). That tippy tip is slightly flexible, but overall the body feels firm.
You can get maybe 2.75 inches of length inside you before you start covering the buttons. But, then again, the G-spot tends to only be around 2 inches in…
This little toy retails for $45 USD at Peepshow Toys (plus get 10% off your order with coupon RUBY) and boasts a waterproof construction, silicone body, and rechargeable motor. There is 1 steady mode and 6 vibration patterns, with 5 independently controlled speeds for each.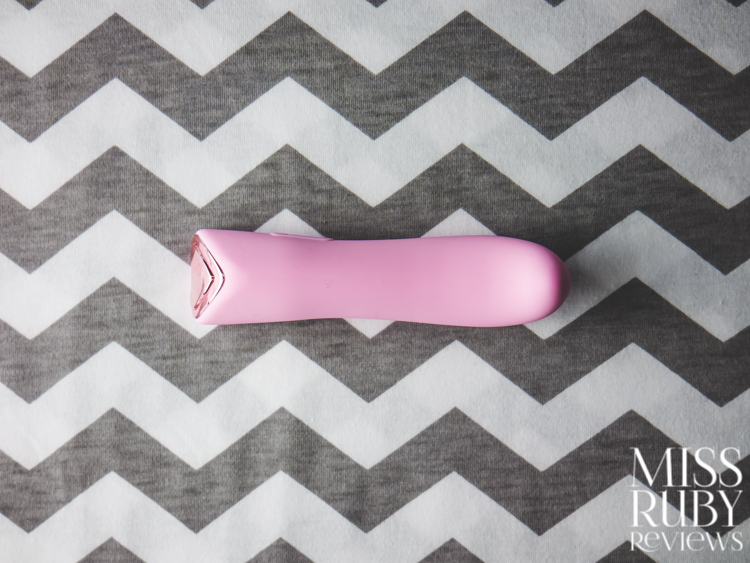 Accessibility
This section is to help folks determine if they might have any issues using/accessing this toy.
Size/Weight: The Jopen Amour Mini G is a standard-sized bullet vibrator or a very small G-spot vibrator. By my measurements, it's 12cm long and 2.8cm wide (at the widest part of the shaft). It's a lightweight toy (about 70 grams).
Buttons: There's one large heart-shaped plastic button at the base (about 2 cm long and 1mm tall) that takes moderate pressure to press and makes a quiet click noise. There are two smaller + and — buttons along the side, that take little pressure to press. Those buttons are 6mm across with no gap in between.
Handle buzz: Some of the vibrations transfer to the handle, but surprisingly few. Your hand will buzz only a bit when you hold it.
Other notes: If you have visual difficulties, you may have trouble finding the tiny charging port. It's a tiny hole on the underside, about an inch from the flat base. You'll need to push through that hole with the needle-end of the charging cord.
Price: At $45 USD, this is slightly on the inexpensive side compared to other toys with similar features.
How to Use the Jopen Amour Mini G
The Jopen Amour Mini G is controlled by three buttons: the heart-shaped button at the base of the toy, and + and — buttons on the side.
Turn on the Jopen Amour Mini G by pressing and holding the heart button for 3 seconds. It'll turn on in steady vibration mode.
To increase/decrease vibration strength, use the + and — buttons.
To cycle through the 1 steady mode and 6 vibration patterns, tap the heart button.
Use it. Though designed for clitoral and G-spot use, it could also be used against nipples or the shaft of the penis. Don't insert this anally, though, as it doesn't have a flared base.
To turn it off, press and hold the heart button again for 3 seconds.
Packaging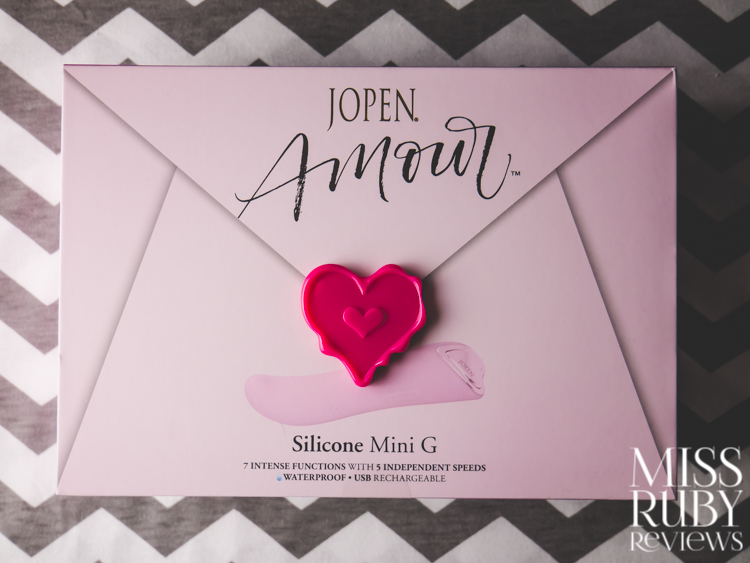 I have to say it: I ADORE the Jopen Amour Mini G's packaging. The outer box is designed as a blush pink envelope, figuratively sealed shut with a thick heart-shaped "wax" seal. It's overly girly, but it hit a pleasant chord with me and I think it's just adorable. Definitely gift-worthy.
Inside the box, the Mini G is nestled in a clear plastic pillow. You also receive a USB charging cable and a sheet of instructions.
No storage pouch is included. If you'd like a specific toy bag/case for it (not necessary, but always nice), you can browse for some here.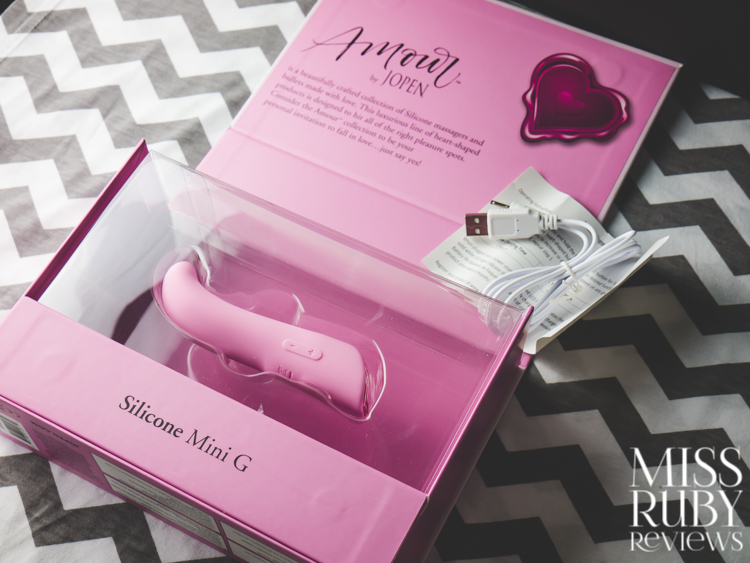 Material and Care
The Jopen Amour Mini G is made from silicone (the body) and ABS plastic (the heart button), making it bodysafe. This particular silicone finish is matte and silky to the touch, which doesn't attract lint or dust.
The Jopen Amour Mini G is fully waterproof. To clean, I rinse it in warm, soapy water before and after each use. You could also add a dedicated sex toy cleaner (I personally like this one). Allow to air dry before storing it away.
If you'd like to use lubricant with this toy, choose a good quality water-based lube like my favourite basic Sliquid H2O or vegan Wicked Simply Aqua.
This toy comes with a 1-year manufacturer's warranty (see CalExotics' website for details on registration).
To recharge the Jopen Amour Mini G, insert the needle-end of the charger (included) into the small circle at the back of the toy. Plug that cord into your computer or a USB wall adapter. A full charge will take 2 hours, and will give you up to 40-60 minutes of playtime.
My Experience with the Jopen Amour Mini G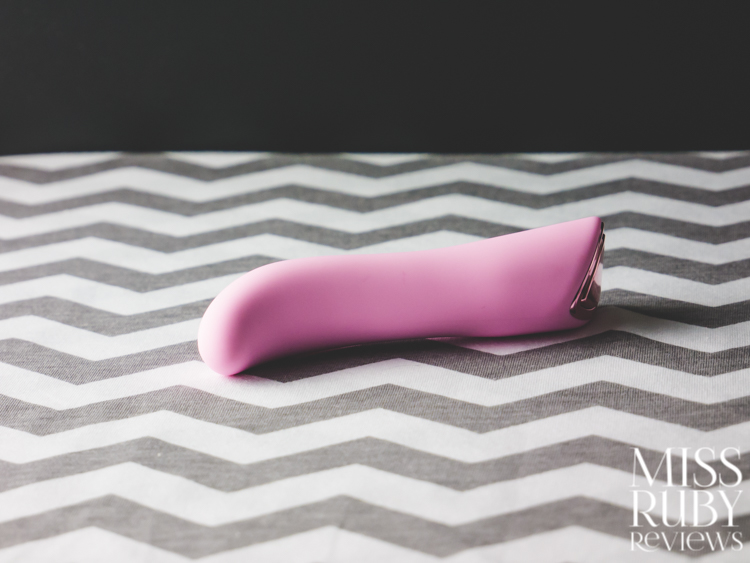 Vibrations and Sound
The Jopen Amour Mini G's first strength level is very very gentle and will only satisfy people with very sensitive bodies.
But by the time you ramp up to its top strength, the Mini G's vibrations are surprisingly decent. They fall squarely in my "moderately strong" category (6.5/10), which was a pleasant surprise.
The vibrations themselves aren't totally rumbly, but they aren't pathetically buzzy either — they're somewhere in the middle. Those vibrations don't reach my kneecaps or anything, but they're not meant to.
How does this compare to other sex toys?
This toy can't compete against more-expensive industry standards like the We-Vibe Tango, or massive full-sized wands like the Magic Wand Rechargeable… but I wouldn't expect it to. This is only $45.
That being said, is it the STRONGEST vibrator in this price range? No — I consider the $5 more FemmeFunn Ultra Bullet (review here) to be both stronger and rumblier. But still, this is decent.
As for noise? There's not much. With the doors shut, I'm not worried about anyone else hearing this toy.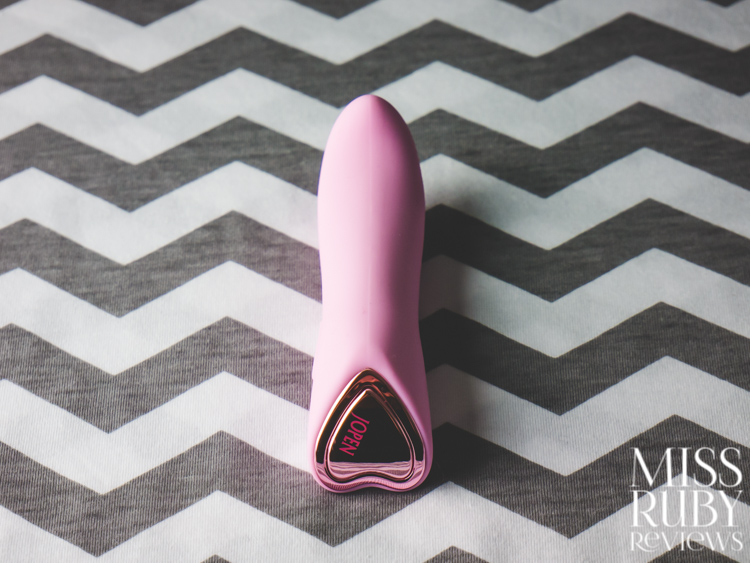 Bullet vibe pleasure?
As a bullet vibrator, this is surprisingly versatile.
I can use the pointy tip of the curved end to get narrow, pinpointed pleasure, or I can turn it around and use the flatter, curved side to get broader pleasure.
For me personally, the vibrations are just strong and rumbly enough for me to orgasm. This means that if you're a power queen, you'll want something stronger (check out this, this, or this). But, if you consider your clitoris to be sensitive or moderate, this will probably work for you too. My clitoris is fickle, sometimes needing intense strength, and othertimes being okay with more moderate levels — when I'm in a moderate mood, this is perfectly fine enough for me!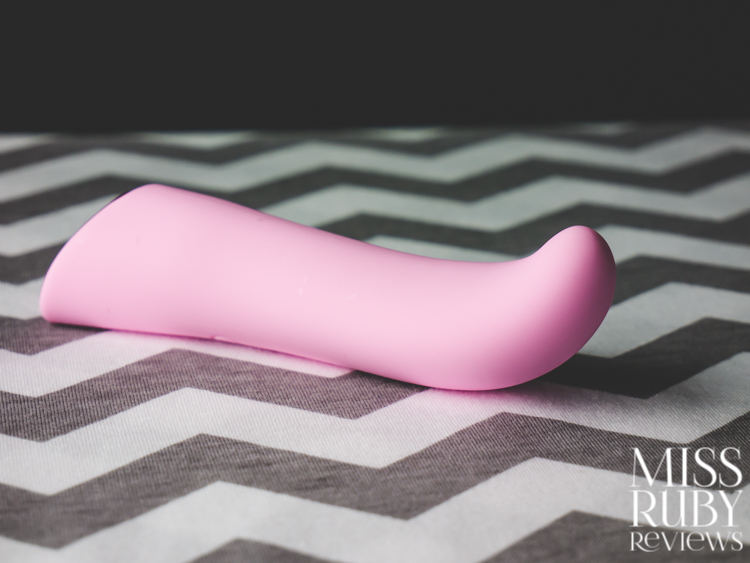 G-spot pleasure?
Here's the part I was most skeptical about. Does the Jopen Amour Mini G give good G-spot stimulation?
As much as I'd love a bullet vibrator that also doubled as an amazing G-spot vibe, I just couldn't get intense G-spot stimulation with this toy.
I get that the design mimics a single finger in the "come hither" motion that the G-spot enjoys, but a two-finger width would be much better. This narrow shaft just feels pokey and denies me any satisfying feeling of fullness.
Is the G-spot reached? Yes, technically, but the handle below is too tiny. It's awkward to maneuver this toy so I get consistent, good-pressure thrusts. So, for me, the G-spot angle of this toy is a flop.
Jopen Amour Mini G Review – Overall Thoughts
The Jopen Amour Mini G is something to consider if you're looking for a moderately strong bullet vibe. Its vibrations aren't out of this world, but it's merely $45, which won't break your bank. It's also waterproof, rechargeable, and bodysafe.
Where it fails for me is its attempt to be a miniature G-spot vibrator — the shaft is just too narrow, too pokey, and too short to comfortably or effectively get good G-spot stimulation.
Still, if you don't plan to use this internally, you're looking for something inexpensive, and you like the girly palette and design, this might just be the vibe for you.
You can pick up your own Jopen Amour Mini G here! Why do I like Peepshow Toys? They ship internationally, only carry body-safe products, and you can get a 10% discount off your whole purchase with coupon code RUBY. 

See below for my Jopen Amour Mini G review breakdown.

Jopen Amour Mini G Review Summary
Overall thoughts - 7.5
7.5
$45
PROS
Under $50 price tag
Moderate strength (6.5/10)
Quiet
Get pin-point or broader clitoral stimulation
Waterproof
Rechargeable
Bodysafe construction
CONS
Not effective for G-spot stimulation
Pink aesthetic may not appeal to some
Shop Now