Something different today: a beautifully crafted green monster dildo for fantastical fantasies. Read on for my Monster Cocks CreatureCock review!

Physical Details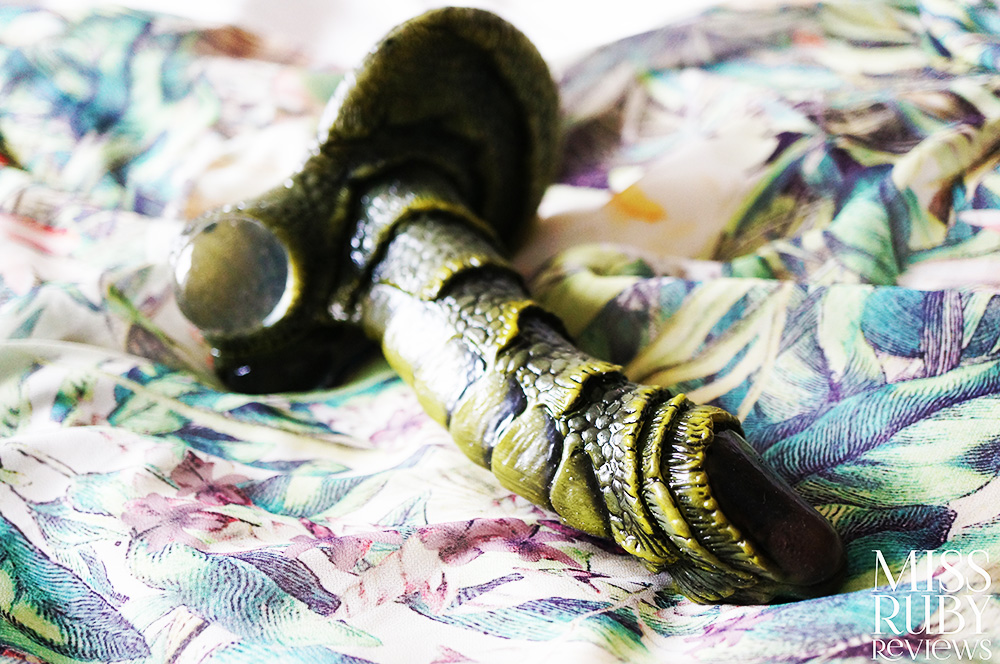 The Monster Cocks CreatureCock is a strange, beautiful, fantastical creation. This is one of those things that can veer away from 'mere sex toy' into the 'piece of art' realm. It's movie / special effects quality, carefully hand-made. It looks like something you'd find in a room full of props. Definitely one for those of you with strong fantasies about magical creatures.
Though I think the design is inspired by a fish monster, in reality the design can lend itself to many creatures. There's the obvious swamp monster, alien or lizard/crocodile resemblances, but I can also see this as an ogre, troll, dragon or orc dildo.
Above: All four sides of the CreatureCock. Click to expand view. 
The Monster Cocks CreatureCock is a deep, mossy green dildo, with a natural sheen that makes it look —  well — alive.
On the underside, the shaft is segmented by large scales, shaded and darkened with colour to give it extra realism. On the top of the shaft, segmented structures are coated in fine, minute little scales. It looks armored, tough, and rugged. In practical terms — this makes this dildo incredibly textured.
At the tip of the dildo, the textured, mossy shaft breaks into a smooth, flat, and tapered head. It's brown, with darker charcoal shadows. At the very tippy tip, a urethral crevice completes the picture.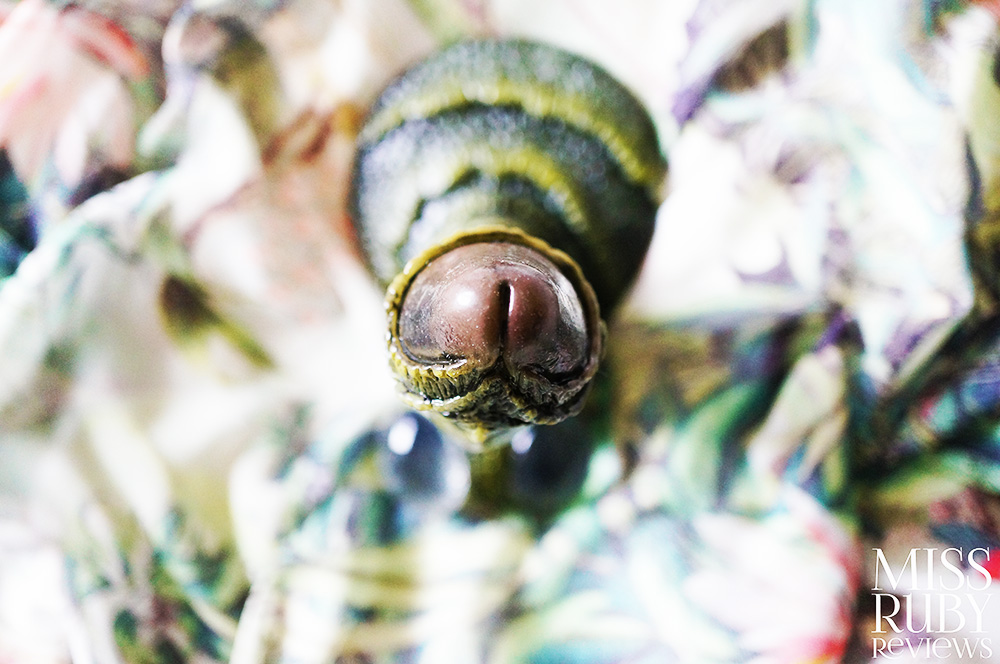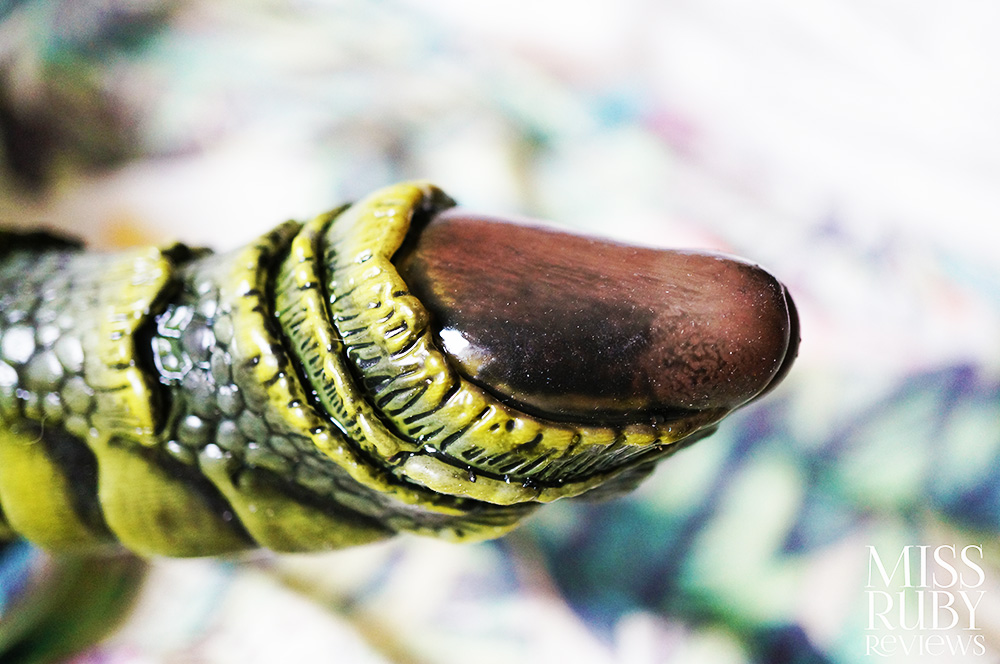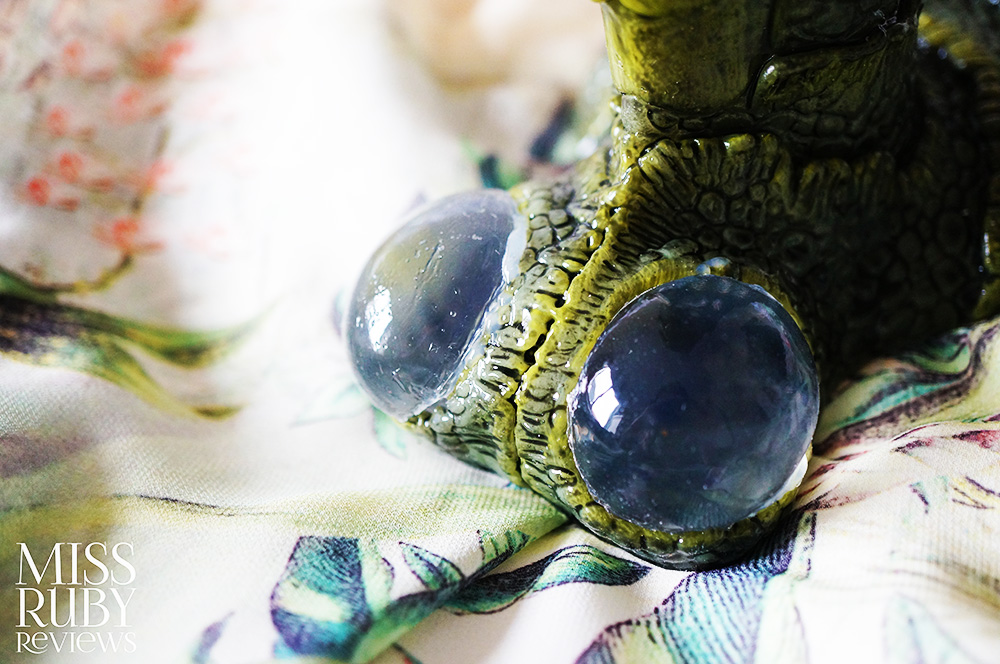 Then there are the testicles. They break away from the scaled, armored design scheme — they're completely clear and very firm. They give the dildo an otherworldly feel. I wasn't a fan at first, but they're growing on me.
The base of the Monster Cocks CreatureCock extends into a faux pubic surface – more scales. This platform can be held against your own pubic bone using a prosthetic adhesive (make sure it's bodysafe and silicone safe). You might be able to even use an O-ring harness, but the testicles make it near impossible to be sturdy. The backside of the base is completely flat/smooth.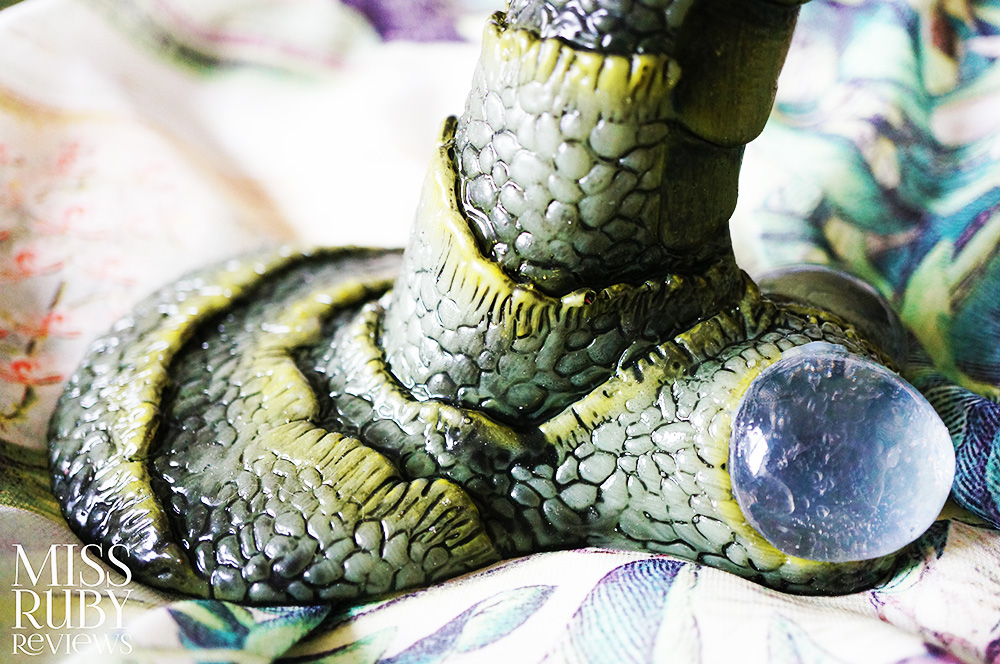 Dimensions:
Total height: 7.75 inches
Insertable length: 6.25 inches
Shaft width: 1.5 inches
Firmness
The Monster Cocks CreatureCock is a single density dildo. Though the testicles are made from very firm silicone, the rest of the body is quite squishy. You can easily bend it and flop it about. The softness of the shaft is helpful — the softness lessens the impact of the extremely textured shaft (concrete-like firmness with such minute detail would be painful).
Material and Care
The Monster Cocks CreatureCock is made of 100% platinum-cure silicone, making it non-porous, bodysafe, and durable. Even though silicone is durable, don't do anything super destructive to it (i.e., bite or pierce it. You don't want to tear it). With normal use, silicone products last ages; they don't deteriorate like some TPE and jelly products, so this is a long-term investment.
To clean, I wash with warm water and antibacterial soap before and after each use. The ridges and textured detailing is tricky — clean thoroughly.
Only use water-based lubricants with this product. I store mine wrapped in cloth (to keep it dust-free) in a drawer.
My Experience with the Monster Cocks CreatureCock
The Monster Cocks CreatureCock's ridges are attention grabbers, in a BOOM BOOM BOOM kind of way.  You can definitely feel those scales. Naively, I wasn't expecting to feel any scales when I first touched this dildo because the silicone is so soft. But, texture lovers, don't fear — they're distinctly felt along the walls. The ridges on the top side of the shaft, in particular, are amazing. They whack the G-spot easily and massage it well during use.
And for texture-junkies, this dildo may be pure bliss. There's so much going on here, what with the big ridges, and the little scales, that it verges on sensory overload for me. It's a busy, urgent, active experience.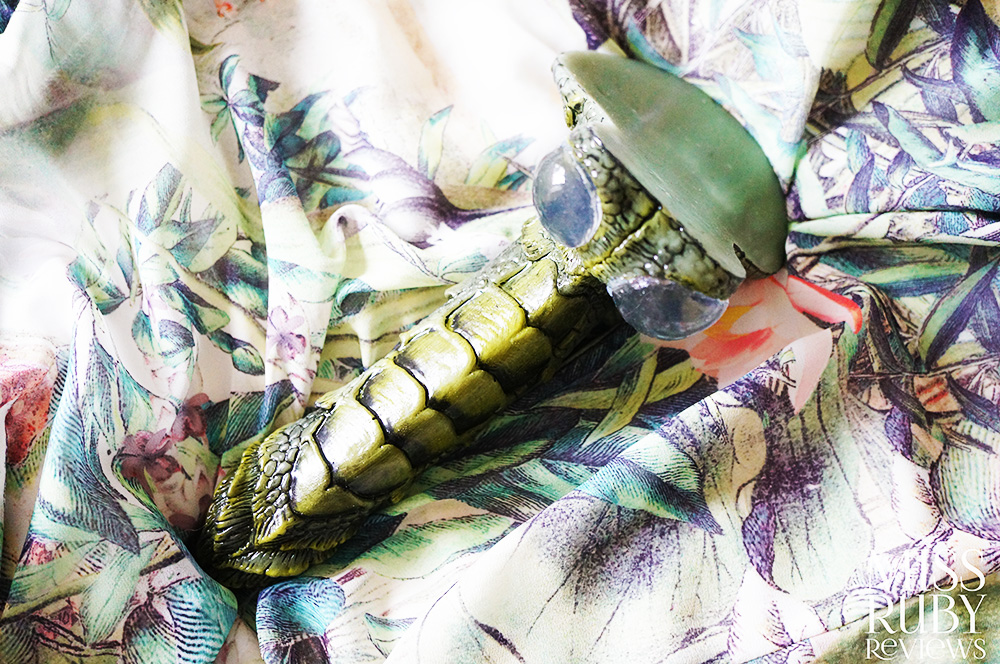 I can't orgasm with G-spot stimulation alone, but it definitely enhances my clitoral play. When coupled with one of my favourite vibes like the Magic Wand or the We-Vibe Tango, this dildo's texture really packs a punch and is hella fun to play with.
A word about the size. Though at 6.5″ insertable length and 1.5″ width, this isn't as big as many dildos on the market… but it still feels large and full. Any larger, and I think the texture would just be too much, but to each their own. Size queens may find this not quite large enough to meet their (monstrous) fantasies.
One word of warning  – this silicone's texture looks shiny, but it's very sticky to the touch. You'll definitely want to stock up on some good quality water-based lubricant, like Sliquid H2O, to keep things lubricated and comfortable.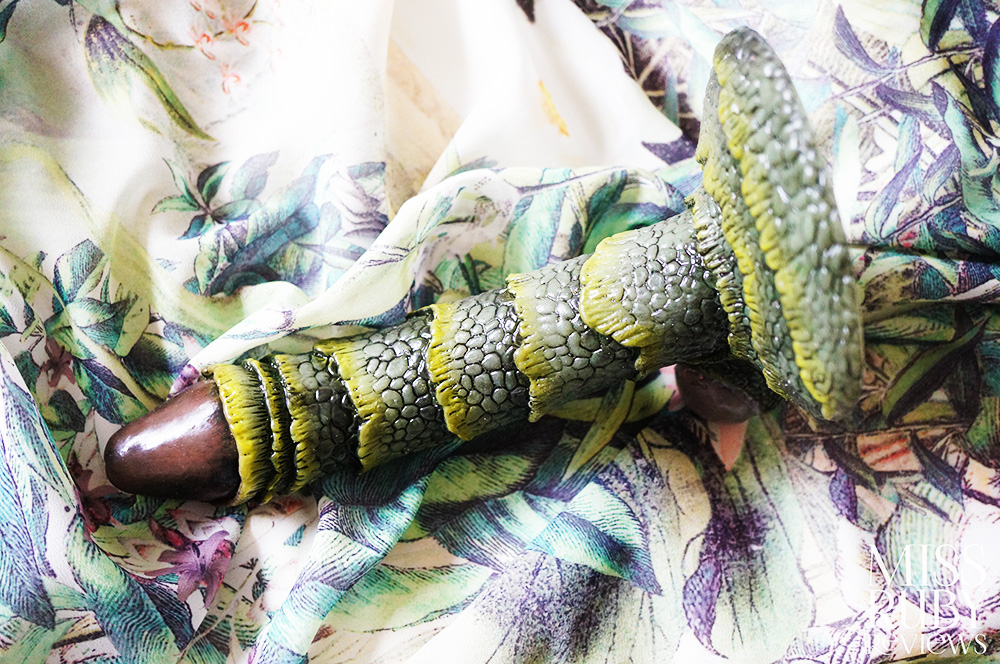 So, any cons? Personally, I really wish this was dual-density. The brand Monster Cocks is related to RealDoll, and I loooooved the dual-density structure in their RealDoll RealCock 2 Dirk and RealCock 2 Rockwell products. Those are quite a bit more pricey, mind you, but I got spoiled with it. I wish it was here in this product as well.
Overall thoughts – Monster Cocks CreatureCock review
The Monster Cocks CreatureCock is a beautifully crafted fantasy dildo. The attention to detail and texture is incredible, and the price reflects it: at $399 USD, this dildo is the most expensive fantasy-themed product I've ever tried.
Is it worth the price? If you have burning fantasies that this could fill, and you want an impeccable professional special-effects quality product, this might be the one for you. And with care, this thing will last forever.
To buy the CreatureCock, head on over to Monster Cocks.
And see below for my Monster Cocks CreatureCock review summary!

Monster Cocks CreatureCock review summary
Overall Thoughts - 9
9
$399
PROS
Stunning
Detailed
Rich colours
Textured design feels great
CONS
Shop Now