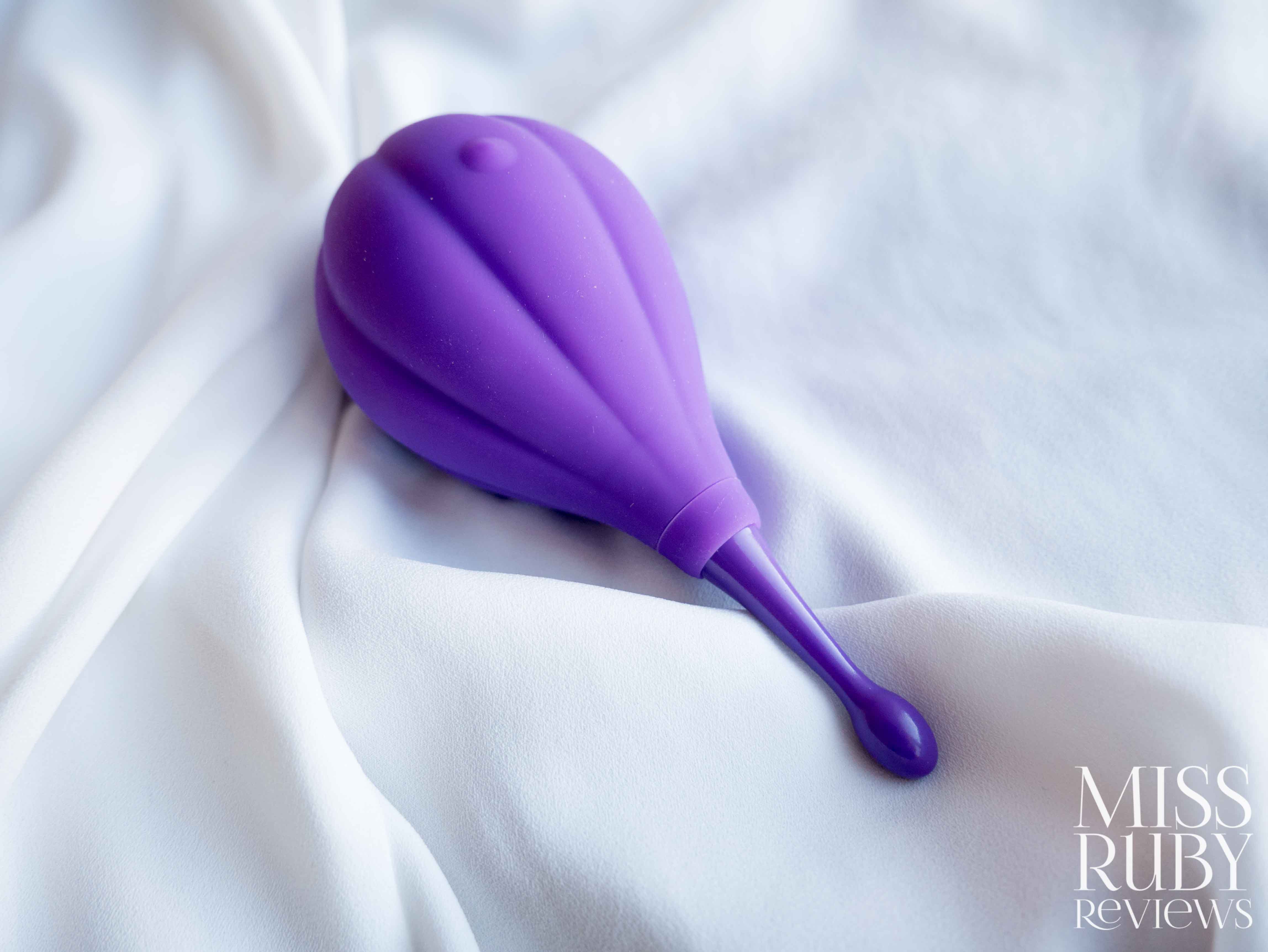 I take my hat off to you, sir. Remarkably, appallingly, astoundingly, exceptionally bad. Read on for my dismal Jimmyjane Focus Sonic review!

Physical Details | How to Use | Packaging | Material and Care | My Experience | Overall
Physical Details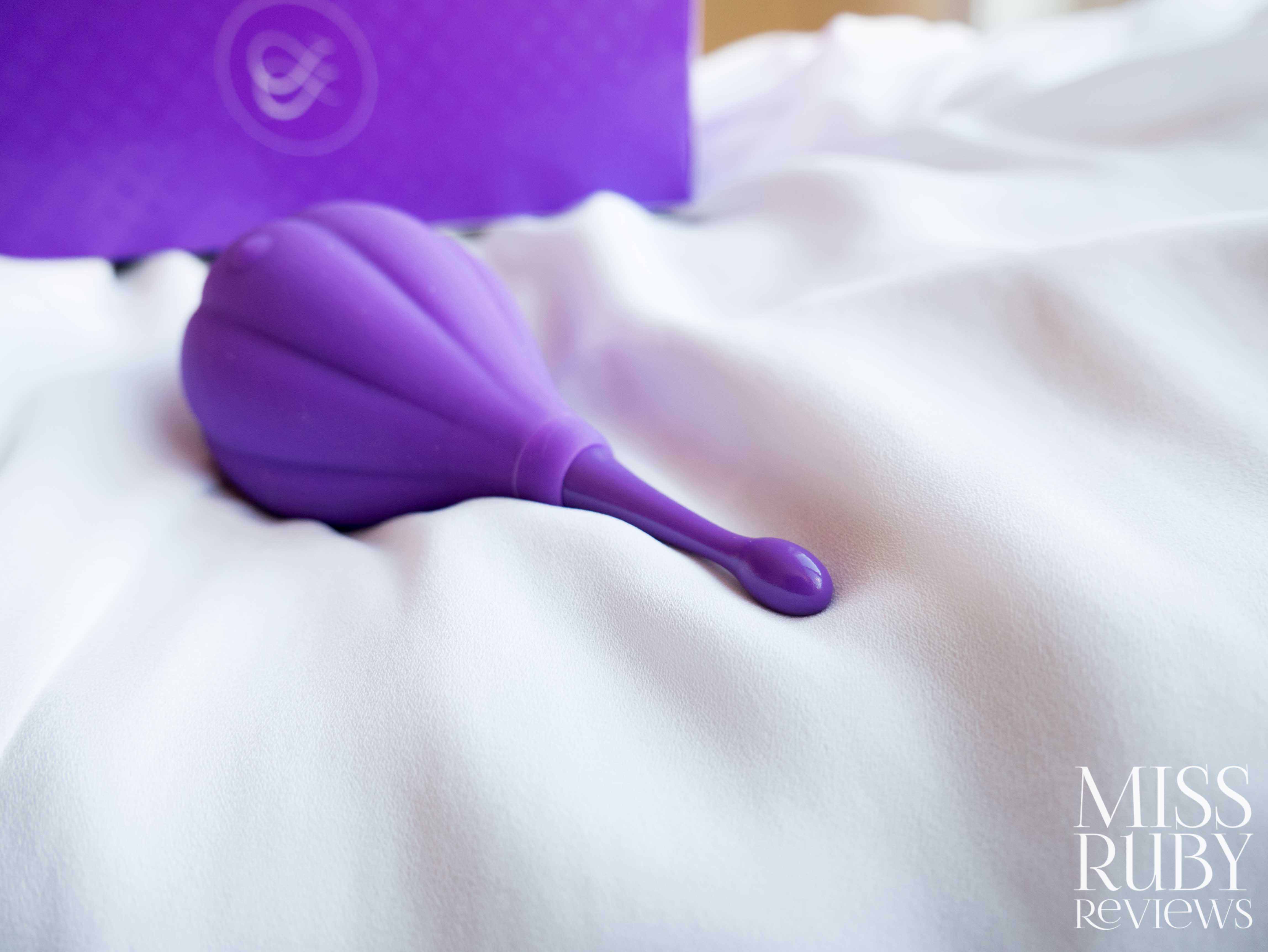 Is it a hot air balloon? A fireplace bellows? Maybe a turkey baster? NO!
The Jimmyjane Focus Sonic Rechargeable Pinpoint Vibrator is apparently (according to its name) a vibrator designed for pin-point pleasurable stimulation. Bearing a not-suspicious-at-all resemblance to the highly popular Zumio toys, the Focus is Jimmyjane's answer to nobody's question for a super-high frequency sonic clitoral vibrator.
It advertises:
"4 Intensity levels provide incredible pleasure"
"Pinpoint sonic tip precisely delivers highly concentrated vibrations"
"3 Elite Silicone® head attachments allow for pleasure customization to your specific desires"
"Focus® is conveniently rechargeable from any USB charging port, so it's ready when you are."
Yep, okay.
Let's talk about the design for a second. Although bizarre to look at, the Jimmyjane Focus is actually very comfortable to hold (before turning it on). The balloon-ish body fits perfectly in the palm of my hands.  The balloon body narrows into a shiny ABS plastic point (with a little bulb at the end). This is the part you smush against your clitoris.
The Jimmyjane Focus also comes with 3 silicone head attachments. There's one kind of cup-shaped, one like a leaf, and one with nubby bits.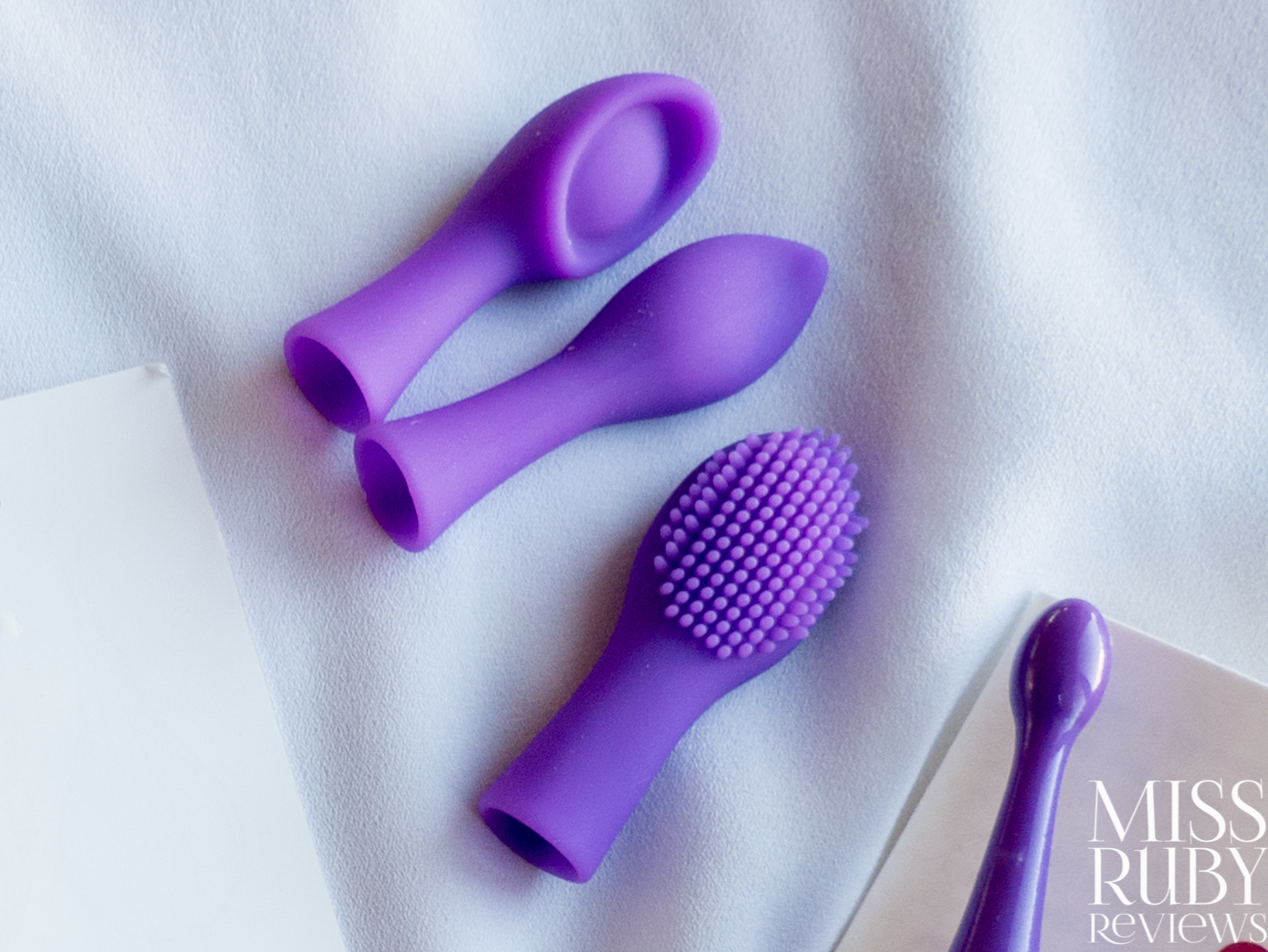 If you're thinking this is the Barney the Purple Dinosaur shade of purple, you're not far off.
Though I'd usually talk about vibration strength and noise here, let's save that for My Experience down below.
How to Use the Jimmyjane Focus Sonic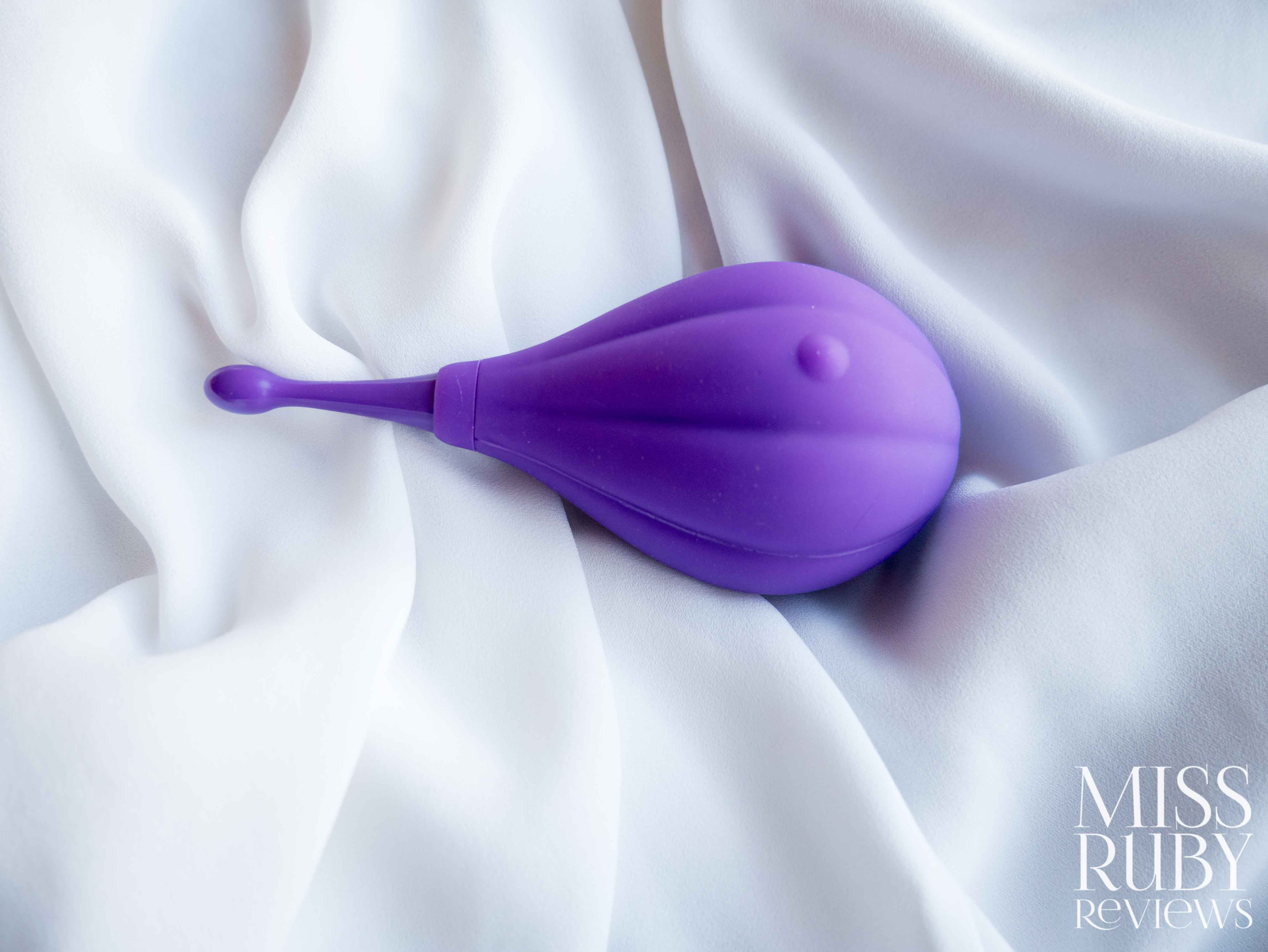 The Jimmyjane Focus is simple to use.
There's only 1 button.
To turn, on, press and hold the button for 3 seconds. The Focus will turn on at its lowest mode.
Press the button briefly to cycle through its 4 speeds.
Apply to your body. Though designed for clitoral use, it's a vibrator, so use it wherever you want – penis, nipples, etc.
To turn it off, press and hold for another 3 seconds.
If you've had this turned on for 10 minutes, you'll find that it'll die on you. The Jimmyjane Focus shuts off automatically after 10 minutes. Probably to avoid overheating, which is ridiculous for a sex toy ("Here! You get 9 minutes to try orgasm from these miserable vibrations!"). After it shuts off, you can turn it on again if you really want to.
Packaging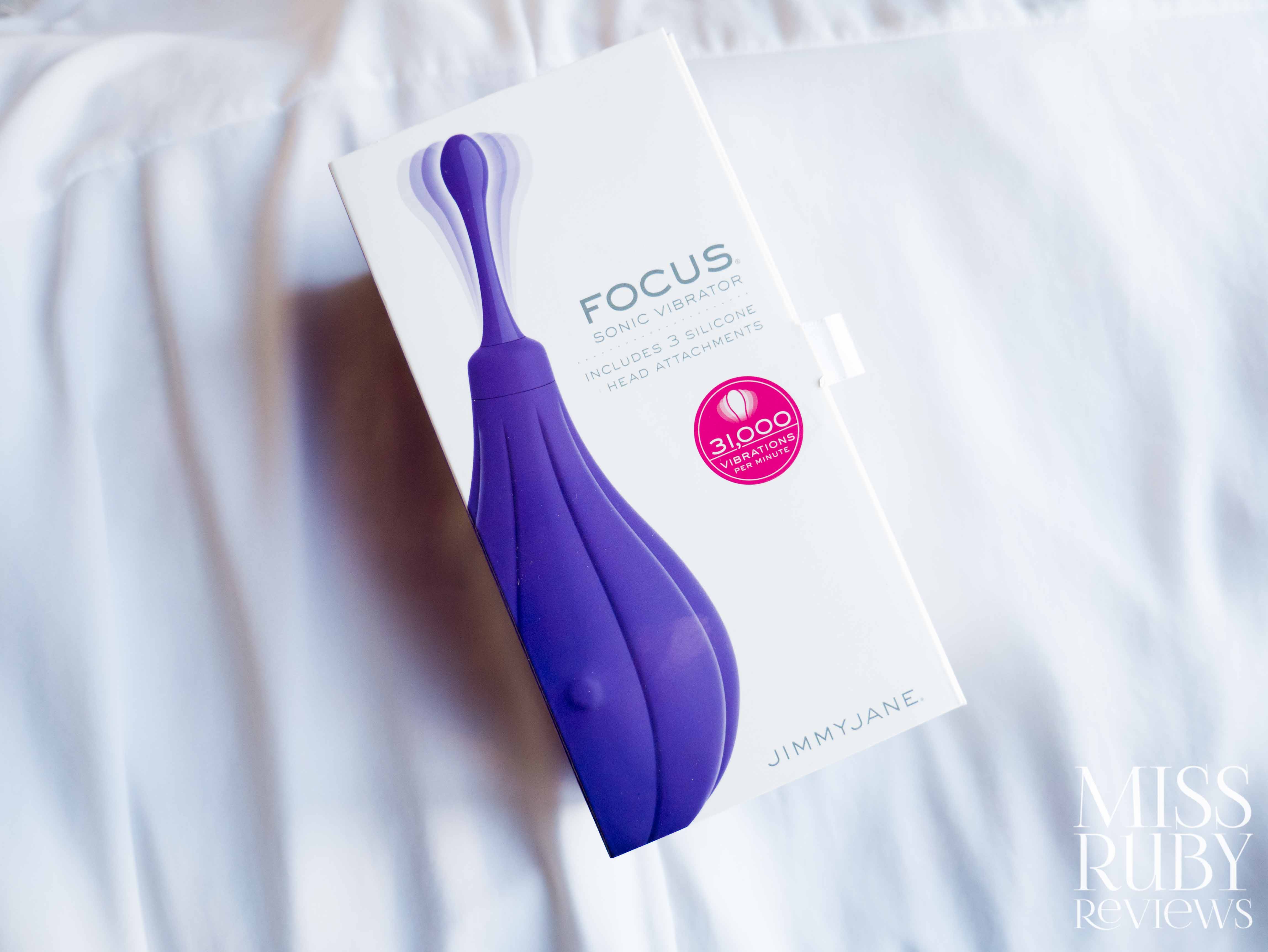 The JimmyJane comes packaged well enough. Clean, clinical box. No complaints there (except for the promises of pleasure).
Inside the box, you receive the Focus, the 3 head attachments, the USB charging cable, a quick start manual, a complaints/feedback card, and a fabric drawstring bag.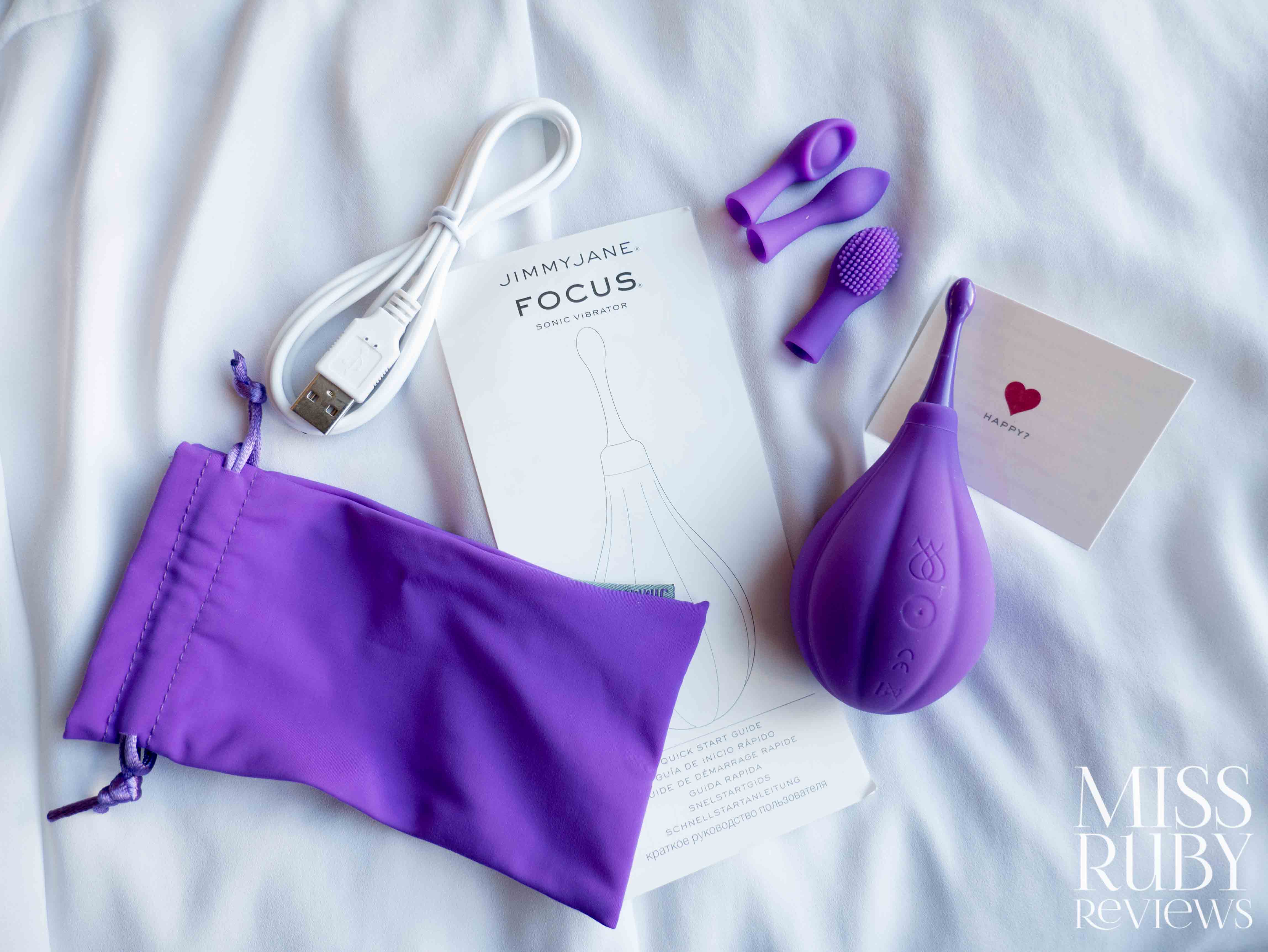 Material and Care
The Jimmyjane Focus is made of silicone and ABS plastic. The spindly head is ABS plastic. The body and attachments are made from silicone. This makes the Focus a bodysafe toy (yay).
The Focus is splashproof, but not waterproof enough to submerge it underwater. To clean, rinse with warm, soapy water.
If you'd like to add lubricant, I recommend a good quality water-based lube like Sliquid H2O.
To recharge the Focus, plug the charging cord's pin into the back of the Focus (there's a little circular impression with a dot in the middle – push the pin into the dot). Plus the USB cord into your computer or a USB wall adapter.
My Experience with the Jimmyjane Focus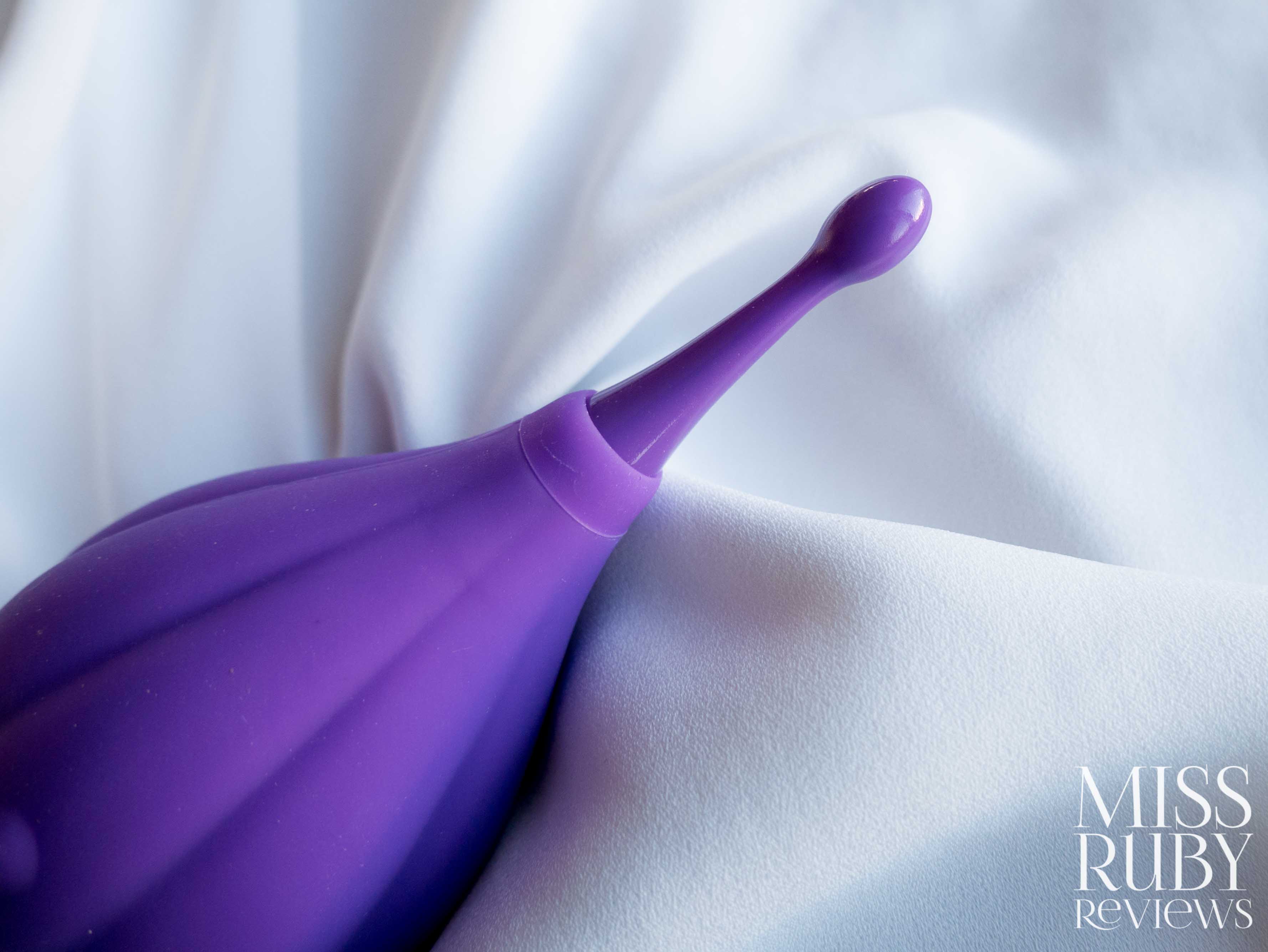 Ultra pinpoint stimulation became a renewed 'in' thing a little while ago when Zumio released its line of toys (those toys will take any pin-point stimulation lover to their knees… they're very intense). I reviewed both the Zumio X and Zumio S (over here) and loved them. Mind you, they're quite pricey, ringing in at $140 USD each.
Then comes the Jimmyjane Focus. Also purple. Also spindly and pin-point. But much cheaper ($89 USD) and with some attachments.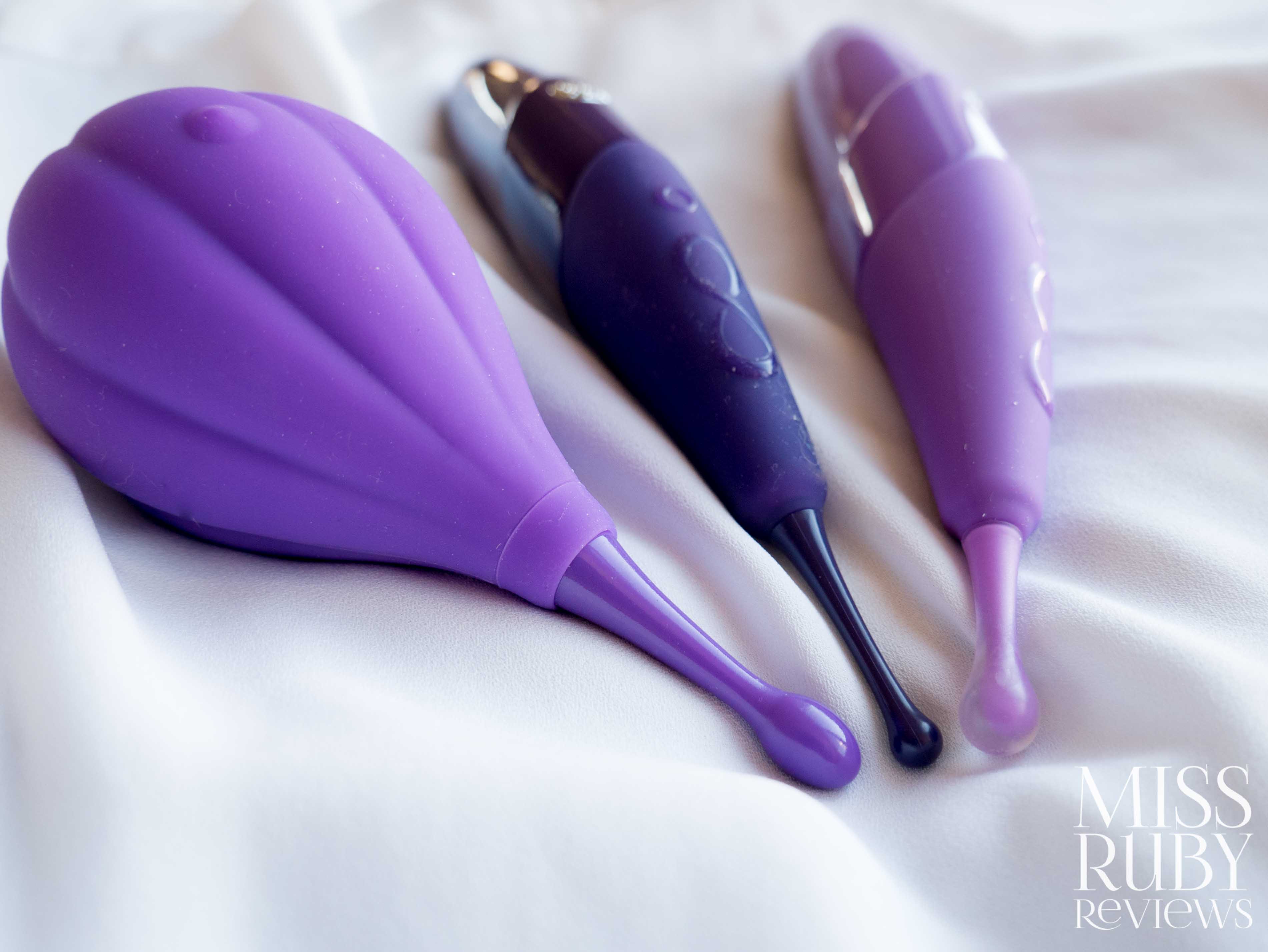 So I mean, hey, some people who loved the Zumios (or want to try the Zumios) might feel a natural, inexplicable pull to buy the Jimmyjane Focus.
Well, resist it.
The Jimmyjane Focus, with its fancy sonic high-frequency technology, delivers what I consider "tickle buzz."
Tickle buzz is when a vibrator gives such surface level, weak, buzzy vibrations that it more or less just tickles you. There is zero pleasure. Just a vaguely uncomfortable, ticklish sensation followed by annoyance. There is a nil chance of this giving me pleasure, despite my best efforts. And yes, I tried the silicone attachments. I didn't find them to provide much improvement. (I've since re-purposed them as finger puppets).
But if the tickle buzz is what you're looking for, maybe you're also looking for a noisy vibrator? Check out the fun sounds it makes below! (turn your volume up).
This can be heard through walls. When I turn it on, my cat jumps. It makes the Zumio sound like a sensual purr. The sound does dampen when I press it against my body, but not enough.
So, what we have here is a pricey ($89 USD, don't forget) item that, while bodysafe, splashproof, and rechargeable, comes across (to me, in my own personal opinion) as a poor mimic of the Zumio. It's super noisy and high-pitched, and gives you those mildly annoying tickly buzzy vibrations.
Overall thoughts from my Jimmyjane Focus Sonic review
Dear reader, please skip.
If you are convinced otherwise, the Jimmyjane Focus can be picked up from SheVibe for $89 USD.
ALTERNATIVELY, spend $50 more at SheVibe and get the Zumio X (for hardcore pin-point zealots) or the Zumio S (my personal fave).

Last Updated on November 17, 2020 by Miss Ruby