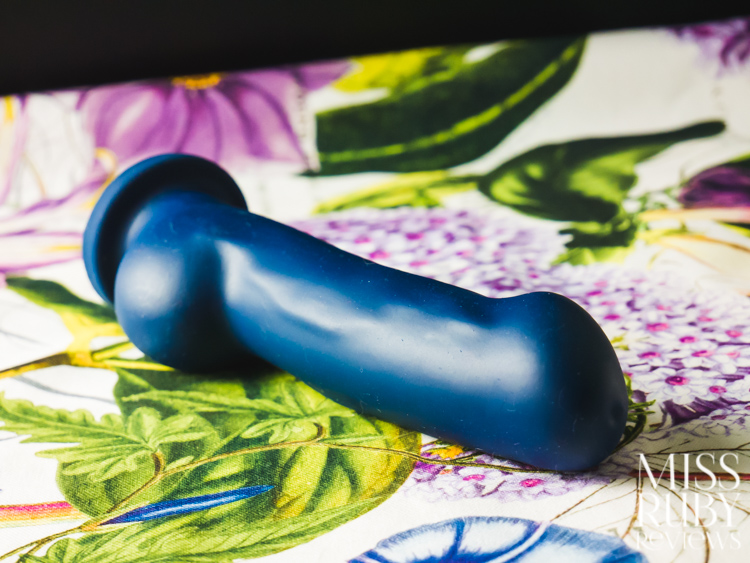 What a beautiful shade! Deep, dreamy, indigo blue. Read on for my Blush Avant Ergo D8 review!

Design | Accessibility | How to Use | Packaging | Material and Care | My Experience | Overall
Design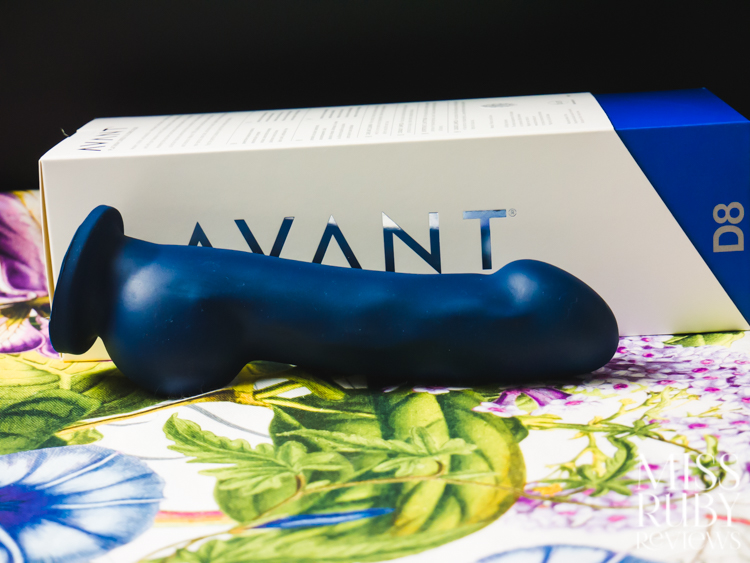 The Blush Avant Ergo D8 dildo is a new dual-density dildo from Blush Novelties. It's silicone, squishy, and a hefty medium-sized dildo.
This is what I consider a stylized design… it has phallic elements, but it's far from truly realistic.
The Blush Avant Ergo D8's design provides:
A shaft that's long, narrow and slightly bendy. It's decorated with a few gentle veins but is otherwise smooth.
A pointed head with a urethral dent and a prominent coronal ridge.
Testicles that are just a single high ball that's tucked tightly up against the shaft.
A gap below the ball for an O-ring, and then a flared base. The flared base makes the D8 anal-safe and compatible with O-ring harnesses.
A hollowed-out base to form a suction cup. Though, word of warning, I don't find the suction cup strong enough.
Dual-density
The Blush Avant Ergo D8 is beautifully squishy. It's one of Blush's dual-density designs, which means that there's an outer layer of silicone that's squishy and loose enough to tug around. This layer is so squishy that I noticed my copy has a superficial dent on the head (pictured above), likely from the manufacturing process.
Inside the squishy outer layer, there's a firm, backbone-like inner core that can't help but remind you of the real thing.
The stylized testicles are completely squishy, and squeezing them is surprisingly fun.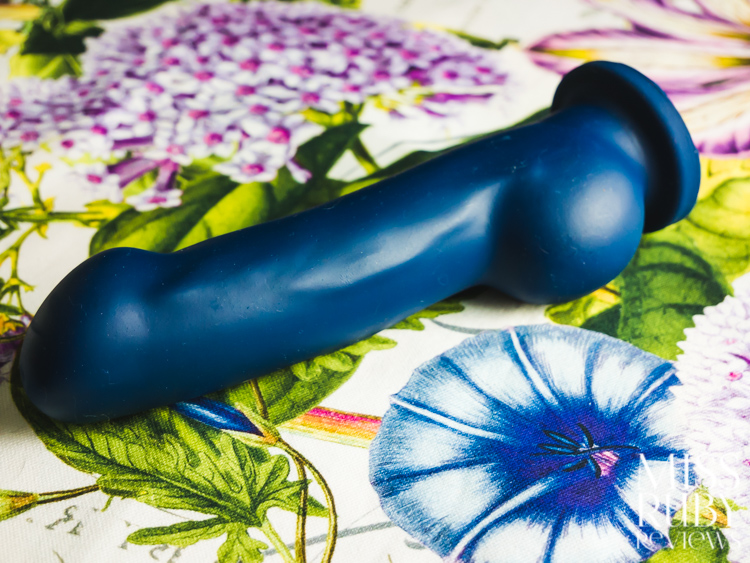 Colour
The Blush Avant Ergo D8 comes in a super deep, super matte midnight blue. The colour is referred to as Indigo.
If you don't like this colour, you can choose instead to get the Blush Avant Ergo D7, which is exactly the same except it comes in a vibrant pinkish/purplish violet shade.
Mini Versions
If the Blush Avant Ergo D8 is too big for you, you can purchase the mini versions instead. The Blush Avant Ergo Mini D10 is an inch shorter and a bit narrower too. The D10 is the Indigo version, but if you wanted a mini Violet version, you can pick up the D9 instead.
Accessibility
This section is to help folks determine if they might have any issues using/accessing the Blush Avant Ergo D8.
Size (my measurements): 8″ overall length (5.5″ insertable up to the balls, or 7.5″ insertable including the balls) x 1.5″ wide. This is a moderate-sized toy.
Weight: My scale says this is 300 grams. It's not heavy exactly, but it's not light either.
Handling: Like most dildos, there's no dedicated "handle" section to hold onto. You're left holding onto the floppy flared base, which measures 6cm diameter x 0.5cm tall. The shaft has some bend to it, which may or may not make things easier for you.
Other notes: This has a weak suction cup, and I wouldn't want to rely on it.
Price: At $34.99 USD, this is one of the least expensive silicone dildos on the market.
How to Use the Blush Avant Ergo D8
Apply water-based lubricant like some Wicked Simply Aqua or Sliquid H2O. Even if you naturally produce lubricant, silicone tends to use up a lot so having some extra on hand is always a good idea to keep things gliding.
This can be safely used vaginally or anally. (For anal-use: because the part of the shaft with the balls is wider than the flared base, I'd consider not trying to swallow the balls. There is a narrow segment of shaft before the flared base, so maybe it'd be fine, but be cautious).
If you'd like to use this with a strap-on harness, I recommend something with a 1.5″ O-ring, which should be able to slip over the flared base and rest between the base and the balls. The flared base is 2.25″, so you definitely want something under 2″. Something like this or this could work.
Packaging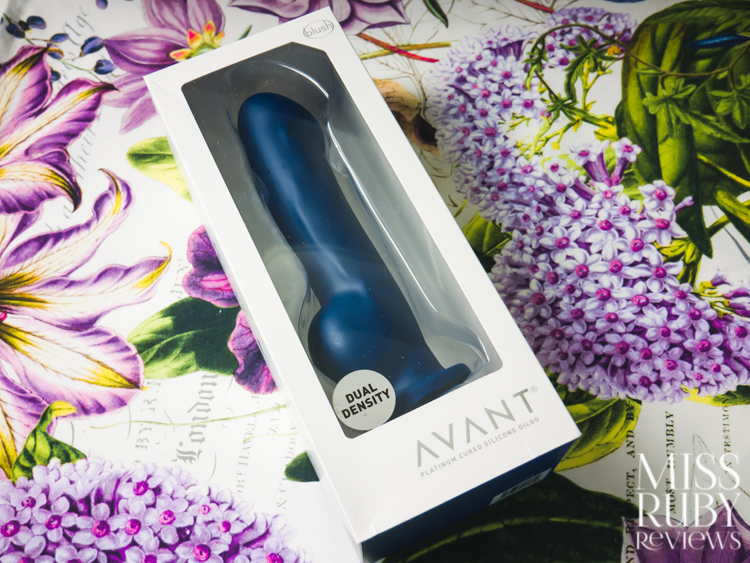 The Blush Avant Ergo D8 comes packaged simply in a clear and white box. The sides of the box are coloured deep blue.
Inside the box, you receive only the dildo. No other accessories are included. If you'd like a specific toy bag/case for it (not necessary, but always nice), you can browse for some here.
Material and Care
The Blush Avant Ergo D8 is made from platinum cured silicone. This makes it bodysafe (nonporous, nontoxic, free of phthalates, etc). This particular silicone finish is very sticky to the touch, which attracts a lot of lint/dust.
To clean it, I wash mine in warm, soapy water before and after each use. Because this is silicone, you can also toss it in the dishwasher or boil it to sterilize it.
If you'd like to add some lubricant (highly recommended), opt for a good quality water-based option like Wicked Simply Aqua, Aqua Jelle, or Sliquid H2O. I particularly recommend the Aqua Jelle if you'll be using this dildo anally. Whatever you do, avoid silicone lubricants; those will bond with the silicone in this toy and degrade the surface.
This comes with a 5-year manufacturer's warranty, which is really comforting. It's valid in the USA and Canada.
My Experience with the Blush Avant Ergo D8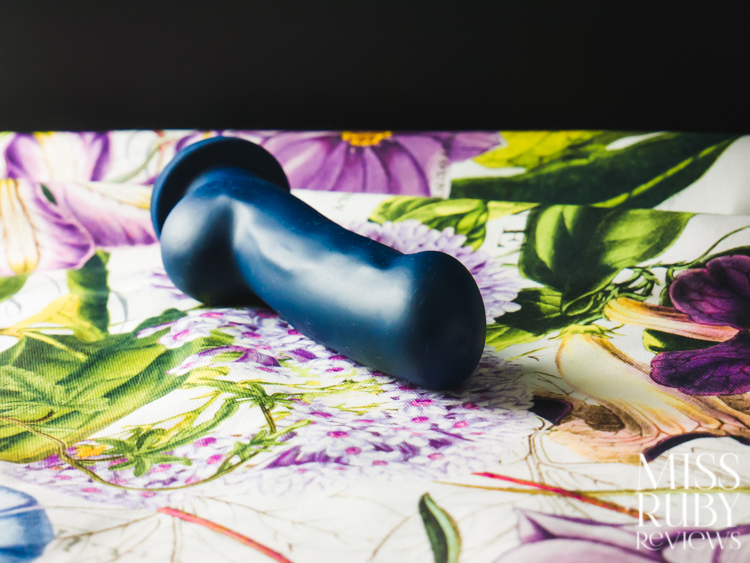 For starters, even before the Blush Avant Ergo D8 gets anywhere near your genitalia, it's so fun to just handle this toy.
Dual-density dildos are always better than single-density ones. And Blush's dual-density dildos, in particular, are glorious. The head can be squashed, the shaft's inner core feels deliciously realistic, and squeezing those stylized testicles is like squeezing a stress ball (SO satisfying).
So even just touching the Avant Ergo D8 is fun.
When it comes time to playtime, the fun continues. The Avant Ergo D8's body may be straight, but that coronal ridge is generous. So, this is best used/thrust with the coronal ridge facing the G-spot. Sticking to shallow thrusts (about 2″ deep, where the G-spot is) will help you focus on the G-spot.
But when you just want to feel stretched and fulfilled, letting loose and thrusting deeply is grand. Even though I call this only a "moderate-sized" dildo, it's pretty girthy and certainly feels big enough during use.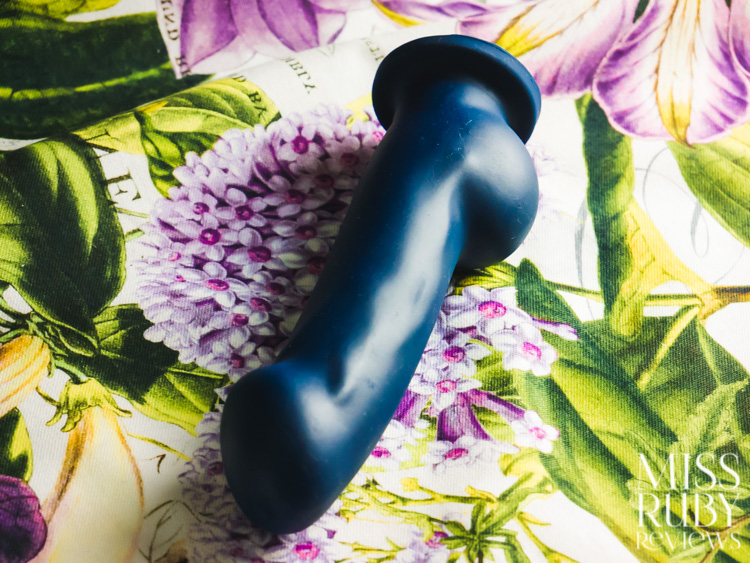 I don't know if Blush intends for people to attempt swallowing the single ball at the base, but I haven't managed it. The shaft diameter is around 1.5″, but the ball quickly increases that to 2″. If you can manage it though, that'd feel like a great pop! sensation.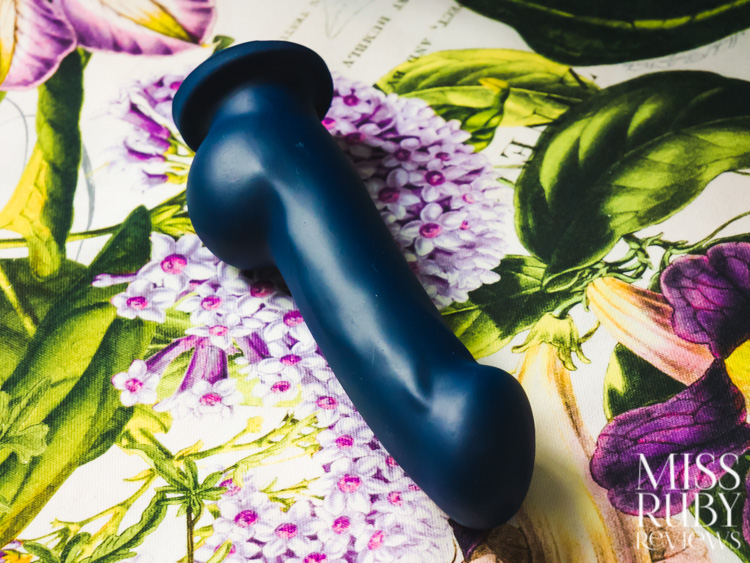 My only serious gripe with Blush Avant Ergo D8 is its suction cup. Asides from giving you something to grip during thrusts, it's pretty much useless. It'll stay on a smooth, flat surface for a split second before the suction seal breaks and it falls down.
Maybe I just got a bad one, but if you're really dreaming of an amazing suction cup experience, you probably won't find it here. It's a shame.
Blush Avant Ergo D8 Review – Overall Thoughts
The Blush Avant Ergo D8 is a lovely dual-density dildo that features a stylized design, a squishy outer layer, a deep indigo blue colour, and a great affordable price. My only complaint is that I found the suction cup to be a dud. Still, for only $34.99, this is a pretty good choice.
You can pick up your own Blush Avant Ergo D8 at Peepshow Toys! Why do I like Peepshow Toys? They ship internationally, only carry body-safe products, and you can get a 10% discount off your whole purchase with coupon code RUBY. 

See below for my Blush Avant Ergo D8 review summary.
Blush Avant Ergo D8 Review Summary
Overall thoughts - 8.8
8.8
$34
PROS
Girthy
Luscious dual-density
Inexpensive (<$35)
Bodysafe silicone construction
O-ring harness compatible
Safe for vaginal and anal use
CONS
Weak suction cup
May be too large for some (look for the D9 version instead)
Silicone finish attracts dust/lint
Shop Now

Last Updated on March 18, 2023 by Miss Ruby