The Sneaky Sack is one of those items that anyone would love, including people not interested in hiding sex toys. It's just so handy. It's definitely not limited to people who specifically need to hide sex toys. That being said, it is pretty much perfect for people who have a small (or big) stash of sex toys that need to avoid prying eyes.
About the Store | Packaging| Physical Details| My Experience | Overall
About the Store: Holistic Wisdom
What sets Holistic Wisdom apart from many sex toy companies is their commitment to non-toxic ecofriendly toys. I've found a lot of useful information in their amazing resources on common sex toy toxins  and their material guide. It was a pleasure to communicate with Holistic Wisdom. Thanks again, Holistic Wisdom!
Shipping and Packaging
For international delivery, shipping was very quick. My order was placed on January 20 and I received the Sneaky Sack on January 29. The Sneaky Sack came in a simple brown envelope. Inside the package, the Sneaky Sack was folded neatly in plastic packaging. The words "Holistic Wisdom Inc" was listed on the package label as the return address. Fortunately, the name "Holistic Wisdom" doesn't indicate adult products in any obvious way, so I didn't feel self-conscious accepting the package. However, if you know that your package may have to be in the hands of someone else for a while (ie, your roommate), this is something to consider.
Physical Details
The Sneaky Sack is a durable black bag designed to hang on a clothes hanger underneath an article of clothing. The material and stitching is sturdy, allowing you to pack it full of heavy toys. It's also washable and waterproof, so if a bottle of lubricant or oils leaks, it can be washed in cold water and hung to dry. The main zipper on the front accommodates a lock (not included), which is an extra step of protection you might find useful. I really like that the material is bendy and quiet; it doesn't rustle when brushed up against and it's flexible enough to bend against heavy clothes.
The Sneaky Sack has three storage areas: a large main compartment (17.25″ x 12.5″), a back pocket (13″ x 12.25″) and a front pocket (12″ x 12″).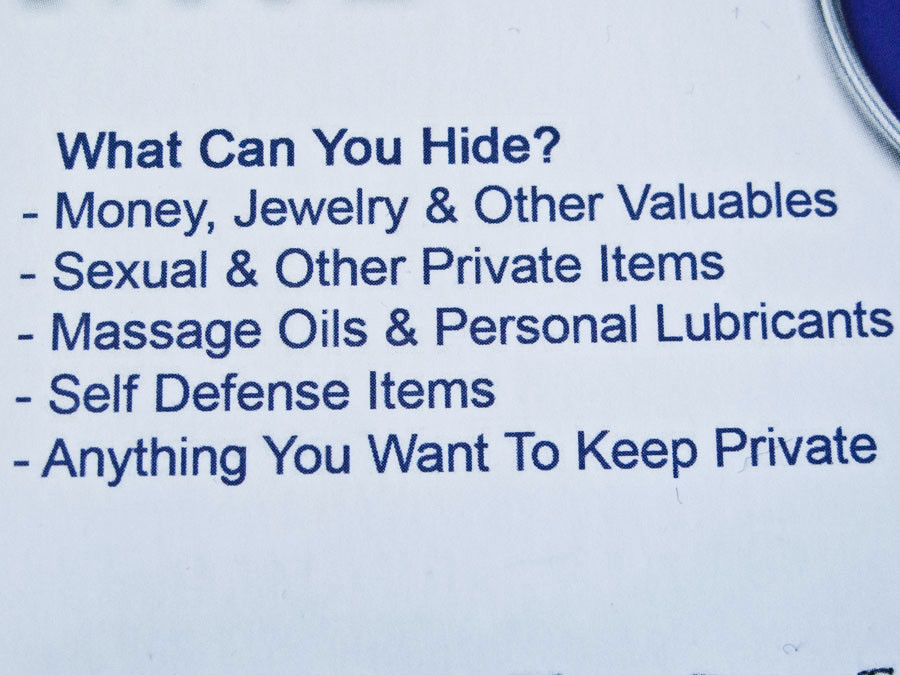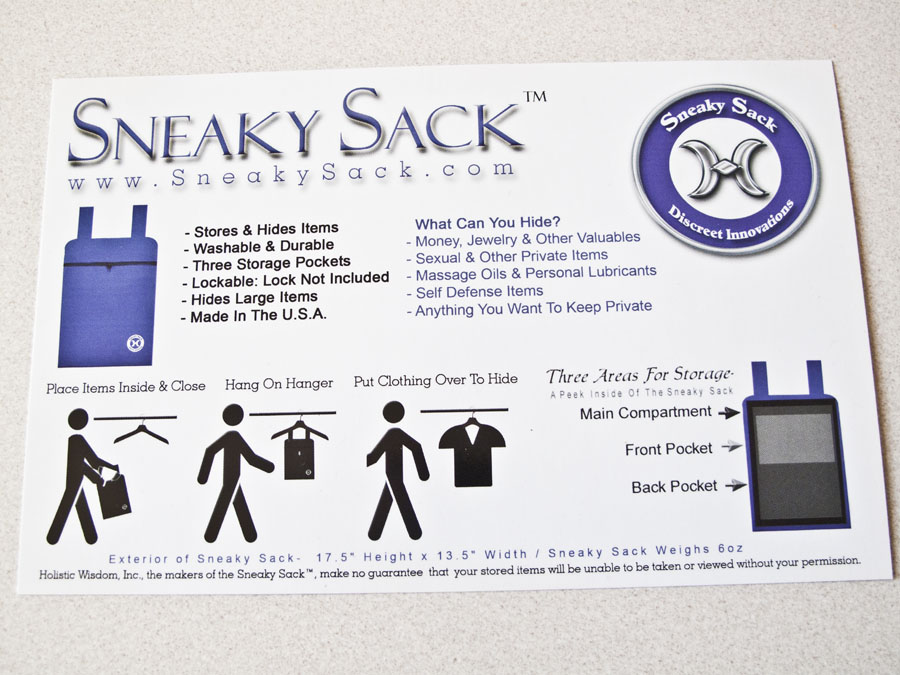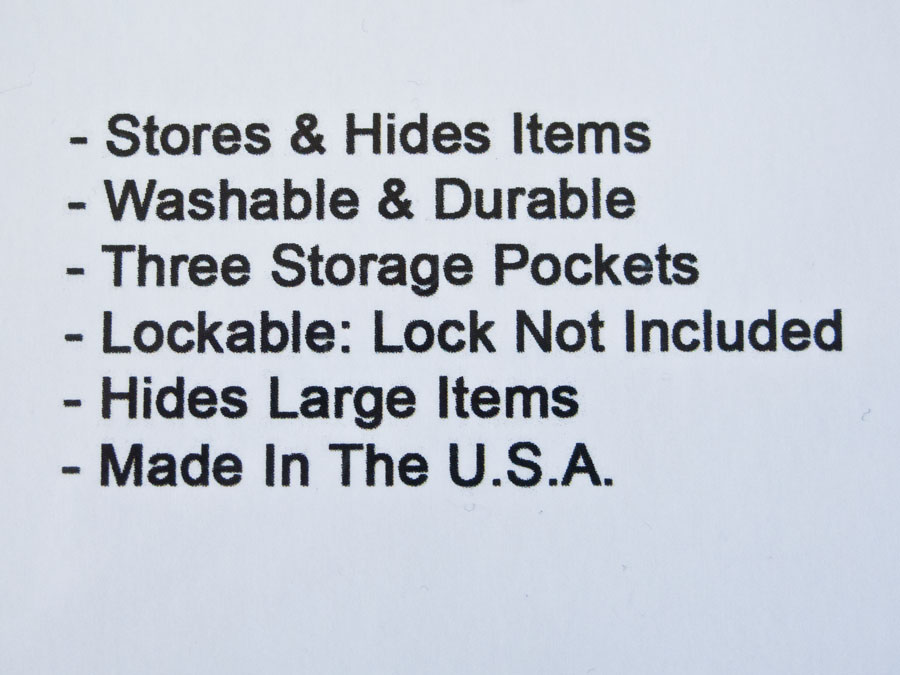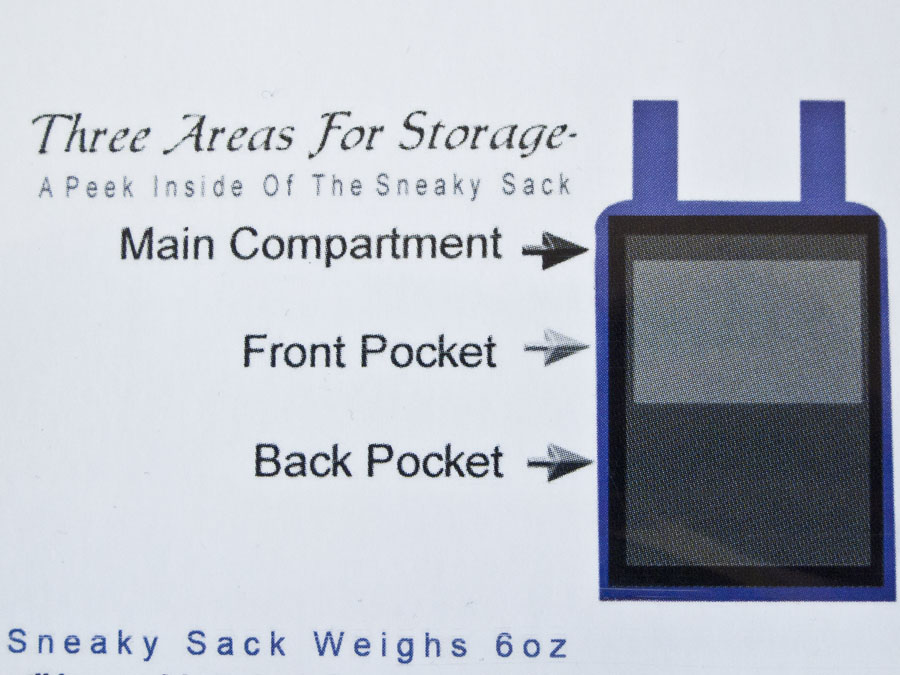 My Experience
In the above picture with the Sneaky Sack under the dress, the Sneaky Sack is hiding several items: Lelo Ella, Lelo Mona 2, Lelo Large Smart Wand, Jopen Comet II, and the Tantus Mark. I list all of these toys so that you can get a clear picture of just how much can discreetly fit inside the Sneaky Sack. Even with all those toys, there's plenty of room left over for smaller toys. That is a sizable bunch of toys to hide. Mind you, the bag was heavy with all these toys, and I later switched to a wooden hanger. For light items, a plastic hanger is fine, but if you have some large items you'd like to store, definitely try go for something with a sturdier frame (like a wooden hanger).
As you can see (or can't – har har), the Sneaky Sack has very adequately hidden a large stash of sex toys. And that's just hanging on a door. When it's packed in a closet between other clothes, I'm left feeling very comfortable that nothing inside the Sneaky Sack will see the light of day without my wish.
I can't help but wish I had this handy little bag years ago when I lived with roommates and had to very carefully hide private items like sex toys and birth control. It would have been absolutely perfect for keeping my sex toys from prying eyes. Because I live in my own apartment, I no longer need to obsessively hide my sex toys anymore, but that doesn't mean I can't use this bag at all. This bag will remain the perfect hiding spot for Christmas gifts (shh, don't tell my boyfriend) and valuables, as well as the occasional sex toy item that I can't fit in my established storage system.
Overall
All in all, I'm really happy with the Sneaky Sack. I think it's perfect for those looking to hide a sizable stash of sex toys. For the convenience and mind-at-ease that you get, I would say that the price is very reasonable. My only wish is that it came in more sizes. If I had a large collection of sex toys, I'd even consider buying two or three Sneaky Sacks just so they wouldn't all be in one overpacked bag.
To buy the Sneaky Sack, head on over to Holistic Wisdom.

Last Updated on March 14, 2020 by Miss Ruby