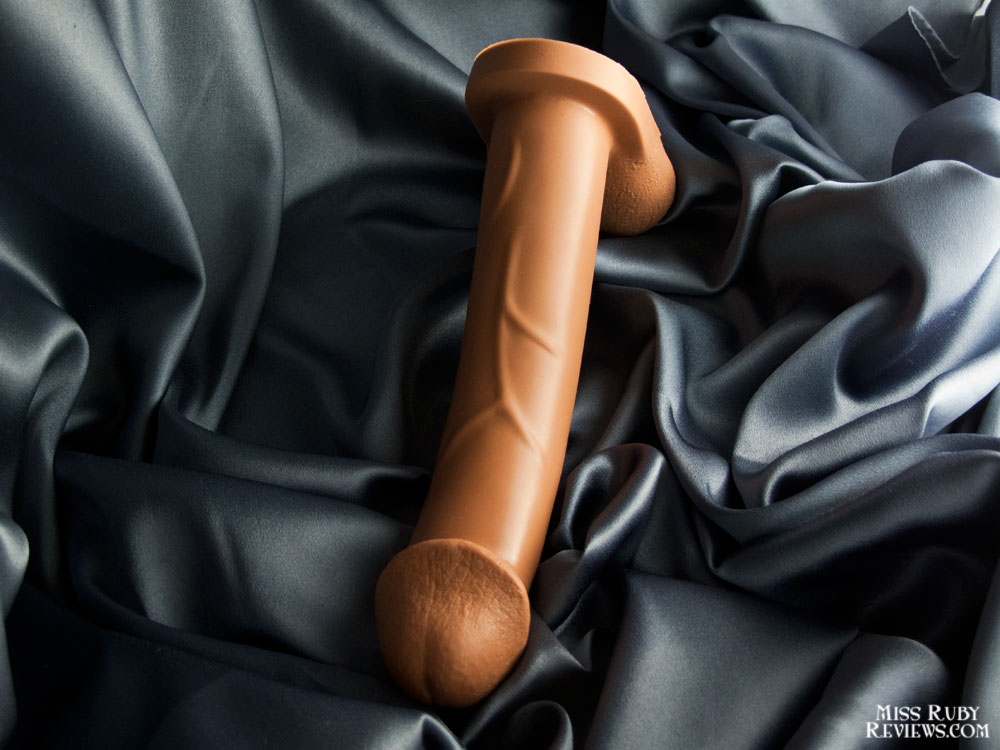 The Admiral. It's a great name. Can you hear the seagulls? The waves lapping against the ship's hull? The Admiral shouting orders to his crew of sweaty sailors? I love the idea of naming a dildo after a rank in the navy.  It immediately sparks my imagination… Read on for my Pleasure Works Admiral review!
Physical Details| My Experience | Overall
Physical Details
Design:
Long, thin, and stylized, the Pleasure Works Admiral is quite an eyeful. The first thing I noticed when I held it in my hands was just how big it is. Because it's on the thin side (4.5 inches in circumference), I thought it would appear smaller in real life. Nuh-uh. An insertable length of 7.5 inches makes this a sizeable dildo to behold. I ordered the Admiral in Caramel, but it is also available in Coffee and Vanilla. The Caramel color is warm and tan and I love it.
The Admiral has an interesting design. I'd classify it as "semi-realistic" because this dildo is a very stylized interpretation of a penis. The head, with a prominent coronal ridge and a urethral dent, is the most realistic part of the toy. The shaft is mostly a smooth, curved cylinder, which is textured only by subtle veins. The balls are narrow and flat. What I love about the balls is that they're three-dimensional. Many dildos with balls only have the front half of them textured, with a smooth flat side on the back. But these balls are textured on the back side too, giving them a three-dimensional feel. I love this feature!
The shaft is surrounded by a lip of silicone padding, meaning this toy is harness compatible (if your harness can accommodate balls) and safe for anal play. There is no suction cup base, so this is not a hands-free toy, but Good Vibrations does sell a handy double-sided suction cup if you require hands-free play.
Firmness:
While the Admiral doesn't have the squishiest silicone I've ever experienced, it's certainly not the hardest. Some silicone toys feel rock hard and cement-like, which isn't as sexy as it sounds because it can start to make you feel bruised. But when you squeeze the Admiral, there's definitely a bit of give to it. It can be pulled and twisted about. The shaft can be folded in half, but it always springs back upright. It's of uniform firmness throughout.
Material and Care:
The Admiral is made from 100% silicone, meaning that it's non-toxic, non-porous, and phthalate-free. This means that you don't have to worry about bacteria, smells, or colors permanently absorbing into the material. I clean this toy with warm water and soap but, because it's silicone, you can also boil it or toss it in the dishwasher. Only use water-based lubricant with this toy.
Comparisons:
Compared to other toys, the Admiral is narrow and long. The Admiral's head is more realistic than the First Mate's head, but it is overall less realistic than the First Mate and the Doc Johnson Realistic Platinum. Firmness wise, the First Mate and the Admiral tie for first place out of this group: their silicone is just squishy enough to feel similar to a penis, and in general feel much better than the Tantus Mark and the Doc Johnson Realistic Platinum.
My Experience with the Pleasure Works Admiral
Playtime with the Admiral is a smooth and fun experience. The medium-firm silicone is super for fast thrusts. Because it compresses slightly when squeezed, the Admiral doesn't bang against my vaginal walls in an uncomfortable way. I can't get the whole shaft in, and I find I'm perfectly happy with only inserting about 5 inches. There's no discernable texture, including the veins of the shaft, but I am happy with this because a textured sensation isn't necessary for me during play. I can definitely feel the shape of the head against my g-spot though, and credit for this goes to the pronounced coronal ridge.
During vaginal use, I can definitely tell that the shaft is curved. When the balls are facing away from my clitoris (picture missionary-position), then the upward curve of the shaft glides along my g-spot. I find that this really helps to give me a sense of targeted pleasure: this dildo knows what it's doing and the good places to hit. However, because the curve is so strong, I don't find this a comfortable toy to use when the balls are facing towards my clitoris and the head is curving down away from my g-spot. I find this to be the same in any dildo where the shaft's curve is pronounced. Because of this, I'm not likely to use this to simulate doggy-style penetration.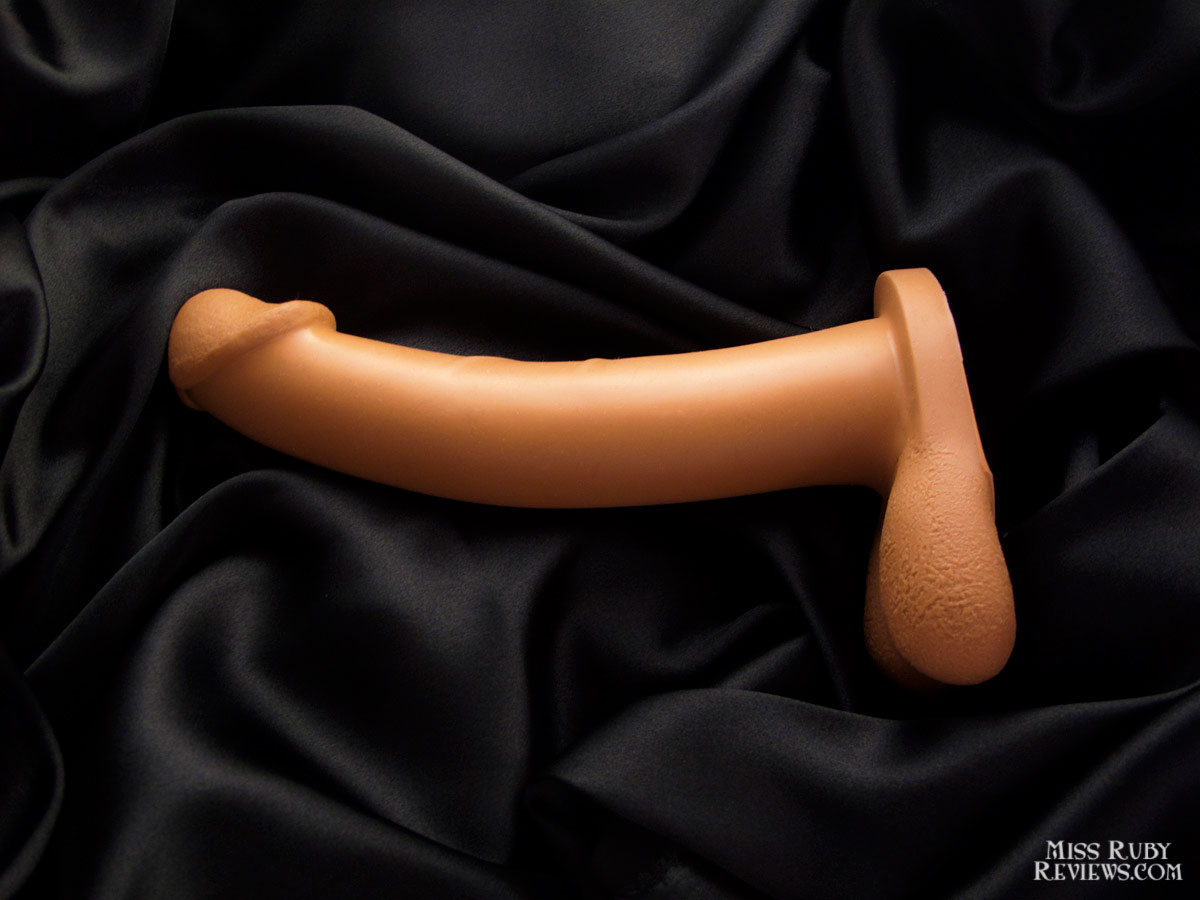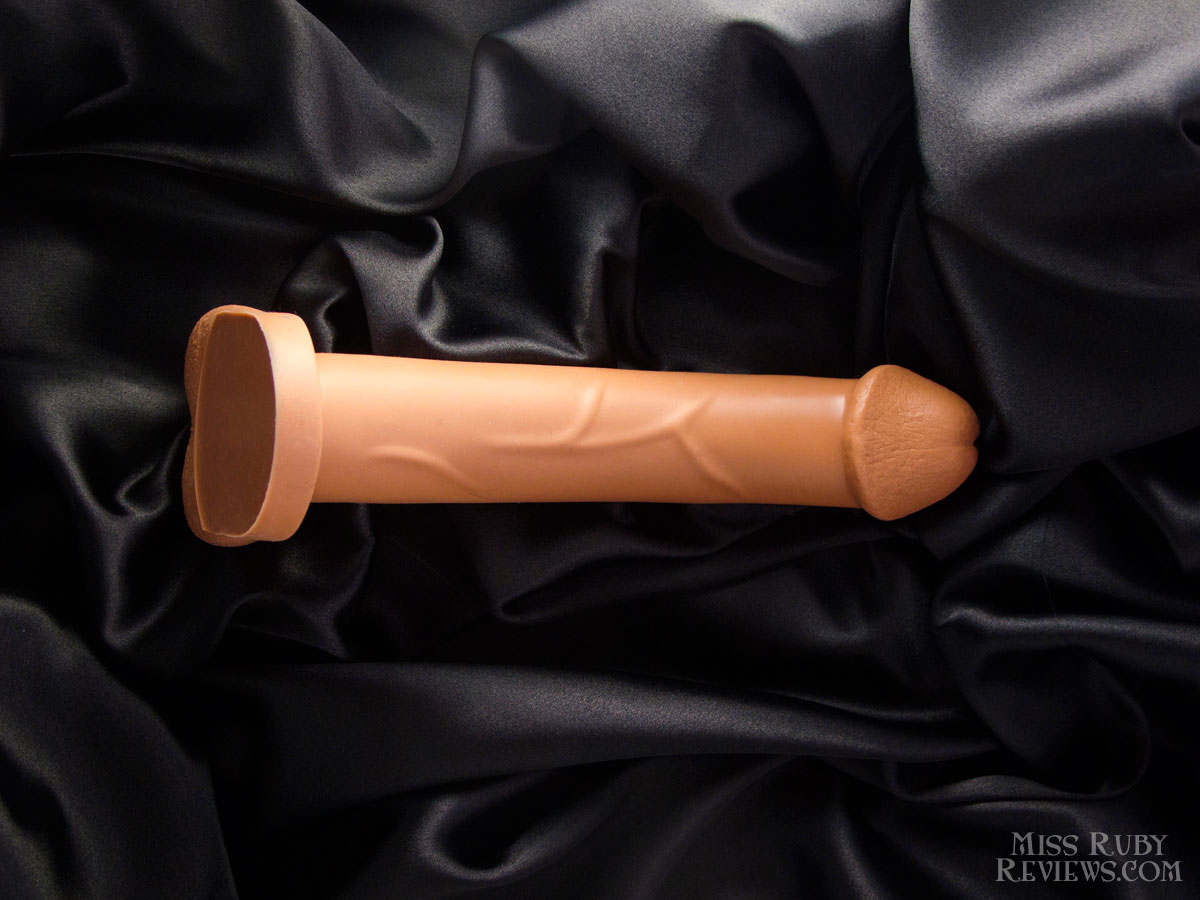 This is a narrow dildo compared so some of my other ones, which means I'm not left feeling very full in the same way I would with a girthier dildo. That being said, my vagina is used to using thicker dildos on a regular basis, and I don't think I would have even noticed this if I wasn't used to thicker dildos. Though the Admiral is a narrow dildo compared to my other dildos, it's still a good-sized dildo with an impressive length, and I would never call this small.
I love how easy it is to hold onto this toy. Some dildos barely leave you with anything left to grasp,  and you have to hope that the tiny slippery handle doesn't slip from your hands. Not for the Admiral. The Admiral is so long that there's still plenty of shaft to hold onto. I don't grasp the dildo by the balls base, though that is another option, but I also hold it by the lip on the top end of the base.
Overall – Pleasure Works Admiral review
I think the Admiral is a great choice for someone looking for a long, narrow, and semi-realistic dildo. Though highly stylized, I like that this dildo has the textured head and balls for a touch of realism. Though I'll mostly be using this for vaginal solo play, this toy is harness-compatible and safe for anal use because it has a flared based. If you require a hands-free toy, remember that the Admiral doesn't have a suction cup, so I suggest grabbing the double-sided suction cup that Good Vibrations carries.
To buy the Admiral, head on over to Good Vibrations.
And read below for my Pleasure Works Admiral review summary.
Review summary
Overall thoughts - 8.5
8.5
$120
PROS
Bodysafe silicone
Three dimensional balls
Compatible with harnesses
Good mix of stylism and realism
CONS
Doesn't come with suction cup
A bit narrow for my visual taste (subjective)
Shop Now
Last Updated on March 19, 2020 by Miss Ruby