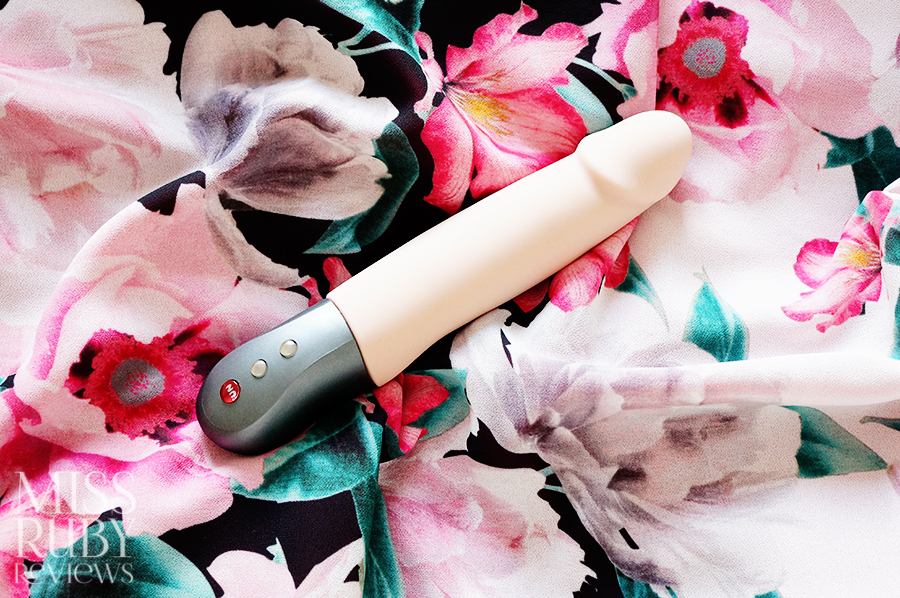 Looky here! The self-thrusting magnificent invention that is Fun Factory's Stronic line has broken into the realism market with the new Fun Factory Stronic Real. Read on for my Fun Factory Stronic Real review!

Physical Details | Packaging | Material and Care | My Experience | Overall
Physical Details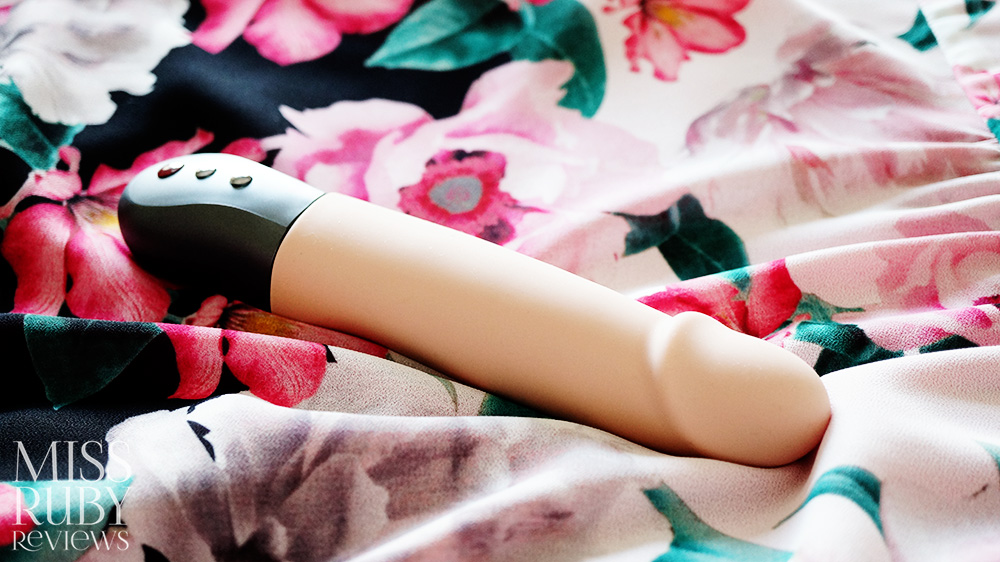 Design
You've seen me talk about Fun Factory's self-thrusting pulsators before. I was impressed with its seemingly magical movement with the Bi Stronic Fusion Pulsator but didn't like that model's little clitoral arm. I LOVED the Stronic G, which was the first in a new generation of pulsators and was lighter and narrower than its predecessors, yet still as powerful.
Now, Fun Factory has tippy-toed into the world of realistic pulsators with the Fun Factory Stronic Real.
"Realistic" would be pushing it. Physically, the Stronic Real is semi-realistic at most. There's a peach-tone shaft, a coronal ridge, and a tapered head.  Very much a stylistic representation of a penis, there's no urethral hole, no veins, no detailed contouring.
Colour-wise, the Stronic Real doesn't come in enough realistic colours to appease me. Asides from this Vanilla shade (which looks exactly like a crayola peach tone pencil), you have Violet (Purple) or Rose (Pink). I think it would have made more sense for Stronic to offer medium tan and a dark brown tones instead, but I appreciate the effort. Baby steps into the realism world, I guess. Still, to my readers that want a realistic pulsator with a darker skin tone, I'm sorry. Hopefully that will be offered by Fun Factory sometime soon in the future.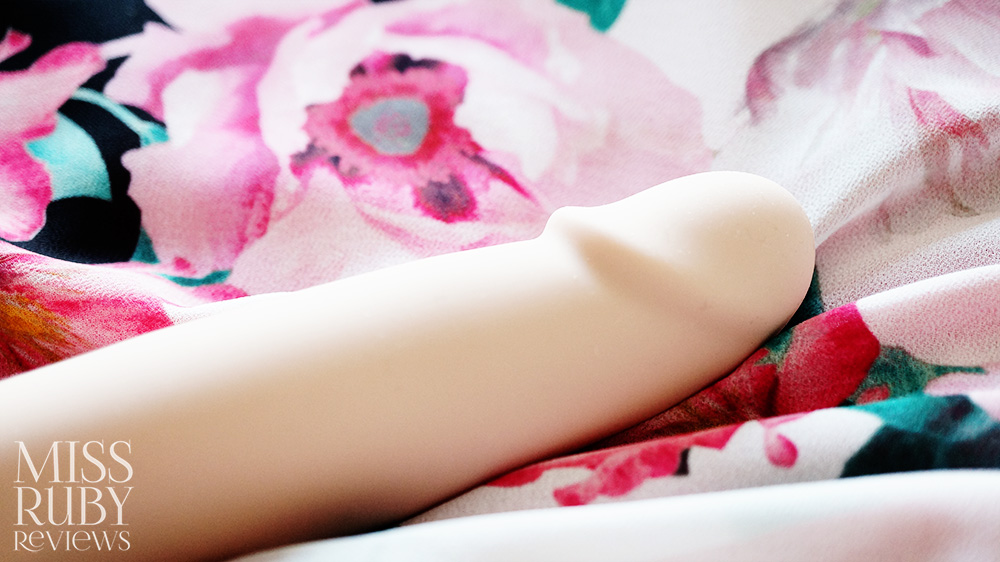 Function
The Fun Factory Stronic Real pulsates, rather than vibrate. It thrusts by itself using magnetic technology, without any input from you or manual stimulation. Handy if you just want to lie back and enjoy. It's movement is like that shown below:
Noise
Even at faster speeds, the Fun Factory Stronic Real is superbly quiet (9/10). It can't be heard through walls or a closed door!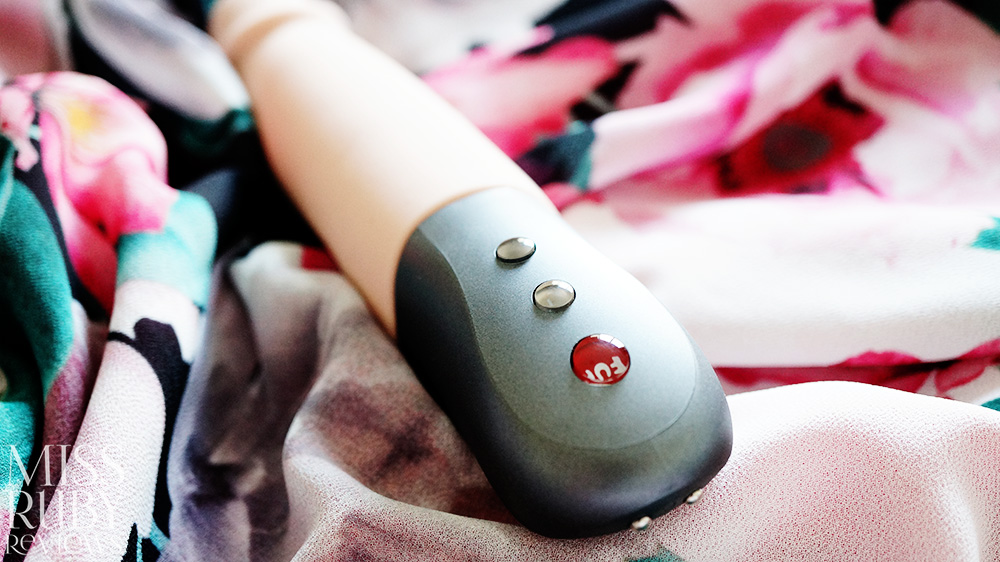 How to use the Fun Factory Stronic Real
Unlock your Stronic Real by pressing the red (FUN) and (+) button for about 5 seconds. To travel lock it later, press the (FUN) and (–) button for 5 seconds.
Once you've unlocked your pulsator, press the (FUN) button and click the (+) button to get to the first mode. To cycle through all the speeds and patterns, press the (+) or  (–) buttons. To turn it off, simply press the (FUN) button.
Packaging
Fun Factory never ceases to impress. The Stronic Real is packaged simply in a grey sleeve box, in which lies a gold-toned box. Inside that box, you receive the Stronic Real (in a protective fishnet plastic tube), a manual, a quickstart guide, a safety manual, and the charging cable. There is no included storage pouch.
Material and Care
The insertable portion of the Stronic Real is made from premium silicone, making it bodysafe (inert, hypoallergenic, non-porous, and free of phthalates or any toxic materials). This particular silicone is matte and draggy to the touch. It attracts fine amounts of dust and lint, so you'll need to rinse before each use.
To wash, I recommend rinsing with warm, soapy water before and after each use. This toy is totally waterproof, so to wash I simply rinse with warm, soapy water before and after each use.  If you'd like to add lubricant (which I recommend), try a good quality water-based lubricant like my favourite Sliquid H2O.
Because this uses strong magnet technology, this product is not recommended for anyone with a pacemaker.
My Experience with the Fun Factory Stronic Real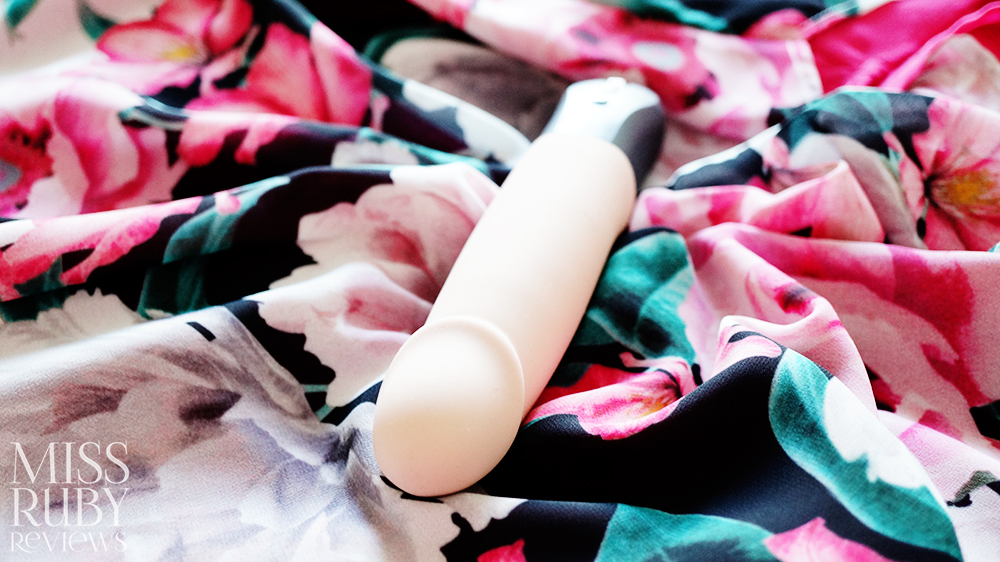 It should go without saying that I like anything that'll do things for me. We're entering the world of AI and the automation of work, and – naturally – the automation of sex toys. Fun Factory's Stronic line reliably continues to deliver hands-free pleasure in short, frantic, determined thrusts that ramp up in speed. Once it's in, it's a hands-free experience. It just goes chugging away inside you, leaving your hands free to use a great clitoral toy, or leaving space for your partner's mouth. I still can't get over how fantastic this is.
Stronic Real versus Stronic G
I assumed that the Fun Factory Stronic Real would be more or less just like the Stronic G (review here), but I was wrong! In terms of technical movement, they're the same. However, there are still some subtle differences between the two.
Where the Stronic Real has a sharpish stylized coronal ridge and a neat, tapered head, the Stronic G has a soft, bulbous hooked head to target the G-spot. At 5.5″ insertable length, the Stronic Real is slightly shorter than the Stronic G, and its coronal ridge gives it a wider girth (strictly speaking — Overall I didn't notice much of a difference in terms of girth).
The largest difference in sensation definitely comes from the head. The Stronic G definitely knows how to find the G-spot because that hook-shape means the G-spot can't hide. We've known for ages that the G-spot enjoys a curved shape (whether it be a curved finger in the come-here motion) or a sex toy. The Stronic Real still gives some oomph with that coronal ridge, but it's not quite the same.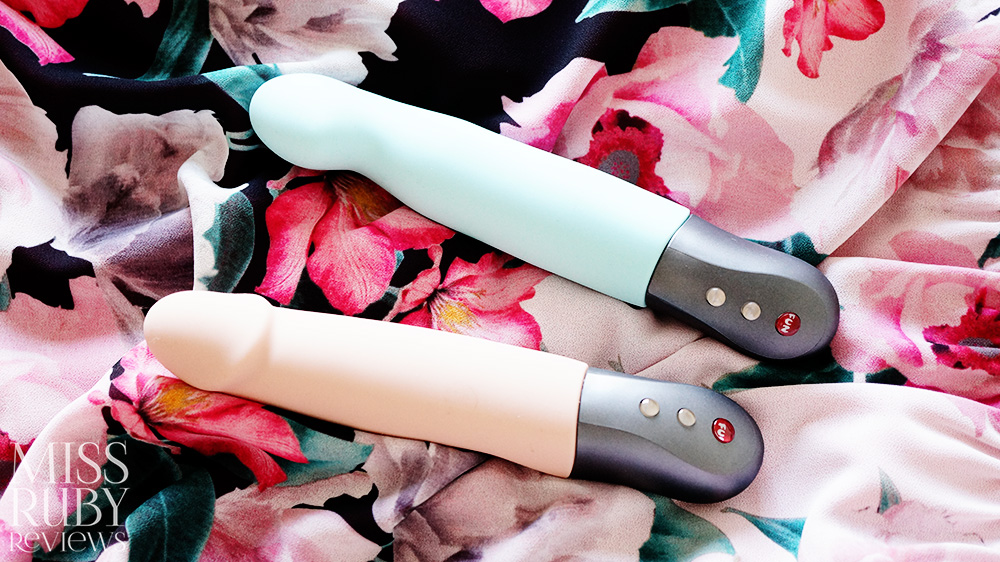 The Stronic G's curved, hooked end also means that I get a more pointed sensation. Whereas the Stronic Real gives you a delicious broad head to stimulate the G-spot, the Stronic G gives you a focused sensation. Both delicious, but different.
So do I think one is better than the other? Nope, unfortunately not. I like both of them, and which one I choose depends on what kind of mood I am.
I do think, though, that the Stronic Real is your best bet if you want to get some visual stimulation and you enjoy a wider, flatter internal sensation. A lot of people will fit into this category.
If however you enjoy targeted and focused G-spot stimulation in an unrealistic design, then opt for the Stronic G.
Fun Factory Stronic Real Review – Overall
I love the Stronic Real, and it's hard not to. It's my favourite self-thrusting pulsator line packaged up with a dash of realism, and I think it'll appeal to users who err on the side of realism and broad, flat heads. If, however, you prefer something more discreet, there's still the Stronic G available, which will give you a more focused, targeted G-spot experience.
To purchase the Stronic Real, head on over to Peepshow Toys. And you can get 10% off ($20 USD) with coupon code RUBY.
See below for my Fun Factory Stronic Real review summary.
REVIEW SUMMARY
OVERALL - 9.5
9.5
$199
PROS
Semi-realistic design
Self-thrusting technology
Bodysafe
Rechargeable and waterproof
CONS
Only one skin tone available
Pricey
Shop Now