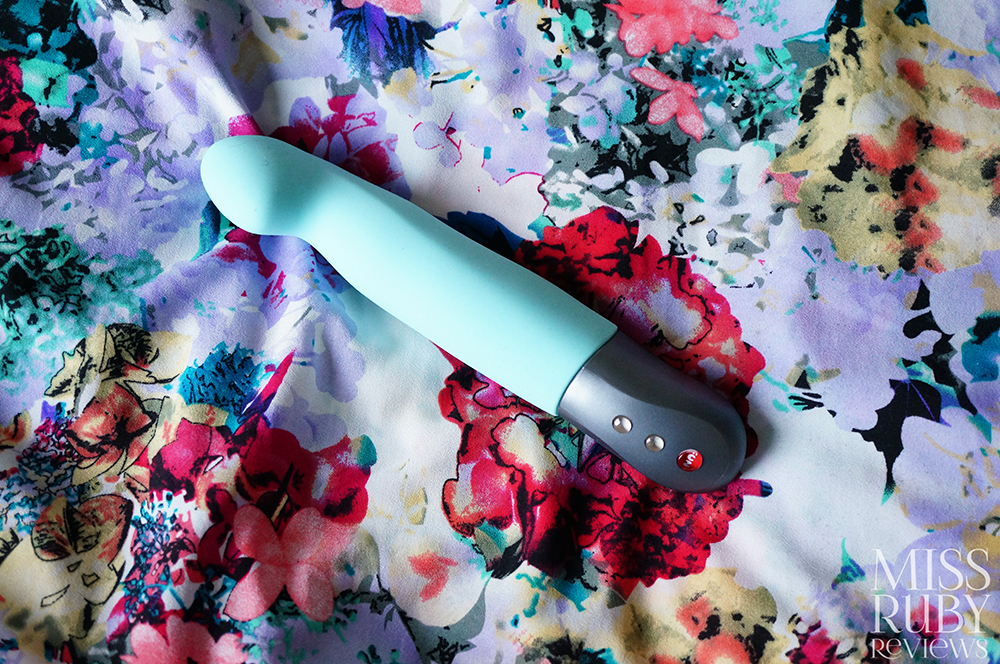 A little portable self-thrusting G-spot stimulator? How could I NOT want this. Read on for my Fun Factory Stronic G review!

Physical Details | Packaging | Material and Care | My Experience | Overall
Physical Details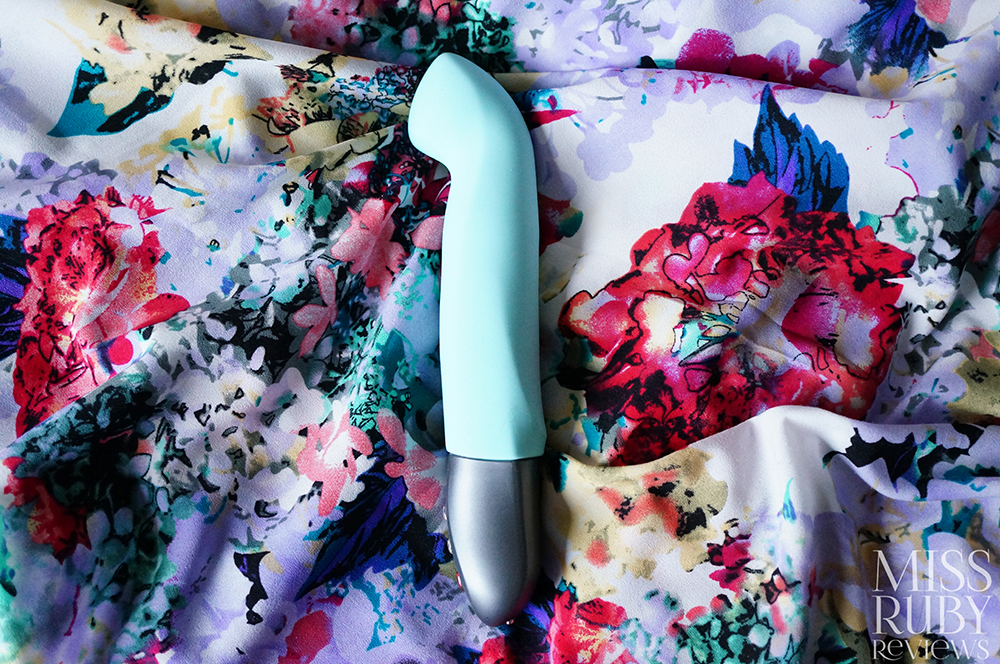 The Fun Factory Stronic G Pulsator II is a self-thrusting sex toy designed to target G-spot stimulation. Now, a couple of years ago I reviewed the Bi Stronic Fusion Pulsator which, although the little rabbit arm was useless and annoying, still impressed me with its self-thrusting prowess. Now, Fun Factory has released its second generators of Pulsators; this generation is lighter and narrower than its predecessors, but just as powerful.
Design
Hello, beautiful. The Fun Factory Stronic G Pulsator II is absolutely stunning (thank you, German designers).
The head is hooked to focus on the G-spot. If you've only ever experienced a straight dildo or vibrator, you're missing out; curved heads like this find and put pressure on the G-spot with greater ease than straight shapes. If it sounds uncomfortable, don't worry; the silicone is soft-ish, making it cush and comfy.
The shaft is simple, with mild flowing contours running down towards the base.
The base is grey bodysafe ABS plastic; it contains 3 control buttons and two tiny metal pins for the charging cord.
The overall image is sleek, streamlined, and I loooooove this lovely ice-cold blue colour. If you're more traditional, you can still opt for Pink or Purple though.
All in all, this is a moderately sized toy. The diameter is 1.65″ and the insertable length is 5.75″. Not something for absolute size queens, but remember that this needs to be light enough to self-thrust.
Because there is no flared base, this is not safe for anal use. If you're looking for a pulsator to use anally, I recommend the Bi Stronic Fusion Pulsator instead (the little arm can act as a stopper).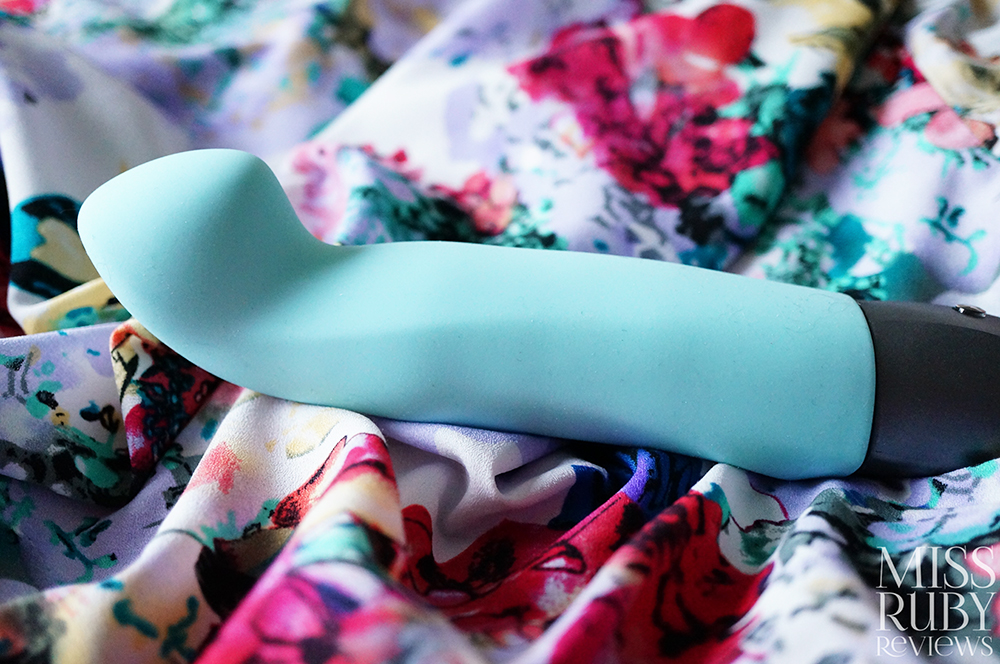 Function
The Fun Factory Stronic G Pulsator II does not vibrate. It pulsates. It thrusts all by itself using magnetic technology, which is pretty magical. It moves back and forth by itself inside you, without any input from you or manual stimulation. Read below in "My Experience" for details.
Noise
Even at the faster speeds, the Fun Factory Stronic G Pulsator II is quiet (9/10). It cannot be heard through walls or a closed door, which is great if you have roommates.
How to use the Fun Factory Stronic G Pulsator II
Unlock your Fun Factory Stronic G Pulsator II by pressing the red (FUN) and (+) button for about 5 seconds. To travel lock it later, press the (FUN) and (–) button for 5 seconds.
Once you've unlocked your pulsator, press the (FUN) button and click the (+) button to get to the first mode. To cycle through all the speeds and patterns, press the (+) or  (–) buttons. To turn it off, simply press the (FUN) button.
Packaging

Fun Factory's packaging is always delightful. The outer grey sleeve is simple and fun. Inside, there's a gold box with the Stronic G nestled inside a red platform. All in all, you receive the Stronic G, three short manuals, and a USB charging cable.
Material and Care
The insertable portion of the Fun Factory Stronic G Pulsator II is made from silicone, making it bodysafe (inert, hypoallergenic, non-porous, and free of phthalates or any toxic materials). This particular silicone is matte and draggy to the touch. It attracts dust and lint, so you'll need to rinse before each use.
To wash, I recommend rinsing with warm, soapy water before and after each use. The Fun Factory Stronic G Pulsator II is totally waterproof (yay!).  If you'd like to add lubricant (which I recommend), try a good quality water-based lubricant like my favourite Sliquid H2O.
Because this uses strong magnet technology, this product is not recommended for anyone with a pacemaker.  (Unrelated, sort of, but I have a copper IUD and there's no issues there).
My Experience with the Fun Factory Stronic G Pulsator II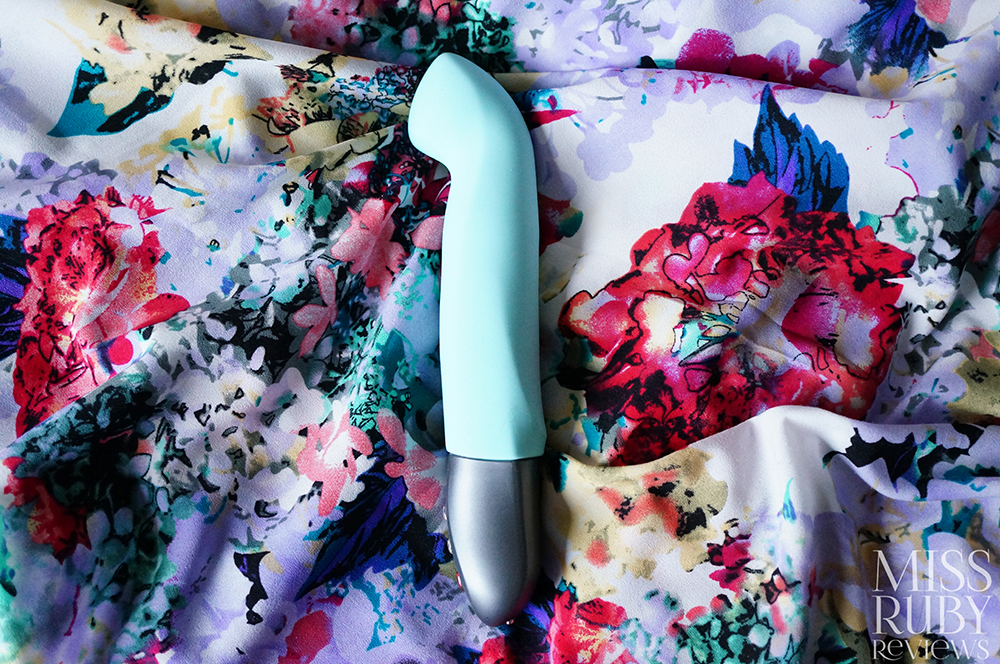 The Stronic G Pulsator II  won't provide one thing: long, deep thrusts. But that's okay, because it does deliver short, quick, determined thrusts, and those feel fantastic.
I tried to capture the movement below in one of the patterns (slow thrusts to fast thrusts). It didn't quite capture the intensity of the fast thrusts though.
While the thrusts are short, they get sufficiently fast and strong. There are three perfectly steady/even thrusting states (increasingly fast) and a good handful of pattern modes. I love the slowest steady state "Samba" — it's fantastic and, to me, feels more intense than the faster ones.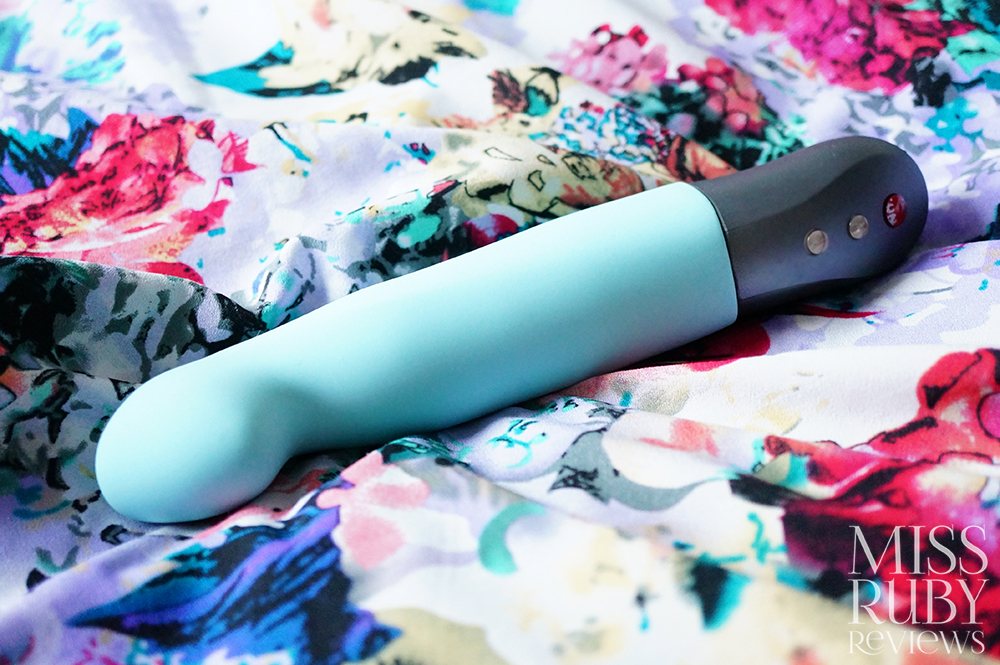 I don't need to hold the Stronic G Pulsator II in place; I simply insert, turn it on, and leave it alone to thrust while I use one of my favourite bullet vibrators.  And those orgasms come quickly. It's hard to describe the sensation that the Stronic G Pulsator II provides. It's not loud and deep and action-packed; instead, the thrusts are soft and subtle, but still intense. Once it's in, it rocks inside, pushing against the G-spot, and doesn't distract from any clitoral stimulation.
In use, I was happy to find that I didn't even have to hold mine in place. HANDS FREE PEOPLE, HANDS FREE. Once it's in, my PC muscles work to keep it roughly in place and it just jogs away. It's a pretty easy, convenient experience for me, which is the kind of playtime I enjoy. It can't get much better than hands free.
If you manually thrust it at the same time, it gives you a kind of unique double-thrusting experience. A thrust within a thrust.
The shape itself really excels; I found the narrower shaft and curved G-spot tip to be a lot more effective and pleasurable than the straighter Bi Stronic Fusion.  That one feels great in its own right, but this Stronic G definitely makes for a better G-spot focused toy.
Overall – Fun Factory Stronic G review
The Stronic G Pulsator II is an awesome low-maintenance kind of toy. Insert, turn on, and let it thrust away by itself while you go on to do other things like using a bullet vibe or enjoy cunnilingus.
The only drawback is its high price tag. At $199 USD (minus 10% off with coupon code RUBY), this is certainly a more expensive sex toy on the market and will be unaffordable for many. Still, I can at least understand its price point. This isn't an over-hyped buzzy vibrator in pretty packaging going for $199… this is a pretty sophisticated piece of technology.
While I wish it was priced lower, I really love the Stronic G Pulsator II. It won't give you deep, jackhammer thrusts, but it will give hand-free determined short thrusts, and that's more than good enough for me.
To purchase the Stronic G Pulsator II, head on over to Peepshow Toys. And you can get 10% off ($20 USD) with coupon code RUBY
My Fun Factory Stronic G review summary is below.
Fun Factory Stronic G review summary
Overall - 9.5
9.5
$199
PROS
Self-thrusting technology
Hands free
Bodysafe
Rechargeable and waterproof
CONS
Shop Now