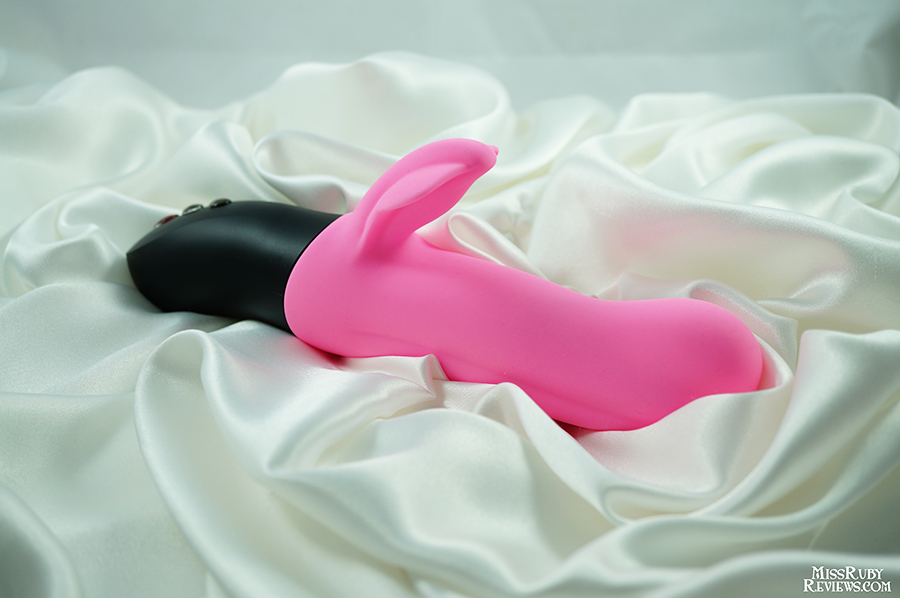 My only vibrator that can compete in races against wind-up toys.
Physical Details | Material and Care | Packaging | My Experience | Overall
Physical Details
The Fun Factory Stronic Bi Fusion (yes, that name is a mouthful) is Fun Factory's latest pulsator. It's their fourth pulsator design, and I was thrilled when Betty's Toy Box offered to send me one. You see, I like toys that can offer me novelty: when you've tried as many sex toys as I have, you start to crave innovation, something different, something new.
And that's where this thrusting vibrator comes in. So you can see what I mean by "thrusting," I've shot a short clip of the Stronic Bi Fusion in a box lid. The box lid slides on the floor, letting you see some of the movement.
As you can see, it simulates a self-thrusting dildo! But I'll get to more of that later.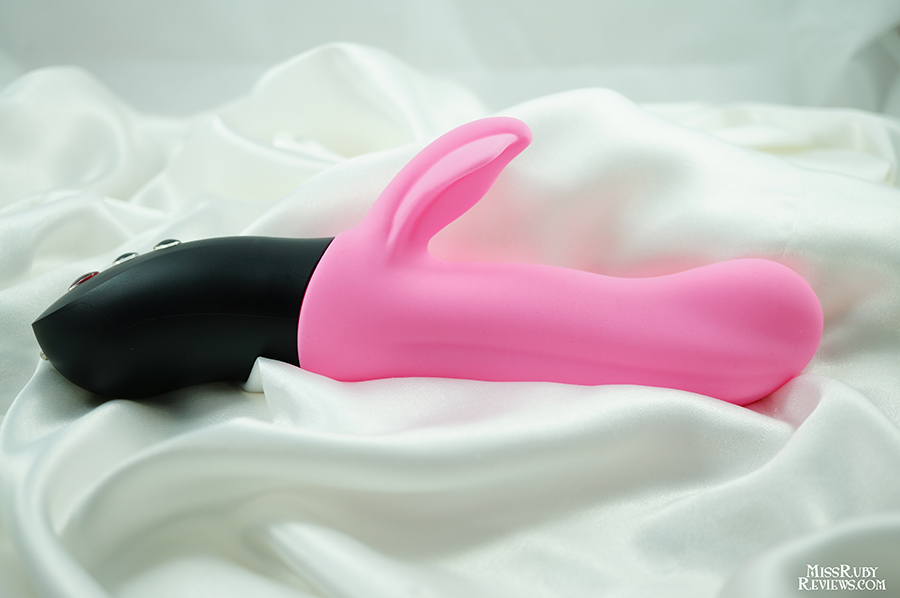 General Design: For some reason, I assumed this toy would appear slight/small. When I received it, I was pleasantly surprised to see that the Bi Stronic Fusion isn't super petite, boasting over 1.5″ girth and 4.25″ insertable length. The rabbit arm is 2″ long, meaning it'll accommodate your clitoris if it's no more than 2″ away from your vaginal entrance. Of course, thanks to the clitoral arm, this toy is also safe for anal use, meaning you don't need a clitoris to enjoy this toy.
The actual structure of this toy is simple. The main shaft is streamlined, allowing only a tiny bit of texture through waviness. The tip of the shaft is bulbous and raised for G-spot or prostate stimulation.
Just to be clear, the shaft only pulsates (moves back and forth). It does not vibrate. But, in terms of pulsations, I'm pretty thrilled. It thrusts by itself, which basically seems like magic to me.
The clitoral arm is the vibrating part of this toy. It looks a simplified butterfly. The vibrator lies in the main core of the clitoral arm, but two thin wings spread out from it, which (are meant to) gently vibrator for added sensation. Speaking of clitoral vibrations, how does this do? The clitoral vibrator is…errr…..pitiful. Very, very, very pitiful. Maybe 2/10 in strength? Buzzy. More ticklish than anything else.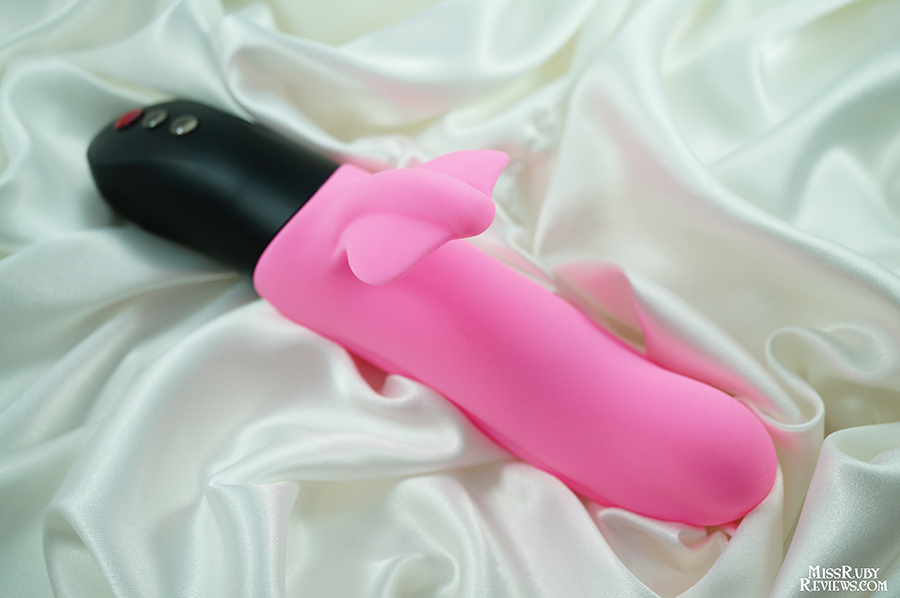 Noise: 
The sound in the video I shot (above) makes it sound like a major power tool. It's not actually as loud as it seems in the video. It emits a light, whirring sound (score 8.5/10), and it's way quieter than I was expecting for a thrusting toy. I was very pleased with this — there's no way you can hear it through a closed door or walls.
Color:
A word on colors (I can never leave color alone). I requested my Bi Stronic Fusion in Candy Rose. I usually detest pink, but this is genuinely a pretty powder pink. There's also India Red and Violet.
Material and Care
This body of this toy is made from premium silicone. That makes it 100% non-porous and free of toxins. It's pretty draggy though — I strongly recommend adding a good water-based lubricant to your shopping cart.
The Bi Stronic Fusion is totally waterproof (yay!), which makes cleaning up easy. For regular cleaning, I wash mine in warm soapy water. You can also opt for an anti-bacterial toy cleaner, but warm soapy water should do fine. But if you're going to share this with another person, or use it anally, make sure to sterilize it between uses. You can do this by wiping it down with a 10% bleach solution (rinse thoroughly afterward).
The Bi Stronic Fusion is rechargeable. I actually haven't run out of charge yet, so I haven't given it a full recharge, but the manual states that it'll take up to 16 hours to recharge the battery. (This sounds super long, but it hasn't presented itself as a problem to me because the battery on this thing lasts ages. Once it drops to 33-66%, the lower button will start flashing when you turn it on, so you'll have plenty of warning to get it charged up. Once it drops below 33% charge, the top button will flash. Neato.)
Packaging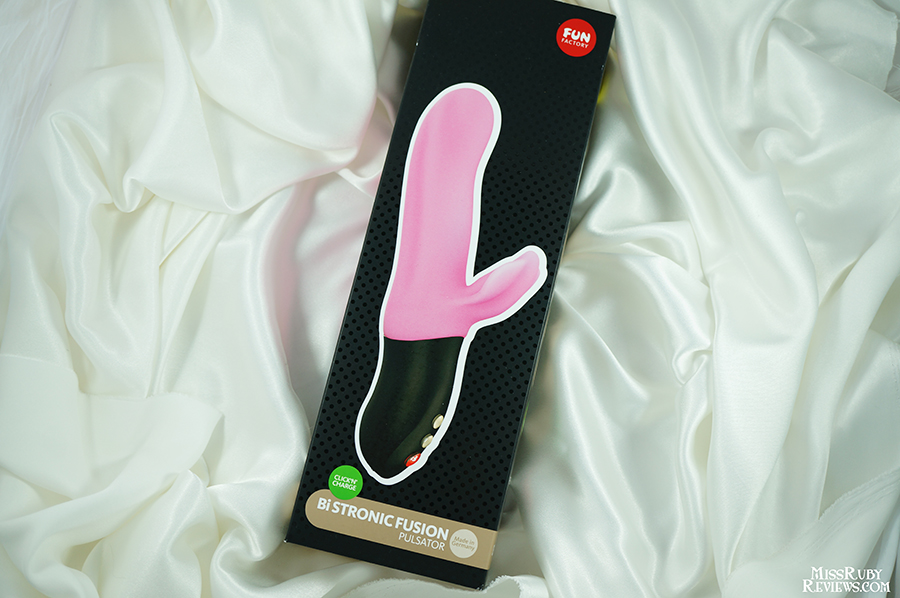 Fun Factory always has awesome packaging. They have a tendency of making cardboard boxes look fairly fancy, colorful, and fun.
Inside the package, you receive the Bi Stronic Fusion, a USB charger cable, the manual, and a warning pamphlet. Note: Don't use this if you have a pacemaker. The Bi Stronic Fusion uses intense magnets to thrust back and forth, which can disrupt a pacemaker.
Have to gripe about this: for a $220 purchase, I really expect a simple satin drawstring bag included in the box. Fun Factory doesn't include bags for any of their toys, which is a real shame.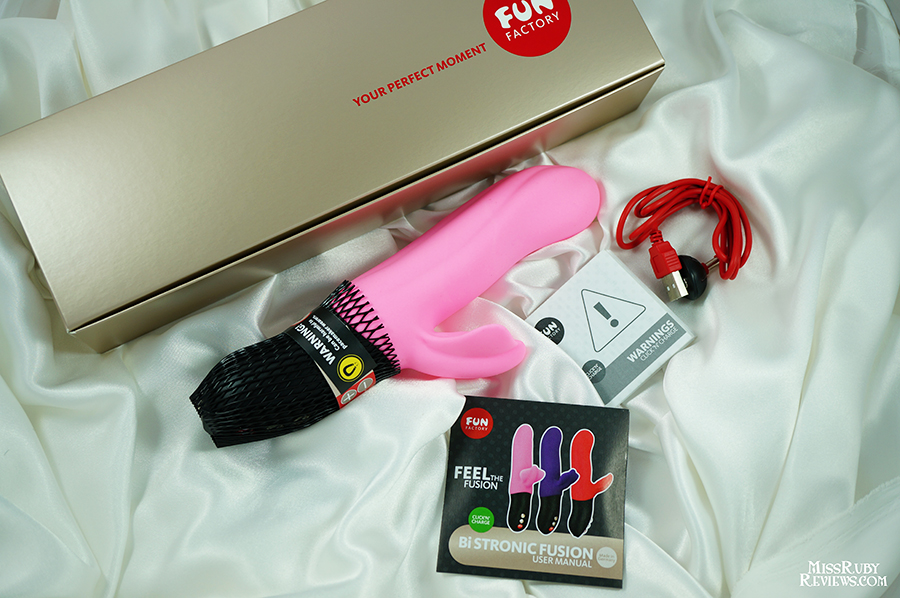 My Experience with the Fun Factory Bi Stronic Fusion
When I first heard of the Fun Factory Stronic line, I immediately thought PORTABLE SEX MACHINE??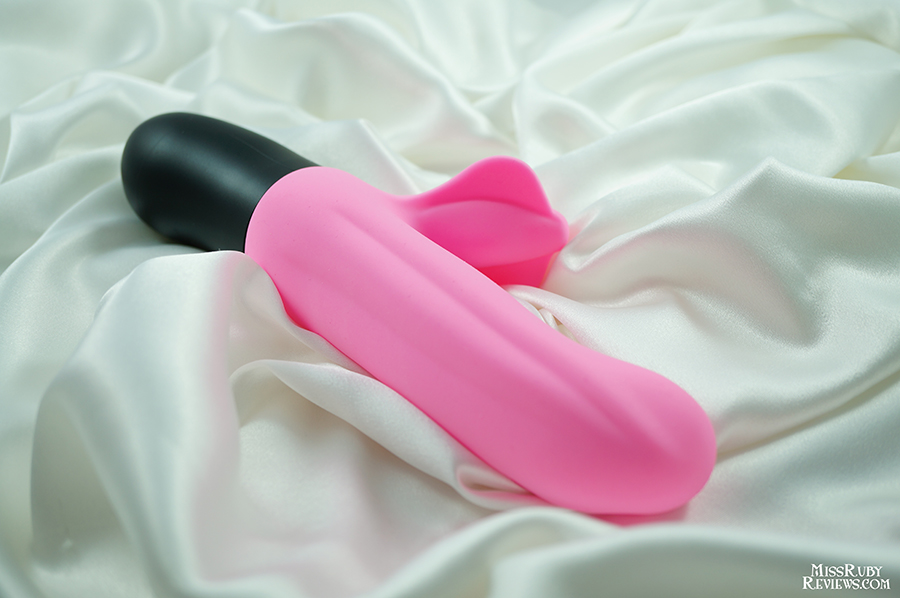 After using it, I can confirm that the Fun Factory Bi Stronic Fusion isn't (unfortunately) like having a tiny portable sex machine. I love it anyway. The Fun Factory Stronic line can't provide me with the intense, jackhammer thrusting sensation that you'd expect from a Sybian, but it still definitely provides pleasure. While some of the thrusts feel gentle, some of the higher levels feel firm and determined.
Paired up with my favourite clitoral vibrator (yes, I need to push the Bi Stronic Fusion's butterfly wings out of the way, which is a bit annoying), this can give me fantastic orgasms. I applaud the shape: I've always been one for bulbous designs, as bulbous designs locate the G-spot pretty easily. And this toy, with its moderate length, sizeable girth, and bulbous tip, finds my G-spot with ease.
For me (a clitoral-centered person), this means that I can focus the Tango  on my clitoris and let this toy just do its own thing: thrusting away, providing me with much-needed additional G-spot stimulation. All that's needed to keep the Bi Stronic Fusion in place is one or two fingers (just holding the tip of the black handle). With that, it manages to stay in place with not much help.
And then I have it: a sex toy that feels like it's from the future. A miniature robot, a self-thrusting toy. Seriously, people: it's fun. This is the kind of novelty I enjoy.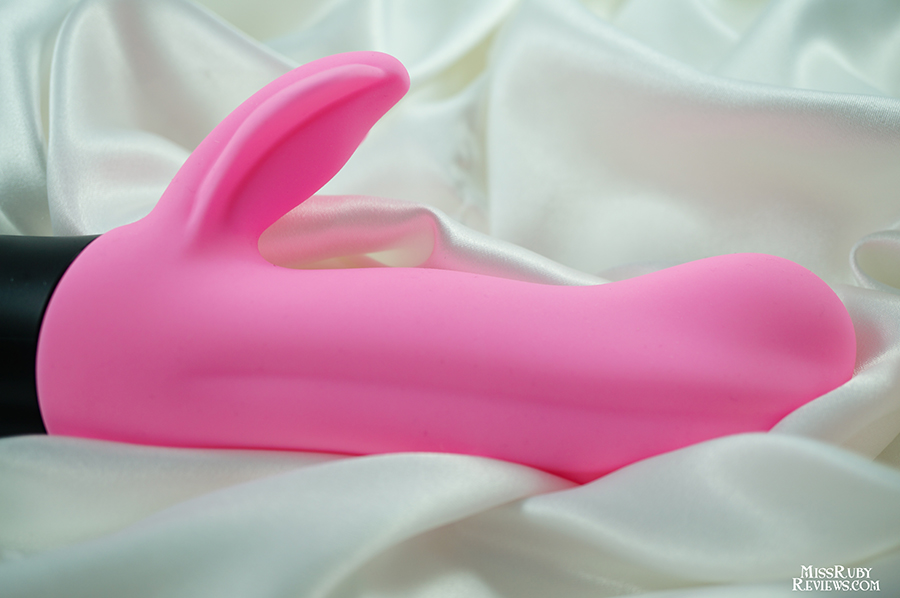 But, again, the clitoral arm itself is a disappointment. The vibrations are so buzzy, so weak, and it's a sharp contrast to the overall quality of this toy. If you are looking for something that makes an excellent rabbit vibrator, I have to recommend that you look elsewhere.
Overall
Do I recommend getting a Fun Factory Stronic pulsating toy? YES! Do I recommend getting this specific one? …Not if you want it for its rabbit capabilities. Because that clitoral arm is really really useless.
If you want a slimmer thrusting pulsator, I instead recommend that you get Fun Factory's Stronic Eins. It'll give you the same thrusting experience and save you some money. (The Eins isn't anal-safe though — if you want something that's anal safe, I recommend the Fun Factory Stronic Zwei or the Stronic Drei.)
But if you want something girthy and you're alright with ignoring the clitoral arm (and so ignoring the rabbit capabilities), I can definitely recommend the Bi Stronic Fusion. The length, girth, and bulbous head, combined with its deliciously-determined thrusting, makes for an unforgettable sex toy experience.
To purchase the Fun Factory Bi Stronic Fusion, head on over to Betty's Toy Box.

Last Updated on November 9, 2022 by Miss Ruby