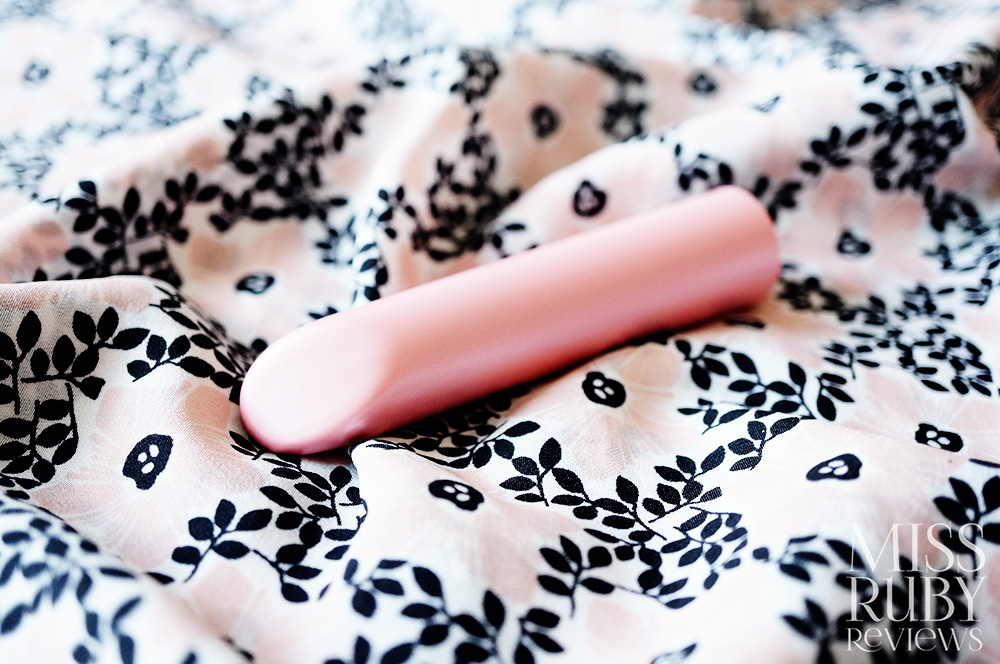 UPDATE: This toy has been refreshed with a new look and name! It's now called the Blush Wellness Power Vibe!
---
A new pin-point bullet vibe swirling with rumors that it's super strong? Heck yes, sign me up! Read on for my Blush Novelties Exposed Nocturnal review!

Physical Details | Packaging | Material and Care | My Experience | Overall
Physical Details
The Exposed Nocturnal Lipstick Bullet Vibrator is one of Blush's newest products. It's quickly gaining an early claim to fame because of one very important, very needed thing: POWER.
Yep, this thing is ridiculously powerful. When I first turned it on, it nearly jumped out of my hand. I thought it was at the highest strength, so tried turning it down to see the range… but nope. That first level was the softest level, and from there it ramped up a great deal.
Does it look familiar? The Exposed Nocturnal Lipstick Bullet Vibrator first caught my eye because of its uncanny similarity to my beloved We-Vibe Tango (review here). When it arrived, I realized the Exposed Nocturnal was a great deal larger (scroll down for pictures comparing them). But despite the size difference, that magical tapered end and the firm, unyielding surface implies it's meant to deliver the same kind of pleasure. (I give a full run-down of how they compare down below in "My Experience.")
Some toys, you only need to spend 5 seconds with to be able to summarize your recommendation. And here it is: get the Exposed Nocturnal if you enjoy powerful, pin-point vibrations, and you don't mind a bit of buzz.
For details on my thoughts, keep reading.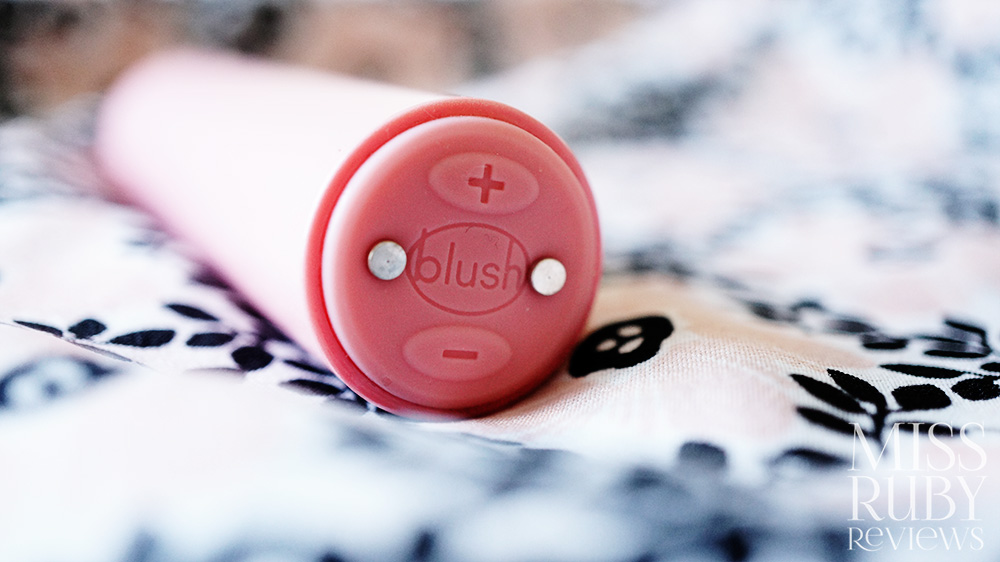 How to use the Exposed Nocturnal
To turn the Blush Novelties Exposed Nocturnal on, press and hold the (+) button. It'll turn on, and you can keep pressing (+) to cycle through the strengths and patterns. Use (–) to go backwards, or hold it down to turn off.
Remember to charge it before its first use for 2 hours. Just snap on the magnetic charging cable (included) and plug it into your computer or a USB wall adaptor. A light will blink while charging. You'll know your toy is fully charged because it'll stop blinking.
Use your Exposed Nocturnal as you want (except anally). Though designed for clitoral use, people with a penis often find vibrations pleasurable too (i.e, hold it against the length of your shaft). As this doesn't have a flared base, don't insert it anally. I found this to be too short for vaginal stimulation.
Packaging
The Blush Novelties Exposed Nocturnal came in plain champagne-gold packaging. Inside the box, you also receive a quick start guide and the USB charging cord.
Material and Care
The Blush Novelties Exposed Nocturnal is made from ABS plastic, making it bodysafe and free of toxic elements. It has a smooth, hard surface.
Cleaning is easy because this is waterproof: I just wash with warm, soapy water before and after each use.
If you use lubricant with your bullet vibes, one of my favourites is the Sliquid H2O.
My Experience with the Blush Exposed Nocturnal Vibe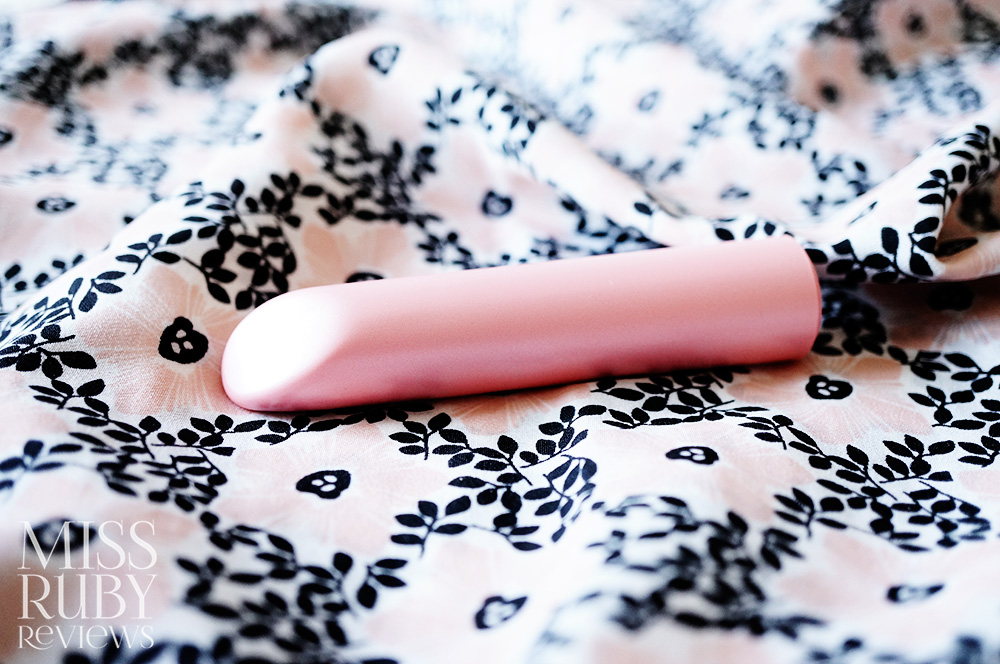 It's incredibly hard for me to review a toy by itself when it reminds me so much of another toy. And the pretty Blush Novelties Exposed Nocturnal gives me such strong  We-Vibe Tango vibes (pun intended), that I think this review would be better spent explaining my experiences relative to those with the Tango.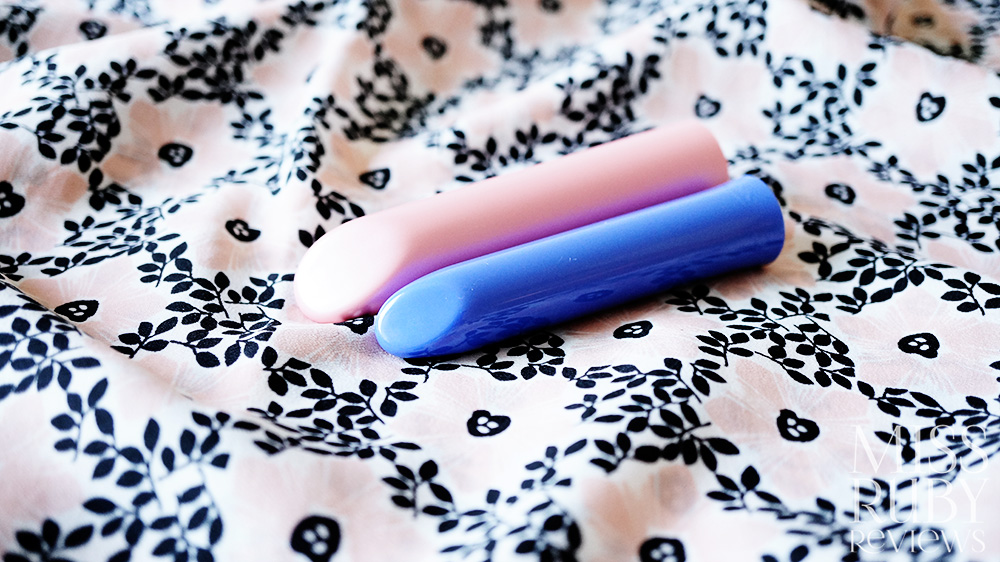 The Blush Novelties Exposed Nocturnal starts with POWER and ends with POWERRR. There are no soft/moderate levels to choose from. In contrast, the We-Vibe Tango ramps up really quickly but the first level can still be used by people who enjoy softer vibrations. This will be fantastic for power queens, but people with super sensitive clitorises should stay away.
The Blush Novelties Exposed Nocturnal is buzzy whereas the Tango is not. The Tango is rumbly/thuddy. Some people enjoy buzzy vibrations more, and while I can orgasm from strong buzzy vibrations, I can't keep going on to second, third, etc orgasms like I can with rumbly vibrators. In my personal experience, buzzy motors tend to provide more surface-level sensations that can definitely feel good, but can also cause a bit of temporary numbing. In contrast, rumbly vibes don't cause numbing (so you can keep having more orgasms). While I wish this toy was more rumbly, I know that some people will prefer it that way, and its strength means that orgasms are never far away when I use it.
Control-wise, you have 2 buttons with the Blush Novelties Exposed Nocturnal (+ and –) whereas you only have 1 with the We-Vibe Tango. I quite like having the extra flexibility to be able to go down a notch, rather than cycle all the way through them again.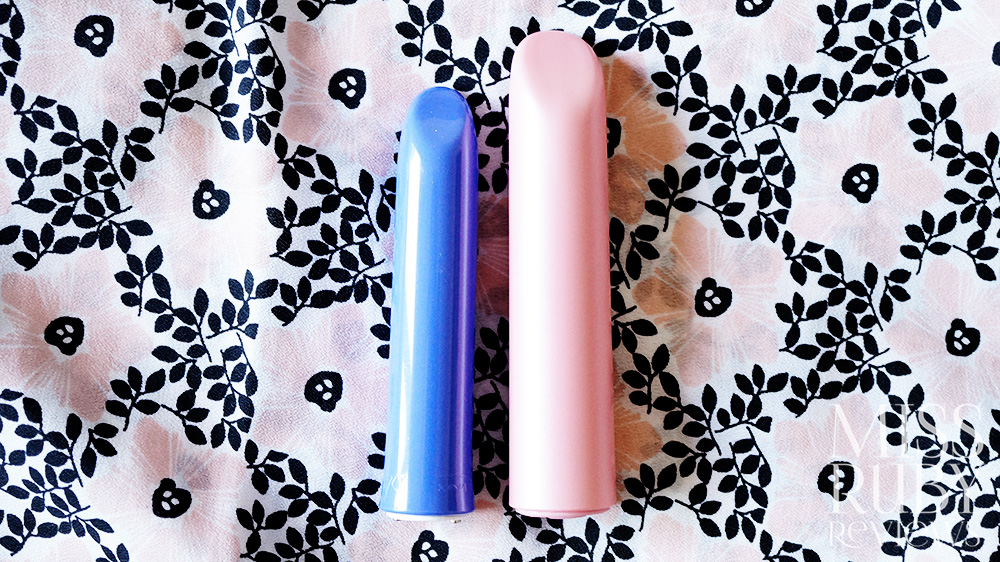 Other details:
The Blush Novelties Exposed Nocturnal has a hard plastic matte surface, whereas the  We-Vibe Tango's plastic surface is shiny.
The Exposed Nocturnal is about 15% bigger than the Tango, and it won't fit in typical bullet-sized holes in bullet-compatible dildos.
The Exposed Nocturnal is louder than the Tango. I would be slightly cautious about using this with a roommate in the next room, but when I use it under blankets and with a closed door, I'm confident that no one can hear it.
The Exposed Nocturnal comes in less fabulous packaging (no storage pouch).
The Exposed Nocturnal comes in a few shades of pink and purple. I have a fierce aversion to purple sex toys, so of course I opted for this lovely dusty rose colour. It's really pretty, pastel and pearlescent and something you can imagine a bridesmaid dress being coloured. On the other hand, the Tango comes in pink or blue (also white or purple if you get it in a bundle).
Both toys are waterproof and USB rechargeable.
Finally, the Exposed Nocturnal is MUCH cheaper than the Tango. SheVibe currently carries the Exposed Nocturnal for $35USD, whereas the We-Vibe Tango is $79 USD. This makes the Exposed Nocturnal a fairly safe purchase if you're trying out vibrators for the first time, or even just testing the waters of pin-point stimulation vibes.
Blush Novelties Exposed Nocturnal Review – Overall
I think the Exposed Nocturnal is a pretty no-brainer purchase if you enjoy strong, pinpoint vibrations. Keep in mind that its vibrations are buzzy, so if you know you hate those, stay away. I myself typically avoid buzzy vibrators, but I find that if they're strong enough they can still deliver fantastic orgasms, like in this case. And at this low price, I think this toy is one of the best low-cost vibrators on the market.
To buy the Blush Novelties Exposed Nocturnal, head on over to SheVibe ($35 USD at the time of this post).
See below for my Blush Novelties Exposed Nocturnal review summary.

Last Updated on January 5, 2022 by Miss Ruby