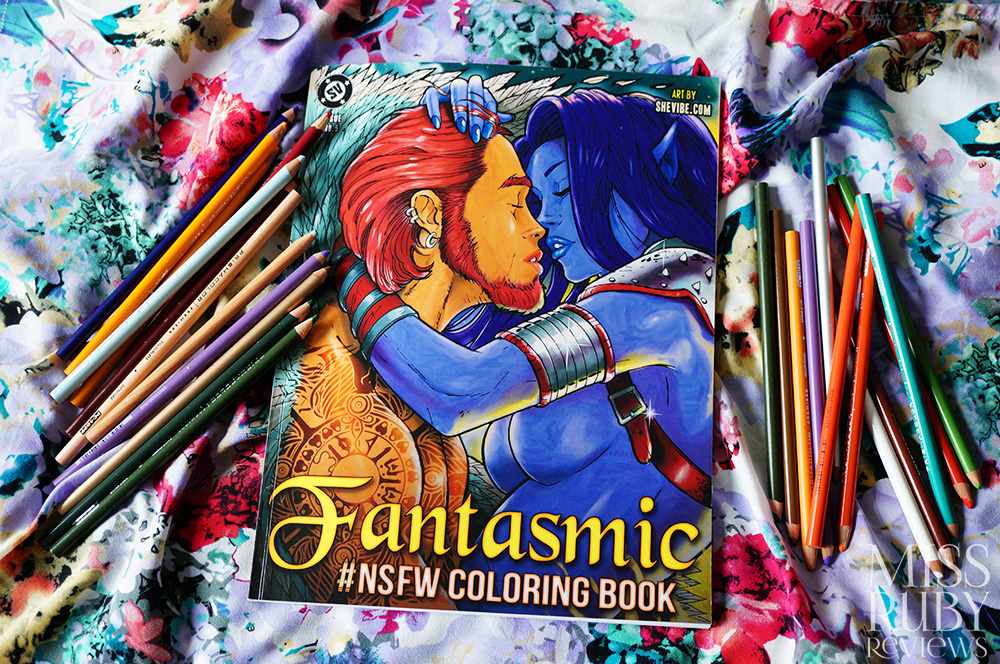 My new favourite stress reliever from SheVibe, the Fantasmic #NSFW Coloring Book, is the 5th installment of their adult-oriented coloring book line. Read on for my Fantasmic #NSFW Coloring Book by SheVibe review!

I've had my eye on their line for a while, but when I saw that this promised sexy fantasy-inspired imagery, I was determined to get my hands on one.
The #NSFW Coloring Book line is illustrated by artist Alex Kotkin. As a sex toy company brand, SheVibe has set itself apart over the years by its creative artistic flair. All of their pages and categories are intricately illustrated in comic-book fashion.  With the increasing popularity of coloring books for adults, it makes sense that SheVibe would publish their work and expand options for adults.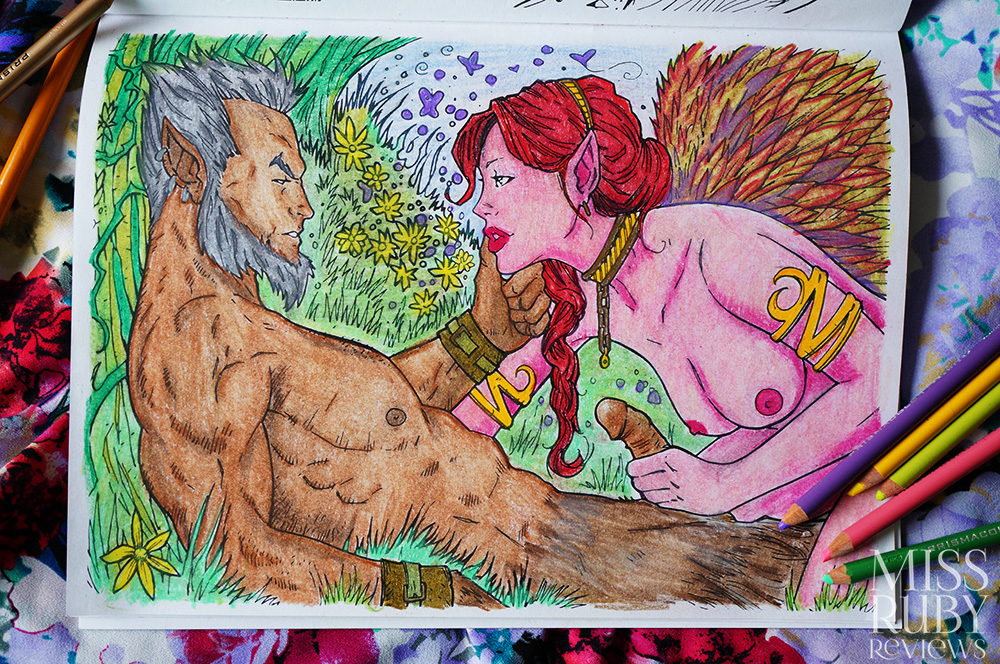 I've been using coloring books as a stress reliever, on and off, for a couple of years now. While I'm used to coloring mosaics and garden scenes and dainty patterns, it's been a totally new experience to fill in explicit scenes. New and totally fun — it's been a joy to color in the Fantasmic #NSFW Coloring Book.  Never before has my partner heard me complain about how I "can't get the right shade for these nipples."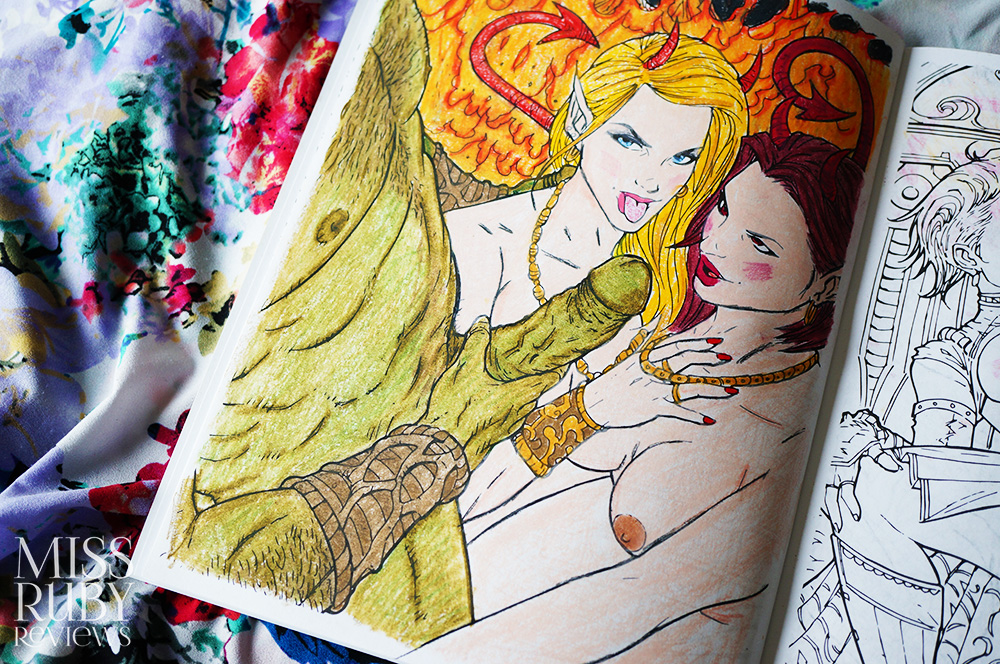 Almost all of the scenes presented in this book are fantastical in some way. You get to enjoy elves, fairies, orcs, cyborgs, and more. My personal favourites were the scenes among lush nature: the satyr/fairy scene towards the top of this post, or the blonde elf among mountain meadows pictured far below.  I've always loved historical and fanstasy environments more than sci-fi ones, so I didn't colour in any of the spaceship/cyborg scenes. If that's your thing, though, I counted 8 space-themed images to enjoy. There's fortunately a lot of orc/elf/fairy/medieval scenes, which was more my style. For a brief description of the contents of this book by fantasy element/theme, scroll down.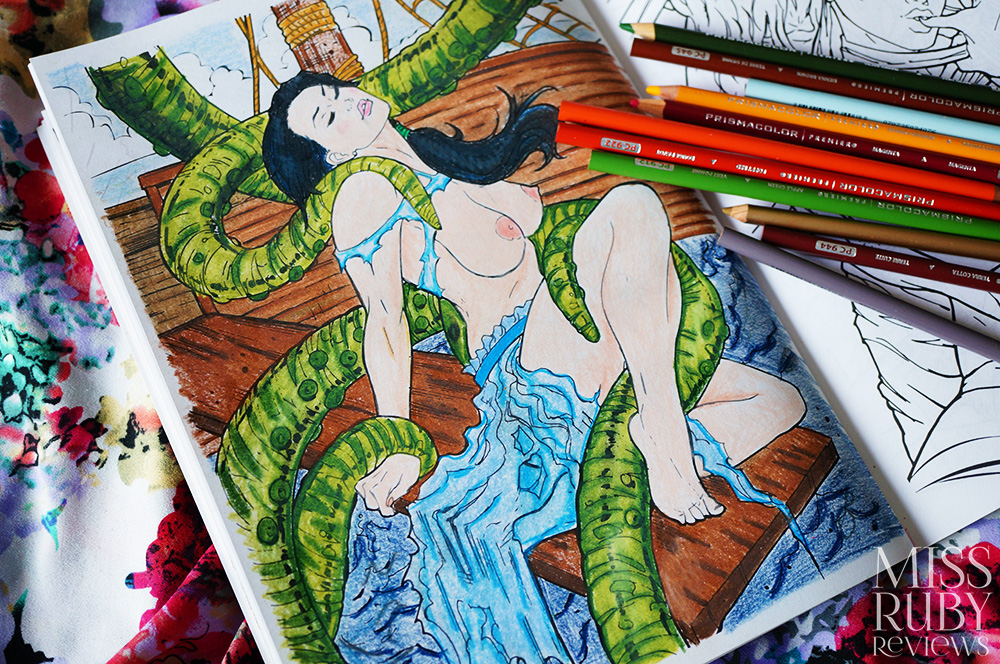 While I really do love this book, it's not without its flaws.
Technical issues:
Not all coloring books are made equal. Page weight and ink quality vary by book and brand. In this book, I noticed that the black lines sometimes smudge. You can see this a little bit in the picture above, by the character's mouth. It's most easily seen when using light colors.
I also noticed that I can sometimes see the lines/colors of the opposite side of the page. This is fairly common in coloring books, but doesn't occur in books that use a heavier weight paper. The thicker the paper, the less likely this is to happen. Note that I only used pencil crayons, and I suspect there would be a lot more bleeding through the page if you used ink markers.
Lastly, the blurb on the back of the book mentions minotaurs. If you're gung-ho to see a minotaur, better luck elsewhere. There are actually no minotaurs presented, though there is a satyr and a centaur. I'm not sure what happened there or why it's missing.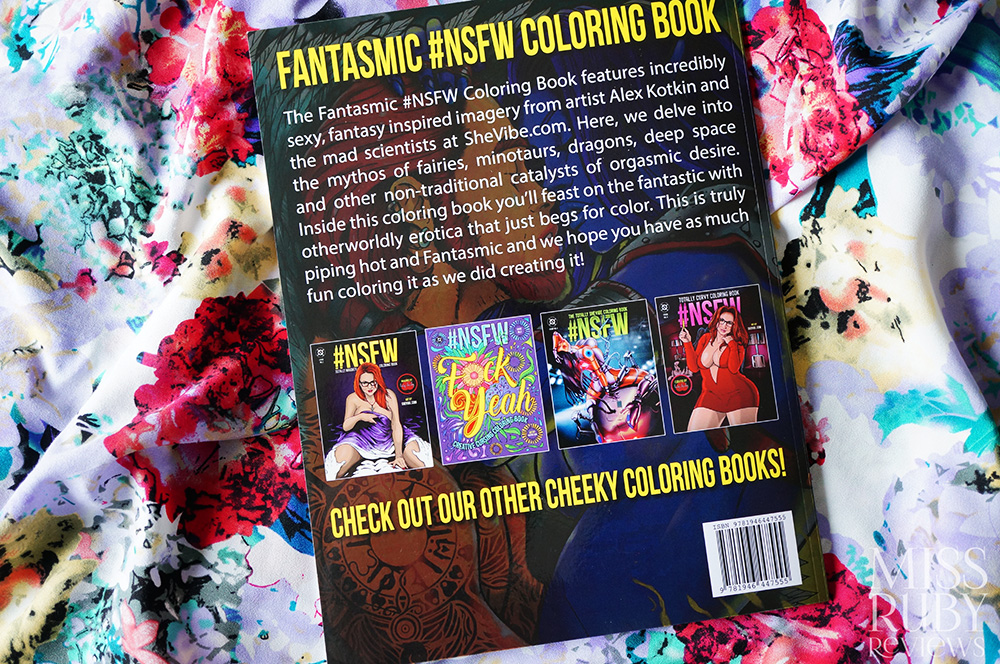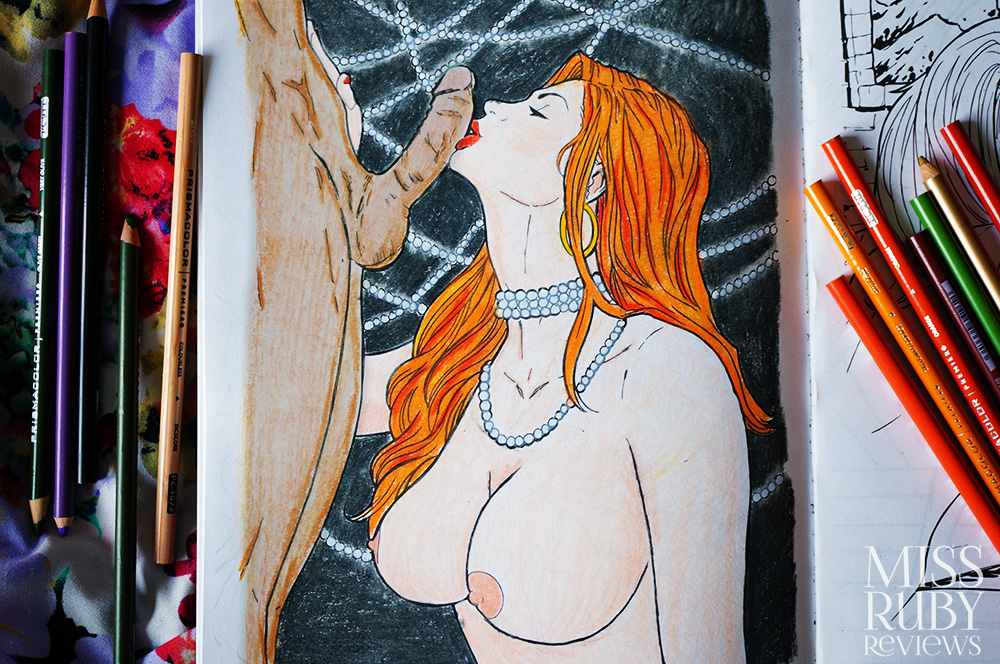 Issues with Representation:
While there are several lesbian scenes, there are no scenes involving only cis-gender men. When two or more cis-gender men are pictured on the same page, it's because they're pleasuring a woman.  I imagine this may be alienating for my gay readers.
There's also little diversity in body types. I mean, yes, there's totally a centaur, some alien people, some sea beings, and some elves, but they all have stereotypical Hollywood-style bodies. The men are all sculpted and muscular; the women are all thin with disproportionately large breasts. Penises are all huge. When vulvas are shown, they only have tiny, petite labia.
There are also no fat bodies represented. SheVibe does have a separate coloring book that depicts fat bodies ("Totally Curvy") but it's a shame that there's no representation in this book too. It would have been nice to see fat bodies casually integrated among these scenes, instead of them belonging in their own, discrete book, because that does nothing to de-stigmatize and normalize fat bodies.
SheVibe is definitely playing it safe and making sure they cater to as much of the mainstream as possible, but I would like to see them challenge regressive normative boundaries in the future.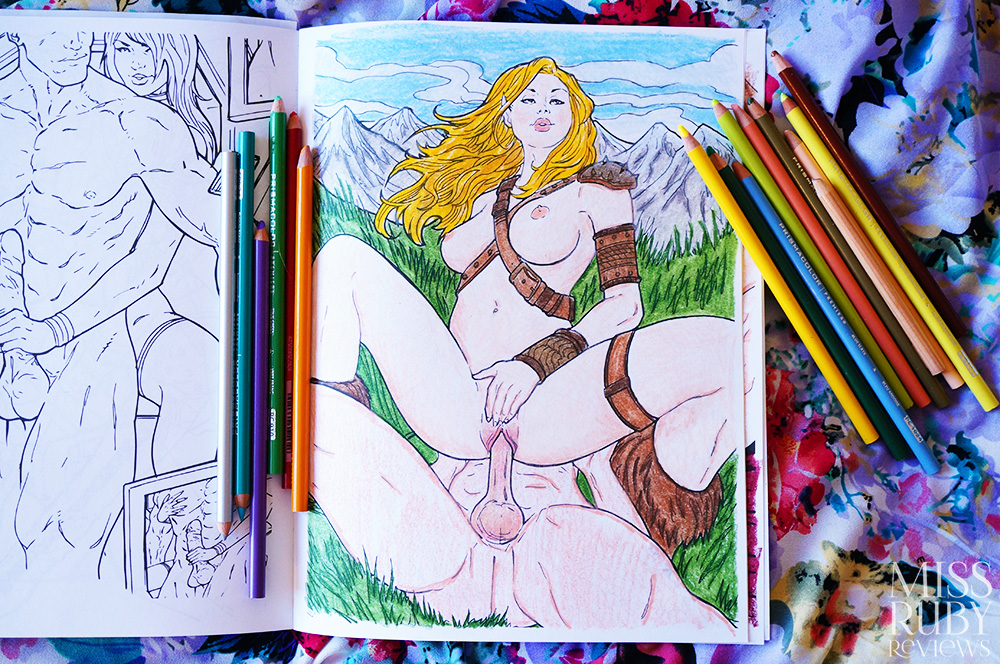 One thing I love is how all the characters are clearly having the time of their lives (there aren't any scenes that seem non-consenting). Women are frequently shown being pleasured, particularly by hand or mouth. Many fellatio scenes are pictured in this post, but there are several cunnilingus scenes in this book too.
This elf gal is my favourite!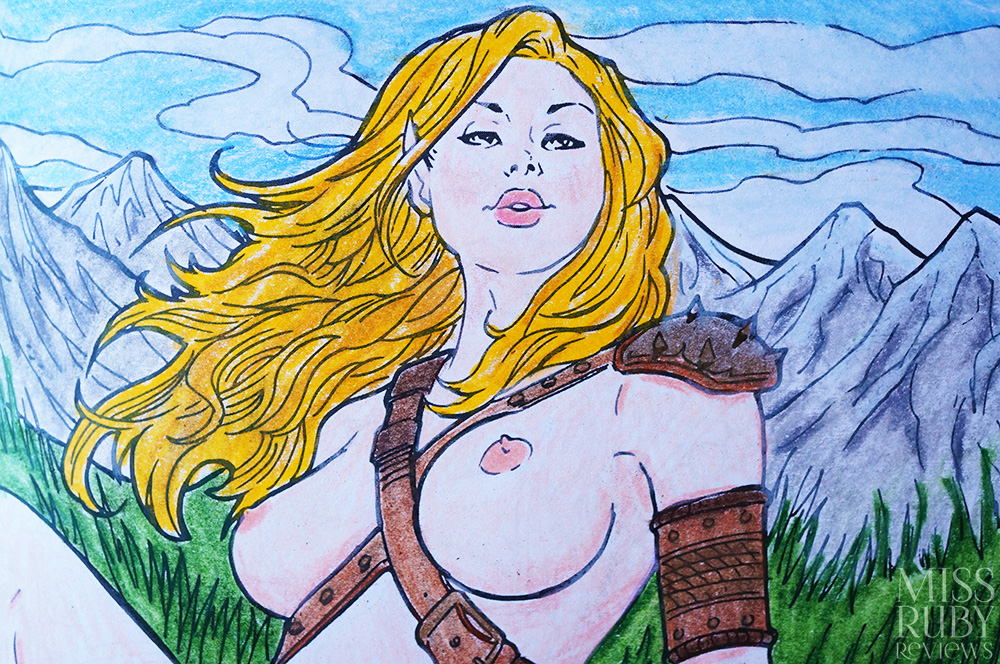 Book contents by scene theme/fantasy element:
Elf/human kissing (replica of cover page)
Satyr
Cyborg
Being with tail and animal ears
Orc and devilish women
Steampunk victorian-esque
Lush waterfall/pond
Dragon's treasure hoard
Spaceship
Super long hair
Centaur (and no, if you're wondering, there's no horse phallus pictured)
An Aladdin's Lamp-style room
Pirate ship/sea monster tentacles
Blindfolded
Spacey VR room
Romantic beach scene
Fantasy knight and prisoner
Four-arm-two-penis being
Superheroes
Crowded fantasy arena, someone tied to a post
Water/lizard beings
Robot
Cult-like tent
Cyborg
Superheroes
Western-style bar
Aliens on a different planet
Someone with horns on their head
Vampire
Egyptian-style scene
Space
Post-apocolypic/Mad Max (I think)
Futuristic, on camera
Elf in nature
Fairies
Super long tongue
Strings of pearls
Medieval
Winged-footed gods in an Ancient Greek-esque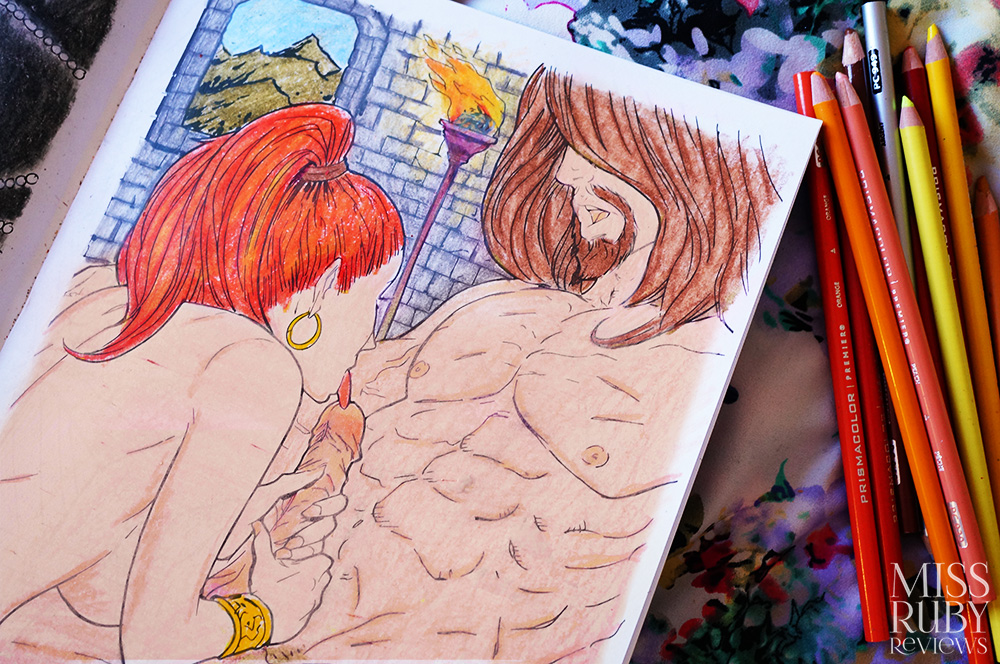 Fantasmic #NSFW Coloring Book by SheVibe Review Summary
So do I think the Fantasmic #NSFW Coloring Book is something you should buy? Yep, especially if you're into fantasy or sci-fi elements. Despite some of my reservations about this book's missing representation, I enjoyed what was present.
And at only $15.95 USD (at the time of this post), it won't break the bank. If you're feeling like getting turned on while enjoying some relaxing coloring, add this to your cart while shopping at SheVibe.
To purchase this book, head to SheVibe.
And if you want to scope out other books in this line, head here.
Fantasmic #NSFW Coloring Book by SheVibe Review Summary
Overall thoughts - 8.5
8.5
$15.95
PROS
Beautiful illustrations
Great for fantasy lovers
Inexpensive
CONS
Not much diverse representation
Shop Now

Last Updated on November 16, 2020 by Miss Ruby