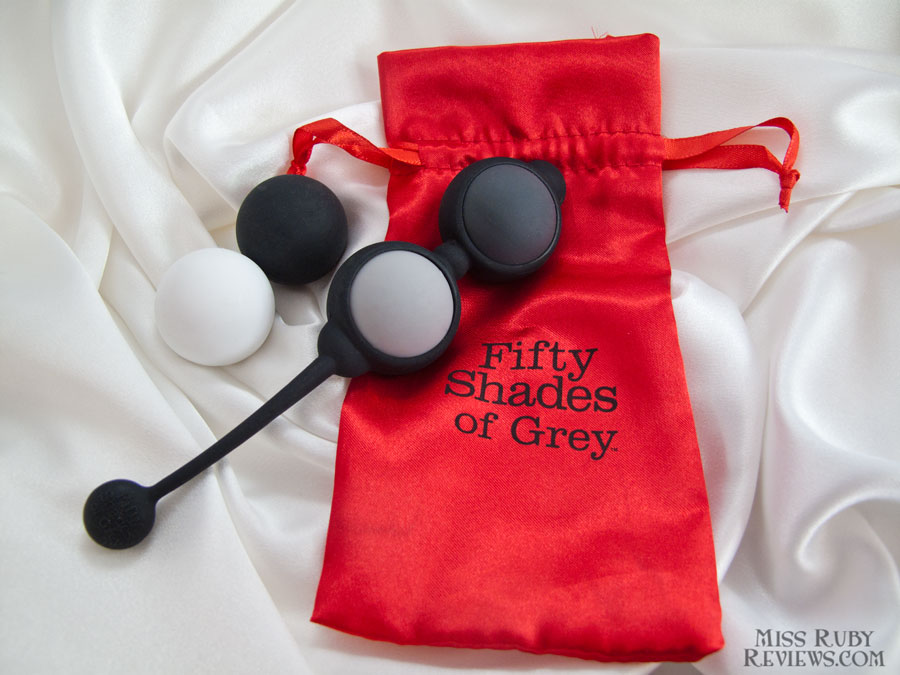 Packaging| Physical Details| My Experience | Overall
Shipping and Packaging
My order was placed on February 16th and I received my package on February 23rd. I was very pleased with this short time frame, especially seeing as it was international shipping from the UK to Canada. The parcel I received was plain and brown. For discreet shipping, "Lovehoney" was not listed anywhere on the package. For international customs, the parcel's content was listed as a "novelty item."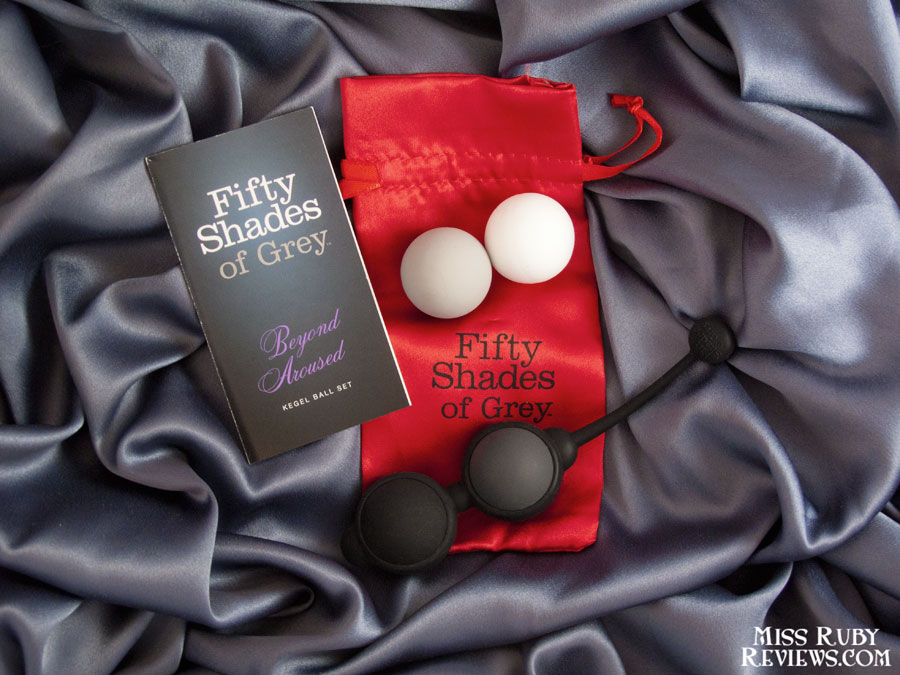 This set comes packaged in a sleek black box. Within the box, there is an information booklet, a red satin bag, the ball harness and four Kegel balls.
Physical Details
The Fifty Shades of Grey Beyond Aroused Kegel Ball Set is part of the Fifty Shades of Grey Official Pleasure Collection. I've owned a few products from this line and this is one of my favourites.
This product loudly yells "I'm good quality" in your face. The 100% silicone is smooth and silky to the touch.  The balls feel solid and unrelenting in your fist. I love the varying shades of grey. The white one is the lightest and it reminds me of a ping pong ball. The blackest is the heaviest and it feels very weighty in my fist. I love that all of the balls are the same size because it makes it easier to track progress (as you're only left with one variable: weight).
The Fifty Shades of Grey Beyond Aroused Kegel Ball Set's silicone harness feels sturdy. I've tried pulling and twisting it about and it stays intact. Once the two balls are placed inside the harness, I'm not worried about them falling out because they remain in there, snug and secure.
Though I always love red on anything, I was disappointed to see that the beautiful red bag included isn't as high quality as some other satin bags I've seen. This bag gives off red fluff that sticks to the silicone balls (pictured). The bag is also a bit too small: after everything is inside, it feels very cramped in there. For these reasons, I've switched to storing this Kegel ball set in a zip-lock bag.
How to use: Unlike many kegel balls, these balls don't have free-roaming weights in them, so they don't create that "jiggle" sensation. Simply insert the balls in the harness into your vagina using a water-based lubricant. For those of you that don't know, Kegel balls are recommended to improve the strength of your pelvic floor muscles. By wearing Kegel balls for at least 15 minutes a day, you can give your pelvic floor a solid workout which, over time, may increase your ability to orgasm. Tensing my Kegel muscles is crucial for me to orgasm, so I was very happy to have the chance to review these Kegel exercisers.
Cleaning: Being silicone, this kegel set is very easy to clean. You can sterilize them by pouring boiling water over them, rinsing them with a 10% bleach solution, or popping them in the dishwasher. I simply wash mine with soap and warm water. Be sure to wash before and after each use. This set is completely non-porous, non-toxic and contains no phthalates.
Period, Wee, Poop?: I had no problems wearing these on my period, but it made things very messy so I don't think I'll be trying it again. Urinating with this inside of me was fine, no problems there. I didn't want to try to poop (pardon my unsexy talk) with these in because the same muscles used for passing a bowel movement will work to push the Kegels out of you and into the toilet…I didn't want to risk losing my precious Kegel set to such a sad and gruesome end.
My Experience
Okay. I'll share a little secret. I don't have much experience with Kegel balls. Ben Wa balls, yes, but they didn't last long. I'm no stranger to knowing how important the Kegel muscles for enhancing orgasms though, and so I'm a veteran at Kegel workouts, having done the daily clenching exercises for years. But this was the first time I regularly used Kegel balls, so I was glad that these balls are all a large size.  Larger kegel balls are easier than smaller ones, and they worked out to be a great introduction for me.
I've worn the Fifty Shades of Grey Beyond Aroused Kegel Ball Set for 11 days now for periods ranging between 30 minutes to 6 hours.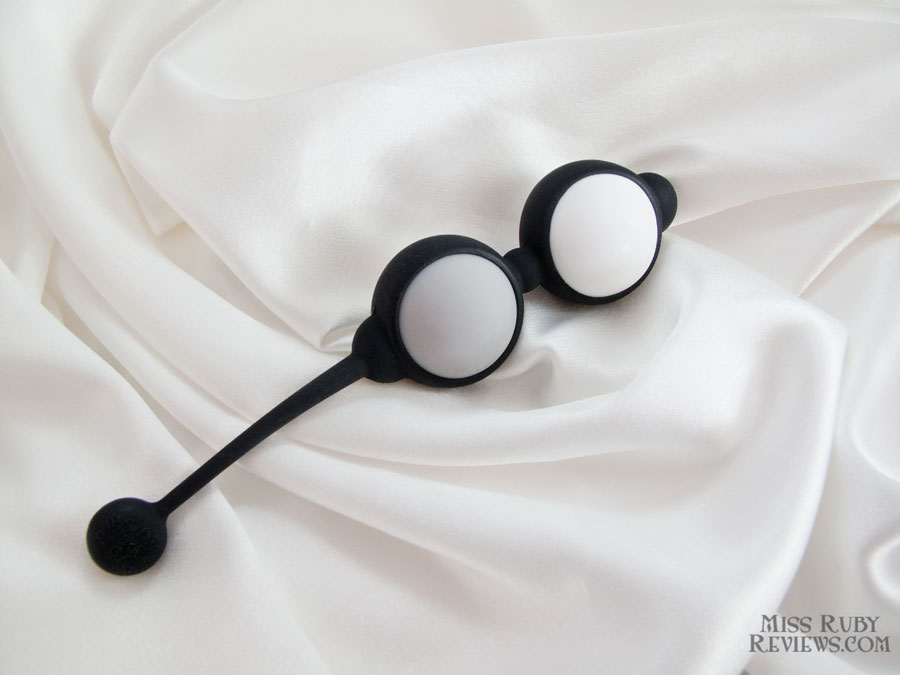 I absolutely love customizing things. My favourite part about the Fifty Shades of Grey Beyond Aroused Kegel Ball Set is that you can customize your experience. On the first day, I started with the two lightest balls for a combined weight of 40 grams. On the second day, I changed things up and moved to a combined weight of 60 grams. By the fourth day, I was wearing the heaviest combination of balls (90 grams).
For the 40 gram and 60-gram weight combinations, I forget that the Kegel balls were inside of me. It's only when I sneeze, cough, or go to the bathroom that I remember I still have them in. My Kegel muscles are fairly toned already from Kegel exercises, which is why I'm not very aware of these weights.
When wearing the 90 grams, however, I'm aware of a constant clenching sensation. After about 30 minutes of this, my pelvic floor feels distinctly exhausted. After 2 hours of wearing them, I'm ready for a break and, after I take them out, my pelvic floor muscles continue to feel tired for several hours.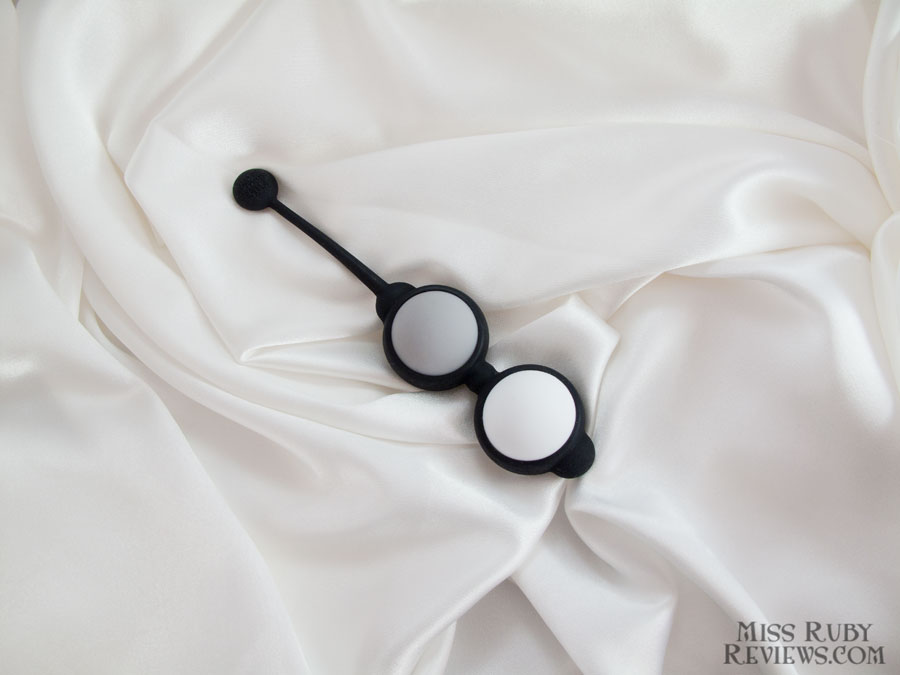 What does this mean, exactly? It means that these Kegel balls are doing what they're supposed to do: they're making my pelvic floor muscles work hard. This assures me that, as I continue to use this Kegel set, my pelvic floor will grow stronger, allowing me to have better, easier orgasms.
I've also tried ditching the harness altogether and wearing all four balls in me at once. I can manage it for an hour or so before the one closest to my entrance plops out into my underwear (this makes me feel like I'm laying an egg, which is really hilarious and bizarre).
One unexpected side effect of wearing this Kegel set is that my underwear is always lightly lined with natural lubricant. The constant subtle movement of the balls inside of me, as well as the associated subconscious clenching, makes my vagina think (bless its dear heart) that it's about to be rewarded with sex. This has the surprising added bonus of slowly turning me on throughout the day. Lovehoney, my partner thanks you for this.
What about the cons? Well, the list isn't long. I've managed to bump myself quite uncomfortably with the half-moon ridge on the top of the harness (pictured above), and I wish this ridge wasn't there. It seems placed in the design for purely aesthetic reasons, but I find it unnecessary and too pointy.  Another consideration to make is that this Kegel set may not be challenging enough for people who have already dedicated a lot of time to Kegel balls and exercises. As I mentioned prior, this was my first Kegel set, but I've spent years exercising my pelvic floor muscles, so the lightest two balls are too light for me. Advanced users looking for a challenge may be better suited to a smaller and heavier set of Kegel balls, such as the Fifty Shades of Grey Inner Goddess Silver Pleasure Balls.
Overall
I may be new to Kegel balls, but I'm very used to sorting out good-quality sex toys from the masses of poor quality. The Fifty Shades of Grey Beyond Aroused Kegel Ball Set is good quality. Is it worth the $50? Yes, unless you are a Kegel Queen for whom a combined weight of 90 grams is a feather to your vagina. In that case, I'd then suggest this more challenging set. But if you aren't a Kegel Queen, and you own a vagina, seriously consider picking this set up.
To buy the Fifty Shades of Grey Beyond Aroused Kegel Ball Set, here are some recommended stores: 

Lovehoney USA
 (
$39 USD)

Lovehoney Canada
($54 CAD)

Lovehoney UK
(£29 GBP)
Lovehoney AU
($54 AUD)
---